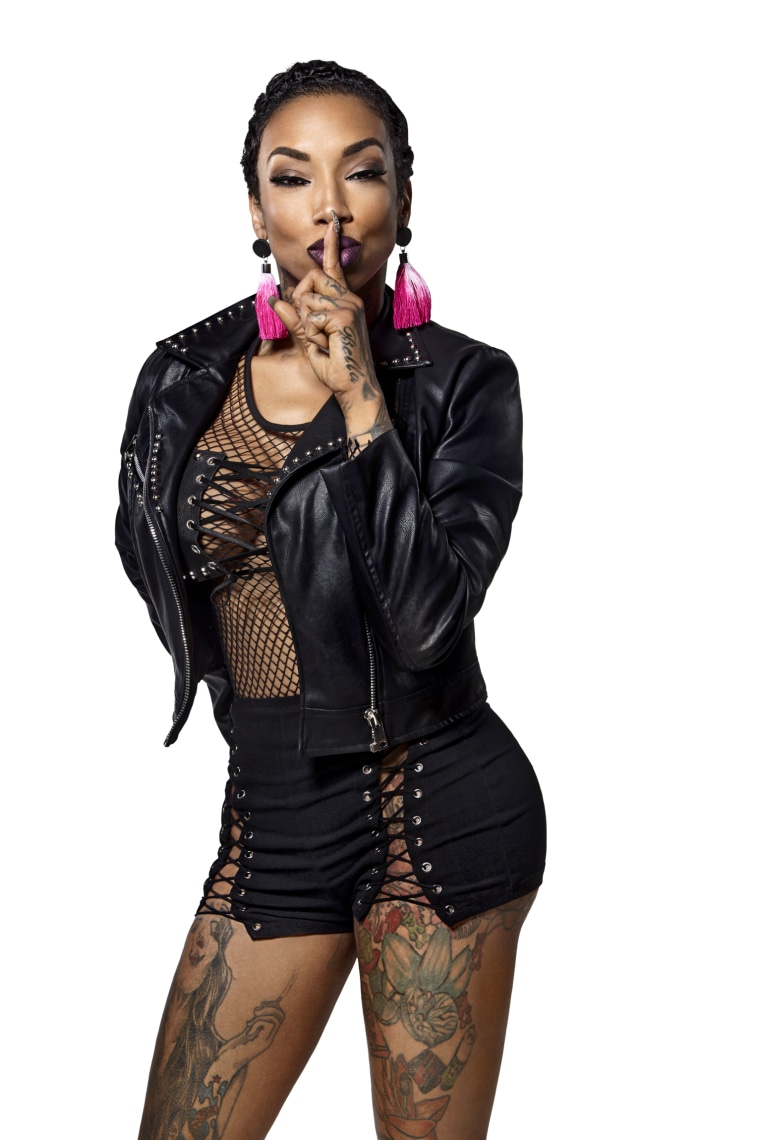 Sky is hellbent on flourishing. On the cult-favorite VH1 show Black Ink Crew, the charismatic Harlem native brings her powerful energy to the tattoo shop on 116th Street and Malcolm X Avenue. Over the past three years, she's been known for her saucy candor and sense of humor, her vulnerability, and the massive personality that commands all attention whenever she enters a room.
Despite her moments of chaos and turmoil — and there have been many — Sky always offers her true self and takes accountability for her actions. That's led to a growth perceptible to even casual followers of her journey. Ahead of Black Ink's Season 6 return, Sky joined VH1's new horror series Scared Famous. On the show, she and an explosive cast, featuring reality all-stars like Alaska, Safaree, and Tiffany Pollard, compete in spooky challenges to win money that will go to a charity.
Over the phone, Sky talked about what's bringing her joy, the importance of solitude, and why she's excited about Scared Famous and Black Ink.

Since the last season of Black Ink Crew, you moved to Atlanta. What has life been like for you there? It seems like it brought you a fresh start.
I have a sense of peace. I've grown so much on TV and I'm so grateful that the growth can be seen. I'm thankful because this is all through the grace of God. It's super, oddly positive right now.
What's been keeping you in good spirits?
The positive changes that I've been moving towards. Awesomely, a lot of it has been documented with Black Ink and it's going to be on Season 6 and we're filming now so you'll be able to see. I'm still keeping you abreast of life.
Tell me about Scared Famous. How was that experience different than being on Black Ink?
It was very different for me to be able to go into this house with my guards down because I'm playing for a charity. I'm an alpha personality. That was a great transition for me but it was different because I was with people that I don't know. I really enjoyed it. The personalities mesh so well. People that I didn't think I would cross paths with in a million years, that I'm stans of, I became friends with. It's showing us in different perspectives. It was great to be out of the element of having to be on defense all the time.

Which charity did you pick?
It's called Bringing Awareness Against Domestic Violence for Women. Everyone has had their trials in relationships. It's not always physical but whether it be mental abuse, emotional, or any type of abuse against people or women. It really hits home for me because I've had my situation so I want to be a voice and I use my platform to speak up for women and just know that everyone has been through something but we can fight through it.
When you first appeared on Black Ink, did you think reality TV would be so transformative?
Going into anything that I do, I give my all. I knew that I would work hard and continue be myself. To be able to transition to be on different shows and show the growth and the fact that people want to be around me, I'm just excited for that. I wouldn't put myself here in the beginning but I'm so thankful that I am here and that my story has touched so many people.
How do you stay yourself in public when you're both on and off camera?
I'm a Virgo so I make sure my home is comfortable so I don't have to be out too much. I like to stay in the house and relax because when I come out, I'm on. As far as someone wanting a picture or people might see you and want to vibe out for five seconds, but I'm thankful to have the platform. You see me out, love me, touch me, hug me, say "What's up?" I'm going to talk to you regardless.
I watched a clip on your IG where you were the speaker at a motivational event in Atlanta and you talked about the power of being alone and how it can impact your growth. How has embracing solitude impacted your journey to growing as a person? What did you learn about yourself and what you want?
The power of prayer is amazing. The peace and power that you have from being alone is the love that you'll to embrace yourself. So, when there's someone who you allow to come into your life, they can embrace who you are no matter what. Sometimes when you have people around you, whether you like it or not, you do care about their perception of you and what they think to a certain degree. When you're alone the you're wholly yourself and embracing you. If you're always on your phone or in the mix, that shit will have you on another level.

"The peace and power that you have from being alone is the love that you'll to embrace yourself."
When did you find that out for yourself?
When I was incarcerated. I had no choice. I had to take the time and reflect and learned that I didn't want to be there anymore and never end up in that spot again. Through the grace of God, I've kept my ass out of there. [Laughs]
No matter what friction or conflict you might have with another person, I think it's important to give you credit for your ability to forgive and salvage the bonds that really mean a lot to you. How are you always able to do that? Why is that the route you take just about every time?
I know that I can be very straightforward and sometimes it's hard for everyone to embrace that. Growing up, I'm learning that you have to treat people as individuals. I just want to treat people how I want to be treated. Sometimes shit can come across sucky for five minutes or a day and you may need a break but let's come back from it because life is too short. It's too much happening and tragic things happening in this world that we need to focus on rather than hate, you have to spread love.
Are there any other things that you want to do with your gifts aside from reality TV?
Acting definitely is on the top of the list. So many opportunities have been knocking so a bitch is taking classes so I can talk better. There have been Hosting opportunities — I'm taking my vitamins as well. [Laughs] I would love to be a confidence coach to spread love to the sistas and the brothas that you can be you no matter what.