FADER Mix: Ciel
Listen to a wide-ranging mix from the DJ and promoter behind the changing sound of Toronto.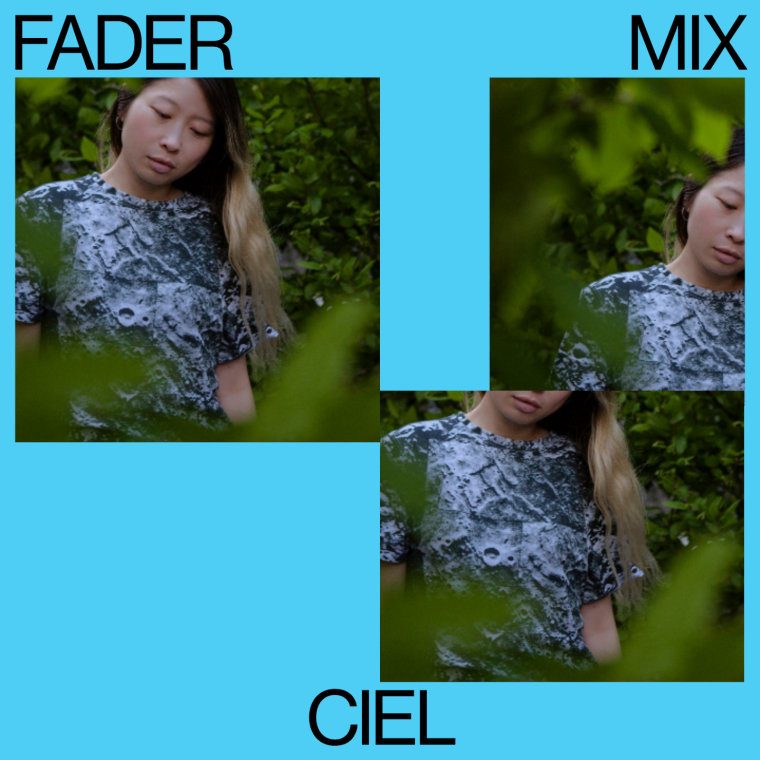 Cindy Li, a.k.a. Ciel, is a DJ and promoter based in Toronto who is using the renown she's gathered for her impeccable selector skills to push for a more inclusive music scene in her city. Her DJ night Work In Progress (WIP), which showcases women, gender-nonconforming, and queer artists, grew out of a radio show on the now sadly defunct Toronto Public Radio that only played music produced by women. Li is also among the ranks of the It's Not U It's Me collective, which boasts 88-members doing the hard work of planning ambitious and unorthodox parties — such as last year's 13-hour art and music extravaganza in Toronto's Power Plant — that are harassment-free spaces.
In August, Ciel published a Google Doc of women DJs in Toronto to urge promoters to create more bills with gender parity. The need for the list's existence and the pushback it provoked from men in the city kept vital sunlight on an issue that's one of the flaws in Toronto's reputation as a progressive bulwark. Ciel's efforts to make the dance floor a more welcoming place couldn't have a better soundtrack than her debut EP, Electrical Encounters, out now; its three meditative and pulse-pounding tracks are as soothing as a good hug.
Listen to Ciel's eclectic FADER Mix below, which spans acid house to breakbeat to classic electronica of all stripes, then read our interview.
Tell us a bit about this mix — what do you imagine people doing while listening to it?
I recorded the mix on two CDJs and a mixer in my friend's apartment. Because I play a lot of different styles in my sets, I usually try to make mixes that really take the listener on a journey. But sometimes it's good to switch up a tired formula, and not try to pack a million things in one hour. I thought it would be more interesting this time around to provide a snapshot of recent sets I've played in my city at peak time. Breakbeat and electro are really my forte, and I love to play them and build the energy when the dance floor is just starting to fill up. I imagine this would be a fun mix to put on at a house party or while you're exercising or running errands. There's a lot of vocal sampling and scratching so it's probably not something I would listen to while having a quiet read at home.
What's your earliest musical memory?
My parents started training me on the piano from a very early age — they discovered when I was two-years-old that I had perfect pitch. So my earliest musical memory was definitely practicing drills and my mom standing behind me watching me like a hawk. It was all very stereotypically Asian and I hated it but now I am grateful for the early musical indoctrination.
What's the last book you read that had a big impact on you and why?
The last book I read was a book on architecture in East vs. West Berlin. It was interesting but it didn't make a major impact on me. I can't really remember the last book I read that had a major impact on me. I should probably read more and spend less time on Discogs.
What kind of reaction did your Google Doc foster? Was there any positive change in the following lineups?
The reaction was mostly positive, with the negative voices being predictably the loudest. There were older men who insulted us for not knowing and including every single female DJ from Toronto since the beginning of time, which is absurd because the list was created as a tool for promoters and including retired DJs would make it very confusing. There were also plenty of men who said our list was sexist, questioned its necessity, dismissed it as a list of nameless nobodies, and even rubbed it in our faces that a list of male DJs in Toronto would be 10 times as long.
As far as positive change, I would not say that the Google Doc was a major game-changing piece of document that influenced the entire scene. Truthfully these conversations and changes have been happening for at least the past three to four years in this city. Real change takes time and strategic steps. There are promoters in this scene who have been booking more and more women for years now. There are also promoters in this scene who never book women. This list certainly didn't do much to change the minds of those people. But for the talent buyers and bookers who want to book more women but don't know where to begin, I was happy to discover that many of them have been using the list to research potential DJ bookings.
Have the goals and mission of Work In Progress evolved over time?
Yes, absolutely. When I began, I just wanted to throw parties with women and women only. At the time, there was a serious lack of female-centred parties in house and techno circles in Toronto, and I really wanted to fight against that. Through time my goal became less about segregation and more about integration, where lineups reflect a mix of genders, but where female and queer / non-gender-conforming people are still prioritized. Most of my lineups now are 70% women and 30% men. I believe that in order for women to be booked more, our presence and participation in these circles must be normalized. And I'm not sure by doing women-only events all the time that that would necessarily normalize our presence among boys' clubs. That is not to say that women-only spaces aren't necessary — they absolutely are, especially learning spaces like DJ and synth workshops. But to get promoters besides just myself thinking about inclusiveness, we need to have more women on every lineup, and not just on "Lady DJ Nights."
Describe a party you've DJ'd that was as close to perfect as it's ever been, and what made it that way.
The last time I brought Umfang to Toronto for Work in Progress, that was pretty much a perfect night. She's a good friend of mine, which makes playing together so much more fun. I usually open my parties so my guests don't have to but for this one time, I asked the other local opener to let me play second. That happens to be my fav timeslot to play, just before the headliner, because you're playing such an important part in setting and building up the vibe in the room for the headliner. I played a set of weird styles, starting with ambient breaks, moving into early trance-acid, and from their to techno. Somehow this seemingly random mish mash of genres really worked, people were going off on the dancefloor. I had a lot of people tell me that that was my best set they'd ever seen me play that night. I think I was just really comfortable. Usually opening for an international DJ can be really nerve wracking because you look up to them (why else would you book them?). But Emma is like a sister to me, and it felt perfectly natural to play before her. We both have a proclivity for older techno and weird sounds, so my set just segued super nicely into her set. It was also a packed dancefloor in a dark warehouse with great lighting, and the best DJ booth in the city, so I really have nothing to complain about regarding that night.
What's your favorite dish to cook and how do you make it?
I am obsessed with Korean ramen, and I love making it with a poached egg, mushrooms, kimchi, green onions, and soft tofu. I'm not much of a cook (can you tell?), but my Korean ramen was made to suit my taste buds perfectly.
What's your favorite thing to do with your friends?
I really love to play records back to back with my friends and just chill.
Tracklist
1. DJ Responce - "Globetrotter"
2. Sleepy C & Dave Trance - "Back To Da Phunk (Sleepy's 2am mix)"
3. Headtrip - "Those That Can Dance"
4. Hollis P. Monroe - "I'm Lonely (DJ Decent mix)
5. Headtrip - "Rock Da Acid"
6. Sleepy C & Dave Trance - "It's Gone Daddy-o"
7. R-Fresh - "Keep Rockin' (I Got A Feeling)"
8. Metro L.A. - "Hold Your Wig (Bassbin Twins remix)"
9. Fiction & Spice - "Future Funk"
10. The Resonance Committee - "Change"
11. Friction & Spice - "Rhythm Rockin'"
12. Remote - "The Swarm"
13. Cotton Club - "Nu Jack"
14. Instra:mental - "When I Dip"
15. Thomas Schumacher - "When I Rock (Anthony Rother remix)"
16. R-Fresh & Infiniti - "Get Fresh (Infiniti's 2am mix)"