On the queer pleasures of Fever Ray's Plunge
Karen Dreijer's second album away from The Knife is a sex-positive exploration of LGBTQ desire.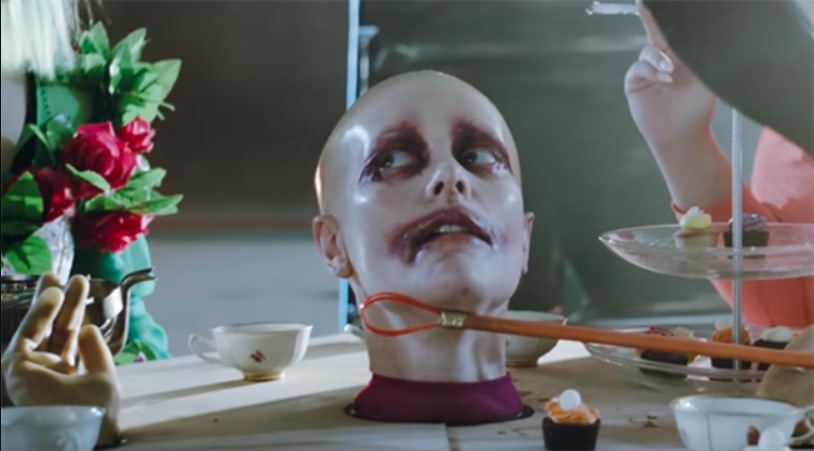 "I want to ram my fingers up your pussy," Karin Dreijer sings hungrily on "To The Moon And Back," the first single off Plunge, her brilliant new album as Fever Ray. It's the most explicit line on a record that is preoccupied with desire, and gleefully explores how queer sex and community can resist capitalist structures of domination and control.
Sex isn't meant to be policed, but many of us have been taught there's a right and a wrong way to have it. Dreijer resists this dogma on Plunge, instead creating a manifesto of non-normative desire that courses through the album's 11 songs as vividly as their deconstructed club beats and wildly catchy electronic hooks. On the opening track "Wanna Sip," she introduces her point of view with no ambiguity. Pitch-shifted vocals cry out through squealing synths and darkly pulsing Tesla coil bass: "Wanna do it? / If we do it, it's my way / Cuz how you do it when you do it / It's not okay."
Dreijer's singing is tweaked with software, but there's greater warmth to the vocals here than on her abstracted, folklorish solo debut, Fever Ray (2009). "Tell me something sexy and I'll log off my whatever," she offers in a dissonant coo amidst the kraut-ish stutters of "This Country." Dreijer memorably sang about technology on Silent Shout's dystopian lullaby "From Off To On" — but whereas that 2006 song conjured images of bodies mindlessly in thrall to screens, this album paints a more optimistic picture of the relationship between individual agency and omnipresent technology. Elsewhere in "This Country," she emphasizes her need for authentic connection: "The perverts define my fuck history / That's not how to love me." For Dreijer, it's those who police sexual desire — rather than those who freely act on it — who are the true perverts.
Still, the specter of guilt looms over Plunge, as it has in the lives of many queer people at some point. On the industrial "Falling," Dreijer addresses an individual who has humiliated her for her desires. "She makes me feel dirty again," she sings dejectedly. "That old feeling of shame." But she is adamant not to be crushed by feelings of remorse, and seeks strength through allyship with other LGBTQ folk: "Still we're pushing what's possible / A queer healing." There are other tender moments too, and on the lurching "An Itch," a vulnerable message rings out: "Imagine: touched by somebody who loves you," Dreijer wails.
We live in a world where some queer people still don't feel safe to talk about their desires. Until that changes, the act of speaking directly about the kind of sex we want, and where and when we want it, doesn't just make our sexual relationships a hell of a lot more satisfying — it's also inherently political. On Plunge, Fever Ray nurtures that exploratory impulse, insists that her demands are met, and aches for a lover to accept her without reserve. After all, sexual self-discovery isn't just about the primal pleasures that happen in bedrooms. It's also about taking the plunge into the most fully-realized version of yourself. "Shame is going to burn," she sings on "Mustn't Hurry," atop an aerated synth pattern. "Shame is going to die."
Plunge is out now on Rabid Records. Watch "To The Moon And Back":