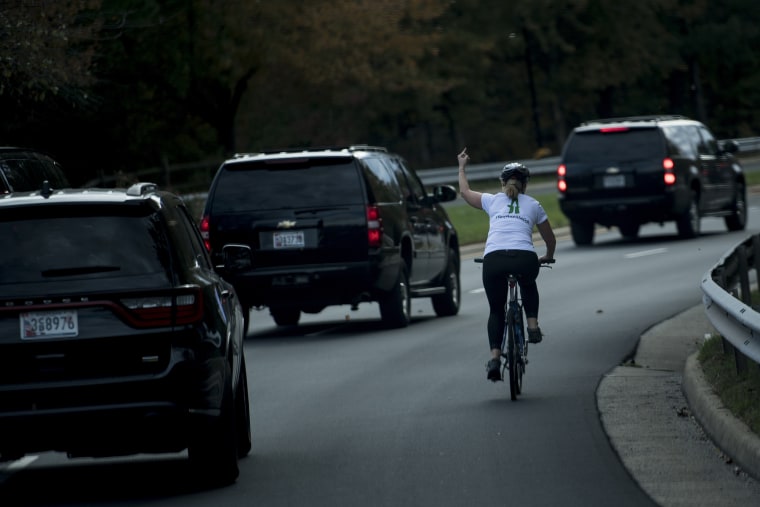 Last week, a photo of cyclist Juli Briskman flipping the bird at Donald Trump's motorcade went viral after a White House photographer traveling with the president as he left his golf course in Sterling, Virginia snapped the moment. Briskman's employer, government contractor Akima LLC, has since caught wind of the photo and fired her.
Social media caught a hold of the photo and the hashtag #Her2020 surfaced in support of the act.
The 50-year-old mother of two had been working in marketing and communications at Akima for about six months before the company decided to separate from her. In an interview with HuffPost, Briskman says she informed Akima's HR department about the photo and its reception before returning to work Monday, and by Tuesday, her bosses told her that she was violating the company's social media policy by using the photo— what she says they call "obscene"— as her profile picture on Twitter and Facebook.
But Briskman says a male colleague recently posted lewd comments on his Facebook page— calling someone "a fucking Libtard asshole"— where he featured Akima LLC as his cover photo, and was reprimanded but not fired. "How is that any less 'obscene' than me flipping off the president? How is that fair?" she asked in the interview.
Virginia is an employment-at-will state, meaning employers can fire people anytime without having to establish "just cause" for termination and without warning.
Akima has yet to release a statement.