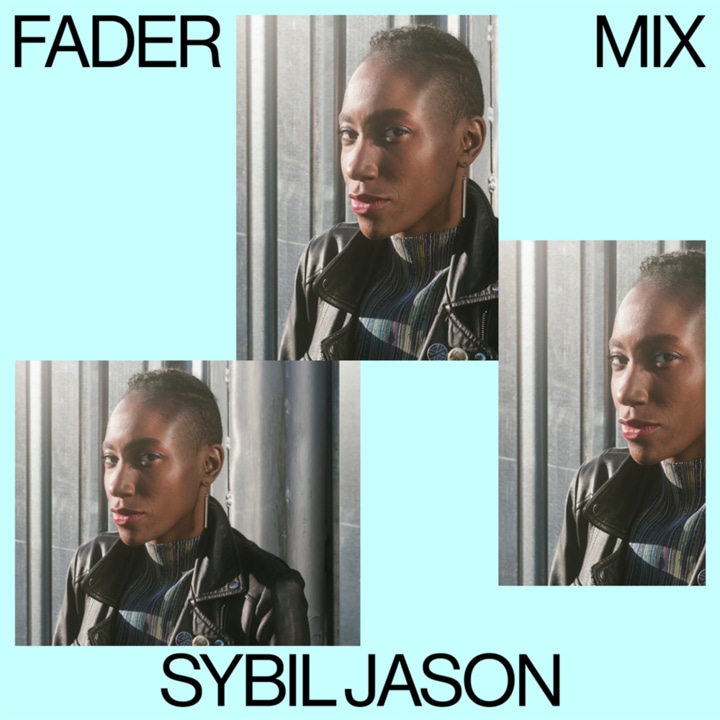 For reasons beyond me, dance music scenes sometimes swing toward purism. Whole nights on the same bpm, circling the same rhythms, stuck in a loop. Previously revolutionary sounds turned, just like that, into templates. That's why it was such a thrill, at Bossa Nova club in Bushwick a few months ago, to hear traditional Haitian music in the middle of an already varied house and techno set. The response was immediate: bodies bending into new shapes, eyes shining at the switch-up of energy.
The person responsible was Sybil Jason, a Haitian-American DJ based between N.Y.C. and Barcelona. Jason's been on the local scene for over a decade, having got her start running a music blog called FARCED in 2006, which grew into radio shows on Berlin Community Radio (BCR) and Dublab BCN.
Following a six-month spell in the States, Jason is back in Barcelona ahead of a European DJ tour that kicks off this Saturday in Helsinki (tour dates below). To celebrate, she's made us a FADER Mix that showcases her refreshingly eclectic style. (Stay tuned for a Haitian Creole version of Migos's "Bad and Bougie" by a Haitian rapper called ASAP Fresh.) Dig in below, and scroll down for an enlightening interview with the DJ herself, and that all-important tracklist.
Where are you right now? Please describe your surroundings.
Barcelona, sitting at my desk across from palm trees outside of the window.
Tell us a bit about this mix — what shaped it?
The last six months back home in N.Y.C., my friends, the current world, the film Trading Places (sampled in "The Ha Dance" on this mix), HAITI always.
What's your earliest musical memory?
Watching Madonna on MTV in the "Material Girl" music video when I was two or three years old in Port-au-Prince, Haiti and being mesmerized.
For a long time, it felt like America lagged behind Europe in terms of the opportunities on the DJ circuit, but things feel like they're changing. Having lived in both, what are your thoughts?
I think for me it was the reverse being that I have been a part of the integrated N.Y.C. underground scene since 2004. And when I mean integrated I mean by race, gender and different music scenes. The N.Y.C. scene was a LOT smaller then as well. For a while there were different music scenes but everyone knew each other and ended up at each other's shows/DJ nights. One big part of that for me was WIERD Records night. Whether people liked that party or not, most in the N.Y.C. music community went at some point to see someone DJ, play live or just to go out at a truly unique and fun night in the middle of the week.
I do see how things are changing in America in terms of representation in electronic music. The time I've spent mostly in Europe the last three years, things have rapidly changed here in the States. Things in the DJ circuit are definitely changing in Europe, to me. More women are being booked and more people that look like me. When I first moved to Europe over three years ago, I was apprehensive about DJing out in Berlin, opting to DJ out intermittently and sticking to radio, much to everyone around me's chagrin. It was definitely way different than I was used to in N.Y.C., less integrated especially in terms of gender and genre.
Three years later I feel like people are more into "freeform" types of sets which is typically my style nowadays (live, anyway). A lot of people in Europe AND here have voiced to me how tired they are of hearing the same predictable music in a set — they like variation. Coming home to N.Y.C. the last six months has allowed me to just go "in" and just do my thing and people have appreciated that, the variation. It's given me the confidence to keep doing what I've been doing because I definitely have my own style, especially blending Haitian music into my sets. Also being vocal about representation while back home has definitely not fallen on deaf ears. It's exciting to see things finally changing a bit in the European DJ circuit AND here. Representation matters! I cannot stress this enough in my life.
Any projects coming up that you'd like to share?
I'm devoting more time to working on producing music now that I'm back in Europe and might even feel comfortable enough to jam with friends. Also finally debuting the FARCED podcast series where I feature mixes done by others and not just done by me as it's been since 2006. Along with that, a long-planned FARCED Throwback series.
What's your favorite dish to cook and how do you make it?
Soup Joumou is my favorite to cook on January 1, Haiti's Independence Day from France. It's a winter squash soup that is traditional for Haitians to make as it's told the slave masters forbid Haitian slaves to eat it. I try to not make it too spicy and try to make a vegetarian portion (for friends) since it is to be made in huge batches to be eaten over the first week or two of the year. My mother never made it growing up so I started making it in Europe to share with friends and to integrate into my first-generation American expat life.
Tracklist
Further Reductions - Disparate Elements
Masters At Work - The Ha Dance
Transllusion - Dirty South Strut
Severed Heads - Lamborghini
Vampire Crab - Subtarranea
Lil' Louis - The Original Video Clash
Schicksal - Body Beat
Blake Baxter - When A Thought Becomes U
Bergsonist - Petitions Signed in Blood
K.Zip - JFUY
D104 - Muta Master
Reese & Antonio - Truth of Self Evidence
Marcus Mixx - I Want U
Entro Senestre - Amnesia
Azor - Untitled
Haiti Ground Zero - Tet Chaje
NVG - Siwouzzly
ASAP Fresh - Balen Bouji
European DJ dates
Nov 11: Ääniwalli, Helsinki, FI
Nov 25: Ankali, Prague, CZ
Nov 26: OHM, Berlin, DE
Dec 08: De School, Amsterdam, NL
Dec 09: objekt klein a, Dresden, DE
Jan 11: Rye Wax, London, UK
+ more TBA