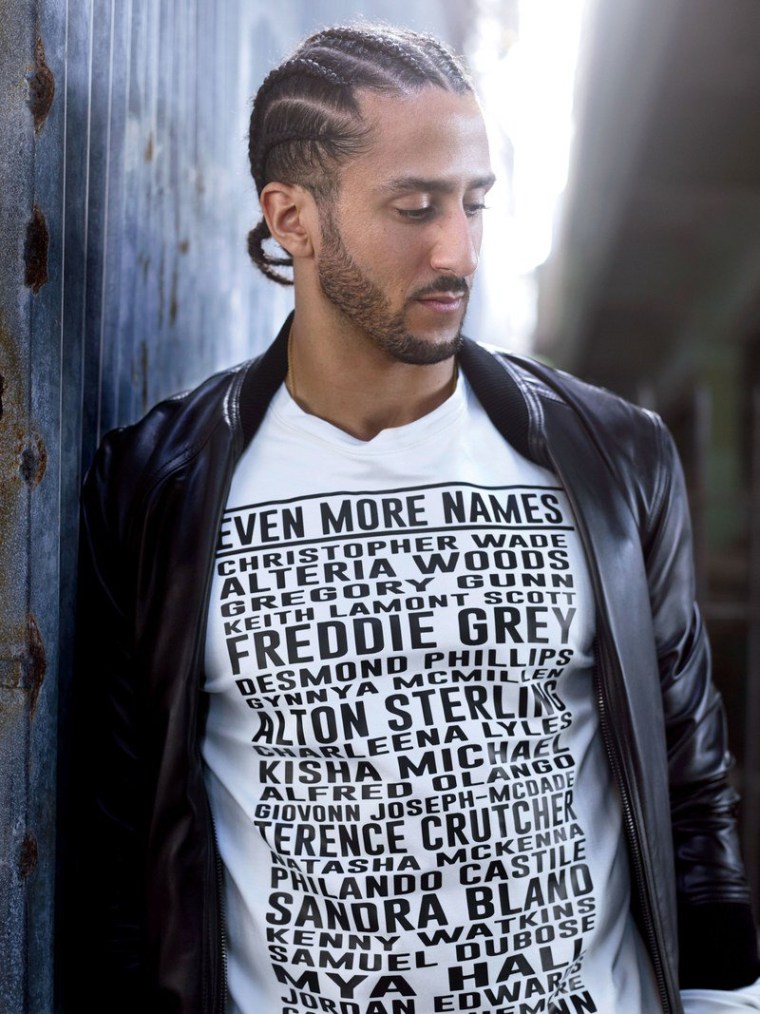 Colin Kaepernick's GQ cover story was meaningful for a variety of reasons. For one, instead of speak on the record, the free agent quarterback asked 10 others to speak for him. But there was something else in the spread that spoke for Kaepernick: what he was wearing.
In one of the images of the accompanying editorial, the GQ "Citizen of the Year" wears an "I Know My Rights" tee. That $30 design is a product of the Know Your Rights Camp, a "free campaign for youth fully funded by Colin Kaepernick to raise awareness on higher education, self empowerment, and instruction to properly interact with law enforcement in various scenarios." But another graphic tee, arguably made a larger impression. This one was designed by Kerby Jean-Raymond for his brand Pyer Moss.
Titled "Even More Names," the shirt lists names of 20 unarmed men and women killed by police. Names like Sandra Bland, Philandro Castile, Terence Crutcher and Keith Lamont Scott all make the list. "The unfortunate sequel," Raymond wrote in an Instagram caption referring to the fact that this design was one in a series. "I made this custom tee for @kaepernick7 for his @gq shoot. The sad part is how hard it was to try to pick and fit the names on the shirt. It was too many to fill up both sides and keep in mind these are just people killed by police since I made the last one in 2015."
In 2014 Raymond started the series with a design made for himself. That shirt, titled "They Have Names" featured the names of 13 unarmed black men killed by the police. After Raymond wore it to his presentation that September, fashion stylist and consultant Shiona Turini asked to borrow it and made it a viral headline.
The following February the ACLU collaborated with Raymond on releasing the shirt to the public in a limited-edition run where all of the proceeds went to the organization. For that occasion, a new design was born featuring the names of 11 unarmed women of color killed by police. Both designs sold out.
Since, in addition to running his brand, Raymond has done other outspoken t-shirt based designs. He created a Juneteenth shirt for Usher, amongst other options, as well as designs for friends. Sadly though, none of these shirt, including the new "Even More Names" piece, have been commercially available.
Kaepernick's shoot comes rounded out with other designs from black creatives. Waraire Boswell who's known for designing suits for a variety of NBA players as well as Jerry Lorenzo of Fear of God and Musika Frere all are included. It's just a small, silent way that the footballer is driving home his message.