WAH Nails boss Sharmadean Reid is empowering beauty junkies through tech
The entrepreneur is building a "Shopify for beauty" that will revolutionize the way you book your manicures.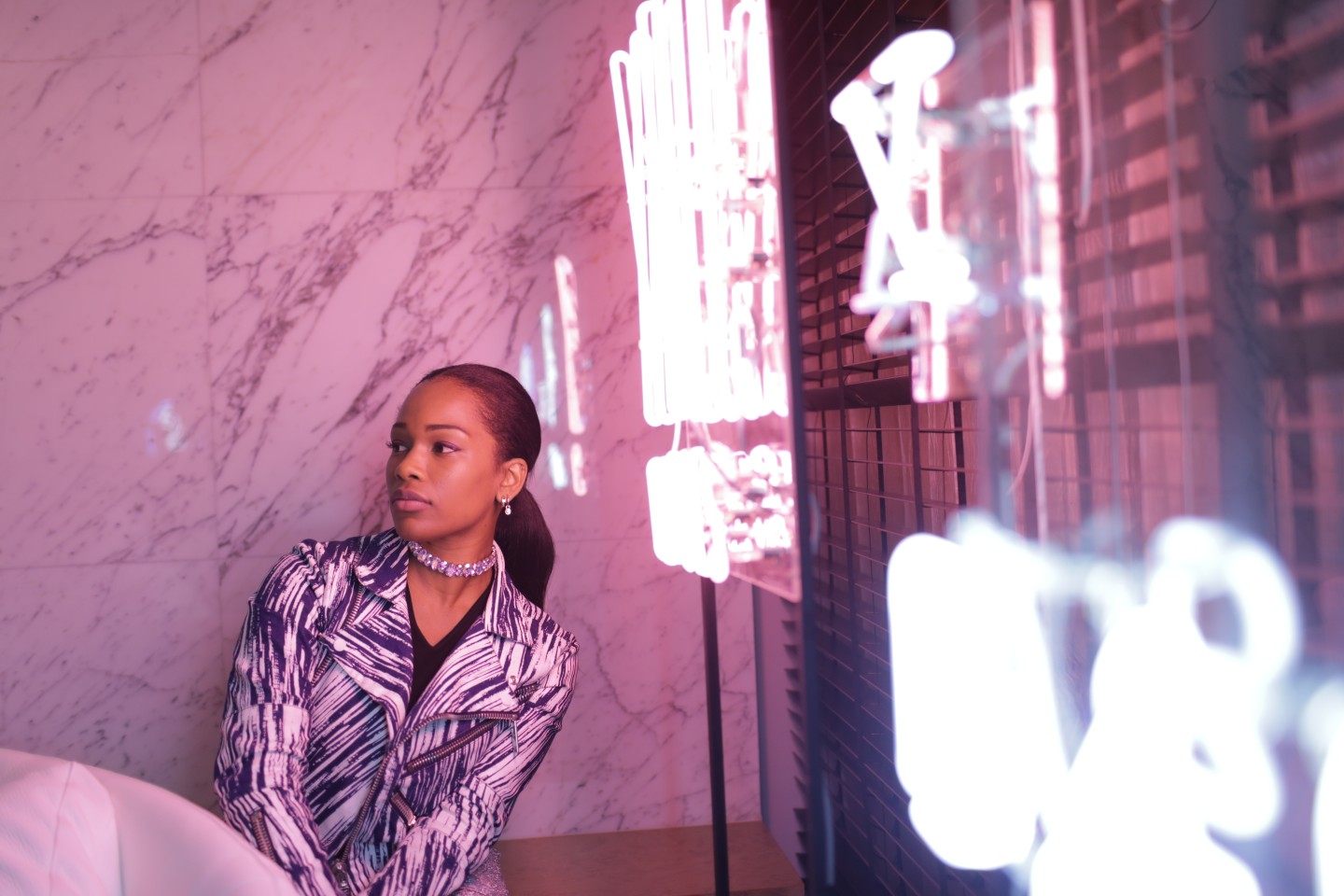 Even on vacation, Sharmadean Reid finds it hard to switch off. Nine years ago, she founded east London manicure haven WAH Nails, which has since expanded into a mini empire of pop-up experiences and nail polish. Today, Reid is taking a well-earned break from London in Jamaica — but the morning of our phone conversation is the first time she's managed to sleep past 6 a.m. Even now, she's multi-tasking, ordering breakfast at her hotel while also carefully explaining the plan behind Beautystack, her new tech startup.
Beautystack is Reid's answer to a gap in the market: it's a social network-meets-marketplace, which makes it simpler to book treatments. (Imagine seeing the perfect manicure on Instagram, and immediately double-tapping your way to an appointment with the artist responsible.) Right now, she's inviting beauty professionals globally to sign up to the platform. Not salons, or brands, but individual people, approved by Reid, who have a wicked talent for braiding, facials, or anything else. Those who join will be able to build a profile, showcasing all of their work in an ongoing feed. On the flip side, beauty-holics will be able to create their own profiles, so that they can post about the treatments they've had done, tag their favorite therapists, and browse profiles to figure out what they want next.
With WAH, Reid started out as a solo trailblazer herself. Designed to connect individual people to one another, Beautystack will uplift other self-described "outsiders" who are making their own way into the industry, laying the foundation for more fearless entrepreneurs like her to make the beauty industry a more creative place.
With WAH, Reid started out as a solo trailblazer. Now Beautystack will connect and uplift other self-described "outsiders" like her who are making their own way into the industry, and lay foundations for more fearless entrepreneurs to make the beauty world a more creative place.
Why did you want to start Beautystack?
Because, despite the fact that beauty is one of the biggest, most engaged [groups] on the internet, there is no real coherent beauty community for our culture. There is no beauty community for services. There's loads for products — Sephora has an amazing one, Beauty Talk. But every day, people will say to me, "Where'd you get your facial, or your eyebrows done?" And I'll want a place to send them. Beautystack will be a place where you can set up a profile, and basically log every single treatment you've had done.
I come in contact with so many girls all the time who are starting their own businesses, but they don't have the tools to run those businesses. They're beauty professionals who don't want to be part of a salon, they don't want to work for someone else. They're essentially entrepreneurs, and I want to give them tools to power their business better.
So it's a kind of specialized social network?
Yeah — beauty accounts on Instagram are three times more engaged than any other type of account, because these girls are obsessed with it. [I love] accounts like Behind the Chair. What they do is aggregate all the most amazing beauty professionals. Sometimes you just want to look at feeds of beauty, that's what it is when you're scrolling late at night; it's why Pinterest is so successful. [Beauty obsessives] like fantasising about what they're going to have next. That's what I'm banking on, from a client side. From a professional side, there are loads of girls who are side-hustling braiding, or doing lashes, or doing brows, and they're probably not sure if they could turn it into a full time business, but it's possible.
Tell me more about how this platform will empower those hustlers. What problems did you run into when you were starting WAH?
I never wanted to pay a website developer to do a website for WAH, and the reason is because I knew I would be updating it 24/7, and I didn't want to have to pay someone every time I updated it. The natural thing to do, if you want to update something regularly, is to build it on a blogging platform, right? But the websites and blogging platforms I used weren't set up for services. For the longest time, everything has been geared towards e-commerce, selling stuff online. But there's nothing for beauty services; services have been neglected by innovative business models. There are loads of tech start-ups in beauty that forget about the little people at the bottom. To me, the service professionals [are] like the foundation that is holding up the industry. They change people's lives. It's so human. I don't know about you, but when I get my hair done, it changes my whole vibe. I'm like, Wow, I can do anything right now, I look sick.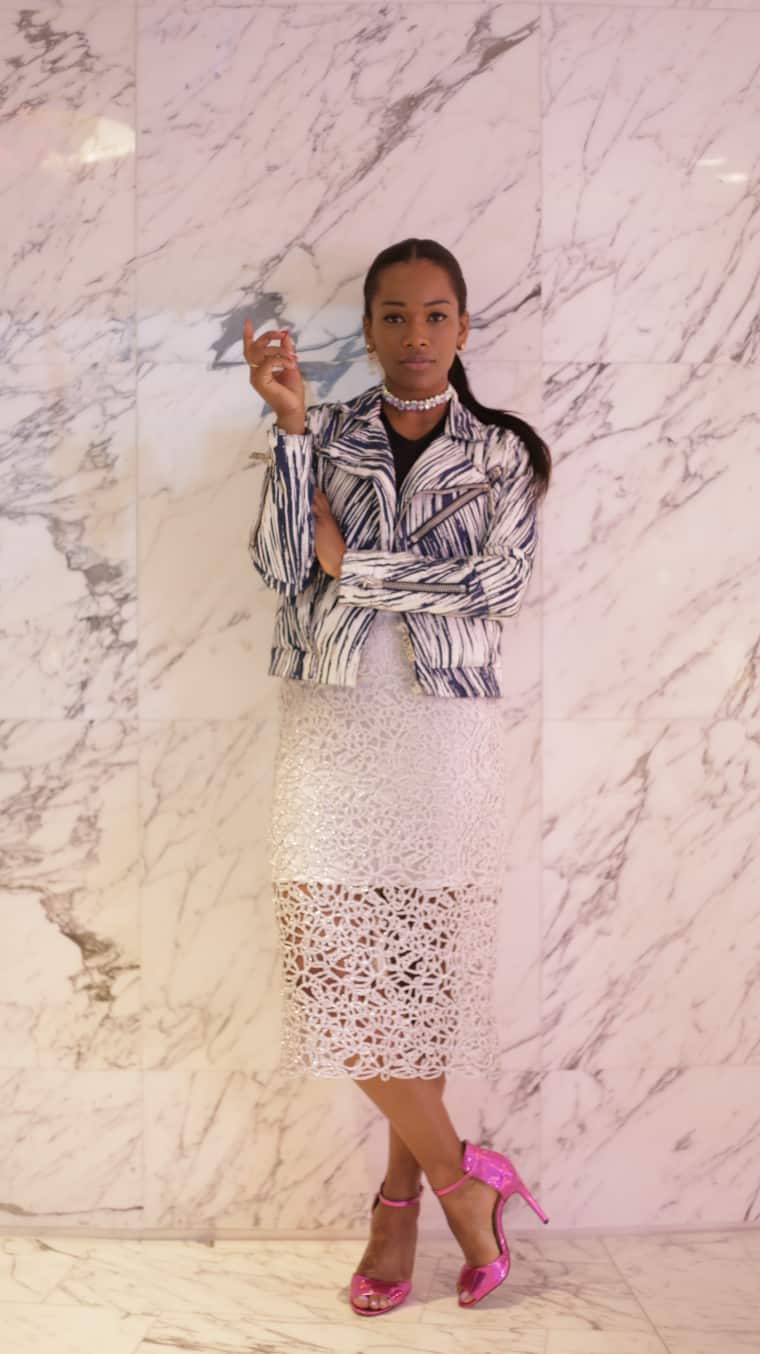 "I definitely look, act, and think differently to other people in tech, but I actually think that's a blessing."
Why are those people being underserved by tech?
I think it's because a lot of people in technology might not have actually run a small business. There's so much talk right now about diversity in technology, and I don't think about it as diversity in terms of like, black or white, man or woman, but just diversity of life experience. If everyone has the same type of life experiences, they come up with the same ideas for products, because they haven't seen problems from the other side.
I try and stay as connected to the customer as possible. It's really easy to just have your head down building [your product], and you forget who the actual customer is. I have a WhatsApp group of 10 of our early sign-ups, and I constantly talk to them.
Do you want to empower other entrepreneurs who come from a similar background to you?
My personal drive, since I was a kid, has always been to be a popular outsider, in whatever realm I'm in. I definitely look, act, and think differently to other people in tech, but I actually think that's a blessing. When I started WAH, I was 24, and I did things in such a random way. [Before WAH], there were either really boujee salons in [department stores] House of Fraser or Debenhams, or there were hood salons. When I came along with WAH, people in the industry were kind of anti-me. Journalists were incredibly supportive, but from an industry perspective, I've never really been welcomed, because I came from a fashion background.
Now, I feel like I'm repeating myself, eight years later. I don't come from a pure tech background, I'm coming from beauty, and trying to build a technology product. So like I said, I'm always going to be an outsider. It serves to my advantage because I have a completely different point of view. I've definitely had experiences where I don't feel like I'm being taken seriously, but that doesn't happen that often, and to be honest I don't mind — because I'm just going to blow them away once I build a successful company, right? That's the point. You don't do it to impress other people. You do it for your own satisfaction.