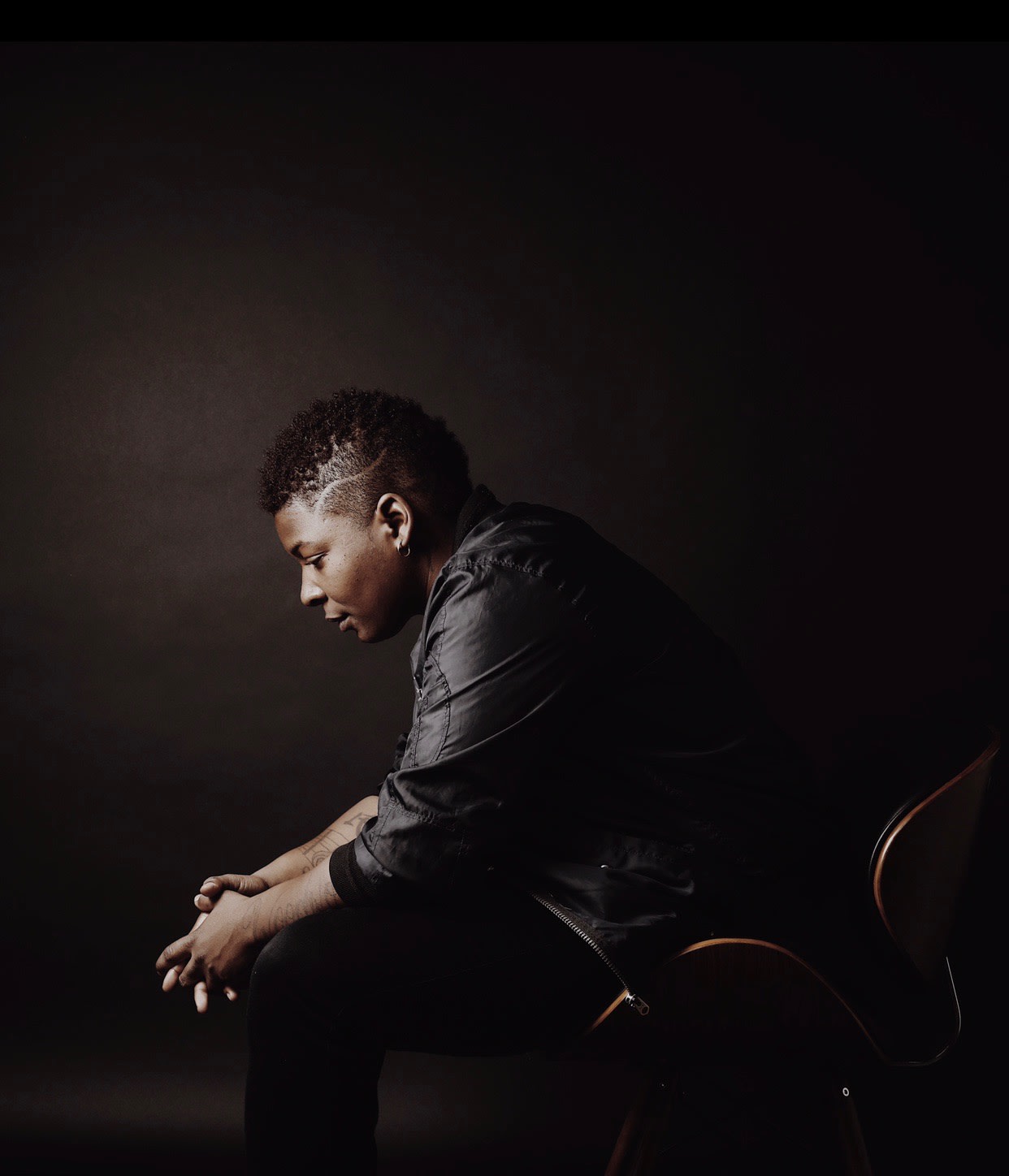 Tiffany Gouché has a way with melodies. Her low-register vocals rumble as she takes her time with tender songs that champion queer love. Born and raised in Inglewood, California, the singer/songwriter holds harmonies close — heartfelt, soul-warming ones that make her lyrics about thrilling rendezvous and sticky situations feel up-close and multi-dimensional. In 2014, Gouché released her debut EP, Fantasy, a seven-track project that ignited her confidence and her career. Since then, she's released a myriad of sensual cuts that celebrate the earnesty of R&B. Her latest single, "Dive," does just that; it's vintage video is premiering today on The FADER. Over email, Tiffany shared the inspiration for the video, the impact of the Harlem Renaissance's queer creatives, and what she has coming in 2018.

What's your earliest memory of music and wanting to be a part of it?
Around the age of five I remember listening to my father play and sing original songs at our upright piano on Saturday mornings. The freedom he experienced was contagious, I knew then I wanted to be a part of music.
What did you listen to growing up? How did it influence your sound and/or the feeling you want to evoke through your songwriting?
My parents were devout Christians so I mainly listened to gospel growing up. Stevie Wonder and Michael Jackson were exceptions, maybe some Herbie Hancock here and there. When you listen to my music, the harmonies will tell you I grew up in the church; I approach songs like I have an entire choir in me. When I was around 13 I used to walk to Midnight Records in Inglewood after playing basketball at St. Andrews Park. I hid mad Missy, Usher, and Brandy CDs in my backpack and obsessed over the melodic progressions, [which]I now have when I approach my own productions. My sound makes you move like Missy does, my sound makes you feel held like gospel does. It's a beautiful gumbo.
Tell me about the song "Dive." How did it come about?
[Laughs] It's crazy because I meet a lot of women that are attracted to me, but that aren't usually attracted to women. Attraction is fluid and women will flirt and push the lines with me all day. I wrote "Dive" about this intense connection with a woman who has never been with another woman. The chemistry and sexual tension became so loud, I was basically letting her know that she was safe diving in with me.
What inspired the concept of the video?
The concept of the video was inspired by Gladys Bently, a blues singer that performed unapologetically in full tuxedo during the Harlem Renaissance. Leo Volcy and Yassmin Alali (director and creative director) were excited to explore the ways in which queer black women existed freely in music. To be an outspoken queer artist at that time was so bold. I mean, it still is today. I wanted to convey that her legacy hasn't been forgotten. She paved the way for women like myself.
What about the Harlem Renaissance speaks to what you wanted to convey with this visual?
The Harlem Renaissance was a very unconstrained time in music. These were real musicians and singers daring to create spaces and platforms for their sound. They played hard and behaved unapologetically. The fact that Gladys was performing at the Clam House in full "male" attire in the '20s is just bossy. She didn't fit within the confines of gender presentation and neither do I. I was excited to work with a costume designer that was able to recreate a classic style reminiscent of that time. I love vintage dapper fashion and black people were doing the most in the best way at that time.

"Both men and women, young or old and across all intersections of identity vibe with my music. It's a blessing. But, it is very cool when listeners express finally being able to sing along with a woman singing to another woman."
How does the boldness of some of the era's LGBTQ creatives to be able stand in and/or create from their truth speak to how you approach your music?
It speaks volumes. I remember not being able to speak my truth because of fear. I would use male pronouns knowing damn well I wasn't singing to men. Learning about courageous women like Gladys existing in a time where people were even less accepting and more violent towards the queer community than they are now, I almost felt ashamed for not speaking sooner. Since my Fantasy EP, I've approached my music with unwavering authenticity and you'll continue to hear me write from that same place on every project I create.
When you're creating, do you always think how your music is received by the people who identify with you and what you're singing about? Or do you live and exist and create from your experiences?
Nah, at this point I just exist and create from my truths and experiences. Indirectly people will relate because I'm sharing a human experience. Everyone experiences feelings of love, desire, compassion, rejection, and so on throughout their journey. Both men and women, young or old and across all intersections of identity vibe with my music. It's a blessing. But it is very cool when listeners express finally being able to sing along with a woman singing to another woman.
How do you think the culture and industry can support these spaces?
By not being silent, not turning an ear on great music because of how someone identifies. By not restricting access or resources because someone is different. Music is pure and it's meant to represent all kinds of people.
What do you want people to feel and receive from your music?
I want people to feel love and receive peace.
Do you have any new projects or material that you're working on for 2018?
I'm currently working on new music. I've toured my Pillow Talk EP globally for some time now, just finishing up an EU tour with Kelela. I'm heading back to Los Angeles right now to get back into my studio to finish my debut album! I'm excited.