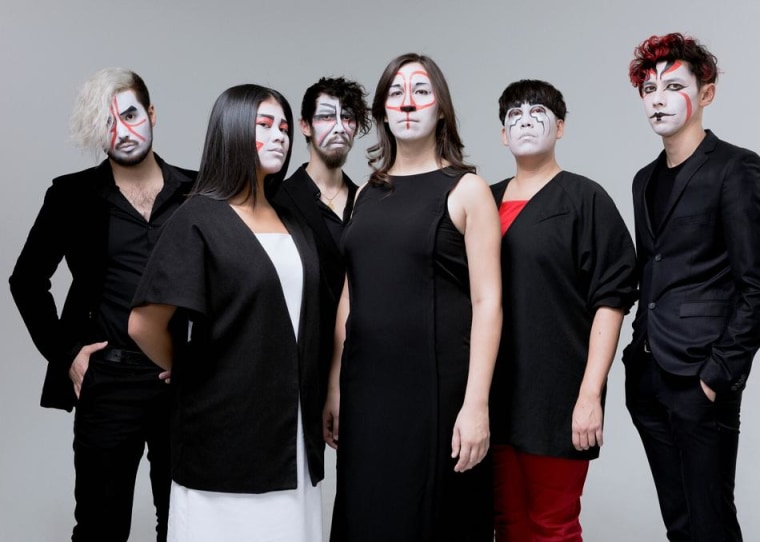 I have always appreciated the massive sound of Yamantaka // Sonic Titan. But it wasn't until I heard "Someplace," a song on the Canadian art collective's upcoming third album Dirt, that the second half of the group's name made its way from my periphery and onto center stage. With founding member Alaska B at the helm, YT // ST remains skillful at eliding boilerplate genres as ever – "Someplace" is a dream-spun tapestry of Mazzy Star-style indie, prog rock, and doom metal. "Noh-wave" is how the group has frequently described its style, a nod to the collective's incorporation of theater. The self-definition is empowering, but most of all, vivid: four years after its sophomore album UZU, YT // ST continue to stake out their own territory, and are still creating some of Canada's most exciting music within it.
On March 23, Yamantaka // Sonic Titan will release its new album Dirt. Over email, the band gave us a sneak peek at the album's narrative, as well as the intentions of the new song. "'Someplace' is about being in a situation that is familiar but isn't really serving you or giving you purpose. Dynamically, I think we tried to create the sense of trepidation when embarking on a new venture. Wanting to move on, to blast past your old concerns and go on. You'd rather be someplace new and potentially dangerous than accept the slow decay of the situation you're already in. It's time to go faster, to get more and go further.
"'Someplace' sets us off into the deep, plunging into another mythscape from the planet Pureland. Dirt's heroine, Aentsik, is leaving everything she knows on a mission taking her from the bubble dome cities orbiting her flooded planet, to the colossal ruins and vestiges of humanity resting on the ocean floor, all to raise the abandoned turtle starship, Anowara, and retrieve the last sample of arable soil."
Listen to "Someplace" below, followed by Yamantaka // Sonic Titan's upcoming tour dates as well as Dirt's incredible cover art.
Yamantaka // Sonic Titan tour dates
March 14, 15, 16 @ SXSW (Austin, TX)
Saturday, March 17 @ Gasa Gasa (New Orleans, LA)
Sunday, March 18 @ The Earl (Atlanta, GA)
Monday, March 19 @ Duke University (Durham, NC)
Tuesday, March 20 @ Union (Washington D.C.)
Thursday, March 22 @ The Sound Hole (Philadelphia, PA)
Saturday, March 24 @ Baby's All Right (Brooklyn, NY)
Sunday, March 25 @ Middle East (Cambridge, MA)
Tuesday, March 27 @ L'Escogriffe (Montreal, QC)
Wednesday, March 28 @ L'Anti (Québec City, QC)
Thursday, March 29 @ Baby G's (Toronto, ON)
Friday, March 30 @ Refined Fool Brewing Co. (Sarnia, ON)
Saturday, March 31 @ Cactus Club (Milwaukee, WI)
Sunday, April 1 @ 7th Street Entry (Minneapolis, MN)
Monday, April 2 @ Handsome Daughter (Winnipeg, MB)
Wednesday, April 4 @ Amigos (Saskatoon, SK)
Thursday, April 5 @ Starlite Room — Lower Hall (Edmonton, AB)
Friday, April 6 @ The Palomino (Calgary, AB)
Saturday, April 7 @ The Bartlett (Spokane, WA)
Sunday, April 8 @ Vera (Seattle, WA)
Monday, April 9 @ Doug Fir Lounge (Portland, OR)
Tuesday, April 10 @ Bottom of the Hill (San Fransisco, CA)
Thursday, April 12 @ Resident LA (Los Angeles, CA)
Friday, April 13 @ Soda Bar (San Diego, CA)
Saturday, April 14 @ Club Congress (Tucson, AZ)
Tuesday, April 17 @ Barleycorns (Wichita, KS)
Wednesday, April 18 @ Riot Room (Kansas City, MO)
Thursday, April 19 @ Empty Bottle (Chicago, IL)
Friday, April 20 @ Pioneer (Indianapolis, IN)
Friday, May 18 @ Biltmore Cabaret (Vancouver, BC)
Yamantaka // Sonic Titan's new album Dirt is out March 23 via Paper Bag Records