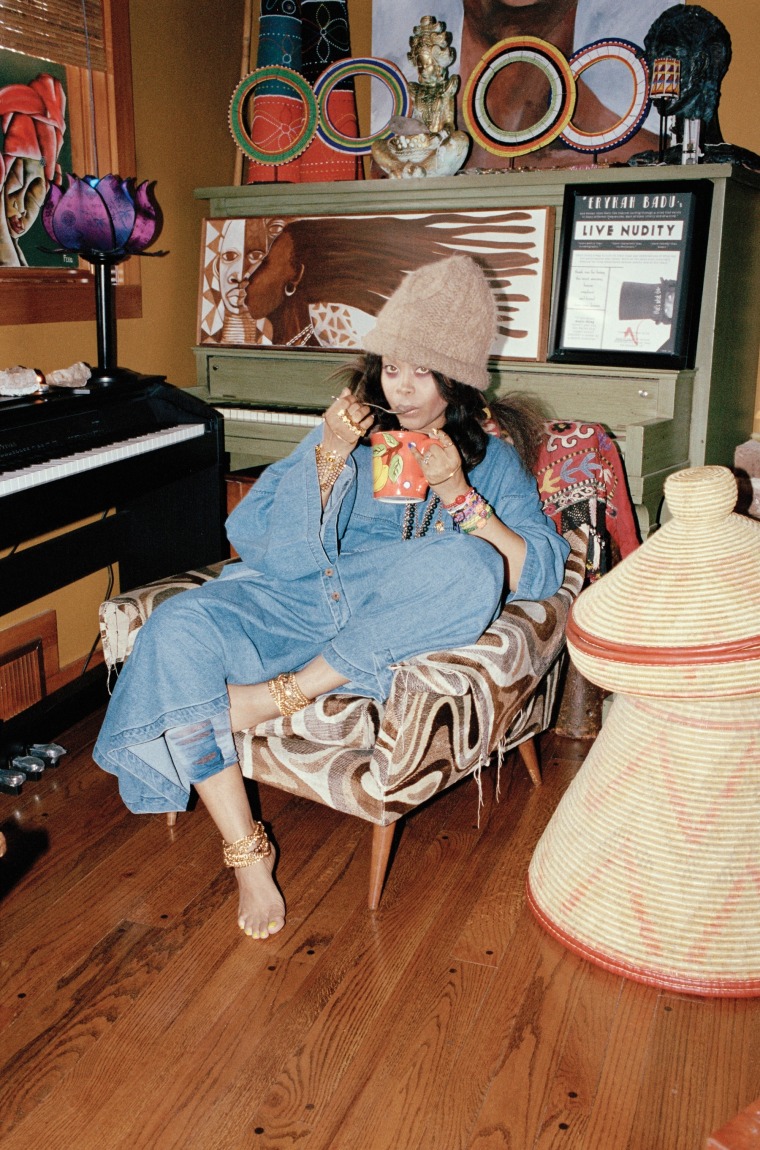 Erykah Badu has drawn criticism for comments perceived as sympathetic to Adolf Hitler, made during a recent interview with David Marchese for Vulture.
"I saw something good in Hitler," Badu said during a discussion of her empathy and personal philosophies. "Hitler was a wonderful painter." She retracted the compliment when Marchese asked her to clarify, and then remarked that his "terrible childhood" may have affected him. "That means that when I'm looking at my daughter, Mars, I could imagine her being in someone else's home and being treated so poorly, and what that could spawn."
Read the comments in full below.
That's not something most of us are good at.
We're not, and I'm okay with that. I'm also okay with anything I had to say about Louis Farrakhan. But I'm not an anti-Semitic person. I don't even know what anti-Semitic was before I was called it. I'm a humanist. I see good in everybody. I saw something good in Hitler.
Come again?
Yeah, I did. Hitler was a wonderful painter.
No, he wasn't! And even if he was, what would his skill as a painter have to do with any "good" in him?

Okay, he was a terrible painter. Poor thing. He had a terrible childhood. That means that when I'm looking at my daughter, Mars, I could imagine her being in someone else's home and being treated so poorly, and what that could spawn. I see things like that. I guess it's just the Pisces in me.
I'm perfectly willing to accept that you might be operating on a higher moral plane than I am, but I think going down the route of "Hitler was a child once too" is maybe turning the idea of empathy into an empty abstraction.
Maybe so. It doesn't test my limits — I can see this clearly. I don't care if the whole group says something, I'm going to be honest. I know I don't have the most popular opinion sometimes.

But don't you think that someone as evil as Hitler, who did what he did, has forfeited the right to other people's empathy?
Why can't I say what I'm saying? Because he did such terrible things?
Well, yes. But it's also disheartening to hear you say that at a time, like now, when racism and anti-Semitism are so much in the air. Why would you want to risk putting fuel on that fire?
You asked me a question. I could've chosen not to answer. I don't walk around thinking about Hitler or Louis Farrakhan. But I understand what you're saying: "Why would you want to risk fueling hateful thinking?" I have a platform, and I would never want to hurt people. I would never do that. I would never even imagine doing that. I would never even want a group of white men who believe that the Confederate flag is worth saving to feel bad. That's not how I operate.
Earlier in the interview, Badu acknowledged that some of her opinions were outside of popular consensus. "I don't want to get scared into not thinking for myself. I weigh everything," she said when asked her thoughts on appreciating art by individuals accused of sexual assault and misconduct. She added: "Somebody will call me and ask me to come to a march because such and such got shot. In that situation I want to know what really happened. I'm not going to jump up and go march just because I'm green and the person who got shot is green.
"If you say something good about someone, people think it means that you've chosen a side," Badu said before her comments about Hitler. "But I don't choose sides. I see all sides simultaneously."
Badu appeared to respond to the controversy through her Twitter account on Wednesday afternoon:
In 2016, Badu was accused of "slut-shaming" when she appeared to agree with a New Zealand high school's decision to mandate longer skirts for girls to prevent male teachers from becoming "distracted." When The FADER spoke with Badu about the furor, she discussed how she deals with being the target of online controversy. "I can take the weight of being lashed out at on Twitter," she said. "I view myself as an artist and an intellect, a sociologist, a self-scientist—meaning that I test my own theories by having conversations with others. It's part of my job. It's who I am, it's what I do."
Representatives for Erykah Badu were not immediately available for comment.