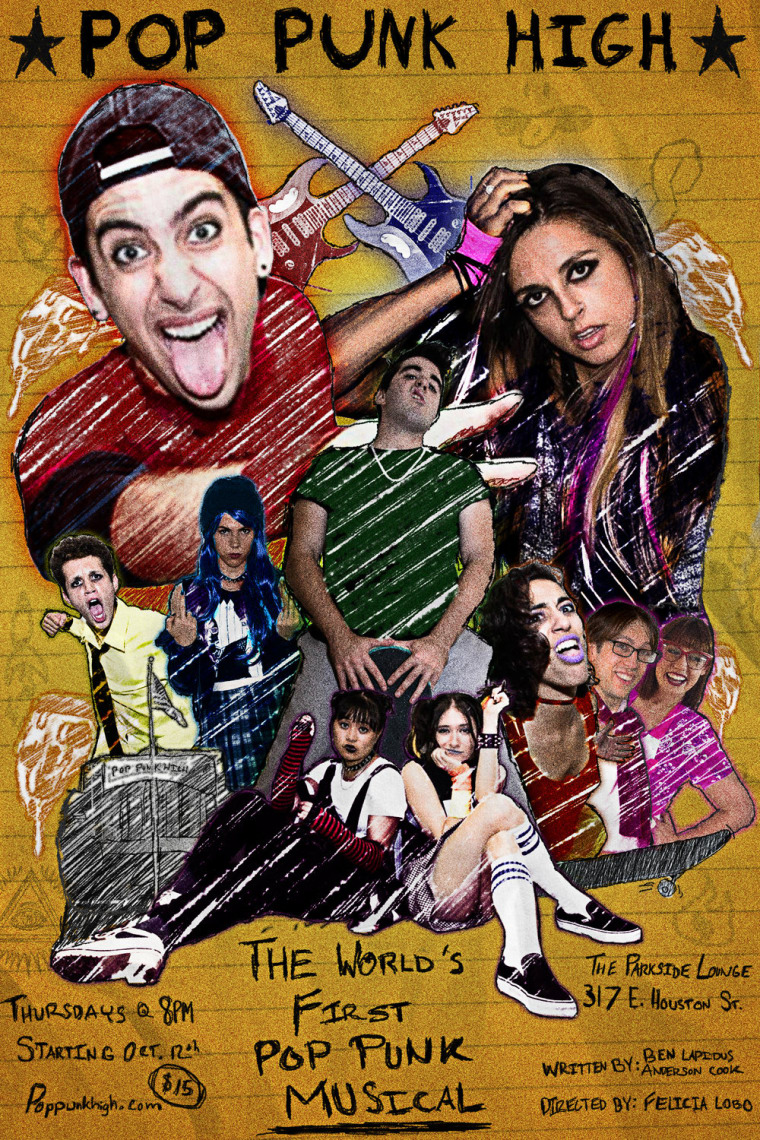 In the hallowed halls of Pop Punk High School, it's always 2003. The coolest girl in school has a Razr flip phone and orange Hayley Williams hair. The bullies ride skateboards, everyone has a band, and the parents, well, they really just can't even begin to understand.
This is the setting of Pop Punk High, a newish musical running now at the Parkside Lounge in New York. It follows a whiny misfit named Derek (Ben Lapidus, who also wrote all the songs) on a misguided quest for popularity, skateboarding skills, and the affection of his perennially jaded dream girl, Amanda Bunkface.
The resulting story, written by rising New York playwright Anderson Cook, is as outrageous as you'd expect, blending Hot Topic humor and MySpace-era conspiracy theories with a classic teen underdog story. The original music is great, too — a collection of self-deprecating sing-a-longs that follow pop-punk's foolproof formula to a T, successfully parodying the genre while also reminding you why it was so popular in the first place.
The whole thing is both extremely silly and extremely self-aware, smartly calling out some of emo and pop-punk music's most fucked up qualities — particularly the way the songs regularly portrayed women as two-dimensional fodder for lust and contempt. "I don't want to just sing along on the sidelines / I wanna be a star rockin' out on the main stage / I want to shine," sings Amanda (Melanie Brook) on the excruciatingly familiar-feeling breakdown of "Before Pop Punk Got So Mean," a standout on a soundtrack full of standouts.
The back room of a dive bar in downtown Manhattan definitely suits the show's spirit; you can conveniently pretend the Tecate tall boys you're drinking were procured by your fake ID-wielding older sister. But it's so good I can also imagine it on a bigger stage, with bolder costumes, and a more elaborate set complete with lockers and Drive-Thru Records posters and, like, a half-pipe. But as every pop-punk band knows — even the ones that went on to soundtrack a zillion shattered hearts — you gotta start somewhere.