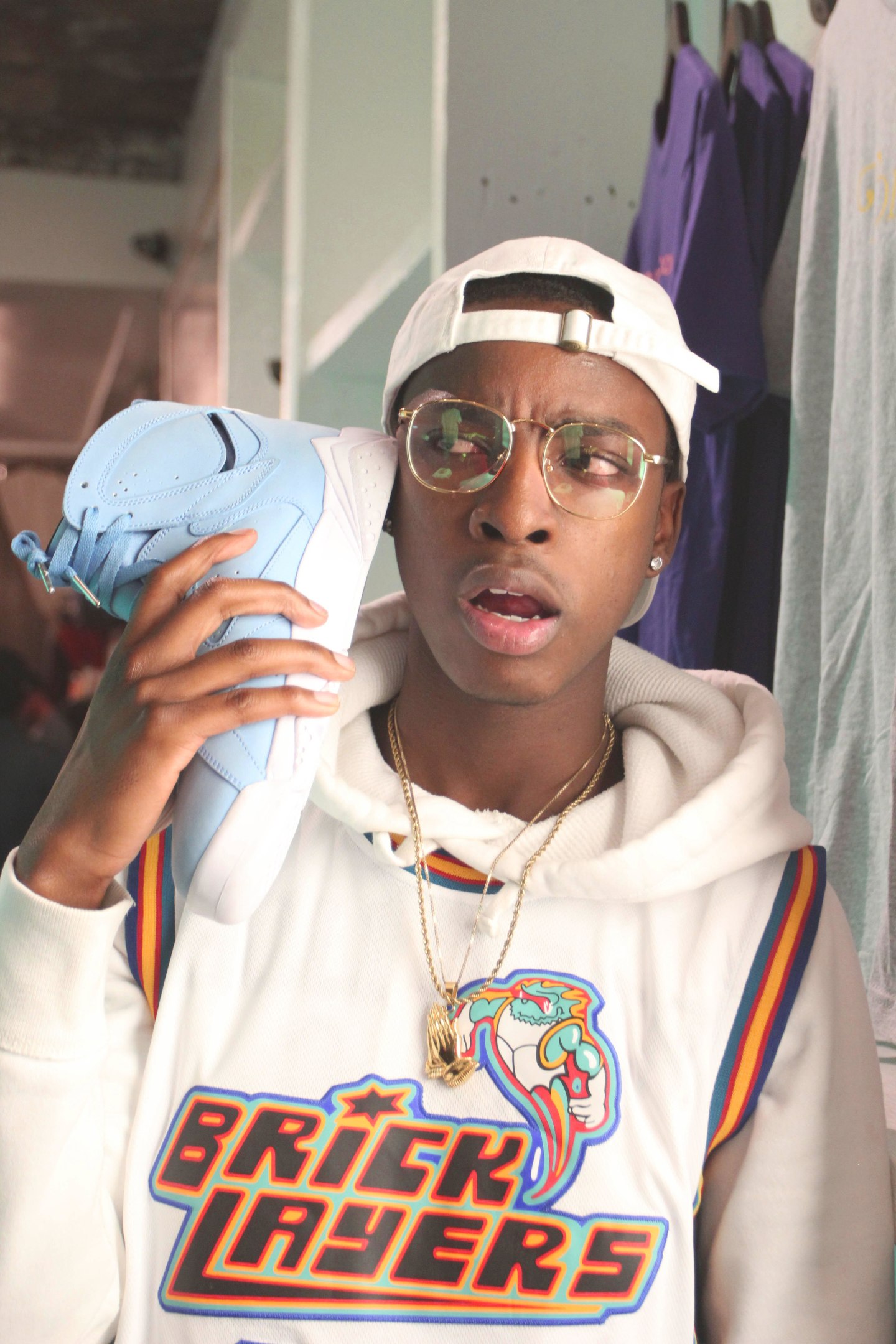 Instagram's Explore page can be a cesspool. But every so often, if you're lucky, you can stumble upon a gem, like a video of a dude performing Playboi Carti's "Magnolia" in the style of a dancehall artist. On a platform saturated with content, Papi Tré's parody videos stand out because they're hilarious, but also because he can put together a damn good song.
Toronto's Trésor Gray, 22, has been creating comedic content for the internet since 2012 but he has ambitions to make it to a bigger screen than the one on your smartphone. His parents couldn't afford to send him to acting school or set him up with an agent, so he took matters into his own hands and started making videos to get noticed. Inspired by the Vine-to-Hollywood trajectory of King Bach, Gray has his sights set on L.A. (He swears he would have been Vine-famous himself had he hopped on the platform sooner.)
His videos are reflective of Toronto and the diasporic nature of the city's black culture: his style is a singular style of comedy that reflects West Indian, African and American influences, mixing in rap, afrobeats, soca and dancehall. But it's his tight production skills that make his takes on popular songs worth coming back to. A recent video, "Drake and Giggs be like," was so good that it got a comment from Giggs himself.
Back in 2012, Gray would lurk the comments of major YouTubers and DM every single person that commented on their videos, "I probably messaged 30,000 people and I was grinding on that trying to get people to see me." With that sustained work ethic and the help of his creative partner Tristan Clarke, he drops new videos on Youtube, Twitter, and Instagram daily.
I recently met up with Gray to get to know what the ambitious creator behind Papi Tré plans next, how his West Indian upbringing shaped his comedy, and why he thinks you should laugh every day.
Half-way through watching your "Just repeat words to make a dancehall hit" video, I was like, "Wait, but why is this such a tune? I know this is a joke but why do I want to dance to it?" Did you expect that reaction?
Usually how I'll record is I'll record the song first and then do the video. But for that one, it was just an idea I had. When you see me saying [the lyrics], I literally hit record on Logic the same time I hit record on the camera and freestyled that whole thing. That was all one take. I really didn't know it was going to be as big as it was. I did not expect that.
There's a lot of West Indian influence in your videos. What was it like growing up in a Jamaican household?
Typical Jamaican family story. Mom's strict, music playing Sunday morning, getting up, cleaning, going to church. All these little sayings that you don't really understand. Lots of Beres Hammond. A lot of people in my family are teachers and musicians so I was exposed to a lot of music. I do think the culture of Jamaica, in general, helped shape who I am.
You post a lot of content, sometimes three videos a day. How much of your time is devoted to this?
When I tell you that literally all I do is go to school, come home and make videos, that's it!
So is this something that you want to see become your career?
100 percent. Normal jobs...it's not really for me. My last job, I worked at Sport Chek. It wasn't a bad job, I just didn't feel like I was supposed to be there. And even the people there were like, "Yo, you're not supposed to be here, you're supposed to be doing more." After that, I made a promise to myself that I'm never working a regular job again.
Why do you like making people laugh?
Laughter is necessary and especially in Toronto. Toronto's like the Canadian version of New York, where everyone's kind of hard and closed-off. I feel like when people get comfortable with each other and just laugh and have fun, it's just an overall vibe for everybody. I feel like you actually should laugh every single day.
Do you think a community is growing in Toronto for people who do what you do on the internet?
It's starting. It seems — I don't know if it's true — but it seems like the higher-ups aren't really trying to bring other people up to the forefront. That's one thing with Americans, especially with places like Atlanta, everyone's always collaborating. Toronto's starting to do that but once we get to that point of selflessness and people realize that there's room for everybody, then we'll take over everything.
The funniest content on the internet is created by black content creators. But how do you make posting a video on Instagram or Twitter profitable for yourself?
For Instagram and Twitter, it's more third-party brand deals. I think that's why a lot of people go to YouTube because that's the only direct monetization.
Are you making any money?
Here and there, it's not a super consistent thing.
I feel like often a young black kid will make a funny Vine or video and a brand or corporation will use that to sell their product and that kid rarely gets anything. Do you think there's a way to balance that relationship?
It would have to be higher-ups that are looking out for the content creators for that to happen. Like, that girl who made the "On Fleek" Vine. Or even Reggie Couz — he made "Or Nah." Or B Nard — he made that Billie Bounce dance. I don't think he made anything from that either. It's kind of hard unless you have [people in positions of power to] make sure that they get their due.
Where do you see yourself in a year, when you're done school?
I'm tryna spend some time in L.A., cause I'm just a warm weather type of person. Hopefully working on some movies or TV shows, still creating content but on a way bigger platform. Still working, still staying true to myself but on a level where I can do things to help the people around me.
That's another reason why I go so hard with my videos: 'cause it's not really about me. It's more about my friends and my family. Like, I have a lot of friends and family that have never been on a plane before or never been to L.A. or never been able to buy something expensive and I just want to do that for them.