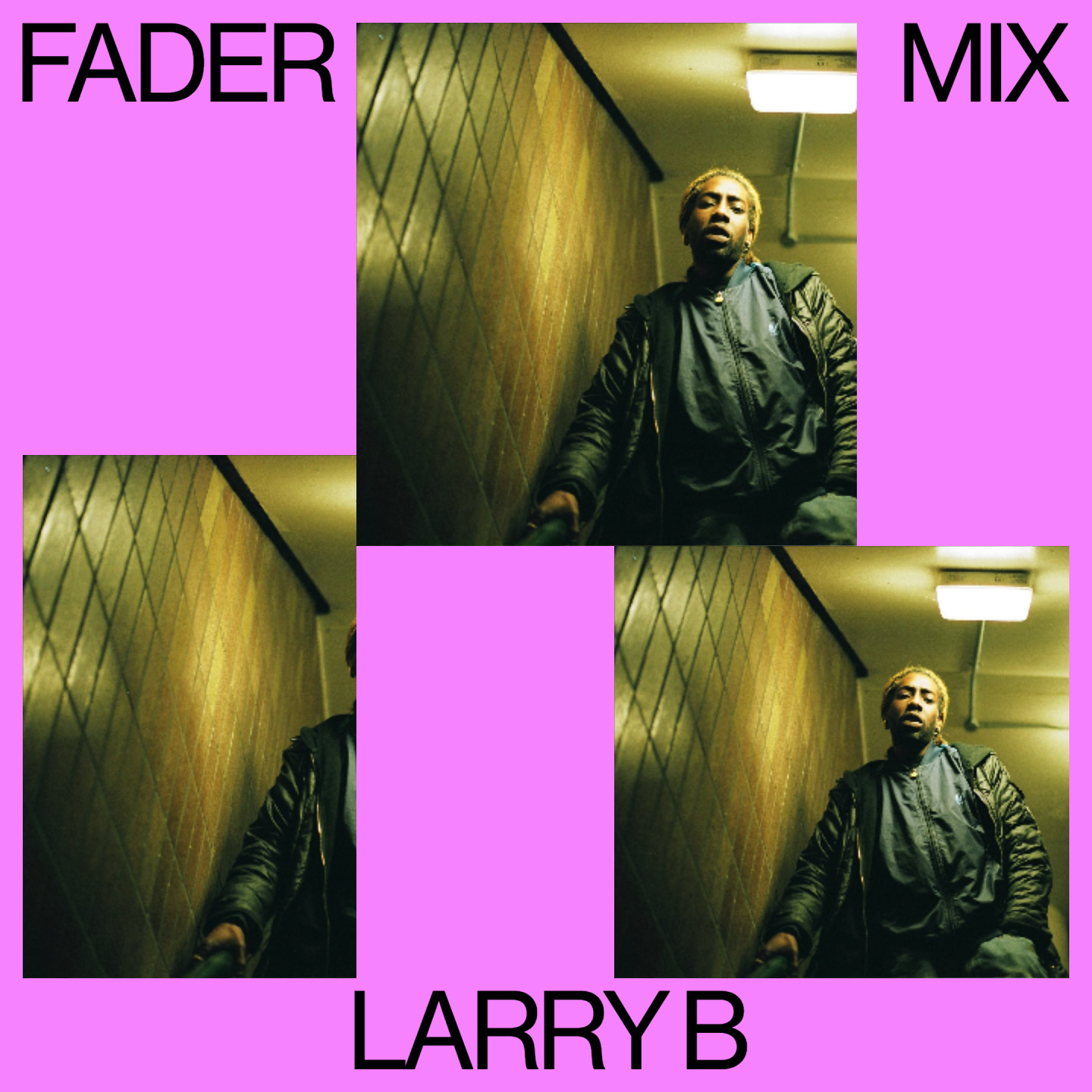 The longstanding FADER Mix series presents new, exclusive DJ mixes from our favorite artists.

London's Larry B is an incredible talent in the spheres of fashion, photography, and DJing. Most recently, he's extended his creative output into the realm of songwriting and vocal performance, with 5 Sad Songs, his EP released last fall. Featuring a handful of his own original songs that are just that — sad, and beautifully confessional — he sings over dark, stretched out chords that combined feel like a long-awaited catharsis. "More self help-y, if anything," he shares of the project on its Bandcamp page, "hopefully helpful for you too."
Ahead of his first New York City performance as a vocalist, Larry B has shared an immersive FADER mix that places right you right in the middle of the conflict, joy, or bare emotion of your favorite "anything goes" daytime talk shows. Featuring sugary R&B gems alongside cuts of his own, it opens with a dramatic Jerry Springer scene laid delicately over Claude Debussy's "Clair de Lune," audience reactions and all. Listen to the mix below, and read on for the tracklist and an interview with the multi-talented artist and performer.
Where are you right now? Describe your surroundings.
Currently I'm in New York and it's Sunday evening. I'm with my two good good girlfriends Mischa and Virginie in Chinatown, struggling to watch through the Grammys. It's Virginie's birthday and this is our Grammys viewing party, but they keep giving the awards to the wrong people so it's kinda stressful. Alas, we have spliffs and Ciroc miniatures so we're getting through. Patiently waiting for Rihanna and SZA to perform!
Tell us a bit about this mix — what do you imagine people doing while listening to it?
It's very silly, I recently got caught in a YouTube warp watching lots of old Jerry Springer and Steve Wilkos and a bit of Maury. The stories are so wild, I kind of see the mix as a compilation of one of those shows — anything goes, really. It's all very gay and hopefully you won't take it too seriously, slash totally do. I wouldn't want to image what you were doing whilst listening to it though, but you'll probably want to play with headphones (IMO) lol.
What's your earliest music memory?
I remember my oldest sister had quite a bit of music in her room. The room I can't quite remember, but she had the Fugees CD, that I always remember, and I thought it was fab! I think at one point the house got burgled and it was of course stolen. She was really sad about it! It kind of stuck with me *sad face*.
What was the last musical project or musical experience that had a big impact on you? And why?
Let's go back to 2016 — artist: Rihanna, album: Anti. That album gave me hope! It was perfect! It was a running joke with my BFF Mischa. We DJ back to back sets together a lot, but when we played out [at that time], we'd pretty much literally play through the whole album for peace and lolz. This went on for a really long time.
Last year you released a project of your own original music, some of which is included in this mix. What has your transition to being a vocalist been like?
It's definitely a transition! I'm really trying to get comfortable using my voice again. I know that that's going to take some time, but I grew up in church thinking I could never sing songs that weren't about God or the holy ghost, so I'm just happy now that I can, or that I am.
How have your other creative pursuits informed your musical endeavors?
Quite a lot if not loads. I do try hard to leave the past where it is though, but I know that I'm doing what I'm doing and being who I'm being because of it.
What are you working on right now? What's in store for you in the coming year?
I'm going to release a few covers, as a kind of free mixtape/EP type thing at some point soon before releasing more of my own music, so I've been trying to finish those. I also want to do more live shows, so I'm working on getting better at playing keys, too.
What's your favorite dish to cook and how do you make it?

Eeeek! I'm not much of a cook. I kinda stop at a good egg sandwich.
Tracklist:
Claude Debussy on Jerry (Intro)
On N On (Get Along With You Mashup) - Erykah Badu
Promises - Sugababes
War/Blood - James Massiah
Happiness - Soul II Soul
Over n Over (Jesse Edit) - Larry B
Dilemma - So Solid Crew
Charley! Charley! - Larry B
No Limit - Khalia Bakosi
Samantha James - Kevin JZ Prodigy
It's Alright - June's Diary
Touch Me - DJ Rui Da Silva
Riders - Harlem Spartans
Still Tipping - Woodgrain
Five Harmonies - Larry B
Nikki Comes To The Diary Room - Larry B
How Will I Know (Acapella) - Whitney Houston