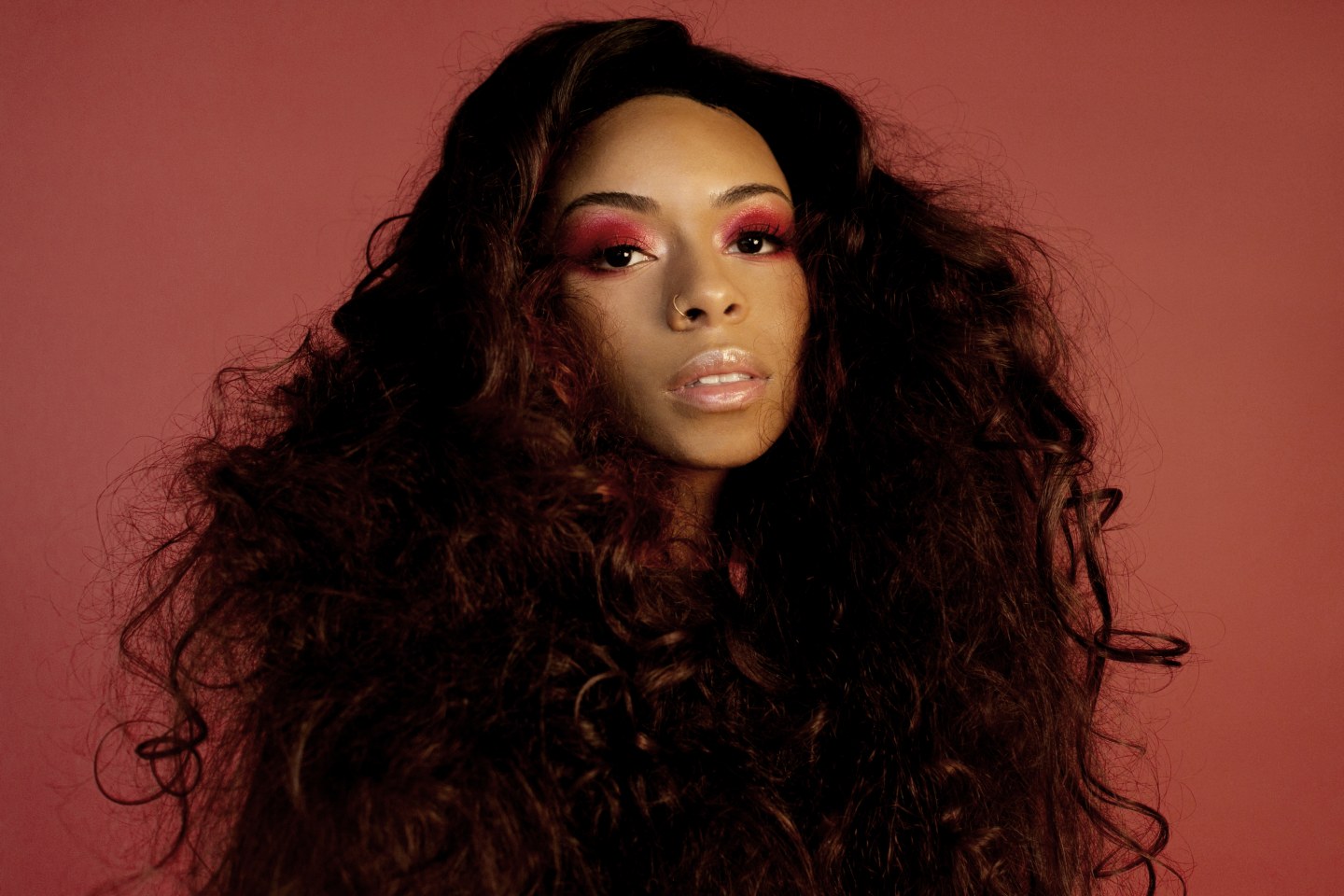 Ravyn Lenae was glowing when I met the Chicago singer at her hometown eatery, Nini's Deli, on an unusually warm day in January. It might've been because she had just returned from a vacation in Thailand—she was looking rather sunkissed, too—or because she just celebrated her 19th birthday. It also could've been because she recently announced that her collaborative EP with guitarist, producer, and vocalist Steve Lacy, titled Crush, is dropping on February 9. As we sat in the lively deli, discussing the birth of her career, Ravyn seemed more self-assured and confident — different from the wistful teen she presented on her early releases.
Many fans were first introduced to Ravyn in 2017, through her feature on Noname's Telefone album cut "Forever." The guest appearance led to a series of high-profile opening slots: first, on Noname's tour, and then on the Ctrl Tour with SZA. But, for those who've had their ears to Chicago's innovative R&B scene, Ravyn's rise was only a matter of time.
Ravyn grew up on Chicago's south side in West Pullman Park. She sang in choirs as a child, but, while trying to decide what high school to attend, she started asking herself, What am I good at? She ended up enrolling in The Chicago High School for the Arts. "If I didn't go to that school, I don't think I would've been as strong an artist as I am now," she said. "I don't think I would've even thought about doing music that way." Though her grandfather was in a doo-wop group called The Dominos in Panama, and her cousin is a well-known musical theater singer there, the rest of Ravyn's family isn't particularly musically inclined. Still, she's always had a proclivity for the arts: "I grew up having an ear for what was hot and was not," she remembered, "What sounds good in music and what doesn't."
Her artistic breakthrough came in 2015, when — after recording at Classick Studios for the first time — owner Chris Classick, producer Monte Booker, and rapper Smino took Ravyn under their collective wing. In just a few months, she recorded and released her debut project Moon Shoes, pairing her candied voice with Booker's trademark idiosyncratic beats. After signing with Atlantic Records in 2016, she released her second project, Midnight Moonlight, at the beginning of 2017. The project, half-produced by Booker, was an extension of her sound from Moon Shoes, but approached from a more worldly point-of-view, and darker in tone.
With "Sticky," the Lacy-produced lead single from Crush, Ravyn taps into deeper level of her artistry, fully making the connection between her personal growth and the evolving sound of her music. Ahead of the release of her project, I sat down with Ravyn Lenae in a booth at Nini's Deli, to learn more about what it was like to make music at such a young age, how she was able to approach and connect with a new sound, and why the color red is so essential to her artistry.

Was there a decisive moment where you thought, I want to make music my career?
I would say that the pivotal moment in singing for me was my sophomore year in high school, 'cause I always loved music but, even going into high school, I didn't know I wanted to make this my career. I didn't know if I wanted to be a music teacher or a music therapist, whatever.
So there was a time when you weren't even sure you wanted to sing?
I guess the moment for me was when I did my first performance ever. It was at the House of Blues and they have this really cool program for high school kids. You submit music and they pick five different artists from Chicago, and they give you these training programs and workshops where you get to talk to actual people in the music business. I learned a lot from that. Then, at the end, we all performed, which was my first performance ever singing my own music. And I cried after I sang and I'm just like, "This is what I need to be doing all the time."
When you first started releasing music, everyone was talking about how young you were. Do you think that influenced how you made music in the beginning?
I will say that maybe me being young, it enabled me to have a more youthful approach to making music, and a fresher approach. 'Cause even during the time I started to write my own music, I wasn't fully aware of what was happening in Chicago, as far as the sound [and] people who were making music, and I think that isolation kind of forced me to be more creative. And then me getting with Monte [Booker] just further pushed that idea of being unique and creating a sound with someone instead of repeating a sound that already exists.
But that must be a lot of pressure, when people keep saying, "You're so young, you're so talented."
In a way, there's a lot of pressure, in a way there is not, because I'm really hard on myself when it comes to my music and my achievements. And I have to remember, Okay, all of my contemporaries are like over five years older than me, and I have to remember they were in this place once too, and that I have so much time to do everything that I want to do.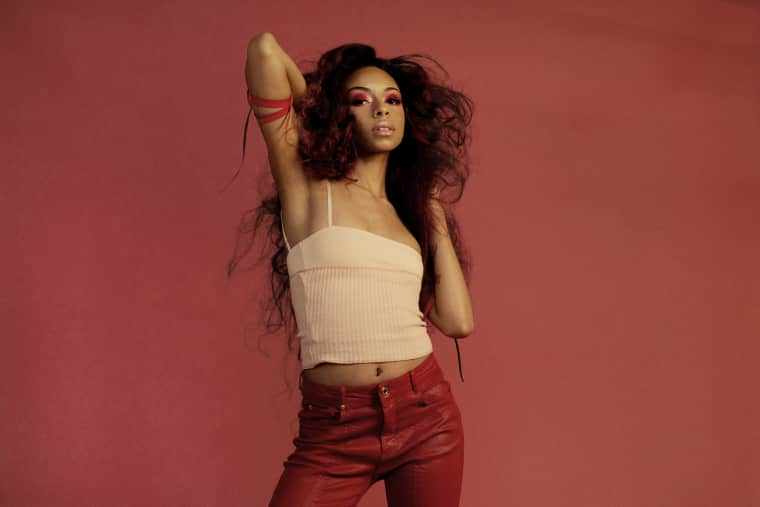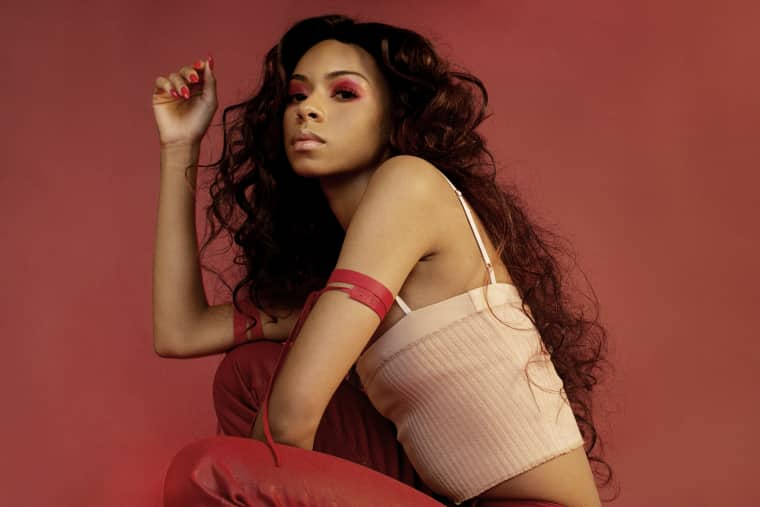 The moon has been an ongoing theme in your work and in the titles of your projects. What's that about?
The moon? I don't know, I have this weird obsession with like light in the midst of darkness, and I just think of the moon as a very beautiful woman, and a lot of my music was inspired by that theme and that idea, of something being the light in darkness.
I describe my projects using colors because it's the best way to describe 'em. I would say that Moon Shoes was way more colorful than a lot of my other music, just because I was pulling from so many different places. Imagine learning how to talk for the first time and you're just saying everything. So this is my first time being able to express myself musically, so all the music was everywhere. I would describe Moon Shoes as pink and yellow and orange and green—and Midnight Moonlight was more blue and purple, which are just more mature colors to me.
Your song "Sticky" is radically different than anything you've done before. How did you tap into that sound?
For me, I needed a change in sound just to pull different colors out of me. Steve [Lacy] is completely different from Monte, and I think that production change inspired a lot of things I didn't even know existed in me, so the writing is completely different.
The melodies are different, just my approach to certain topics are more blunt, and that's a matter of the sound that's changed, and also me being older. I don't have to hide certain things anymore in my music. I'm feeling a little more confident in who I am and my experiences. I feel like this is a coming-of-age project where like, stop saying I'm 16. Stop [laughs]. Just a little more sexy and feminine.
That song is about the really weird part of a relationship where you know you shouldn't be together but you're gonna try to make it work anyway. Or like, you breakup but you're still randomly seeing each other, or I don't know—just the merry-go-round effect. The video simulates that, like the round and round, the cycle of us breaking up, trying again, and really can't get enough of each other but we hate each other [laughs].
How did you approach working with Steve differently than with Monte Booker?
Yeah, in a way. I've always been involved in the production process with Monte, and with Steve, I was involved. It's just a little different—different personalities, different songwriting approaches. 'Cause Steve co-wrote some of the songs with me, so it was more of a collaborative effort. Not saying that me and Monte didn't do that, but he's not a writer. So, he produced, I would write.
I've never worked like that with an artist [like Steve], and never trusted an artist that much with my music. I think he can say the same because he's super picky about who he works with. He's very particular, which is okay. I am too.
"I connect with colors a little more than words sometimes, and I feel like it's a little easier for people to understand sometimes too."
The color red is obviously integral to your personal style and music. How did you initially connect with that color? Are you synesthetic?
I just really connect with colors a lot. I wouldn't diagnose myself as [synesthetic] but I connect with colors a little more than words sometimes, and I feel like it's a little easier for people to understand sometimes too. Red is a very intense color. In the midst of other colors, red always stands out. My hair is a burgundy. My hair changes. It can't be a vibrant red—like how I do it in the summer—during the winter, I tone it down a bit.
So with this project, it is red. First of all, red is like the staple color for love and crushing and Valentine's Day, and that's what I kind of centered this project around.
Having good style is part of your artistry, as well.
It wasn't this girly and glamorous [before] though. Like sparkles—especially with the Moon Shoes and Midnight Moonlight stages, it just wasn't that. I think with [Crush], I developed an inner confidence that I didn't have, and sexuality. Being very bold in who I am. I feel like this project is for girls, for women, because it's just so feminine.
How did touring with SZA inspire you? I can see the parallels between the themes of Ctrl and Crush.
We had conversations, just about inner confidence and like believing in yourself. Because every girl has been her, especially being in the music industry, you can kind of lose that piece of yourself a little bit, especially when there are so many guys around. Her music was never like that, so blunt, so okay with who she is.
Chicago's having a real moment in music, the arts, and culture. How does that inspire your work?
I think having that sense of community and unity so early on comforted me in a way. It's kind of nerve wracking to release your own music because you're inviting so many people into a very intimate part of your life, and just having that support system early on—Saba, Smino, Monte, Jean Deaux. That encouraged me to be myself. They were the first people who told me that my music is hot. Hearing that from them gave me the confirmation that I need as a 15, 16-year-old, and them going to my shows and being like the only fans in the crowd [laughs]. I don't know, it just gives you a sense of comfort.