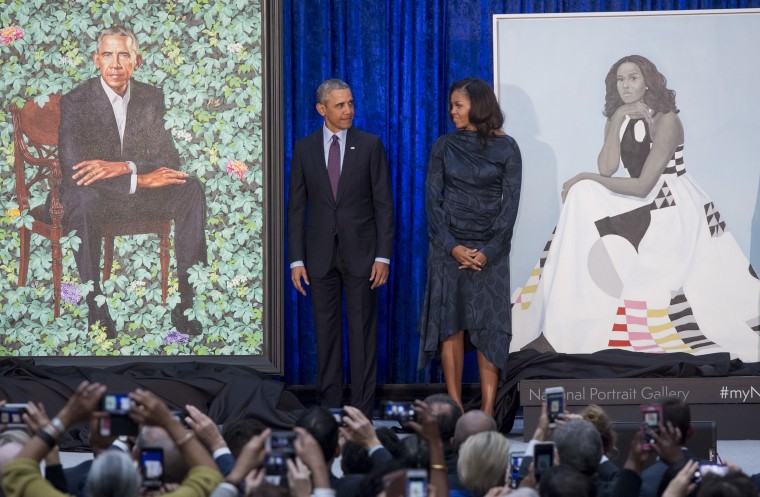 The Smithsonian National Portrait Gallery unveiled Barack and Michelle Obama's official portraits on Monday morning, with the former first couple present with their chosen artists. Barack Obama was painted by Kehinde Wiley, who portrayed the former president sitting on a chair surrounded by ivy. Michelle Obama was painted by Amy Sherald, a Baltimore artist who put the seated former First Lady in a geometric-patterned gown.
The Obamas were both in awe of their paintings, which mark a departure from past presidential portraits in their modern, more abstract style. Michelle told the room she was "a little overwhelmed, to say the least," while Barack called his Wiley portrait "pretty sharp." In a speech after the unveiling, Michelle told the crowd she was particularly excited for young people, especially "young girls of color," to visit the museum in the future and "see an image of someone who looks like them."
"What an incredible journey we are on together in this country," she continued. "We have come so far andyes, as we see today, we still have a lot more work to do. But we have every reason to be hopeful and proud. And I am truly grateful to have had the opportunity to stand alongside my husband and play a very small part in that history and in that future."
See both paintings below.