BlocBoy JB is now in the running to become America's next top rapper
The Memphis rapper's first-ever interview.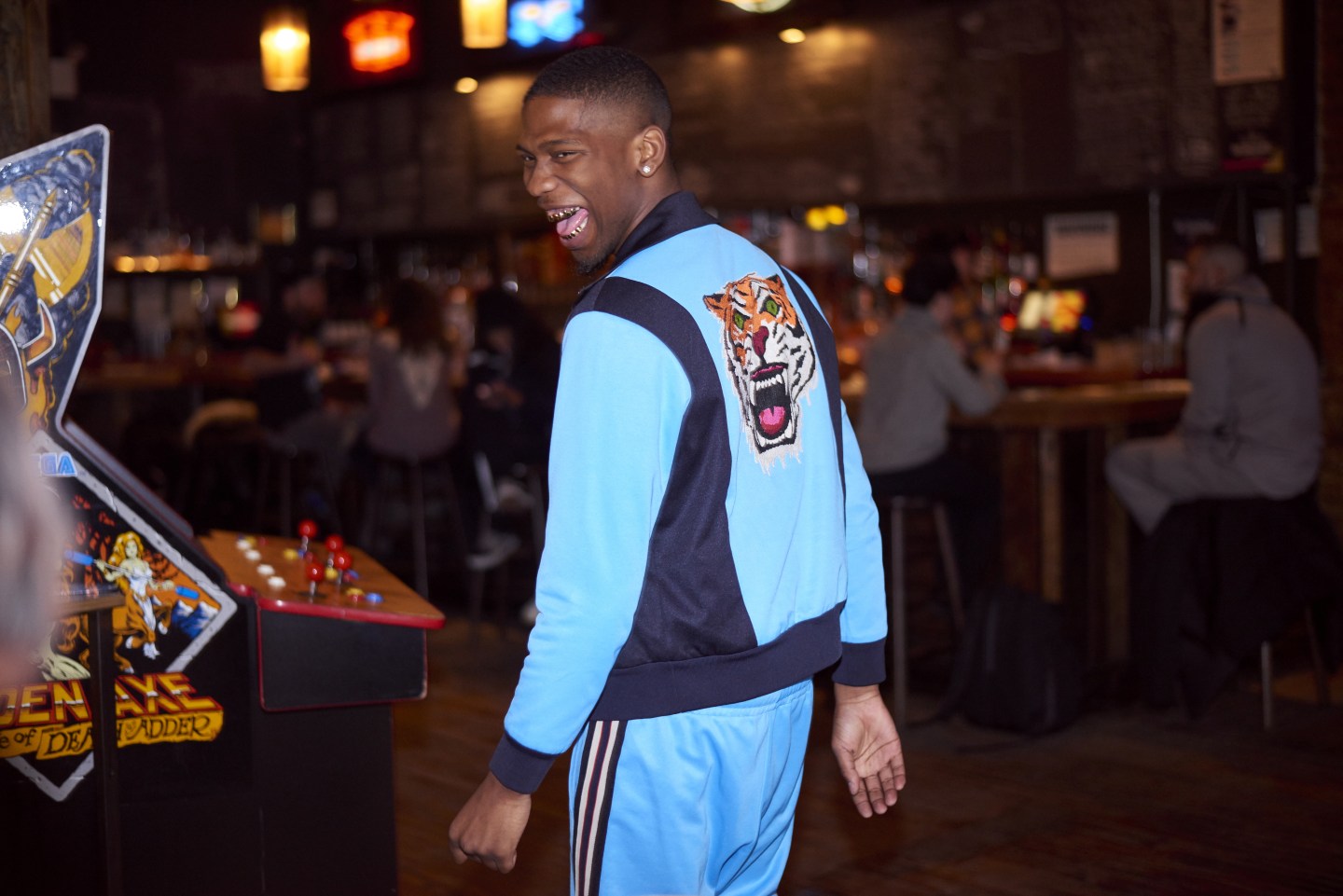 BlocBoy JB is one of our 10 artists to fall in love with this spring.

At the Chelsea outpost of Barcade, a New York establishment that is exactly what its name suggests, BlocBoy JB makes a beeline for a four-person tabletop Ms. Pac-Man. Swiftly defeated, he flits from game to game, a few dozen gold tokens weighing down the bottom half of a sky-blue Gucci sweatsuit. When Mortal Kombat, NBA Jam, and a Teenage Mutant Ninja Turtles arcade game all result in losses, he flashes a wide grin of gold teeth and returns to Ms. Pac-Man.
The 21 year old couldn't be a sore loser — at least, not today. He's in town for a formal introduction to the music industry, and in a few hours, he will release a song with Drake that will quickly catapult to the No. 2 spot on the Apple Music charts. "Look Alive," a slick song produced by regular collaborator Tay Keith, is an apt follow-up to a string of frenetic hits that first buzzed regionally and eventually radiated outwards. Last summer's street anthem "Shoot," also bearing the signature keys of Tay Keith, took off in part thanks to an accompanying challenge based on a signature BlocBoy dance, a spastic set of moves that feels something like trying to rub your belly while patting your head.
As the gravitational pull of Atlanta rap shows signs of wearing off and other cities are vying for that spot with urgency, Memphis, a city with a rich rap history of its own, is a contender. There, BlocBoy is in the company of guys like Yo Gotti, Blac Youngsta, and Moneybagg Yo, all of whom have managed, to different degrees, to capture the rap imagination. For BlocBoy, whose style is an infectious amalgam of classic Southern street rap and the nebulous sub-genre known imprecisely as "trap," this is the perfect moment for a rare opportunity.
Over a lunch that winds up uneaten — the chicken strips taste like weed, he says almost apologetically, and the lemonade isn't sweet enough — BlocBoy explains where he came from, and where he's going next.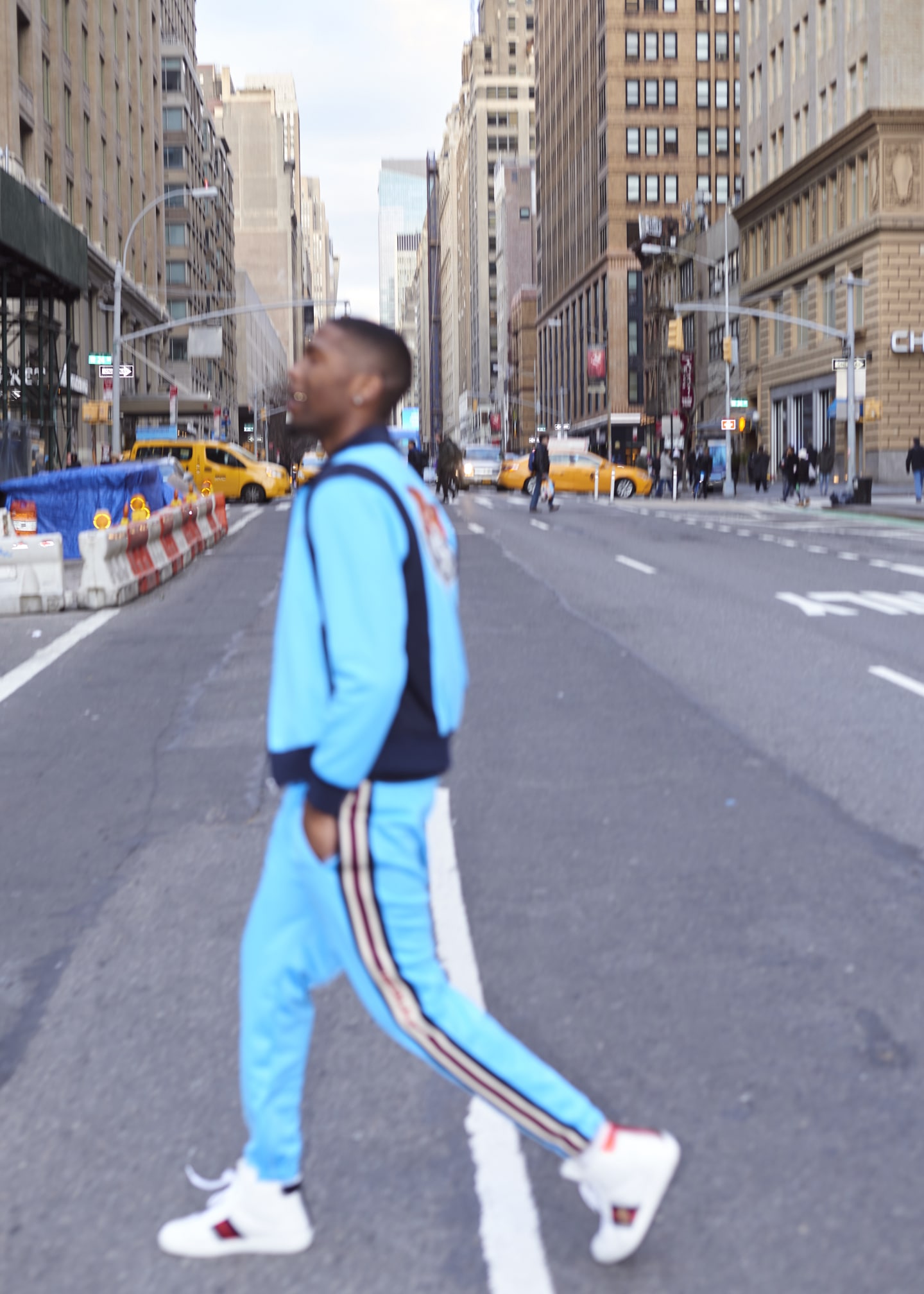 Did you really come up with the "Shoot" dance in front of the mirror?
Yeah! On some "looking at yourself, just turnt in the house, everybody dancing." When I play my own music I just do anything. I was in the mirror looking at myself and I got to winding that motherfucker up and hitting that motherfucker, just like, "Oh, that shit hard!" I started hitting it in the video and it just popped.
How did it go from just a dance you were doing to a dance you were known for, and a challenge and all that?
I don't even know. I didn't think of it, I was just doin' it in the video. And I saw it, and I said [to my videographer], "Aww, Ali, that motherfucker looks so good right there, keep this." And then it just popped. I look on Instagram, and I just see people doing it. At first it was just local people that was fucking with it, then outta nowhere I start seeing football teams and shit like that in the locker room and it started expanding.
Have you always been a dancer?
Mmmhmm. I always danced. You gotta have a good time some way.
Even just talking about dancing makes you smile!
That's what I always tell people. It be confusing them. They're like, "This can't be BlocBoy, this can't be the same person." But just 'cause you a gangster — you could shoot 1,000 people, it don't mean you can't have a good time. I have a good time everywhere I'm at. I'm not a gangster, I'm just a guy who knows how to have a good time and knows how to back himself up.
How did you meet Tay Keith?
We moved to Raleigh [a North Memphis neighborhood] when I was 14. Tay Keith lived just around the corner. I just so happened to walk down the street, and I see they [shed] open and they got studio equipment. I'm like, Oooh, they got studio equipment! I went in there and fucked around and got some beats from him. We was so young that everybody was friendly.
So then I had dropped a song called "Goons Coming." It wasn't nothing but it was my first song. We started bonding after that. I got him to send a couple more beats. My bros and them at the time they was rapping at the house, too. So, me, I snuck in and took they mic and put it in my room and just rapped in the closet. I was just rapping out at the closet and then bam. Just recording myself constantly.
Is that how you learned to engineer?
Matter of fact, I looked at YouTube to see how do I make my music sound mastered. I looked at it and then since then I was working.
While you were working, his career started to go in one direction and you…
Yeah, his shit started going crazy before me. That shit really motivated me. He used to tell me like, "Mane, you hear this junt? I just dropped this junt with Blac Youngsta." I'm like, "Maan, you turning up, I gotta turn up like you, I gotta come hard with it." We still close to this day, that's my brother. His whole family, they call me Bloc, I'm like a family member to all of them.
Do you remember how you made "Shoot"?
I was thinking about my song "Two" and my song "Yeah." And I put 'em together. Everybody would get turnt to the parts [where I'd go] "yeah!" and "two!," so I put 'em together and I made "Shoot" feel the same way. I was like, This song right here is too hard.
How I recorded it is I'd be on the bed, I'd press record, and then I'd run into the closet and I said, "Shoot! Shoot!" I said it four times and then my cousin came in and was like, "Bruh, that shit is not wassup, loco." And I'm like, "Nigga, fuck you mean, nigga?!" And I put it on loop like three, four times and we got to dancing to it. And then he was like, "You got me, that shit's hard!"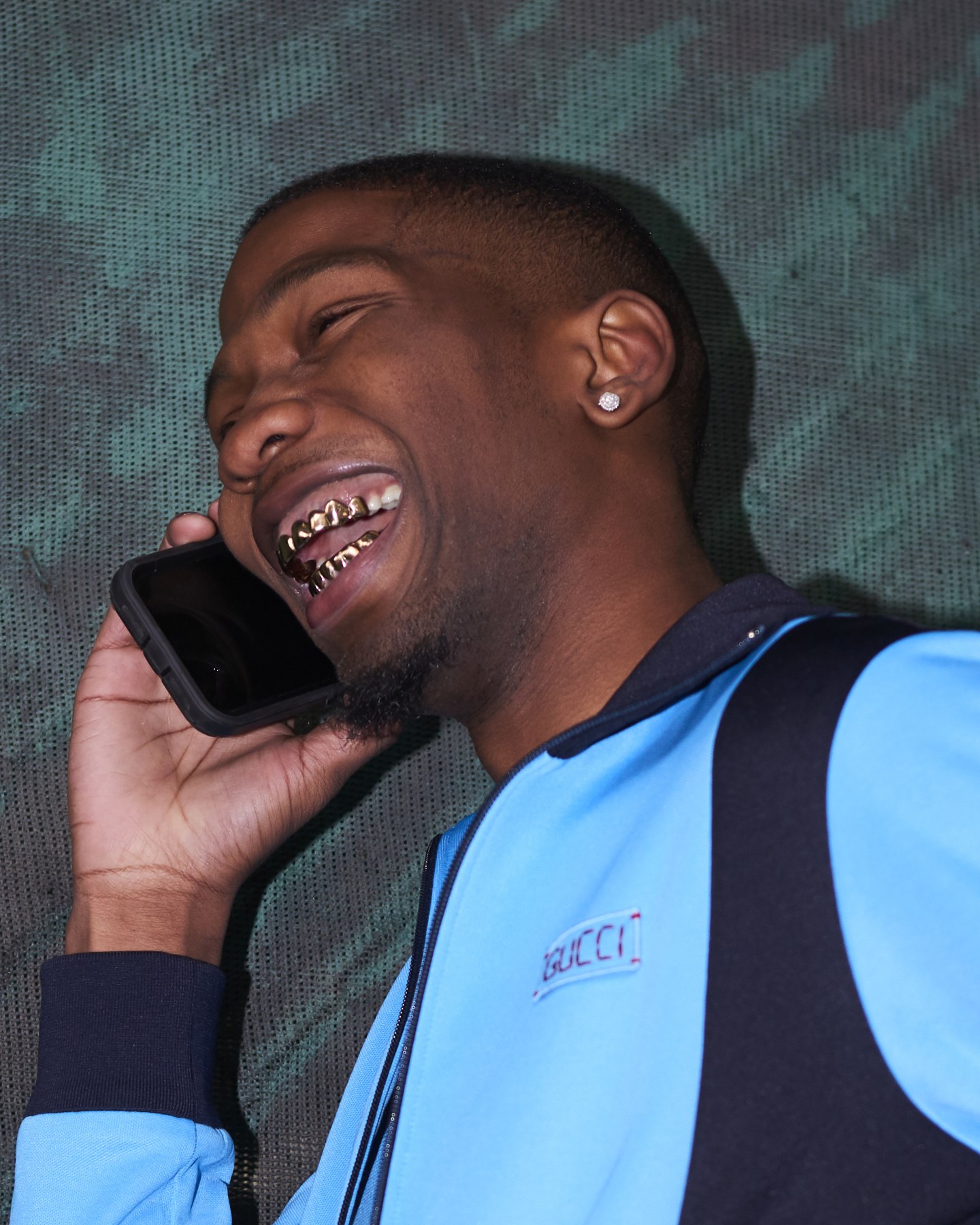 BlocBoy has heard that Uber drivers in New York harvest organs. And since it's only his second time here, he has some questions for the driver of our Suburban. In Memphis, where he was born and raised, you're likely to get into an Uber to find a gun to your face, he says. But that's better than having someone make off with your kidneys. Life hasn't given him much reason to trust people, so he's only half-joking when he questions our driver about the safety of New York ride-share services.
He was born James Baker, the third-youngest of his mom's seven children. His father, with whom he shares a name, has been locked up on a 25-year sentence since as long as BlocBoy can remember. The family unit, comprised of his mom and siblings, bounced around the greater Memphis area, eventually settling in the community of Raleigh when BlocBoy was 14. Back then, he says, everyone used to call him FatBoy, on account of how chubby he was. When I ask whether it was all the dancing that made that erstwhile nickname not quite fitting, he laughs: "Nah. Fighting, running from the police did that."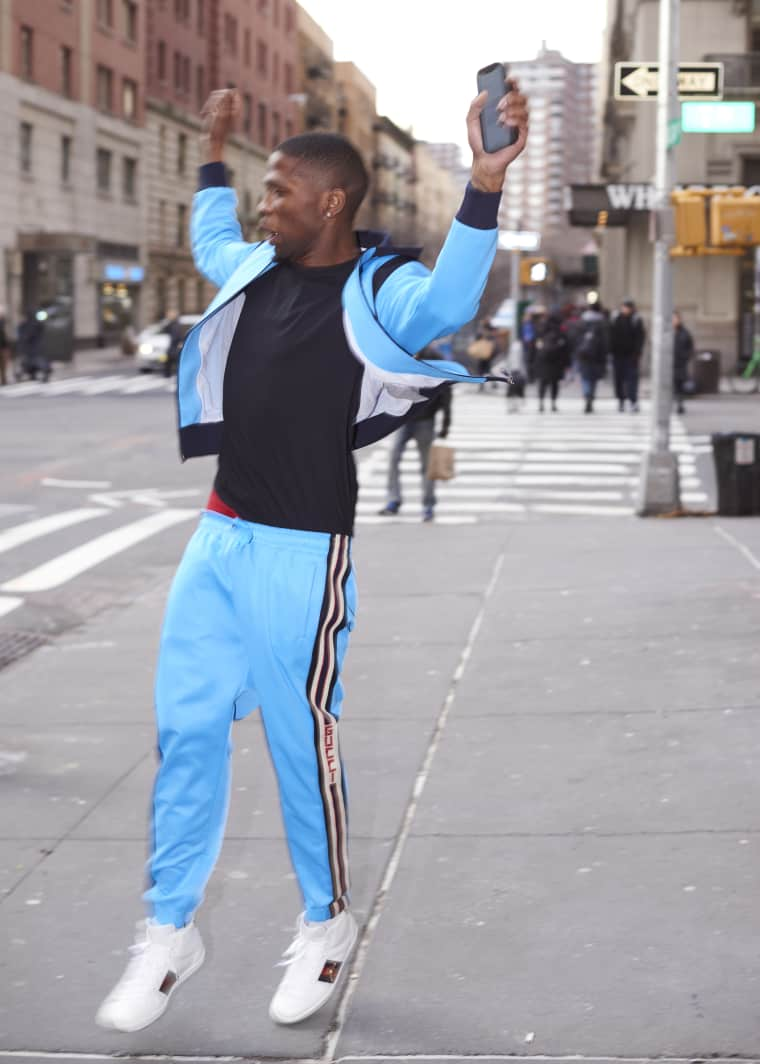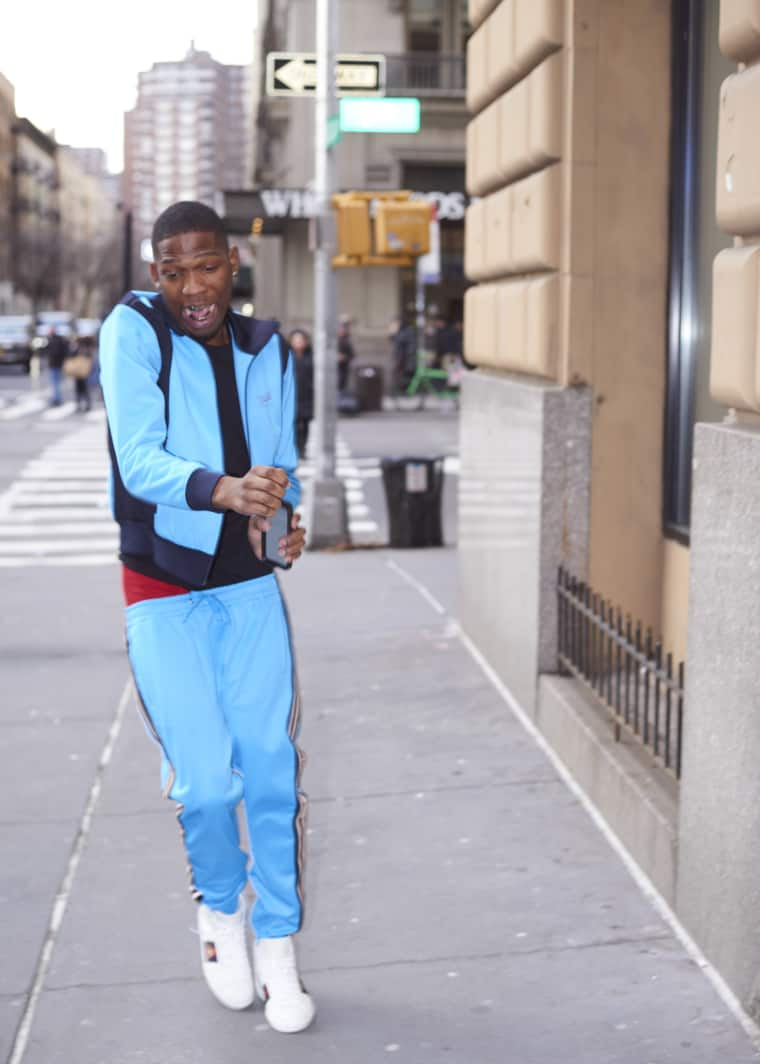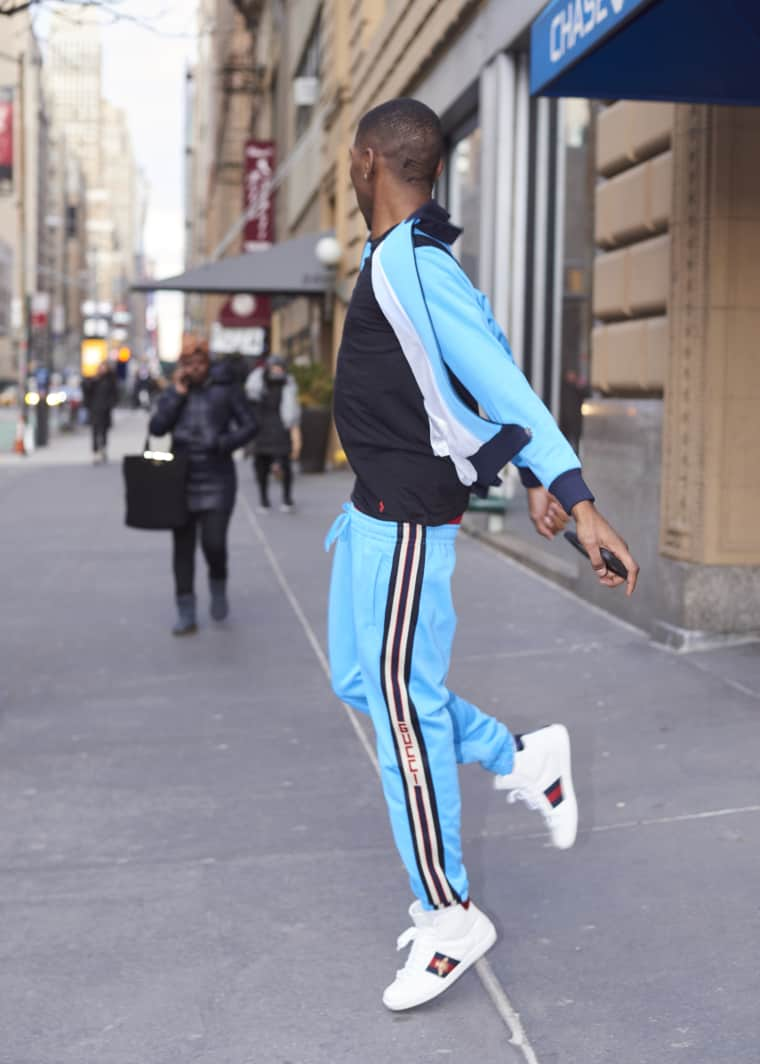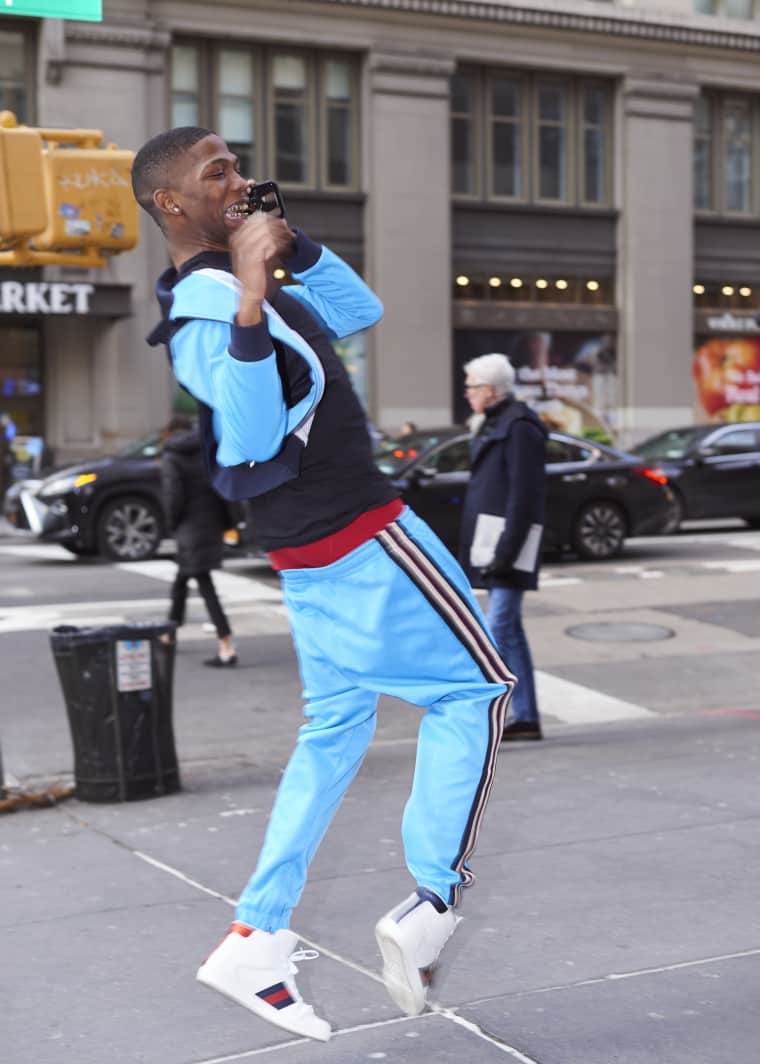 Tell me about your family and how you grew up.
We had it hard. Everybody have it hard, but my mama, she had seven kids, it was really hard for her. It's hard enough to just do for one, so we had to do a lot on our own. If she got me a shoe, I'd have to hustle for outfit money.
Being a mother to seven kids is tough, regardless of where you're from or what your circumstances are.
She held it down, though. First, we lived in South Memphis. When we lived in South Memphis, we lived with our auntie. And it was two families: my mama whole side, my whole auntie side, my whole great-auntie side, and then we had my grandma. So then we had to get outta there and we moved to North Memphis [when I was 7], and that's where I really I had to get out there and scrap.
Are you close with any of your siblings?
Yeah. My brother just went to jail. It's some bullshit, over a missed court [appearance]. I gotta do something about that. One of my sisters is in Nebraska. She moved 'cause in Memphis, the best thing to do is to get out of town. But other than that, they with me. I took 'em all with me. I brought everybody with me [to the house I just bought].
What's the house like?
In Memphis you could spend almost nothing and have a big-ass house. I just told my mama, "Go get a house." I was out of town and she just FaceTimed me and said, "Look at the house." And I said, "Go on and get it." Then I got home and went up in there!
How does that feel?
It feels good. It's like [checking] a milestone off my list. Gotta go get another house now. I'll wait till my sister get outta school — she in 11th grade and got scholarships and if she leaves her school then she lose her scholarships — and then maybe Cali. I like it out there. The weather and everything.
What was happening in your life before you started rapping?
While I was in school, I wasn't never in class. I just used to be gambling, I was just about money. And I knew I was smart already so teachers just used to be like, you gon' be a failure and so-and-so. They'd put me out of class and I'd be like, So? Fuck that. I don't care. Fuck school, I'ma get rich off rapping. Once they put me out of school [in 10th grade] and I had my little boy, then I had to do it.
Why'd they put you out of school?
[Laughs] They did a fire drill and I walked home off the fire drill. It was 2 p.m. and school was out at 2:15. So about 2:07, I walked home. They did me wrong.
I mean, you were doing a bunch of shit, so that was like the last straw...
Nah, nah. That day was a good day. I didn't do nothing that day! You a new person every day, they can't judge you off yesterday. [laughs] What's they little slogan they be saying? New day, new me. That's what I'm saying.
Then I had my little boy, I was like, Ah, that's it. I dropped my first mixtape, Who Am I, when I had my little boy [two years ago]. It was just like, what else? 'Cause I couldn't keep a job. I never had a job longer than a month. You know when you have a job, your bosses and shit, once they get used to you, they start treating you a whole different way. Just disrespect.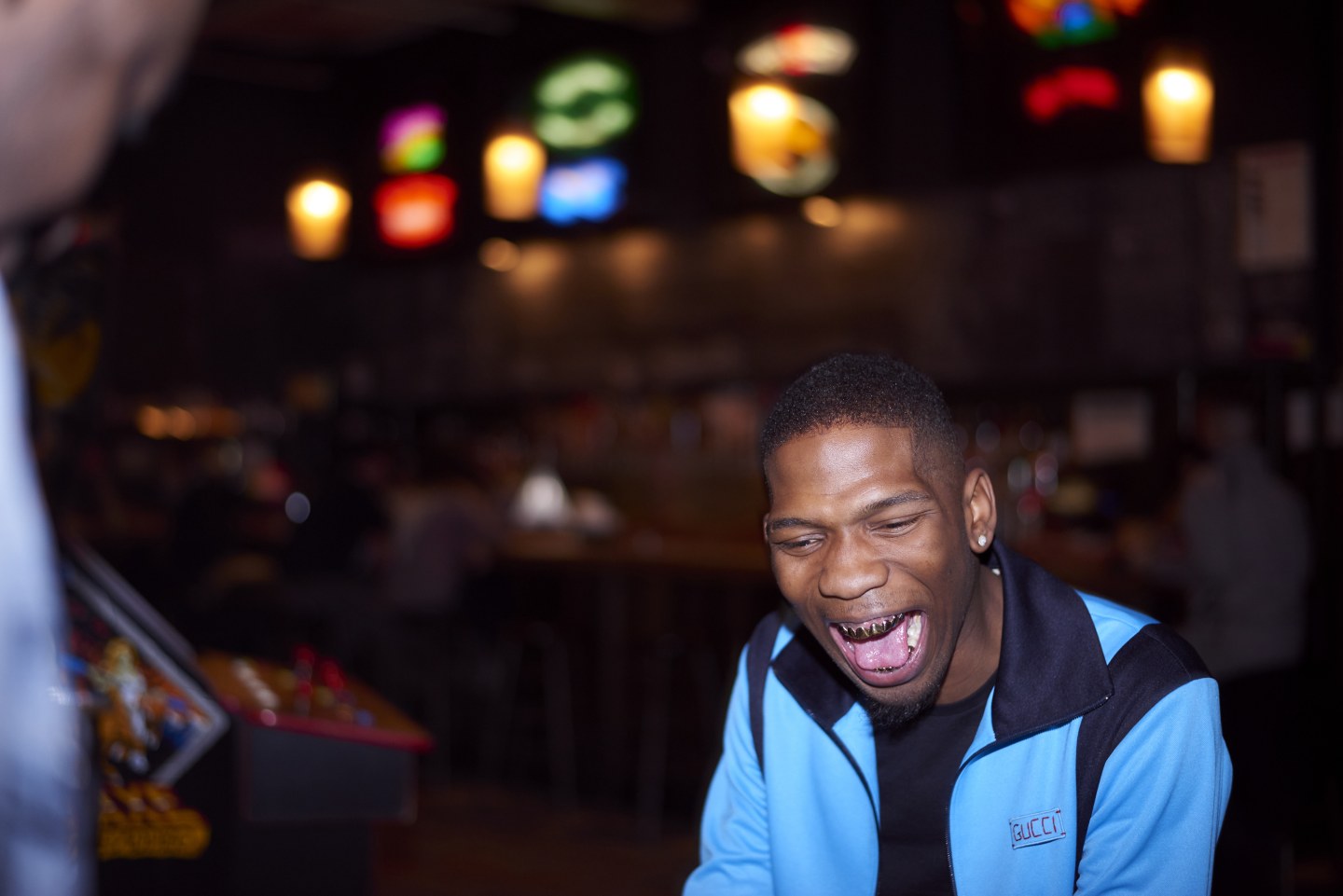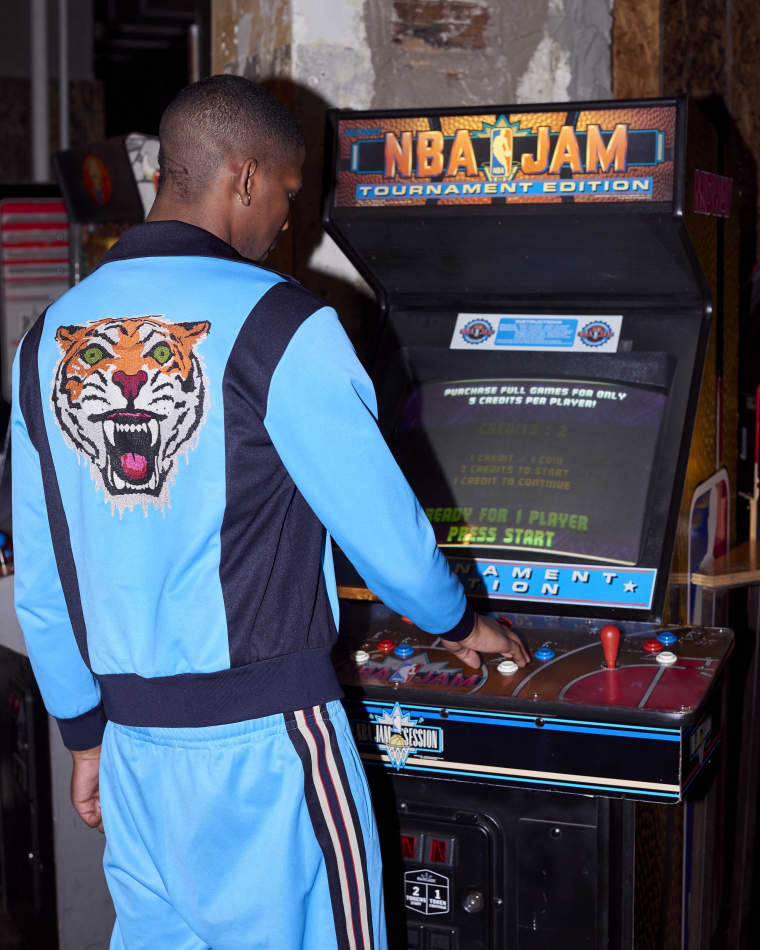 "I'm not a gangster, I'm just a guy who knows how to have a good time and knows how to back himself up." — BlocBoy JB
Where'd you work?
Man, I worked in McDonalds like a month, I worked in an [Apple] warehouse called Flextronic for like a week, then I worked in Popeyes for like a month. The crazy part about it is like, in my mind, I'm like, I'm making them too much money. If I make 100 burgers a day and I'm not making $100? That's nothing. I'm getting paid $7.50 an hour? They really just slaving me.
Is that when you started getting in trouble?
I'm really smart, so nobody knows the things I did. I ain't never get caught, other than I got locked up a couple times for some bullshit. I had some guns and some weed in the car. I had a warrant for some bullshit and my lawyer was telling me to turn myself in. I'm like, "If I turn myself in will I get a bond?" And he tell me, "Yeah." So I went up there and turned myself in, and bam, I'm gone about two months. Got out, and I dropped a song called "First Day Bacc on the Bloc."
But you're good now, right? You don't have to worry about that stuff?
I got one thing I'm worried about [but] I played the smart way out, so it'll come back in about a year. I know the charge was bullshit.
In a year you'll hopefully be in a better position to fight it.
Yeah, exactly.
Your dad's been in a jail for a minute. Does he have a good chance of coming home soon?
He was supposed to get out in like four years, but ol' James Baker tried to break out of jail again. He broke out of jail once already.
Whoa. How'd he do that?
I don't even know, I was young. I just remember he pulled up in a blue jaguar, shining. He came to see me. But then two weeks after he got locked up from the apartments up the street. Crazy.
Have you talked to him recently? Does he know how things are going for you?
He had 25, so I talked to him for him for the first time in like 15 years like three months. It was crazy. I don't even know where he at, I think he's in South Carolina — somewhere far from Memphis.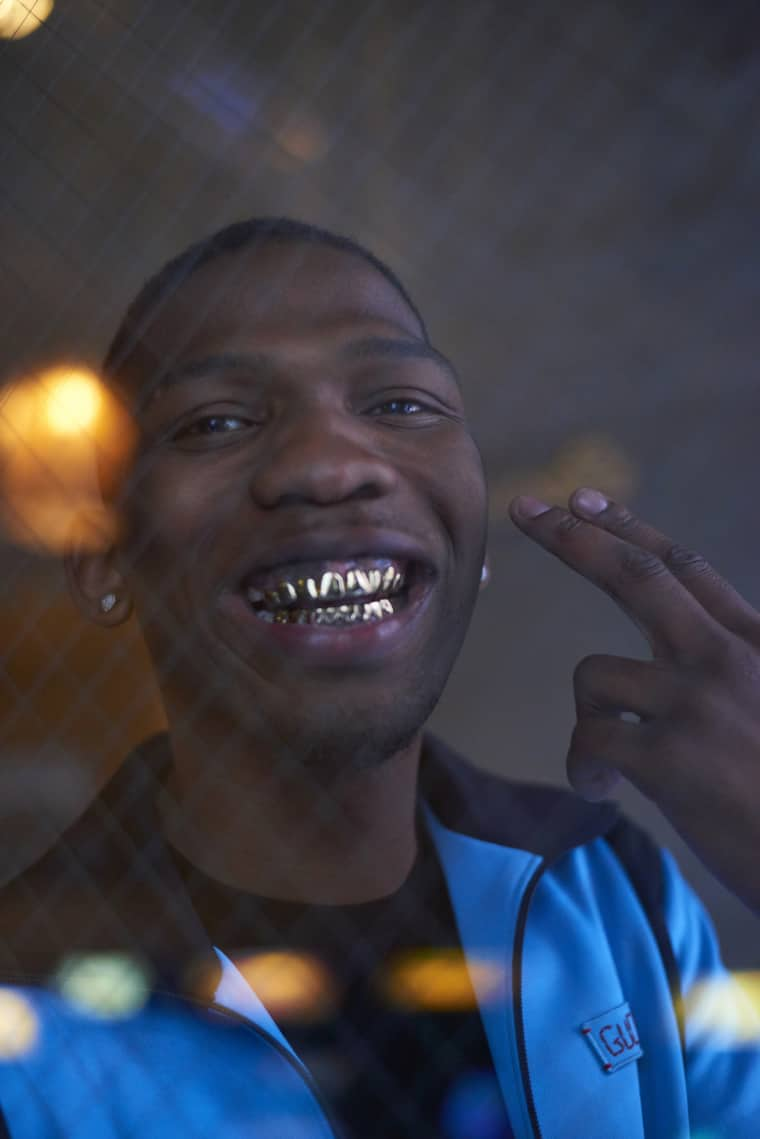 "Who woulda thought? Me, from Memphis? JB, the one who ain't complete school, who everybody told me I was gonna be a failure?" — BlocBoy JB
BlocBoy uses his phone like punctuation, pulling it out after every sentence as though he has to prove the recent developments in his life, not just to me but also to himself. In a span of a couple minutes, he turns his screen around to share an adorable photo of his two-year-old son, a video of a football team doing the "Shoot" dance, the first-ever beat he produced himself, and the very DM, featuring Drake's phone number, that was the genesis of their collaboration. The iPhone occasionally lights up with incoming calls — a 901 number, he says, is likely a call from a friend who is in jail. He moves to answer it, and then shakes his head. "He'll be alright," he says. "He can wait."
As "Look Alive" runs its inevitable course through the rap playlist industrial complex, BlocBoy is readying another project for release. Titled Simi, named for one of his "long-lost partners," who was shot down in front of his house on Mother's Day 2016. It'll be his seventh mixtape in two years, and the first one he'll put out knowing people hundreds and thousands of miles away from Memphis will be listening.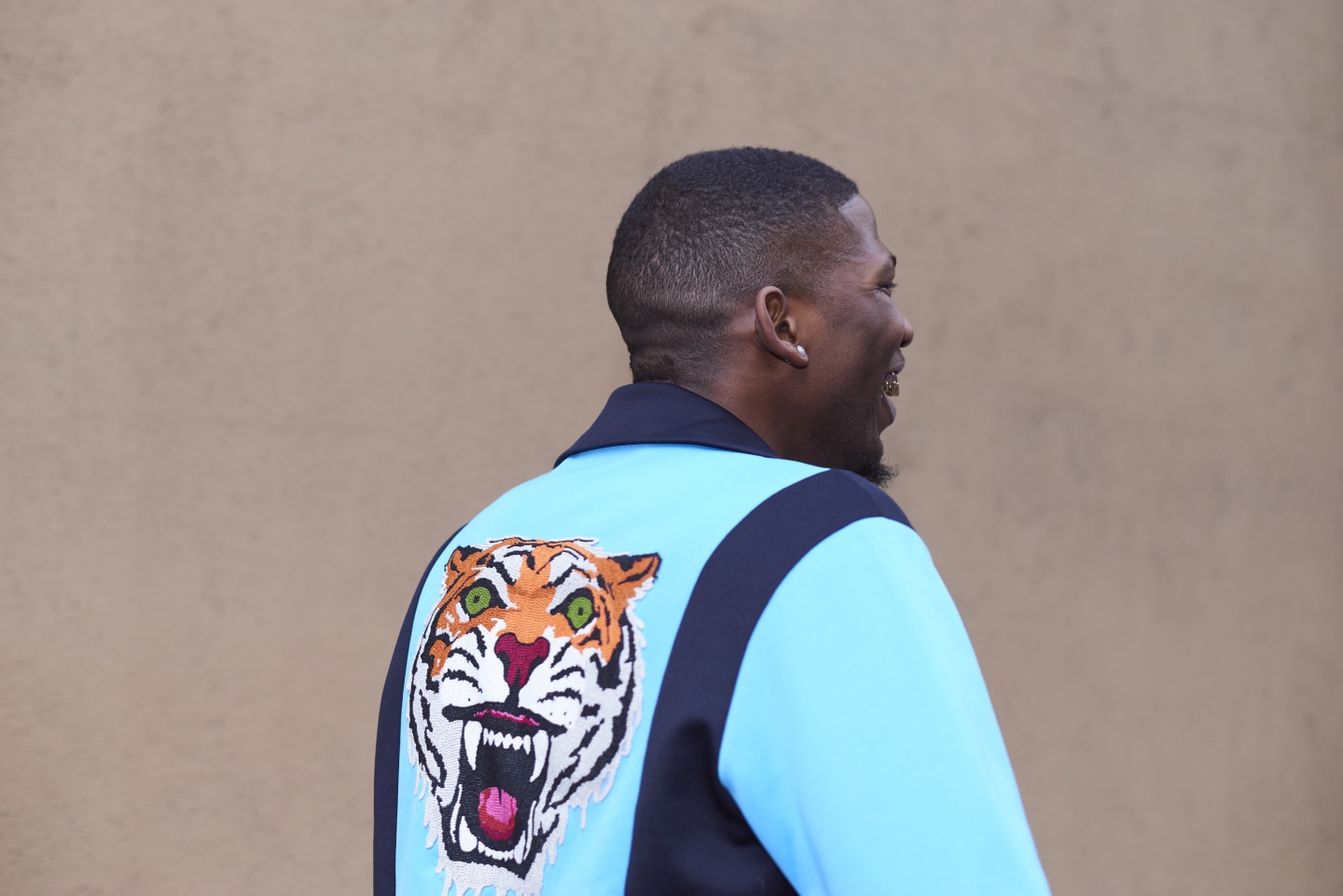 When did you realize that you could even have things like buying a house on your list?
I had dropped a song called "No Chorus Pt. 6." How I was dropping was I would drop songs but I would never drop no videos, just drop it. I had made a name for myself for the songs, so then it just started taking off from there.
My first show I booked, it was $1,000 dollars [last year]. It was for a school. Then I went to the school, and then something went wrong. I was supposed to perform but... I had to take the performance outside.
Oh no. What happened?
I never knew that many people listened to my music before. What popped off was when they told me to come perform — for my first time ever — was like, OK, cool, I know it's gonna be live. Then this lady was like, "Can you clean the song?" And I did, cleaned it myself. Sent it back and then she was like, "Your lyrics are still whatever." So I called it off. Then [all the kids] was on Instagram was talking about it, and then [the school] had to call me back and they was like, "OK, please come."
They charged the kids to come the pep rally, they were coming for me. Then they gon' try to play me. I realized they didn't [want me to perform at all]. So while the majorettes performed, I walked out. Everybody go crazy, I'm dancing, they go crazy. They're screaming. This my first time ever hearing shit like this. I'm like, Damn, these folk goin' crazy. All the kids followed me outside! Police came. I caught a charge off of that.

What's it been like, once you started noticing that your music was taking off for real?
It's still like a dream for me. People see me and they're like "Why you so humble?" And it's like, I can't believe it. I can't believe I'm here, I can't believe I'm in New York with you doing this. Who woulda thought? Me, from Memphis? JB, the one who ain't complete school, who everybody told me I was gonna be a failure? Me, who everyone said I couldn't rap?
Who told you you couldn't rap?
I used to walk through school just rapping, and niggas just, "Ughhh, you can't rap." That shit just made me go harder. Now the same niggas DM me for songs and features. and I feel like fuck 'em. Who is you? Give me some money. If you'd been regular, supporting me, there'd be no charge. In fact maybe I'd even be paying you.
How did you meet Drake?
OK, so, he had posted the song [on Instagram], and as soon as he posted it, I had replied 100. And then he was like, "My favorite rapper! We gotta cook." As soon as I said, "OK," he called me. And then the next day, he sent me his part of the song. He knew my producer [Tay Keith] already so he was already talking to him and he got the beat from him, sent it to me early in the morning. I jumped straight up and went to the studio. Then about two or three days later, he was in the city and we shot the video. It still seem fake, like a dream. I could pinch myself and not feel it.
Had you already been a fan of his?
Yeah. I always listened to Drake. Like, back in the day when I was a young nigga, we used to walk around singing "Marvin's Room." We was some singing-ass young niggas. You know niggas always think they can sing.

What's the best advice he's given you?
I told him, "Man, you get tired of taking pictures? 'Cause I know I get tired of taking pictures." And he was like, "The worst thing that could ever happen is they don't want to take a picture with you."
There's rumors that you're signing with OVO? Is there any truth to that?
Somewhat. I'm trying to see what's my move.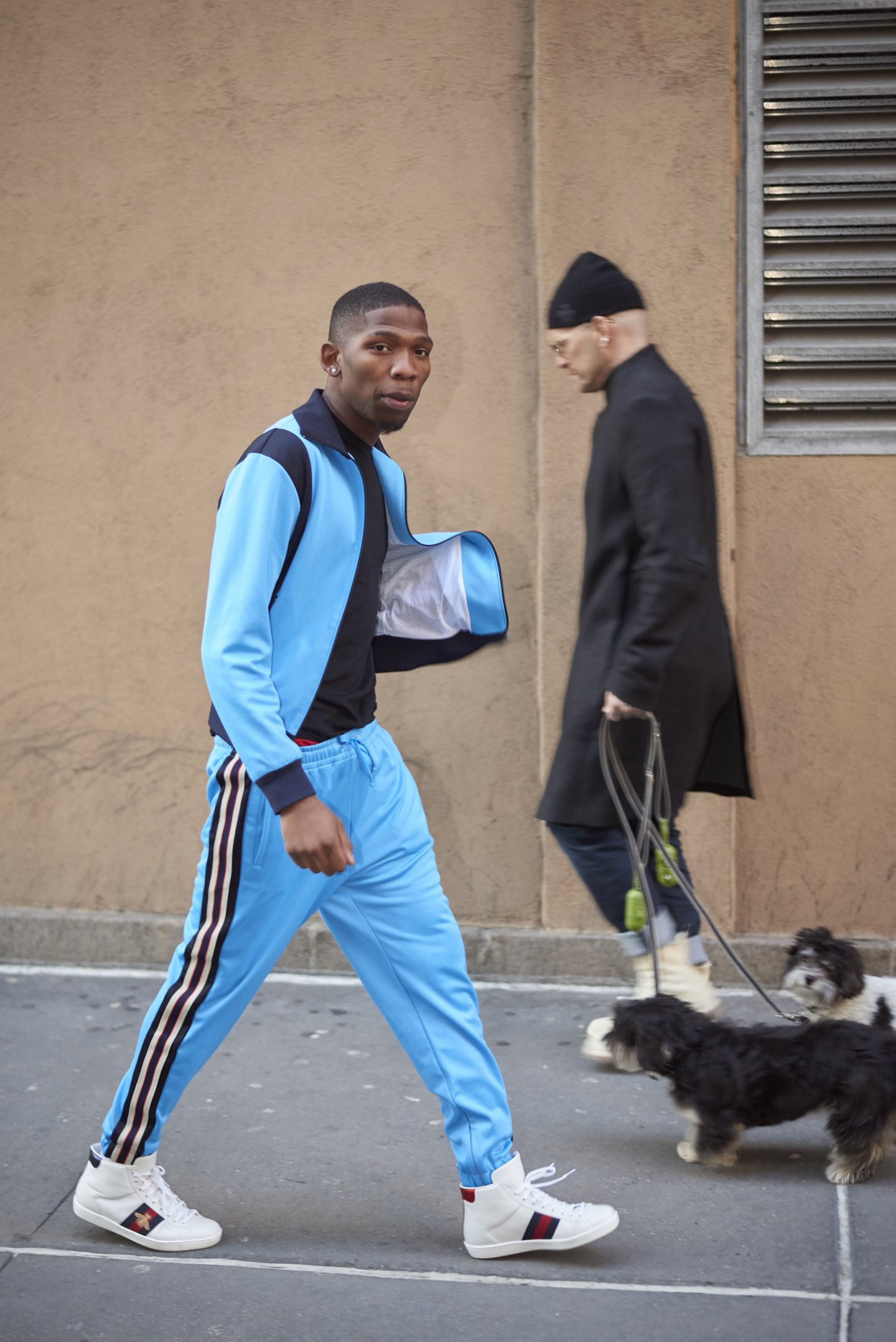 You're in New York meeting with labels, but you've got to this point on your own. What would make you want to sign with anyone?
I'm just listening to what they have to say and what they have to offer. I'm waiting for them to tell me something that I want to hear.
What do you have coming up next?
This year sometime, maybe spring, I'll drop a song every week. It's gonna be a lot of songs. I have a mixtape, Simi, it's dedicated to one of my long-lost partners. That was one of the guys that basically told me to keep rapping out of everybody that was with me, when it was time to ride or slide on somebody, I used to be the first person. But he used to be like, "Nah, hell nah, keep rapping." He pulled me to the side and said, "You need to go on and keep rapping." He died on Mother's Day, in front of his house.
What's your relationship with Gotti?
That's my bro, that's my guy. He hit me up off Instagram, and I linked up with him. [That was] about five months ago. He was the first person to bring me to Cali, so I went out to Cali and we was dancing and shit, having a good time.
He had a really good last year. What have you learned from him?
Stay focused and be cheap as can be. Spend your money wisely. Just 'cause you got a lotta money don't mean you gotta buy what everybody with a lotta money buying, 'cause it'll add up.
I heard you say last year that if you start getting rich you not buying Balenciagas, that you're happy with your Jordans. But here you are wearing Gucci from head to toe.
Shiiiit. These Guccis? I ain't know these was Guccis. [laughs] I thought these was some Jordans. I was OVOed down, and then I ran outta clothes and the Gucci store was the closest thing…
You've got a unique style, for sure. What do you have shaved into the back of your head?
I got the "JB" in the back because I had went to the mall and I heard people be like, "Is that BlocBoy JB" But I ain't had this at the back, so they were just looking at the back of my head, like, "That ain't even him." And it was me. So this put the icing on the cake, you know this me when you see the back of my head. You gon' be like, "Duh, that's JB."
Your life is about to change. Do you still want to announce yourself to people like that? Does any part of that scare you?
I always said I was gonna be rich, so I'm prepared. I ain't scared, I'm just waiting.