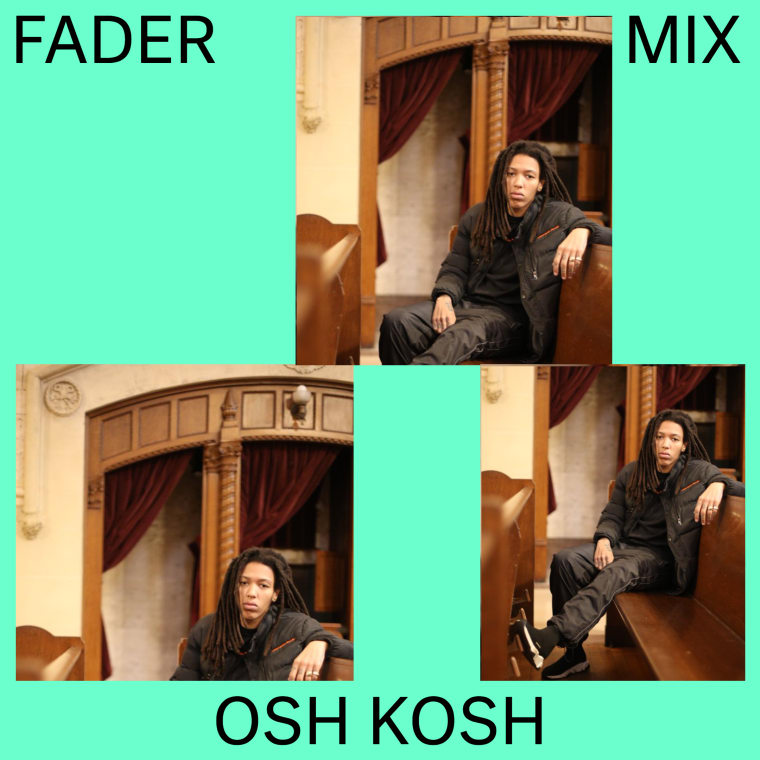 The longstanding FADER Mix series presents new, exclusive DJ mixes from our favorite artists.

DJ Osh Kosh has been rocking crowds since teen parties back in her home state of Ohio. She amped up her career when she moved to Atlanta, Georgiam to pursue her passion full-time. It's there that she joined rambunctious rap collective Two-9 as their official DJ, and later, signed to Mike WiLL Made-It's EarDrummers imprint.
Today, Osh Kosh is sharing her hot flame of a FADER Mix — a pump-you-up half-hour of today's most promising rappers from around the country, with a special spotlight on her favorite women in the game right now. There's a transition from Saweetie into 03 Greedo that just might make you let out a little oooh! Take a listen below, and read on for an interview and the ever-necessary tracklist.
Where are you right now? Describe your surroundings.
I'm sitting on the couch with my best friend Samantha at the house in Inglewood, California. Just finished smoking and meditating, about to start the day.
Tell us a bit about this mix — what do you imagine people doing while listening to it?
When I was working on the mix it was during the time my home girl Briana [Wilson] and I were working on the 1 year anniversary of the brand "WORKING GIRL," and it was the same weekend as the Women's March, so the mix has a lot of female rappers that I had never heard and/or wanted other people to hear too. I know a lot of homegirls right now that are snapping and folks need to hear.
A lot of these girls got it. Tierra Whack, I've been a huge fan of her for like 3, 4 years now. She so fire! Then you've got girls that's on some punk rock-rap shit like Rico Nasty — her (and Kenny Beats) got HITS!! You got Kelow, you got Kamaiyah, Saweetie, Billy B from Brooklyn, IAMDDB, and my sis Kodie Shane is killin' it! And this girl I found on YouTube named Bbymutha— she sound like old Gangsta Boo!! Shit, the list is long AF and they getting better and harder.
I imagine people using [listening to this mix] in the car, like: OTW, I got a lil' traffic and I need this mix to get me to where I'm going. Or, a prelude to going out — getting dressed, that type of thing.
How did you first get into DJing?
My mom had me at a young age, so she was super into hip-hop and rap. My mom is also a hairdresser. So in Detroit and Ohio, they used to have hair battles/hair shows, and she would always have to have music or a mix for her routine. I would go with her to the DJ's house and watch [them make the mix]. I was about 9 years old, and I was like, "Mom, I gotta do this. I want to be a DJ." So my grandma bought me DJ In A Box for Christmas, and it was over!
I would go to my mom's friend DJ O Sharp's crib's basement, and he would give me two records and tell me, "Keep mixing those two songs, be right back," and I would be in that basement for hours, way before computers were involved. Then, I DJed my first little league football dance, and the crowd control gave me a rush as a kid. I was so excited because I knew, Everyone can do this! THIS SHIT HARD! I became my city's "teen DJ." My mom used to sneak me in the clubs to DJ — shit was exciting AF. I loved it. THANKS MOM!!
What's the last musical project or musical experience that had a big impact on you? And why?
It has to be the Red Bull Culture Clash I just did with Mike WiLL [Made-It]. [That] shit was so intense, everything was new to us both. I didn't know what TF to expect either! I had done DJ battles but never to this degree, but [gathering] "dubs" from artists was hella fun. Pusha T re-did "Grindin" — shit was fye! I love creating, even if it's not something I would normally do, so this took me out of my comfort zone and [was] more hands on than just being the DJ. I love it. Now, I wanna be more than just the DJ.
What are you working on right now? And what's in store for you this coming year? I saw you mentioned on Twitter that you're planning on rapping soon.
As of right now I'm working on me. I'm working on my first project ever, not rapping for real, but, hey, I might have a verse on there! More on some DJ Khaled album-type shit. I've always done a lil' A&R-ing on the low, but I think it's time for me to do a project. I haven't done anything since "Digi Scale Remix," and that was super light, and did so well. So I'm ready to tap in and keep creating.
Tracklist:
Weather - LightSkinKeisha
Pick It Up - Dexter ft. A$AP Rocky
Keylime OG - Rico Nasty
Boss - Key!
Um Yea - Migos
We Don't Luv Em - Hoodrich Pablo Juan
Two 16s - Z Money Ft. Valee
That Much - Buddy
District - Overdoz
Rap Niggas - Nipsey Hussle
Dope Bitch - Kamaiyah
So Good - Big Sean ft. Kash Doll
Smack A Bitch - Rico Nasty
King's Dead - Jay Rock, Kendrick Lamar, Future, James Blake
Bring Back - Trouble
God's Plan - Drake
It Gets Better - Key!
No Nightmares - Childish Major
Icy Girl - Saweetie
If I - 03 Greedo ft. G Perico
Hard Way - DJ Mustard & RJ ft. Rae Sremmurd
Rude - 03 Greedo
Backseat Bandit - Drakeo The Ruler