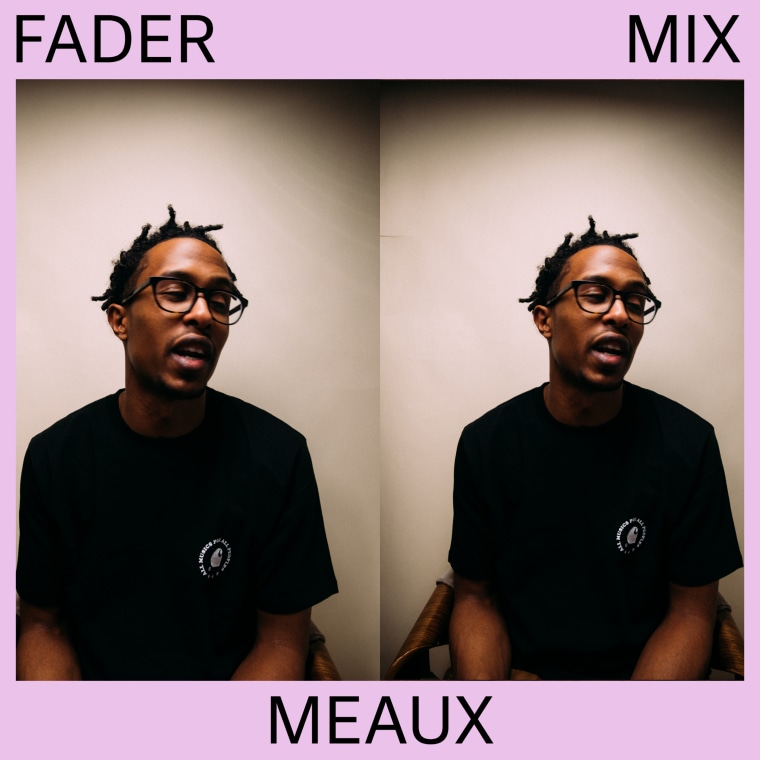 The longstanding FADER Mix series presents new, exclusive DJ mixes from our favorite artists.

Meaux's FADER Mix is a lovely accompaniment to an unseasonably warm winter day. Across a half-hour that feels a lot longer, in a good way, the Northern-Virginia-to-New-York-City DJ thoughtfully blends sounds, genres, and geographies. If you've had the pleasure of hearing him play — out and about in New York, or at the regular parties he throws with friends in D.C. — you'll recognize that quality as something of a signature style for Meaux.
"The mix goes through a lot of different moods so I imagine people listening to it in a place where they can dance but also comfortably get in their feelings," he explained. Hit play below for a thrilling ride that magically bounces from Moodymann in Detroit to Moelogo in London and all the way to 03 Greedo in Southern California.

Where are you right now? Describe your surroundings.
I'm sitting in my bedroom in Bed-Stuy. It's raining outside and there's a bunch of records in front of me I'm about to sort through and organize for a gig. I need to call my mom.
Tell us a bit about this mix. What do you imagine people doing while listening to it?
It's a little all over the place but I tried to challenge myself to make different styles and genres sound cohesive and make sense together. The mix goes through a lot of different moods so I imagine people listening to it in a place where they can dance but also comfortably get in their feelings.
You're from Northern Virginia — how does that factor into your relationship with music?
Geographically Virginia is kind of in the middle of the East Coast where we're caught between competing traditions of music, especially rap. I feel like it gives us this outsider perspective that's pretty unique. It's funny though I never realized how southern I was until I moved to New York. I was like, "Damn, y'all really love Fabolous up here, huh?"
NOVA specifically is a super diverse place with mad different immigrant communities and people from all sorts of backgrounds. If you're into music you're inevitably gonna develop a pretty broad palette. It's pretty suburban and boring though, and a bit further out from the cultural heart of the DMV area in DC, so a lot of creatives from NOVA tend to disassociate themselves a little bit with where they grew up. It sucks cuz some of the brightest most creative people I've ever met are from there. I feel like we gotta rep ourselves a little harder. For the DMV in general though I don't think there's one sound or anything that defines the area, but that's what so cool about it. It's exciting to see this wave of DMV artists getting some national attention across such a wide spectrum.
What's the last musical project or musical experience that had a big impact on you? And why?
I damn near crashed my car a few months ago in VA listening to 03 Greedo's "Mei Mei." That song fucks me up every time I hear it. Also seeing Jay Daniel at Good Room in Brooklyn a few weeks ago. Good-ass music on a good-ass system played by a good-ass DJ, it's like an impossible combination these days. I can get pretty cynical about the DJ world sometimes, that party sort of gave me a second wind.
What are you working on right now? And what's in store for you this coming year?
Last summer a few friends and I started a party in DC at a venue called Ten Tigers. I'm proud that we've been able to create a really comfortable environment with like no pretension or cool-guy posturing — there's a real house-party vibe. The parties were kind of off-the-cuff for a while but we recently started putting a little more shape and branding to it. It's called First Family and I'm looking forward to growing it this year and doing a bunch of cool shit with my friends.
Tracklist:
Moodymann - Technologystolemyvinyle
N.E.R.D - Things Are Getting Better
Sugg Savage - Funk Bounce
Adesse Versions - Marijuana
Eddie Henderson - Say You Will
De Mogul SA - Oe Batla Kae ft. Ms Mo & Makhensa
Omo Frenchie & Naira Marley - Cele
Masterkraft ft. Olamide - Oja (Naija)
Moelogo Ft. Bayoz Muzik - Jeje O
Timmy Regisford ft. Lynn Lockamy - At the Club (DJ Mbuso Radio Mix)
Gunna - Belly Of The Beast
Assholes By Nature - Still Throwed
Bilal - Sometimes
Key! - Cathedral
Shy Glizzy - Keep It Goin
Sampha - Under (Tony Kill Bounce Beat Bootleg)
03 Greedo - Built Like Me