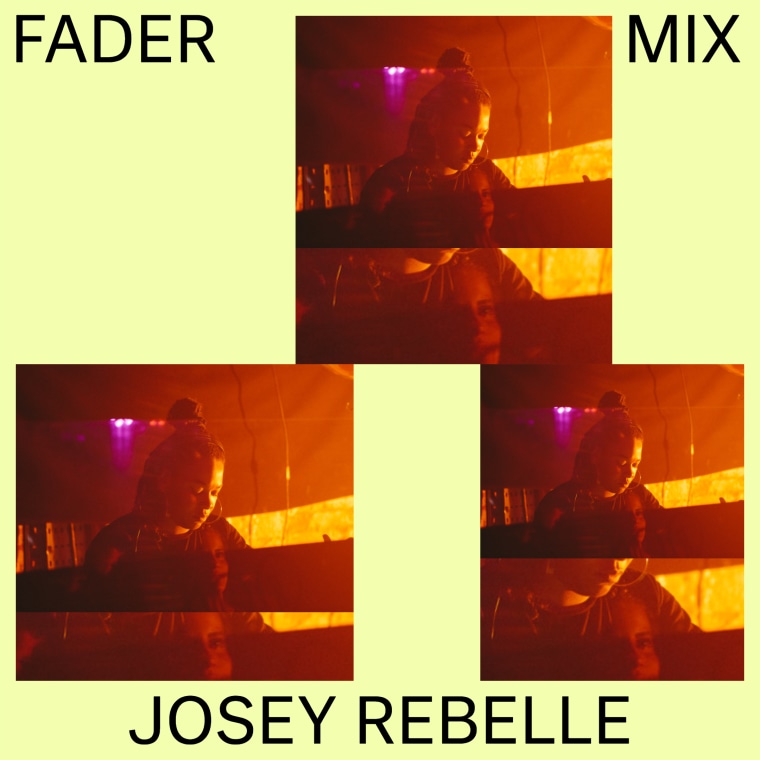 Josey Rebelle holds down a weekly slot on Rinse FM, where she's spent the past seven years earning listeners' loyalties through thoughtful selections and the connections she carefully wields between them. On this hourlong mix, which the London DJ made exclusively for The FADER, she delivers a refreshing, energetic journey through dance music and beyond, with a healthy disregard for genre or rote categorization. "The tricky part is always making sure the overall tone is right," she explains. And it is. Hit play below.
Where are you right now? Describe your surroundings.
I'm at home in Tottenham, north London, on the sofa drinking tea in a tracksuit which is basically my idea of paradise. The mix itself was recorded in one of the studios at Rinse FM, which is the radio station I've been on for seven years.
Tell us a bit about this mix. What shaped it?
I had a billion tunes that I wanted to include – the tricky part is always making sure the overall tone is right so loads of them had to go. Looking back, the last couple of mixes I did had a bit of a melancholy tinge to them, but this one has a lot more energy, probably more the vibe I'd be going for in a club set. I like dropping little jingles and samples into mixes too. I basically do a three-hour straight mix every single week on radio so when I do these one-offs it's nice for them to feel a little bit different.
What's the last book you read that had a big impact on you?
I'm doing a master's degree that involves a lot of reading so I'm powering through a couple of books a week at the moment. One book we recently read on our course that I enjoyed is A Field Guide to Getting Lost by Rebecca Solnit – I love the way she writes and can't wait to read more of her work. I'm also reading Patrick Chamoiseau's novel Texaco which is set on the Caribbean island of Martinique. I've tried reading it before but my head wasn't in the right place for it until now. It's so beautifully written, every paragraph is poetry, and it really deserves the reader's full attention because it's such a pleasure to get lost in. I spent a couple of years in the neighboring island of St Lucia when I was little so I recognize a lot of the world he writes about too. I love reading so much – my home is basically just piles and piles of books and records.
What music do you listen to to start your day?
I'm not really a morning person so silence is the main soundtrack to the start of my days. If I need to be up and out of the house quickly, I might put on some '90s hip-hop – something heavy on the soul samples like MC Eiht or Wu-Tang – but I'm also up for hearing some cheesy pop classics on the radio because it reminds me of getting ready for school when I was little. Waking up early is torture for me so I need to play these kind of tricks on my mind!
Tracklist:

King Britt – Theme to Cosmic View
De Costa & Rau – Untitled 4
Nightmares On Wax – I'm for Real
Octave One – I Believe
Ikonika – Oral Suspension (Big Strick Remix)
Beat Spacek – Ring Di Alarm
Armand Van Helden – Phreeknik
4 Hero – Kirk's Back
Brassfoot – Cancel Your Whole Shit
Violet x BLEID – Toxic
Yusef Lateef – Technological Homosapien
Helena Hauff – $§"$43
Dopplereffekt – Cellular Phone
Dave Angel – Dimension of Drums
Inner City – And I Do
John Daly – 19
Luke Slater – Time To Time
K-Hand – Shuffle
DVA [Hi:Emotions] x J. Tijn – So
4 Hero – Burning
Linton Kwesi Johnson – Wat About di Workin Class?