If you're measuring by quality rather than quantity, Peggy Gou might be the most beloved DJ on earth. After all, how many other artists in the typically self-composed world of electronic club culture can inspire audiences from Sub Club to Dekmantel to strip off their shoes and wave them in the air? People scream Gou's name when she takes the stage, and considering she released four EPs in 2016 and played more than one hundred live shows in 2017, they're screaming a lot.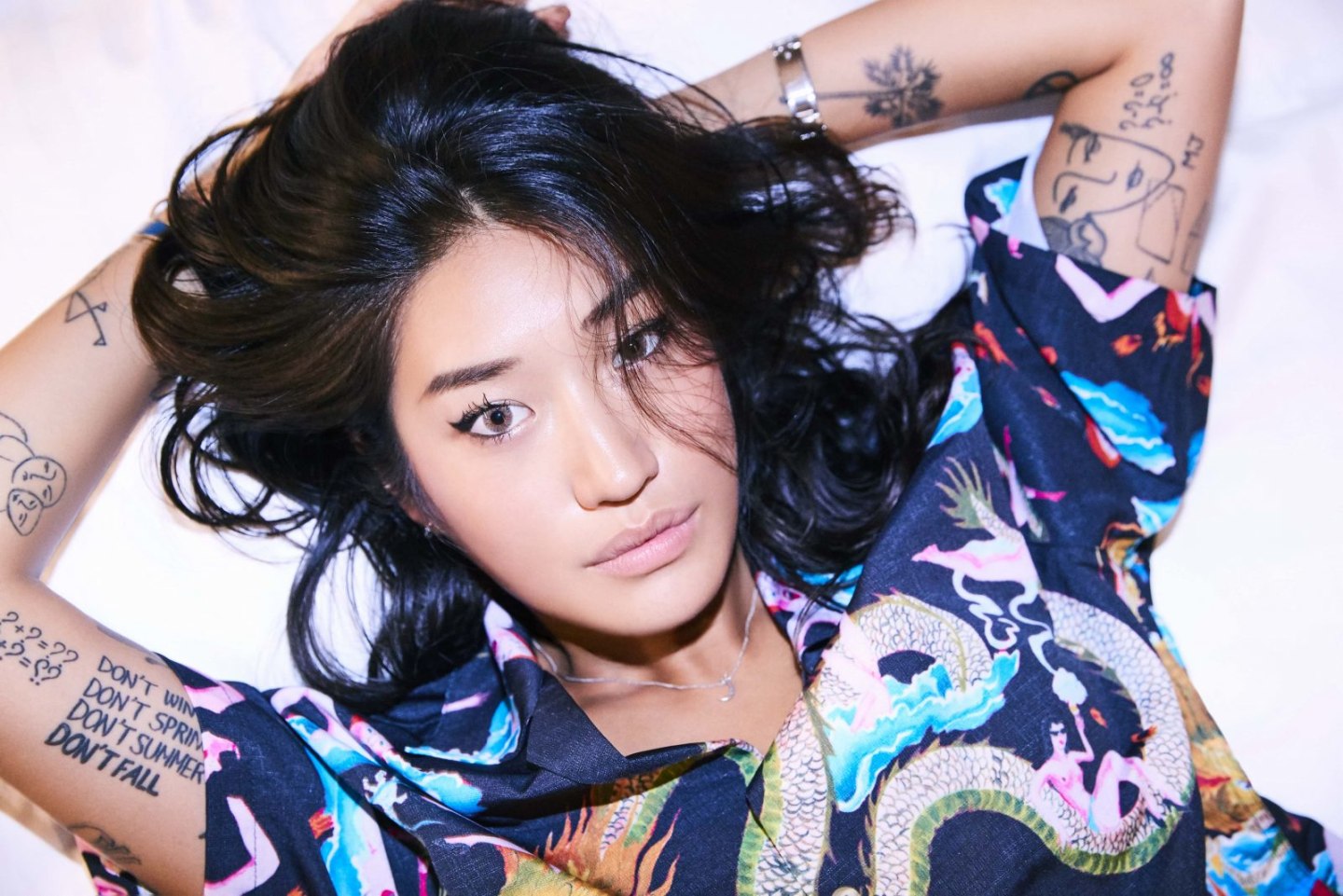 Now, hot on the heels of her new Once EP making serious waves around the world, Peggy Gou has been announced as the flagship speaker of BUDx Seoul, the latest in a new music workshop series from Budweiser and Boiler Room. The two-day event, which starts today, is centered around giving aspiring artists real, intimate access to artists who've pioneered some of the most unique sonic identities in contemporary electronic music. Free admission and a schedule stacked with masterclasses, in-depth conversations, and live performances shows they aren't kidding. Think Octo Octa teaching a sit-down production workshop and you'll have exactly the right idea.

It's a quality bill throughout, but the most exciting part might be getting a chance to hear some wisdom direct from Gou — it's hard to imagine anyone more qualified to speak on connecting with a global audience right now. Turns out, we couldn't wait. We caught up with Gou over email to discuss what she plans to share with the audience, her upcoming EP on Phonica, and how she intends to make her 2018 even bigger than her 2017.
Congratulations on being asked to give the flagship lecture at BUDx Seoul. What sort of things do you plan on discussing?

I'm going to talk about my journey through some key records in my life: records that changed my taste, or changed how I approached producing or making music. Also, I will do my best to offer any kind of helpful advice I can give to young musicians — I'm there to share my experience and knowledge in the hope that this can be useful to some of them.
"It's very important to share your skills and knowledge, but in the end everything has to come from you."
Early in your music career, you often spoke about your goals. You've since spent the past two years achieving every one of them. What advice do you have for admirers – and any aspiring artist – who would like to follow your path?

I have many heroes and people that I look up to, but I don't think I have anyone that I would want to follow their path exactly. I want to make my own path. It's important to have goals, aims and mentors, and my ambitions are always quite high — even if some things might not be possible, I try to never think this way. I always believe everything is possible, it just depends on you and how you approach things: aim high but be aware of yourself. I know what I'm good at, but, most importantly, I also know what I'm not good at and what I need to improve: knowing yourself is the key.
How important do you think sharing and passing on skills/knowledge is in the DJ/electronic music community?

It's very important to share your skills and knowledge, as well as also having a great mentor to get advice from, but in the end everything has to come from you. I'm hungry for knowledge all the time — I watch documentaries, and try to understand the music scene before I was born. I'm always eager to learn skills and asking people and other producers for advice, but you have to be driven to seek that knowledge — it has to come from your heart. You need to really desire to know what you need to learn and what you want to achieve.
How important was it for you personally? Did you have anyone whose advice and mentorship was crucial when you first began making music?

I'm still hungry for knowledge and always want to be better. Whenever I finished a tune I would send it to people for advice — I bothered people a lot in the beginning try to find the right mentor! And of course some gave me all kinds of honest opinions, like "it sounds like it's not finished", "it's too polished/digital", etc. All this is totally okay as long as you know to take it as honest and constructive. You need to be ready for criticism and I'm open to that — although I'm also strict with myself about deciding what to take on board in terms of making changes to my approach.
As an artist who came up in Korea, what can you say about the opportunities for young people getting into music — and, more specifically, for young women?

We are definitely on a good path - as I said when I recently took part in a panel discussion the UN's HeForShe campaign, now is a good opportunity for young female artists as we push for more equal representation on festivals and club line-ups, record labels and brands, etc. There is still more work to do, but things are definitely improving by us having these discussions and making more people aware of the challenges we face.
BR's program at BUDx Seoul is as much about gathering local artists as it is international. In an increasingly global music landscape, do you still value the importance of local scenes?

Local scenes are still hugely important - without local scenes there can be no international scenes: local scenes are where talent comes from in order to break through to the international audience. Without them, where do new artists come from?

"You need to be ready for criticism, and I'm open to that."
As a global platform, Boiler Room is a lot about levelling geographic barriers. What kind of effect has your (particularly memorable) first appearance on BR had on your career?

Boiler Room has established itself as one of the biggest - if not THE biggest - place for artists to break geographic barriers. Since the beginning they have made it their mission to shine a light on talent from many different locations. In my case I was lucky to be given the opportunity to play for BR at Dekmantel in 2017, and it was definitely a big moment in my career. It really put my name out there and I am hugely grateful that they gave me this opportunity.
Your new EP Once is still hot off the presses. How are you feeling now that it's out in the world?

I personally did not expect this kind of reaction. Although my PR guy, agent and other friends said they expected this, I didn't believe it! I still get messages from everywhere in the world - shops like H&M, radio, hotel, clubs, beach bars etc are playing my tune! Sometimes I get a message saying somebody 50-60 years old or a young kid likes my tune and I get very emotional! So I'm very very thrilled, and because my expectation wasn't so high I get surprised everyday - this feeling really motivates me, because it also brings with it a kind of pressure. But I must say that I love this pressure — it makes me wanna do more and be even better!
Your voice appears in your music like never before on Once's "It Makes You Forget (Itgehane)". What inspired that choice?

I always wanted to sing. I thought it was a good opportunity for me to add some vocals, as I felt like something was missing from the track. So I asked one of my best friends to write some poetry lyrics in Korean, as I thought my own language would be an interesting one to try.
What are you rapping about in that first part of "Han Jan"?
It's just about drinks! "I drank a lot last night and passed out at home although I drank a lot all I remember is having a good time." It's more about the rhyme than the lyrics on that track!
You're playing Coachella for the first time in April. What kind of Peggy Gou set is a match for the vibes of Indio, California?

I've never been there, so I will need to go and see & feel the vibe before I decide what to play! But I can already plan to play some happy, good energy tunes.
You also have an another EP coming out on Phonica in mid-April, busy! Any details you can leak about that? Can we expect more vocals? More rapping?

I sent them this track last year as my back up plan in case there was a delay with the Ninja Tune EP. It was originally a demo I made at the same time as 'Seek For Maktoop', which was released on Ninja Tune's Technicolour label in 2016. The remix took longer than I expected but I am very happy with how the timing has worked out. The track is called "Traveling Without Arriving" - I named it after seeing some artwork during a visit to a museum. The B-side is a remix by one of my fave DJs, Ge-ology, and it's called "Geology's Nite Stealth Ninja Mix"!
Moodymann, The Black Madonna — you're playing some huge bills these days. Do you have any pre-show rituals to calm the nerves?

I always take a moment to pray before my gigs. And have one glass of gin & tonic. :)
You famously said in 2016 you wanted to be the youngest and first female Korean DJ to play Berghain. You've since achieved that. What are your goals for the future now?

I just found out that I was the first Korean-born artist to do the BBC's Essential Mix — it was a very pleasant surprise to me,so I think in the future I'm going to keep it like that, and try not to say "I want to be this, I want to be that." It's always good to have goals and aims — and believe me I have a book-length list of things that I want to achieve! But rather than always talking about it, I would like to keep them to myself and try to achieve them one by one.