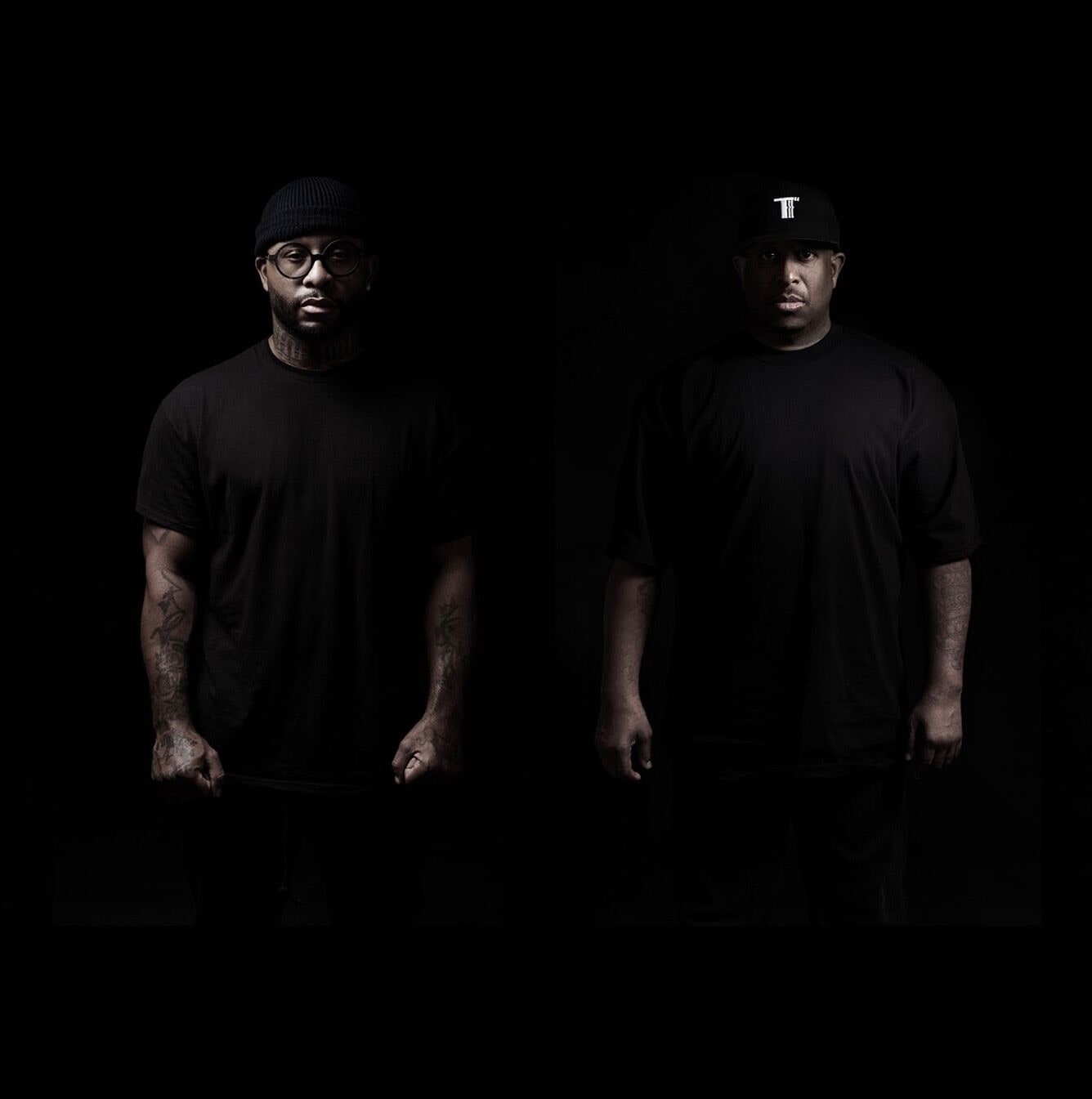 After linking up in 2014 to form the hip-hop super-duo PRhyme, Royce da 5'9" and DJ Premier set out to share an experimental album that would address the state of hip-hop as well as the consumption of music. The two exalted hip-hop acts merged their worlds together to bring focus back to full albums in the new age of streaming services and loose hit singles. "[There] was like a streaming overload going on in music, and it still is, but it was a little bit newer four or five years ago," Royce told me over the phone. "We wanted to help program people to listen to full albums, that's why we released it in its entirety without giving you too much beforehand."
It's hard to ignore the staggering hip-hop experience between the two veterans. Premier has lent his masterful boom-bap production to rap's greatest MC's, from his beginnings with the legendary early '90s outfit Gang Starr alongside the late Guru, to lacing music's top acts like JAY-Z and Nas, and even extending into pop with Christina Aguilera's Grammy-winning "Ain't No Other Man." On the mic, Royce's sharp-tonågued rhymes, quick-witted bars, and ability to quickly switch from a conversational style of rap to blistering flows has stood as part of the backbone to Detroit's rap scene alongside hip-hop titan Eminem. His lyrical prowess also helped form one of rap's most formidable supergroups in Slaughterhouse.
PRhyme would carve out their own lane musically as well, experimenting with their first album's production process and in doing so, pushing the boundaries of sampling. On PRhyme, Premier took the compositions of one musician — Adrian Younge — and flipped it into the classic Preemo sound, instead of sampling, by digging through crates for old records. Now, with Antman Wonder on deck as main composer, and a bit of experience in crafting the PRhyme-style production, Royce and Premier are just here having as much fun as possible on PRhyme 2.
FADER spoke to PRhyme about their individual careers, the making of PRhyme 2, and working with the younger hip-hop generation.

In the time between the first PRhyme and now, what have y'all been up to?

DJ Premier: After PRhyme was done, we spoke about doing another one but Royce was also working on his solo album at the same time — we started and got halfway done and then we both paused. I went on tour with my band The Badder Band and I was gone for almost half the year doing that, and then I went back on tour with Torii [Wolf] to get her feet wet, and then I came back ready to record. Royce said, "If we don't finish PRhyme in time, I'm gonna drop my album first." I know how much other stuff I had to do — that I can't speak on yet and that's coming out later in the year — I was like, "I don't wanna push PRhyme back, I think it needs to come out right now so let me get my wheels turning again and I'll even come to Detroit." So I went to his [Royce] studio Heaven Studios to finish the rest of the album and it was a good vibe being that I don't like going to other people's studios. I was maybe there four days and we knocked out at least five or six songs then I brought him back to New York to mix it but still, to get off the tour and go travel to finish an album...It's a mental thing, you gotta get your mind into it to get motivated to do it but I just wanted to beat Royce to the album [laughs].
Royce da 5'9": In the meantime, I was working on my album. I had a lot of different things. I just opened my studio, I've only had it for a year. I got this mixtape series called The Bar Exam, I was working on the fourth installment of that and I put that out in July. Me and Preem were working on [PRhyme 2], and I didn't realize we had as much stuff as we had. After we finished the Detroit trip and he hit me up and said, "Yo, I'm bout to start sending you mixes." I was like, "Mixes to what?" I didn't even know what we had and he started piecing everything together and he was sending them to me, and I was like, "Holy shit, we have a whole album here." We actually was able to get it mixed because Preem was really fast, we were literally approving two mixes a day. We got it all turned in before I got my album turned in so...Now we ready and we movin'.

Tell me about the process of making this album. Did y'all use any leftovers from last album on PRhyme 2?
Royce: The crazy shit about that, bro, is that we don't even have the luxury of using leftovers. Even if we had leftovers, every album is gonna come from a different source so we're kind of forced to start from scratch and go a completely different direction. Preem pulled music from a completely different source for this album which was Antman Wonder. The first album was Adrian Younge. Antman basically creates compositions, 2 to 3 minute pieces of music that go in a bunch of different directions. If you think about it, when producers pull records and shit to sample and you hear 'em playing the record, they're picking the best pieces that they wanna use. So it's basically the same concept, but it's not a sample, it's just brand new music out of this man's brain. It's like sampling from Mozart but Mozart is actually giving you the music.
Premier: Once PRhyme 1 was presented, the resistance [for me] was that sonically, I'm known for samples where you're like, "Where the hell did he get that?" So when PRhyme was presented to me by Mike Heron and Royce, it was, "Yo, you take this one guy, Adrian Younge's sound, and you gonna make beats from whatever you feel sounds good that you can flip," and I'm like like, yeah, but that means I'm not gonna be digging for old records with the cracks and the dirt and have people going, "Yo what's that sample?" It's only gonna be from one person. My worry was that it was gonna be a little to sonically the same, so that made it harder on me because now I have to look for stuff that's really not normal on every sample that I had to choose from and then put my own drums and chop it a certain way.
Even if it was a horn, I couldn't get from nowhere else. For PRhyme 2, it was a toss up between Madlib, Antman Wonder, and possibly the Westbound catalog —they're known for The Ohio Players, old Funkadelic and all that stuff. So when Royce said, "What do you think of Antman Wonder?" I was already a fan of his sound so I was like I'm with it. Now PRhyme is the only group where we take only one artists sound and make an album out of it, so I won't do that in my regular production; I just go back to regular digging for records.
I know that y'all said that the first album was a "leap of faith" and an attempt to try to change the way people digest music in the current state of hip hop. What is the message that you guys are sending by coming back with PRhyme 2?
Royce: We're just having fun with it now. The first album was like a streaming overload going on in music, and it still is, but it was a little bit newer four or five years ago. We wanted to help program people to listen to full albums, that's why we released it in its entirety without giving you too much beforehand. It was a good way to start a whole new brand, it was like opening up a new business or franchise. We got that out a and broke the ice so for this album we didn't do a whole lot of thinking, man, we just had fun with it. People are familiar with the brand now and now that you're familiar with the brand, just enjoy the music. Just go ahead and find lyricism and find beat making, it's gonna be fun to follow the brand if we do a PRhyme 3 and we pull from a totally different source it'll be even more fun, you just don't know what to expect again.
For the features on the album, did y'all strictly focus on putting lyricists on the project?
Royce: We always like to keep an open mind, man. Our experience with working with 2 Chainz was a great experience, and I think it's a great step towards breaking down that barrier that lies between "lyrical rappers' and "commercial rappers."
2 Chainz is a great bridge for lyrical and non-lyrical rappers because he dances on both sides.
Royce: That's because you know your shit. If you think of the average person, they think that just because they hear him on the radio that he can't spit, but he can rap his ass off. So sometimes it takes for guys that are in these categories that they put us in, sometimes it takes us to take those steps toward working with these guys and giving them an opportunity to showcase what they can do lyrically and not have to put them under the pressure of, "Aw man I always gotta think of something that can play on radio." Radio is gonna play what's hot regardless, but we can come together with these guys and make really good music man, it just shows that people don't have to be in categories like that. It's not what I do versus what you do, it should never be that.
Premier: "Everyday Struggle" was gonna have Lil Uzi Vert, we actually reached out to him to do it. He and I have been bonding over the fact that...He sent me a tweet me a couple of years ago saying, "Hey man, I'm tired of them wanting to separate us, let's show them that we can get together and do something together. I definitely need to get you on one of my albums." It just never worked out with our schedules and he just couldn't make the deadline. But we're not counting him out. He was like, "let me write my verse and let me do my own hook," and I don't doubt him, he knows what he can do.
What can younger and older artists do together to bridge that divide?
Royce: I think all of us artists should support each other. Still be competitive, still full contact, still be aggressive if you wanna be. If you're a lyricist, you can generalize and take shots at "mumble rap" but don't rule out the possibility of being able to able to get on a song with one of those guys and making something that's good for the culture.
Royce, on the "Everyday Struggle" track, you mentioned Yachty and Joe Budden's argument, and later on you said something about wanting to move with the youth, not against them. Why is that message important?
Royce: I feel like the things that me and Preem have been able to accomplish in our careers, I think it's a blessing and that shit don't come for free. I think it's kind of our job once we reach a certain point to drop jewels and show these dudes the proper way to do shit. It's not always about arguing with 'em, because when I was 19-years-old, I wasn't tryna hear nothing if you wasn't coming at me properly. I'm still kind of like that but I'm just a little bit more open-minded because I got more wisdom and I was blessed to be able to make it to this point. It's not even like I understand these young dudes so much, I just understand myself. We wanna be the change we wanna see, we don't wanna sit around and complain because there's a whole bunch of music that I don't like, but there's always been a bunch of music that I don't like. Always.
Do y'all have any special memories of Craig Mack that stand out from your times together?
Premier: I toured with him in 1990, He didn't call himself Craig Mack as far as his stage name at that time, but long story short, Gang Starr went on tour with EPMD in 1990 with Father MC, Mary J. Blige was a backup singer for Father MC, she wasn't even a solo artist yet; DJ Quik was one of the opening acts, Gang Starr, and Chubb Rock.
We drove my MPV and followed the tour busses. Craig Mack used to ride with us because they used to crack jokes on him all the time about his face and the way he looked. He was the roadie for EPMD and he would set up the turntables.
Whenever we'd get to the next hotel, it'd be swarming in the lobby with mad people from the town that was like, "Yo we wanna battle EPMD," and they'd be like, "Nah, but you could battle those two guys," and it'd be Redman and Craig. Craig's first line that would whip everybody's ass would be, "No rap, no crap you bore me / Wanna grab my dick, too lazy, hold it for me." This is 1990 so when I heard him do it on "Flava in Ya Ear" remix it was so dope, that rhyme finally has seen the light. Then he went platinum and started making money with Bad Boy. That's my fondest memory of him.
What were your individual goals coming into music, and at what point did you feel you achieved that?
Premier: For me, when EPMD saw us at a club and was like we wanna take y'all on tour. We thought they was just talking and the next thing you knew, my manager at that time was like, "Yo, EPMD" wants to take y'all on tour with DJ Quik, Father MC, and Chubb Rock. Y'all wanna open up for them?" I was like, "Fuck Yeah." That's like you made it, we were on our second album and "Just to get a Rep" had just come out so it was really poppin' at the time but it was still just a big deal to be invited to such a major tour like that. I learned so much, all of that was one learning experience of how to be a family on the road.
This type of stuff you can't even write, you just live it. These are dreams that we dreamed of doing; I wanted to do the whole 'Sex, drugs, Rock-n-Roll' lifestyle, I wanted groupies, signing autographs, people tryna get into our hotel and all of that happened. I lived that and it was one of the best experiences in my life. I'm glad this whole journey of what we do as a profession and a passion is what allowed us to do that.
Royce: I reached a point in my life where I just got real comfortable in my skin, man. Probably within the last four or five years, and I realized that I'm blessed to be getting paid to do what I love to do. I don't have to put a whole lot of thought into it, all of my thought goes into how I can get better. Every little milestone that I hit at the time, I never felt fulfilled. You sell a million records, you want more; make a million dollars, you want more. Then it got to a point where it was like all of my idols...Floyd Mayweather is one of my idols, Redman called me the Floyd Mayweather of rap. To me, that's success. When he told me that, not only did it blow my head off — it blew me away — but it motivated me because I wanted to get even better. That's success, and when you have those moments, man, you can't forget where you came from.