Let UNIIQU3 and Dai Burger decolonize your dancefloor
The iconic duo on their Nailz N Ponytailz tour and why they're putting girls first.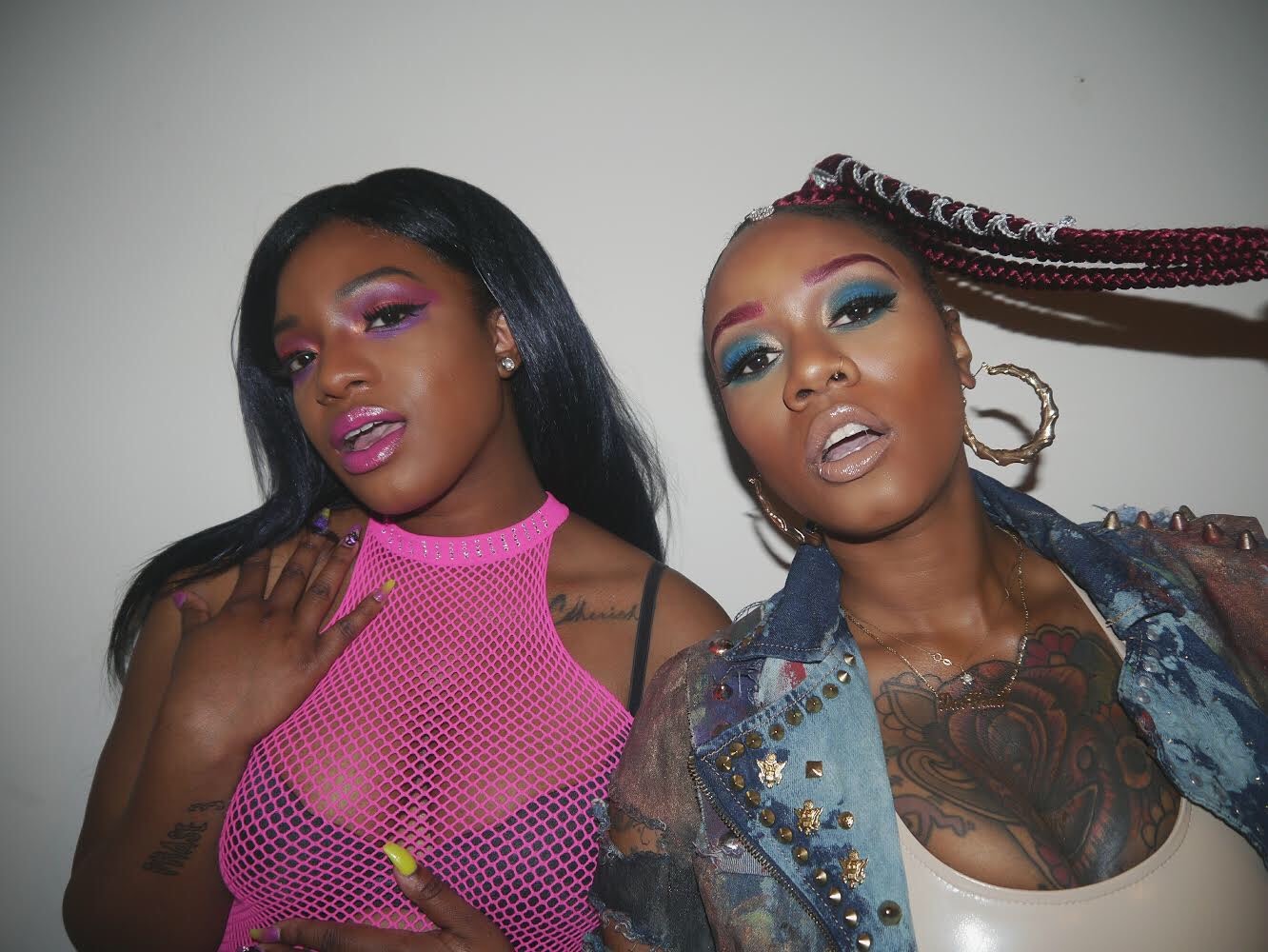 UNIIQU3 and Dai Burger aren't sisters, but they act like family. In conversation, UNIIQU3, a Jersey club queen, and Dai Burger, a Queens-raised rapper, are intimate, finishing each other's sentences and exchanging uplifting words of encouragement throughout the hour I spent with them via Skype on a recent winter morning. That's perhaps just what happens when artists go on the road together, but their self-curated, co-headlining tour Nailz N Ponytailz effort feels like something extra special — an example of what happens when artists turn self-expression and support into a political act.
With Nailz N Ponytailz, UNIIQU3, who's played festival stages worldwide, and Dai Burger, who released her latest album last year to widespread acclaim, have brought their unique approaches to dance music and hip-hop to over 20 cities across the country. When they called from Portland, about ten shows into the tour, it was the first day they'd had off after a week of non-stop travel and back-to-back performances. This weekend, they close out the journey with shows in Toronto and Pittsburgh, where they'll continue their mission to "decolonize the dancefloor," a goal UNIIQU3 reflects on daily via her iPhone lock screen. Here, UNIIQU3 and Dai Burger share what it takes to be the change they want to see in music, how they grew into themselves as artists, and offer advice for the young women they want to inspire to continue their mission.
Why did you decide to go on tour with each other?
DAI BURGER: We just both represent the same thing. It's like female empowerment. We're in a man's world not giving a fuck or nothing, being brown and beautiful.
UNIIQU3: I just felt like in the DJ world we never really get to see black girl tours with dance music. And, Dai is very much is as energetic as me, so we'RE poppin' tourmates. There just needs to be more cute, black, Afrocentric, feminist tours.
How did you come up with the name Nailz N Ponytailz?
UNIIQU3: It's just two things that black girls really love. Gotta have your nails poppin'. Gotta have your ponytails poppin'.
DAI BURGER: It's signature. Whether it's two pigtails or one ponytail, Nailz N Ponytailz is like a movement as well. It just means you're like on top of your own shit, staying fly.
How did you develop your personal styles? How do you describe how you show up to shows?
DAI BURGER: It's because we're Aquarius. I came with three suitcases, because I need the shoes. I want to turn these looks. We are stars. When people see me, I want my oohs and I want my aahs. I've worked this hard to be this awesome, and when you pay to see me, I want you to feel like you paid to see fucking Dai Burger. I'm not here in my sweats. Nah, I come to slay. The better I look the better the show is.
UNIIQU3: I always like to describe Dai and I as sugar and spice.
How have the shows so far differed from city to city?
DAI BURGER: In size, moreso.
UNIIQU3: Yeah, but I will say they haven't changed as far as our audience. The excitement level hasn't really changed either. The crowds are still really diverse. Like, we have crowds of cute black girls, the regular hood chicks, and the cunty queens.
DAI BURGER: Everyone sprinkles in.
Do you have a particular kind of fan in mind when you think about touring and about the music that you both are making?
DAI BURGER: Well, our music is definitely for open-minded people in all aspects: sexuality, gender, and just [non] conforming in general. The goal is to go where we're wanted and welcomed with open arms.
UNIIQU3: People who wanna be free.
"We're in a man's world not giving a fuck or nothing, being brown and beautiful." —Dai Burger
What is it like to curate your own headlining show? What do you sacrifice, and what do you gain from doing it yourselves?
DAI BURGER: Sacrificially, we drove ourselves for the first half of the tour. We curated the routing, we were a part of every detail.
UNIIQU3: It's definitely more than curating just the talent. We curated the whole thing. Even from deciding the small stuff that promoters take care of.
DAI BURGER: Like who's the opener, where we're staying...We're putting in real work.
UNIIQU3: We get booked off of DJ gigs and live performances all around the world, and it's cool. But I always felt that those parties always had a ceiling. Maybe it's a financial ceiling, or maybe it's a ceiling of like venue spaces. Or, they want our flavor but they don't want our crowd. We get so much of that. And, this is very much us saying we're taking charge of doing that.
DAI BURGER: We're not doing anything impossible. It's just something that you have to really put your mind to, and literally do it.
UNIIQU3, what do you mean when you say your mission is to "decolonize the dancefloor"?
UNIIQU3: It's a new movement I'm starting. I'm not going to speak too much about it, but I want to tell a cute story. We were at a club in Toronto, and it was so many dope girls on the dancefloor. We was taking over the stage and we was taking over the dancefloor. One of my girls was like, "UNIIQU3, you could decolonize my dancefloor any time," and I'm like, Yes that's what I do. Word, I decolonize dancefloors. [It's about] opening the door to a house that was already mine. People from these different cultures [and] different ethnicities are the ones that come up with all these dance movements. Can't really name that many Caucasian dance movements, no shade. Especially in America.
DAI BURGER: Not innovators.
UNIIQU3: Of course, we love the intimate spaces because that's where we get to be the most vulnerable. But I'm just saying if you were to get somebody to be on a big stage or headline a club, it should be the person that is actually the one that can tell the story the best.
DAI BURGER: Not a messenger.
UNIIQU3: That's what I mean by decolonize the dancefloor. I'm not trying to be in anybody's world. I'm not trying to be in a white man's world. I'm just trying to be equal, and we should get the same opportunities they get. Diddy said that. He used to charge for his black excellence. He's like, "Yo if we're gonna play the same festival as Guns n' Roses, but our single is just as hot and was on the Billboard [charts], we need to have just as much bread as them too." My people got stories to tell, and the club space needs to be for us again.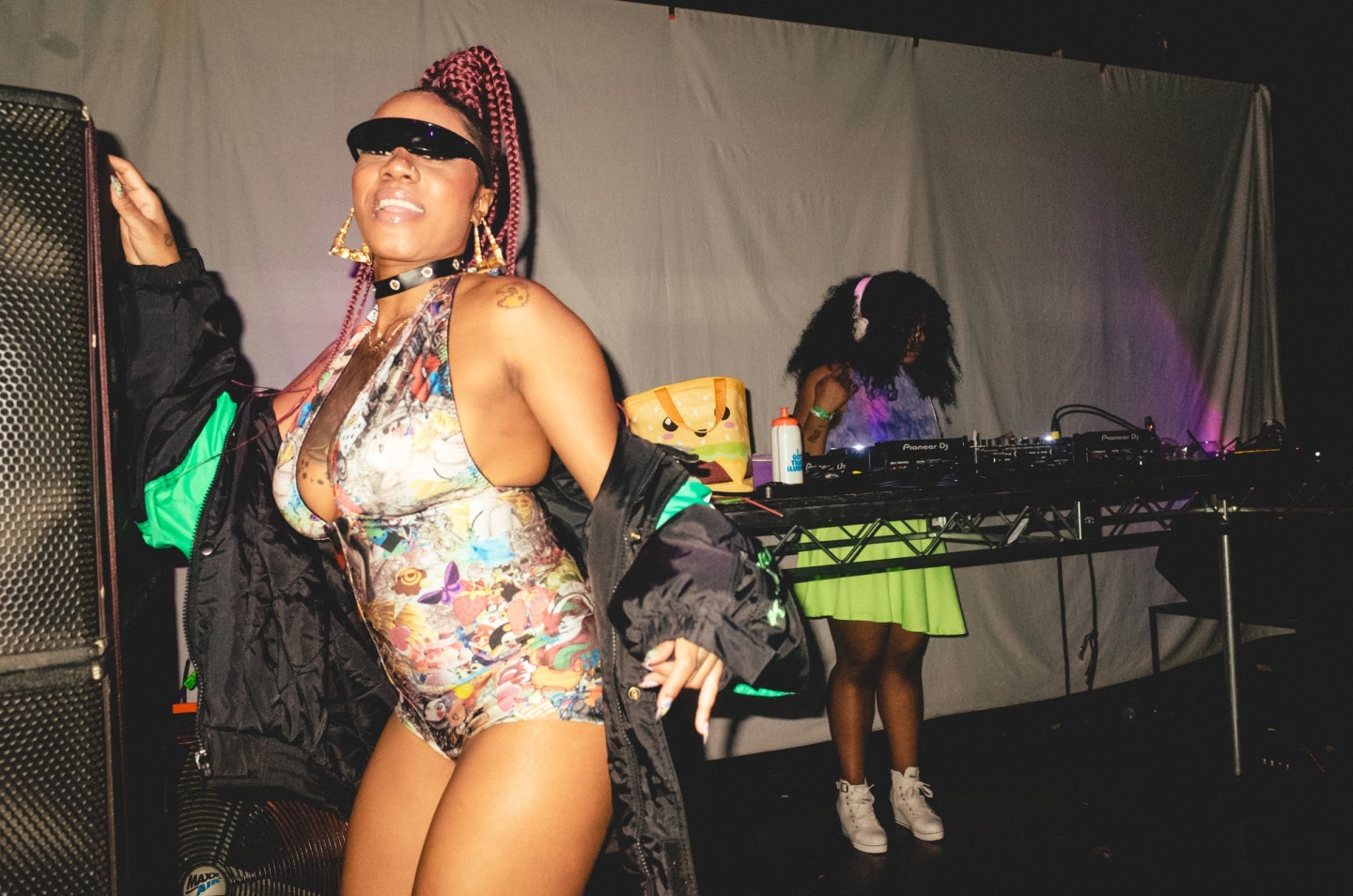 "My people got stories to tell, and the club space needs to be for us again." —UNIIQU3
What does this tour mean for your personal careers?
DAI BURGER: Everything equals growth. It shows that we have the means to make these moves. We have the drive to make these moves. We have the support to make these moves. When people hit me, they're like, "I see you doing your thing." And, it's because they see it. Growth is visible. I'm just glad to keep growing, and growing with the right people, and in the right directions. You know how it goes when you got the greens. You gotta take care of it, water it properly, and stay deep rooted.
UNIIQU3: I feel like it's a growth thing for me too. Especially because we did this with our team and ourselves. We're not waiting for nobody to cosign us or to make no moves. We're very much doing it ourselves. I just hope that other people get to see that and be like, Cool. Especially with the internet nowadays, and all these social media platforms... This is very organic growth. We're non GMO bitches over here.
How important is the internet to your career, or your process in general?
DAI BURGER: 50/50.
UNIIQU3: The only way I would say the internet is important to my career is just getting people to hear my music. Other than that, I was a very pre-internet DJ, and I feel like a lot of people don't know that. A lot of people found my music through the internet, but I've been doing raves and shit like that. Like, I used to sneak into GHE20G0TH1K and all that shit when I was eighteen and stuff. And I was like, "Oh, cool. Sliink just played GHE20G0TH1K? I'm gonna play next month." And I made it happen. I just don't feel like the internet's that important as far as doing shows.
DAI BURGER: Maybe I'll say different. The internet has been very helpful for me because that is part of how I got my boost in the beginning. Yeah, I was performing and doing stuff, but it's because I was putting out videos that people happened to like on the internet, no matter how bootleg or well put together it was. It was just a thing. So, the internet did help with that, but the internet doesn't shape my stage show or who I am as a person. It keeps eyes on the prize.
UNIIQU3: To me, a poppin' live show is always gonna have you booked, despite how things look on the internet.
DAI BURGER: Word-of-mouth is just as strong as internet presence.
UNIIQU3, you had been DJing for years, and then you moved into production and vocals, and now you've put out singles. Do you remember the moment that led you to start producing and making your own music?
UNIIQU3: I've only been producing for four years. But I was DJing before all of that, and all the dudes in Jersey would get booked for parties off their productions. Because they're like, "Yo that dude has the hottest club song right now. If we book him, all the kids are gonna come to the show." And, I was just like damn I don't have any songs out. I need to make a song so I can get booked [more]. So that's what led me to getting into doing vocals. But then the dudes would take a little long. And I was like, you know what? I'm going to start making my own tracks.
DAI BURGER: I hate waiting.
UNIIQU3: Yeah, I know. Me too. Especially if I'm giving you some fire to work with. It's like come on. So, I just started to dig into production. Guys do it. They produce and rap on their own stuff and nobody says they're doing some off-the-wall stuff.
DAI BURGER: As soon as they need female vocals, they want to call you up for a feature, but they not inviting you to the shows or they're not inviting you to the bookings. But they want those vocals. Those vocals help them. It makes the song, damn near.
UNIIQU3: Exactly. It helps them so much. I was just like, I want to do this for myself since I've been doing it for everybody else. And here I am. They're always talking about where the female producers at? We're here. Stop trying to introduce me as this new thing. I've been DJing since I was a teenager, whether y'all wanna say y'all first discovered me or not. But stop calling us rookies. Like, "Meet Such and Such" or "Get Introduced To This Person." It's like, I've been doing this. There are so many girls that have been doing this. Stop saying like, "10 Female Producers You Need To Meet." They've been doing this. They're producing for Lil Uzi, they're producing for Travi$ Scott. I'm over people acting like it's something new and fascinating.
What's one thing that you've learned over the course of your careers that you would want to share with young women, particular women of color, who are just getting started?
UNIIQU3: Be different, and make it work. Right now, being the first black female DJ to play some of these spaces it's just like, How? It's 2017. It's a bit scary, and I don't always like putting myself as the person that represents all black girls that are into dance music. I just realize that if you want to [see] a change, sometimes you just have to be that change and accept it and own it for what it is. Remember that you don't represent everybody, but people may feel like you do represent them, and that's okay.
DAI BURGER: The people who are around me now are there because they support who I am and what I've become — not because they're trying to change me or mold me to fit anything other than that. So the industry is what I want it to be. I'm not going to put up with anything I don't want to, because I don't have to.
UNIIQU3: I really hope this encourages more black girls to go on tours together, too. Like, remember when Mary would pop up with Lil' Kim, and Missy and Aaliyah would slay? That was a moment. It feels like it doesn't exist anymore. I feel like it's really dope that we're getting the chance to do that.
DAI BURGER: And it shows girls can work together.
UNIIQU3: Especially black females. You know how they always try to pin against each other. It always has to be one queen bee. It's like, why can't we all be queens together? Guys do it all the time together. You see Lil Uzi on tour with Lil Yachty and Playboi Carti. So, how come you don't see dope black girls on a full tour lineup together?
What can we expect from you in the near future?
DAI BURGER: More work, more collaborations, more shows, more looks, more awesomeness, more body, more badness, more of everything they need. More of us. It doesn't stop. This is not the end.
UNIIQU3: Expect the unexpected.
DAI BURGER: Aquarius style.