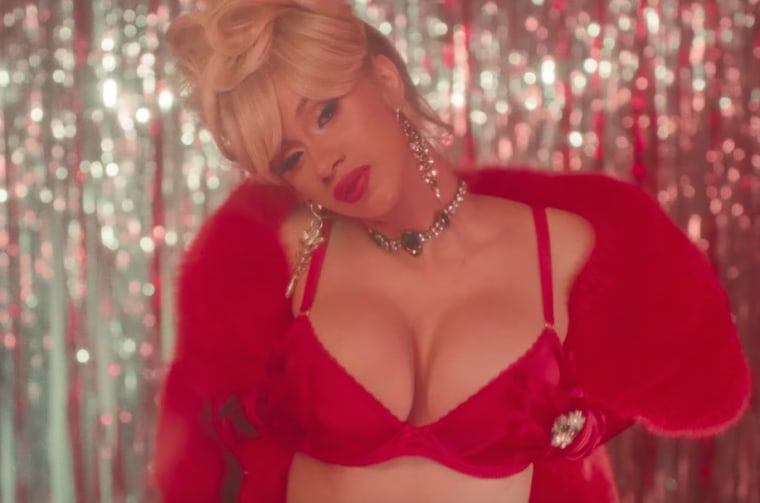 For shitting on your man
"Leave his texts on read, leave his balls on blue / Put it on airplane mode so none of those calls come through" — "I Do"
"You don't want this gun smoke, learn to text with your nose if your thumb broke!" — "Ring"
"I'ma make a bowl of cereal with a teaspoon of bleach / Serve it to you like, 'Here you go, nigga, bon appétit'" — "Thru Your Phone"
For moments of vindication
"Went from makin' tuna sandwiches to makin' the news / I started speakin' my mind and tripled my views" — "Get Up 10"
"Got a bag and fixed my teeth, hope you hoes know it ain't cheap / And I pay my mama bills, I ain't got no time to chill" — "Bodak Yellow"
"Went from small-ass apartments to walkin' red carpets / Pissy elevators, now every dress is tailored / This some real-life fairy tale Binderella shit" — "Best Life"
"Is she a stripper, a rapper or a singer? / I'm busting bucks in a Bentley Bentayga / Ride through your hood like "Bitch, I'm the mayor!" — "Drip"
"They said by now that I'll be finished, hard to tell. My little 15 minutes lasted long as hell, huh?" — "I Do"
"Ya bitch wanna party with Cardi" — "Bartier Cardi"
For gassing yourself up via food
"Spicy mami, hot tamale" — "I Like It"
"Flexing on bitches as hard as I can / Eating halal, driving the Lam'" — "I Like It"
"You need some Little Caesar's pizza, I be Hot & Ready" — "Best Life"
"Go down, eat it up, don't drown / Mac n' cheese in the bowl, how it sound? (sound) / I got that gushy" — "Drip"
"'Bae, it's a snack,' he said, it's a entrée / With them pretty ass twins, you look like Beyoncé" — "Money Bag"
"These bitches salty, they sodium, they jelly, petroleum / Always talkin' in the background, don't never come to the podium / Chef Cardi B, I'm cookin' up, I see you hoes at the stove again" — "Money Bag"
For gassing yourself up (no food)
"Pussy so good I say my own name during sex." — "I Do"
"I'm a gangsta in a dress, I'm a bully in the bed / Only time that I'm a lady's when I lay these hoes to rest" — "I Do"
"Broke hoes do what they can't, good girls do what they told / Bad bitches do what they want, that's why a bitch is so cold." — "I Do"
"I'm a boss in a skirt, I'm a dog, I'm a flirt / Write a verse while I twerk, I wear off-white at church / Prolly make the preacher sweat, read the Bible, Jesus wept." — "She Bad"
"Give him some vag', I'm gettin' a bag, give him some ass, I'm gettin' some Raf" — "Bickenhead"
"Pop that pussy like poppin' pussy is goin' out of style / Pop that pussy while you work, pop that pussy up at church / Pop that pussy on the pole, pop that pussy on the stove / Make that pussy slip and slide like you from the 305 / Put your tongue out in the mirror, pop that pussy while you drive / Spread them asscheeks open, make that pussy crack a smile" — "Bickenhead"
"Everythin' your nigga want, I'm like a walkin' wishlist / I don't understand what this hate is about / How you gon' suck yo man dick with my name in yo mouth?" — "Money Bag"
For when you're feeling emo
"You even got me trippin', you got me lookin' in the mirror different / Thinkin' I'm flawed because you inconsistent" — "Be Careful"
"I went through your phone last night, saw some things I didn't like / I went through your phone last night. It's killing me, killing me, killing me." — "Thru Your Phone"
For when you just needa be wild
"Lick the balls just because, lil bitch, I eat balls" — "She Bad"