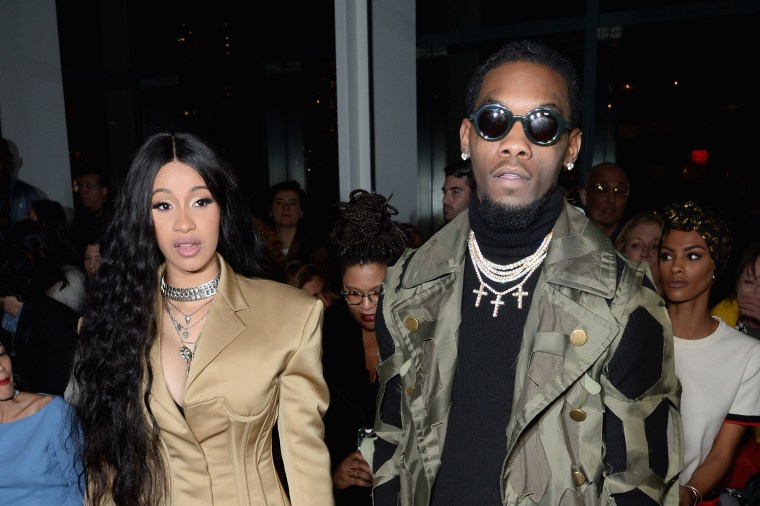 Cardi B has opened up about her relationship with fiancé Offset in a new interview with GQ. The couple announced this weekend that they are expecting their first child.
Speaking about the Migos rapper, Cardi said that trust was an issue in the early days of their relationship. "For a long time we was in love with each other but we didn't really trust in each other," she said. "It was like a competition of who's gonna hit each other up first. I don't want to hit him up first; he will hit me up first. People used to put things in my head: 'He gonna leave you. He be fucking with mad bitches.' People used to put things in his head: 'Cardi, she's a dog. Don't trust her.' We never really trusted each other because I always feel like he could get any girl he wants—what makes me think he's gonna want me? I think he felt the same way. Niggas want to be with me, and bitches wanna be with him."
Cardi later added that Offset helps her the most when it comes to making decisions. "I'm very indecisive, and that's a very bad trait that I have," she told the magazine. "It's so bad. And then I always feel like I need—like I need somebody to tell me something. He's always screaming at me for that, like, 'You don't need this. You know who the fuck you are. Oh, my God, you're so annoying!' And it's like," 'I don't know, I just need help!' I'm afraid to do my own decisions. I call him a lot, like, 'Babe, I need your help. Do you think that I should do this, this, and that? Do you like this song? Do I sound good in this song? Do I sound corny?' "
He has never said she sounds corny, obviously. "He always tells me, 'Stop being afraid. You always afraid of something. Why you always afraid?'"
Cardi B released her immensely quotable debut album Invasion of Privacy last week. Later today, April 9, she will become the first ever co-host of Jimmy Fallon's Tonight Show.