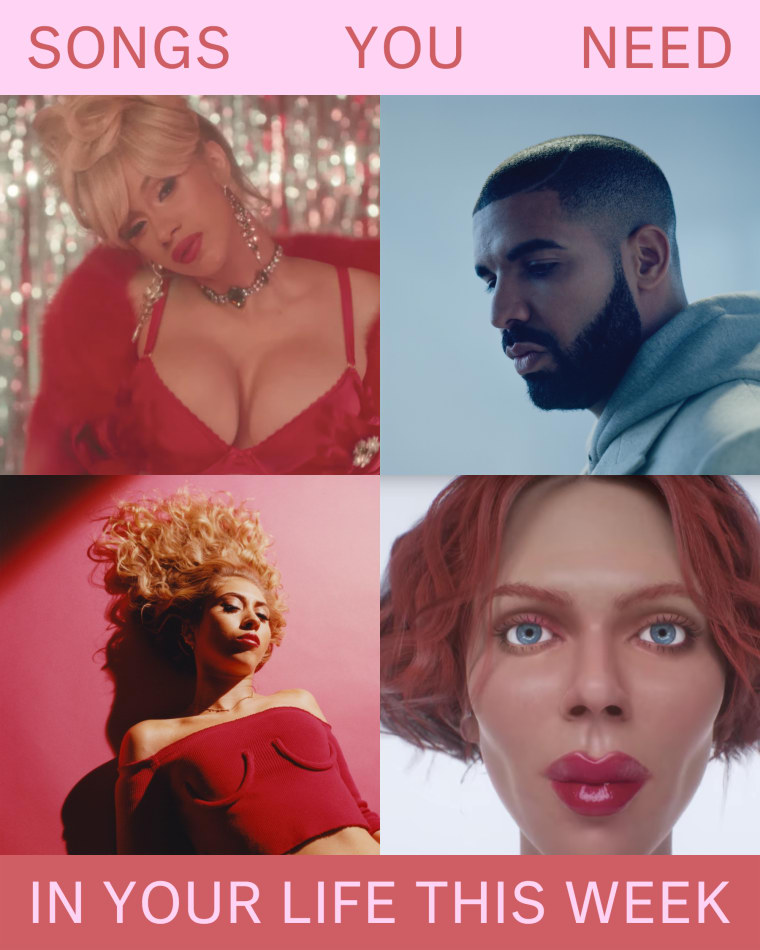 Each week The FADER staff rounds up the songs we can't stop playing. Here they are, in no particular order.

Subscribe to Songs You Need In Your Life on Apple Music and Spotify

Cardi B, "I Like It"
Only Cardi B could take Pete Rodriguez's classic "I Like It Like That" and elevate it to a stratospheric level. Her song-of-the-summer contender is pure fun and features great lines like "Spicy mami, hot tamale."
Drake, "Nice For What"
Woke Drake does New Orleans bounce over a Lauryn Hill sample. It's good.
Azealia Banks, "Anna Wintour"
Say what you want, but Azealia really knows how her shit. "Anna Wintour" and its slinking, dance-floor beat makes me wanna do splits in the club.
Kali Uchis "Dead To Me"
"Dead To Me" is a song-length diss directed at an ex-lover, and Kali Uchis delivers the poison like it's a pink-colored cocktail.
SOPHIE, "Faceshopping"
SOPHIE's newest is kind of terrifying, in a good way. It's all sharp-angled, ruthless pop, smartly commenting on wack societal standards.
Girl In Red, "4am"
"4am" is a little ditty about the thought cycles we go through when we can't fall asleep, with upbeat guitar that makes the late-night anxiety sound sound strangely warm.
Alison Wonderland ft. Chief Keef, "Dreamy Dragon"
Chief Keef's chopped, auto-tuned flow pairs beautifully with the rich, maximalist soundscape that Alison Wonderland crafts on "Dreamy Dragon." Its name says it all, kind of.
DJ Enimoney ft. Tiwa Savage, Reminisce, Slimcase, "Diet"
DJ Enimoney makes perfect afropop on "Diet," which effortlessly bounces through three guest verses, maintaining a dance-y pulse through it all. (Tiwa Savage especially hits her verse out of the park).