7 ways to rock tactical accessories this spring
Practicality and comfort are on the rise as chest rigs and tool belts usurp the fanny pack.
In case you didn't know, the fashionable is now the utilitarian. There's a new wave approaching, and it's full of accessories that prioritize functionality. Vests are reinterpreted as giant, wearable pockets while belts morph into workwear-inspired storage units. Technical fabrics with mechanical elements — think of the chest rig from ALYX — are set to flood the market, so don't be surprised if zippers and hardware begin to take on a conveyor system feel.
The focus on lightweight designs that move with you is key for the approaching warm weather. Why face the inevitable back sweat that comes with being bogged down by traditional backpacks when you could opt for a breezy gilet or a compact pouch? There's an underlying element of safety in this trend, a response to collective feelings of unrest and trepidation. Stay protected and see standout pieces from this sartorial movement in both high-end and affordable options, below.
Dutch apparel company Patta took the gilet and gave it a functional makeover. Inspired by the line's classic backpack, the gilet is an effective carry-all with two zippered compartments that sit close to the ribcage, plus a back panel and adjustable straps for sturdy comfort.
The TOMBOGO chest vest is literally one massive pocket, with more pockets attached — I'm not exaggerating. There's two pockets on the front, one on the back, and the chest vest's zips open to reveal yet another pocket. If you run out of space with this, it might be time to take a long, hard look at your hoarding tendencies. The classic vest silhouette is reinterpreted with a major focus on minimalism, and you can't get more heavy-duty than conveyor belt straps and a buckle closure.
Uruguayan designer Gabriela Hearst grew up on a ranch, which means she knows a thing or two about practical design. Her tool belt feels like a more sophisticated fanny pack — the spaced-out pockets ensure that you're never digging around for your keys or money, and the choice of silky leather and satin makes it clear that sensibility and luxury can exist in harmony.
ALYX creative director Mathew Williams is no stranger to the mechanical — his line routinely pulls from the real world, and the small chest pouch continues that ethos. The clean design and nylon fabric are fuss-free, and ALYX's signature rollercoaster belt adds an element of durability.
Brooklyn-based ASHYA came into existence after designers Moya Annece and Ashley Cimone realized that there was a massive void when it came to functional travel accessories that weren't complete eyesores. Their leather belt bags are generally frill-free, instead relying on striking silhouettes or suede wave detailing versus extra hardware. ASHYA's designs are also super versatile, easily transitioning from the waist to the shoulder, depending on your preference. Most importantly, ASHYA's designs eliminate the need to pack multiple carry-alls on trips — save the money you would use on a checked bag for those tiny airplane cocktails, instead.
British streetwear brand A-COLD-WALL* finds inspiration in the UK's history of class divide, creating sleek clones of utility-focused clothing and accessories. The line's work-wear vest isn't a far departure from what you'd see on a factory foreman — the deep pockets can successfully hold everyday bulk while the adjustable straps and chest clasps keep things secure and comfy, but it's the shiny, plum and tan nylon fabric that refines the vest without abandoning the sensibility that made it great.
7. The essential strap-vest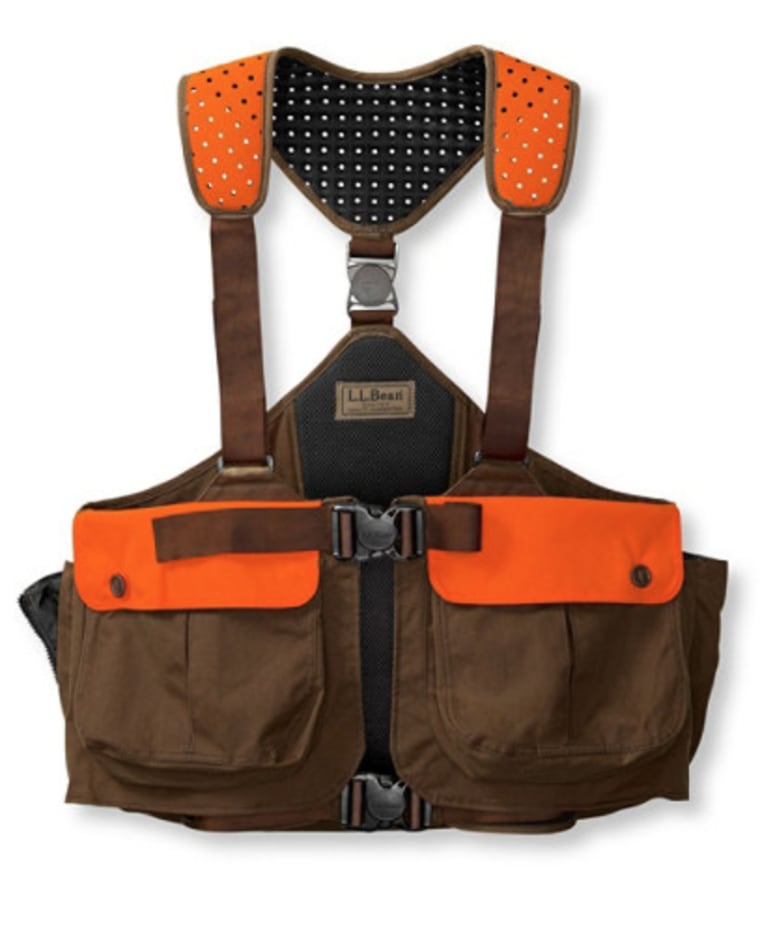 The strap-vest that started it all, kind of. L.L. Bean is outdoorsy-as-hell, and their strap-vest is the real deal. Designed for use out in, you know, nature, the strap-vest is lightweight and extra-breathable with plenty of room to carry snacks, knives, bug, and whatever else people who like being outside need to have with them. The traditional mesh backing got swapped out in favor of a single-swivel buckle to shed weight and the pivoting straps adjust for a complete range of motion. Comfort is the name of the game here, and no one does it better.
Thumbnail courtesy of ASHYA's Instagram.