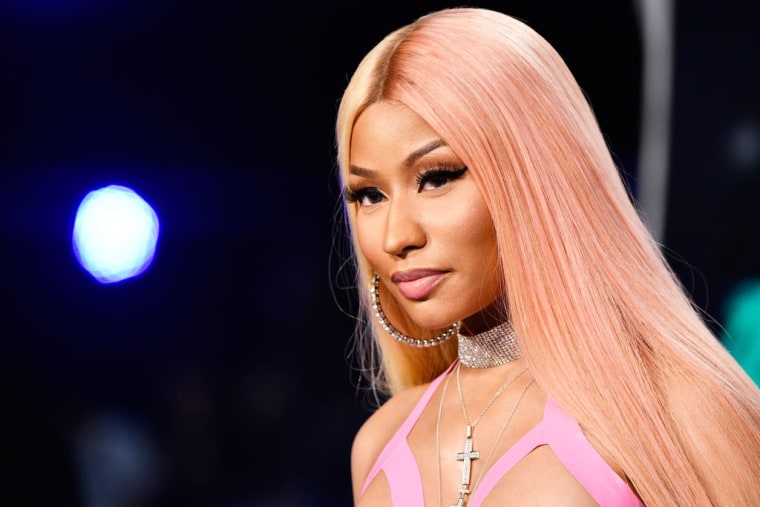 On Thursday, Nicki Minaj appeared on Zane Lowe's Apple Beats 1 Radio show for an interview that covered her new singles, her relationships with Cardi B and Drake, and Judge Genece Brinkley, who is currently presiding over the case of Minaj's ex-boyfriend Meek Mill.
It was previously reported that during a hearing in February 2016, Brinkley had called Mill and Minaj into her private quarters and asked Mill to record a cover of "On Bended Knee" by Boys II Men and give her a shout out. Minaj has not commented on that allegation, and told Lowe that she could not criticize Brinkley.
"The judge in question did everything asked of her," Minaj said, "so I can't badmouth her because I met her personally. I know what she said to us, he knows that and I know that. But I wouldn't wish jail on anybody." It is unclear what "everything" refers to in this context – Minaj declined to go into detail, saying she wishes to save "some of those things" for her album and an upcoming documentary.
The Boys II Men request is one allegation of inappropriate behavior against Judge Brinkley levelled by Meek Mill's attorney Joe Tacopina. In March, Meek Mill's legal team filed its second request for Brinkley's dismissal, claiming she took an "unusual interest" in Meek Mill's career.
A Rolling Stone article on Meek Mill's imprisonment alleges that both Mill and Minaj seemed disturbed after the meeting with Brinkley. "They were both in shock, saying, 'We can't believe what just went down,' " Roc Nation COO Desiree Perez told the magazine. Mill also claimed that Minaj "[burst] out laughing" after Brinkley's request, which Mill says he declined.
Minaj announced the end of her relationship with Meek Mill in January 2017.
Meek Mill is currently serving two to four years in prison on probation violations. His release has been backed by Philadelphia Mayor Jim Kenney, Governor Tom Wolf, and District Attorney Larry Krasner, who wrote that a "strong likelihood" exists that Mill's 2007 gun and drug charges will be overturned. Meek Mill's case will soon be brought to the state supreme court.
A representative for Meek Mill declined to comment. The FADER has reached out to Nicki Minaj's representative.