The Compound's Set Free announces new line of weed-themed toys
Created in part by pop artist Ron English, and just in time for 4/20.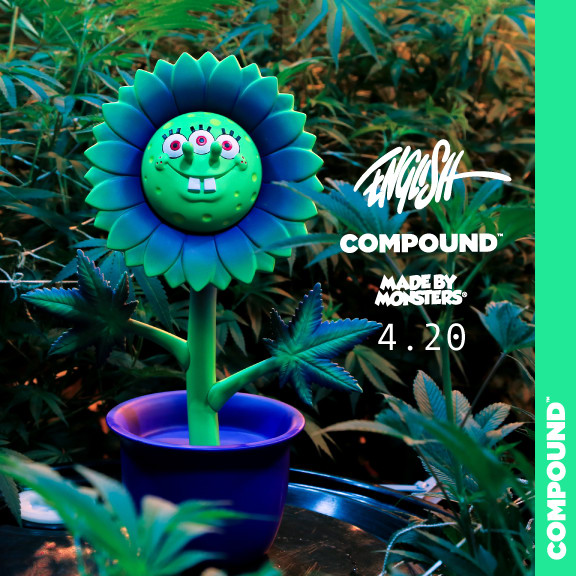 New York-based creative agency the Compound has launched a new line of weed toys, created in collaboration by Compound curator Set Free, pop artist Ron English, and toymaker Chris Kong, founder of Made by Monsters. The "Ganja Grin" set is a play on Kong and Set Free's first toy, the Charlie Grin, and comes in three versions: the HazeBob, the SilverKush, and the Pot of Gold. See photos above and below.
The new toy is a "twisted parody of SpongeBob SquarePants" and features a marijuana sprouted stem with colors inspired by strains of weed, namely, Purple Haze and Sour Diesel. A special effect will reveal a third "strain" under a blacklight. Compound-themed versions will also be available in gold and platinum colorways. The toys will be available on April 20 at noon, in the Compound's shop, for $650.
Of the toy, Set Free shared: "There has never been a toy created to celebrate the relationship between hip hop and weed so it was only right that I make a record to go with the product!"
The toys also come with a three-track project, called "Set Free Presents Compound Smoke Project." The first single off the EP, premiering today on The FADER, is called "Inhale Exhale," and features Smoke Dza, Styles P, Dave East, and Curren$y. The track was produced by Buda & Grandz and Set Free. Listen below.