How this NYC jewelry shop became a go-to for young people around the world
An interview with Jane Shuai, the heart of downtown's New Top Jewelry.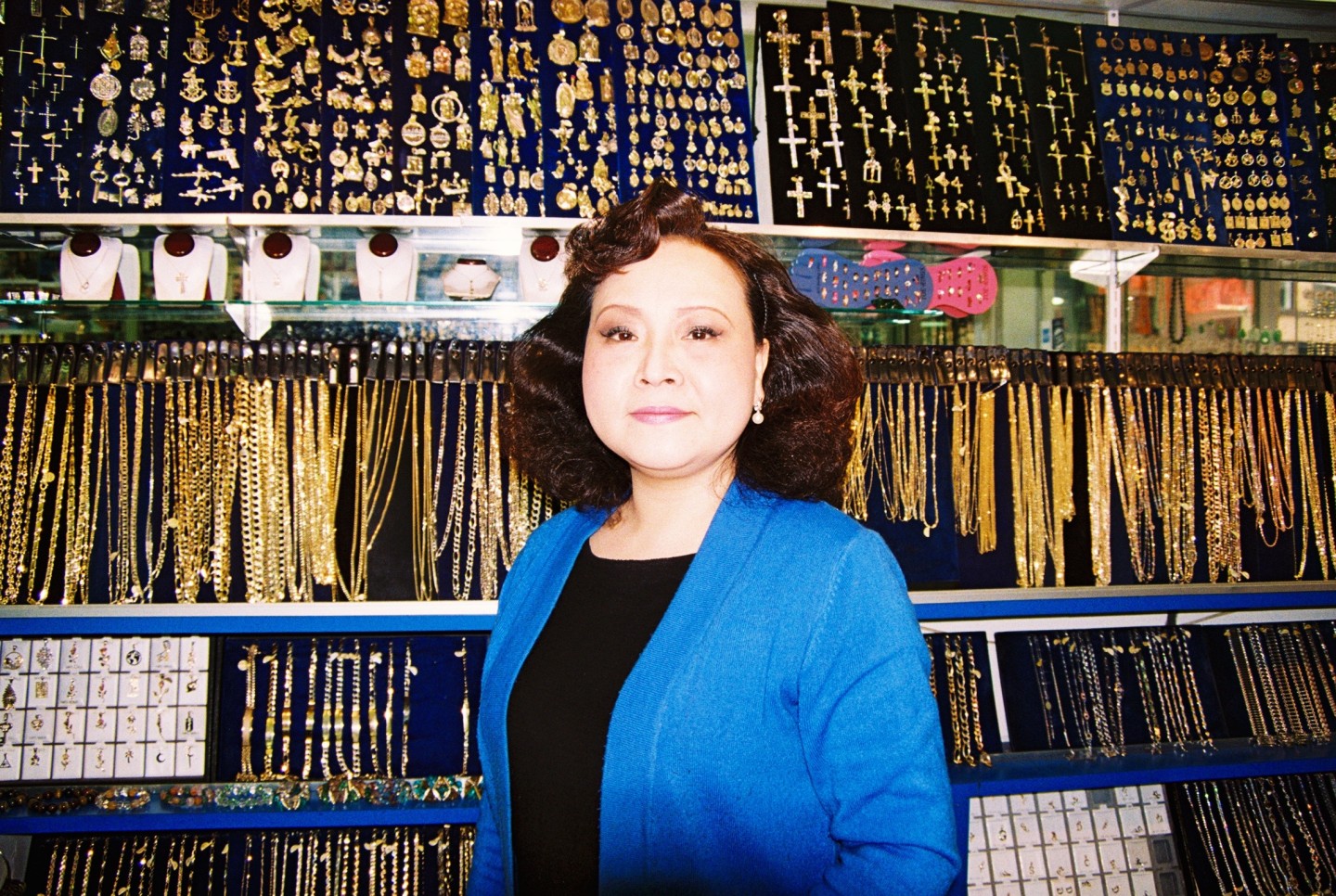 When Jane Shuai was a young girl in Hangzhou, China, her parents taught her a valuable lesson in reading other people's emotions. From an early age, Jane was taught to recognize how people moved their faces, how their bodies shifted, and where their eyes looked. Her intuition is keen — something she partly attributes to being born under the empath water sign, Cancer — and it's served her well. For the past 17 years, Jane has been working at New Top Jewelry, a small jewelry store with a staff you can count on one hand, stationed directly in the bustle of Chinatown's jewelry district. It's a narrow store, gilded from top to bottom with gold pieces in varying karats, and close enough to the Canal Street JMZ subway stop that the store faintly rattles with the passing of each train. Playful, eye-catching rose pendants, marijuana leaf charms, and bamboo-detailed hoops, along with classic cuban link chains and signet rings reflect onto a mirrored hallway. Jewelry in NYC is a competitive business where gut feelings rule supreme, and at New Top, Jane is the gold standard.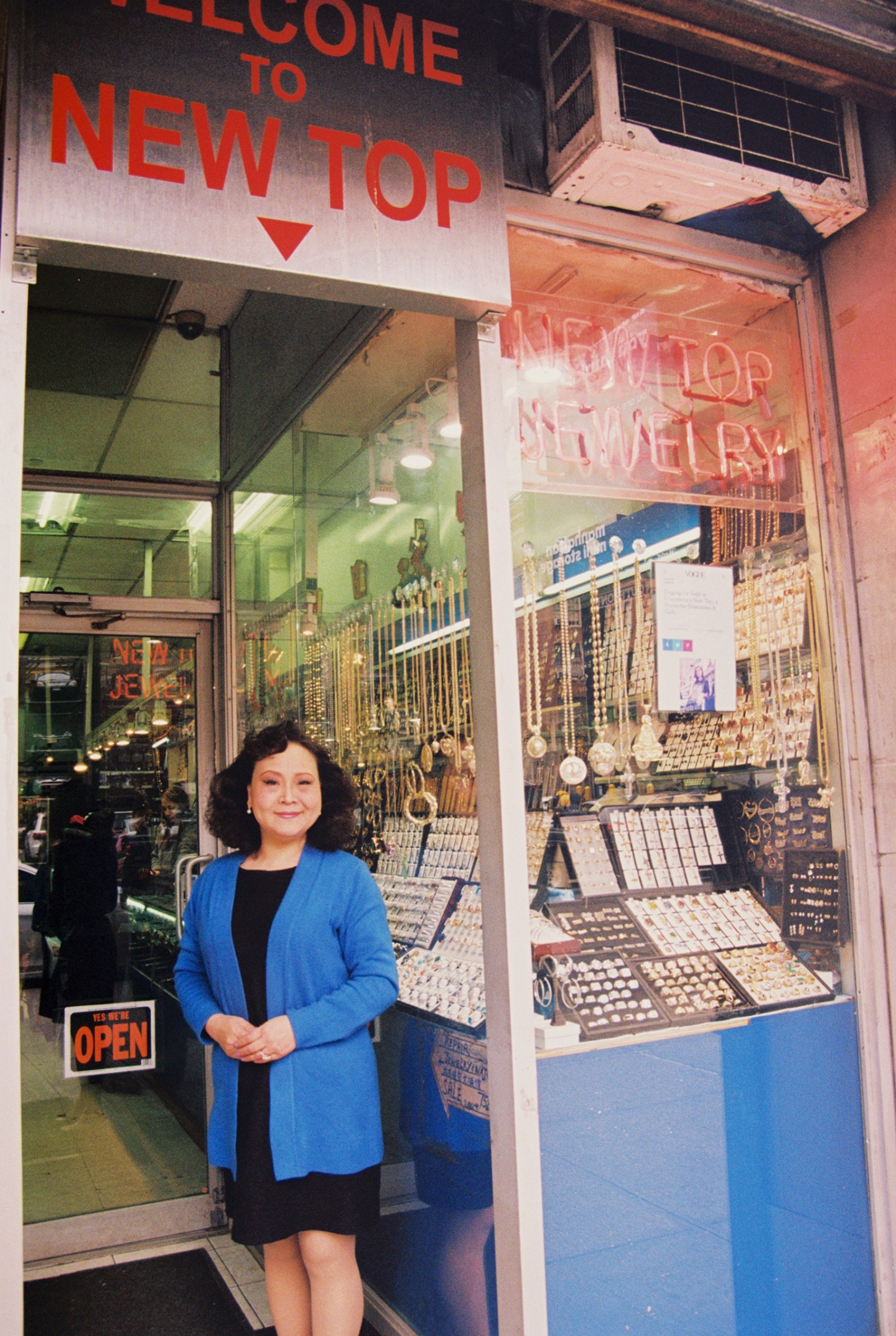 In person, Jane is tender with big, soft curls, an immaculate, barely-there glitter smokey eye, and a voice that registers just above a whisper. There's an unshakable maternal essence about her, one that's confirmed with each happy customer story she tells. She talks about young men who come to her to get their first, real gold chains, college-aged girls on a budget looking for something unique. "Why do they choose New Top Jewelry? So many stores. If they come here, I should take care of them. They're happy, they tell more people. That's how I do business." On a recent trip into the store, I watch Jane help two sharply dressed girls visiting from Germany and within minutes they giddily leave with a gold eagle pendant — one of the girls had been to New Top before during a previous visit and her friends loved her jewelry so much, they placed orders with her upon her return to the city.
Something Jane hears on a regular basis is, "How did you know?" She's referring to the awe she witnesses from her customers, who typically come in with a vague idea of what they want, and leave with a piece of jewelry — and an experience — that they'll keep for life. Her intuition shines its brightest here as Jane works closely with each customer to help find an existing piece or to create a custom order. Yes, New Top is a business that needs to make rent, but for Jane the bottom line doesn't compare to her customers feeling cared for. When Jane meets a new client, she takes a second to understand what they're about, observing their style, rhythm, and demeanor. "Is he classic and very gentle, or a Supreme guy?" she tells me, breaking down an example of her quick-yet-effective process. "We get a lot of skate boy. They choose something totally different from artists."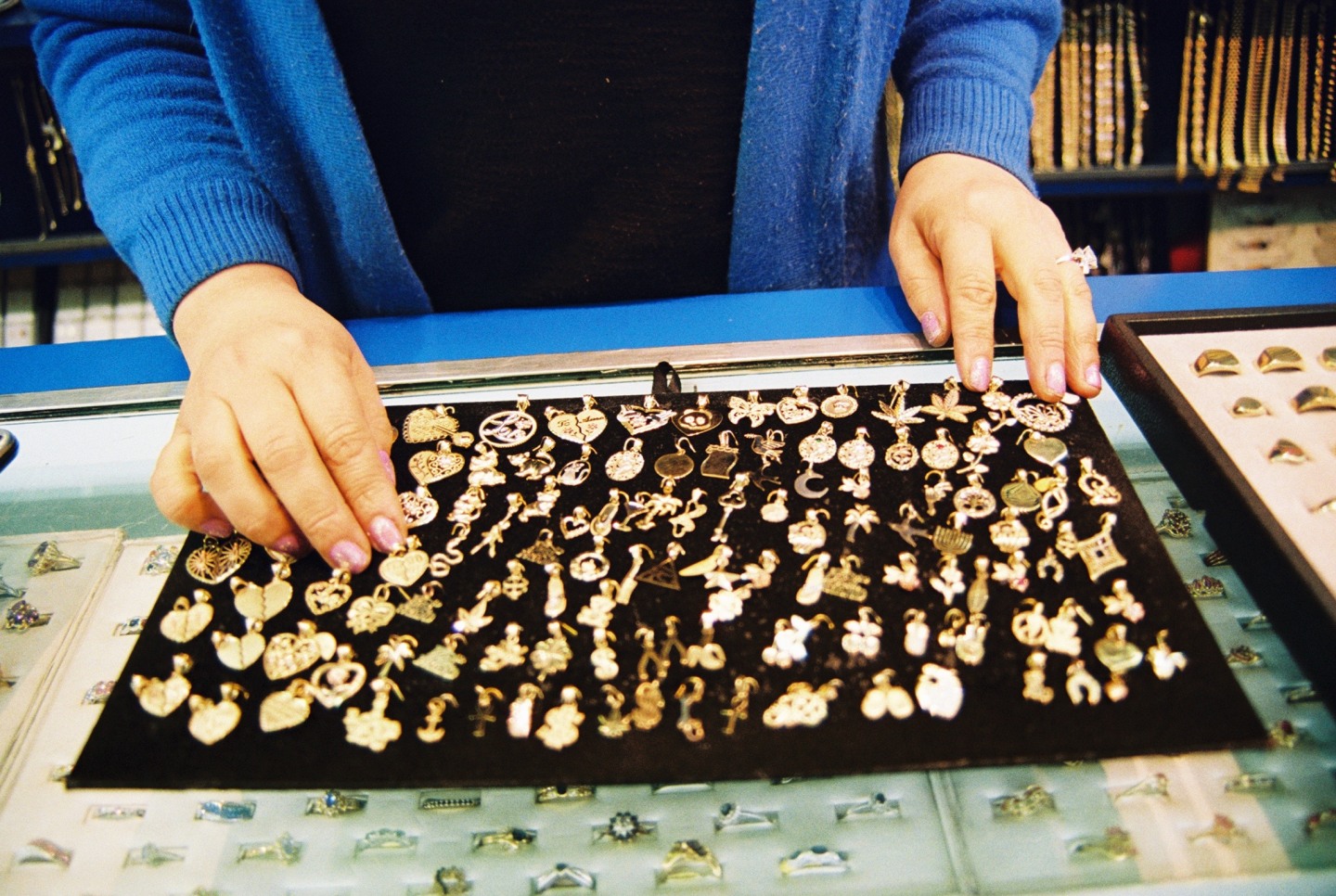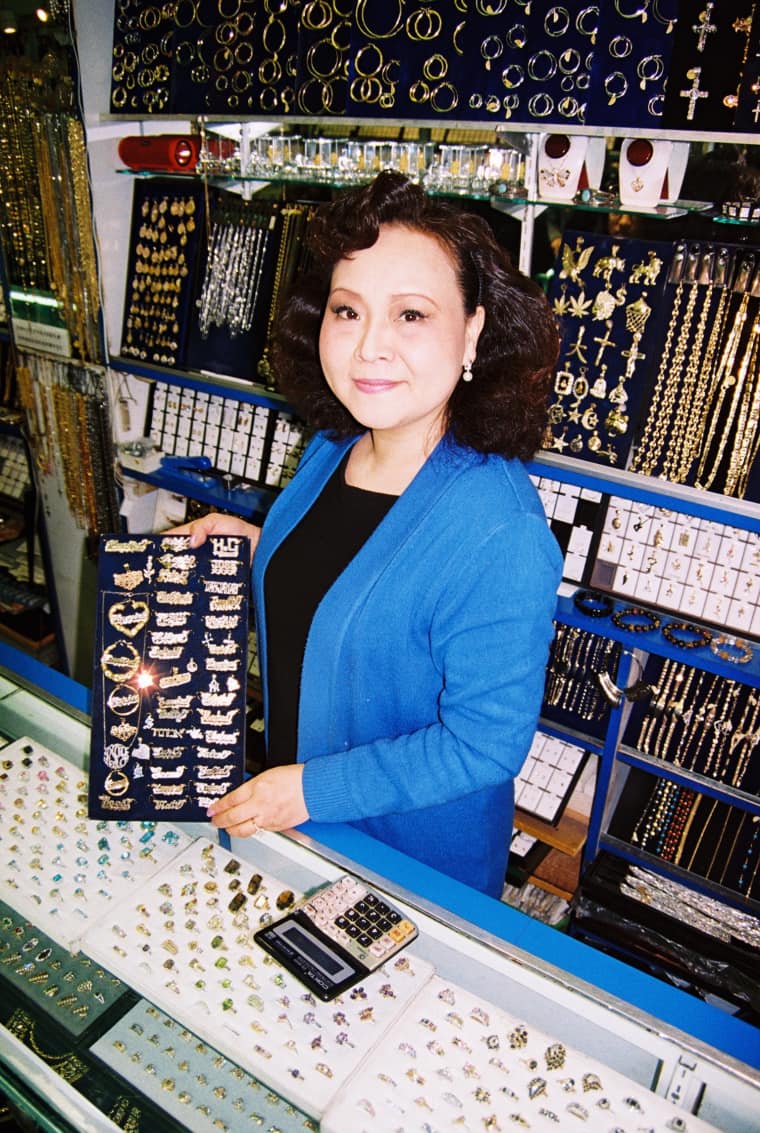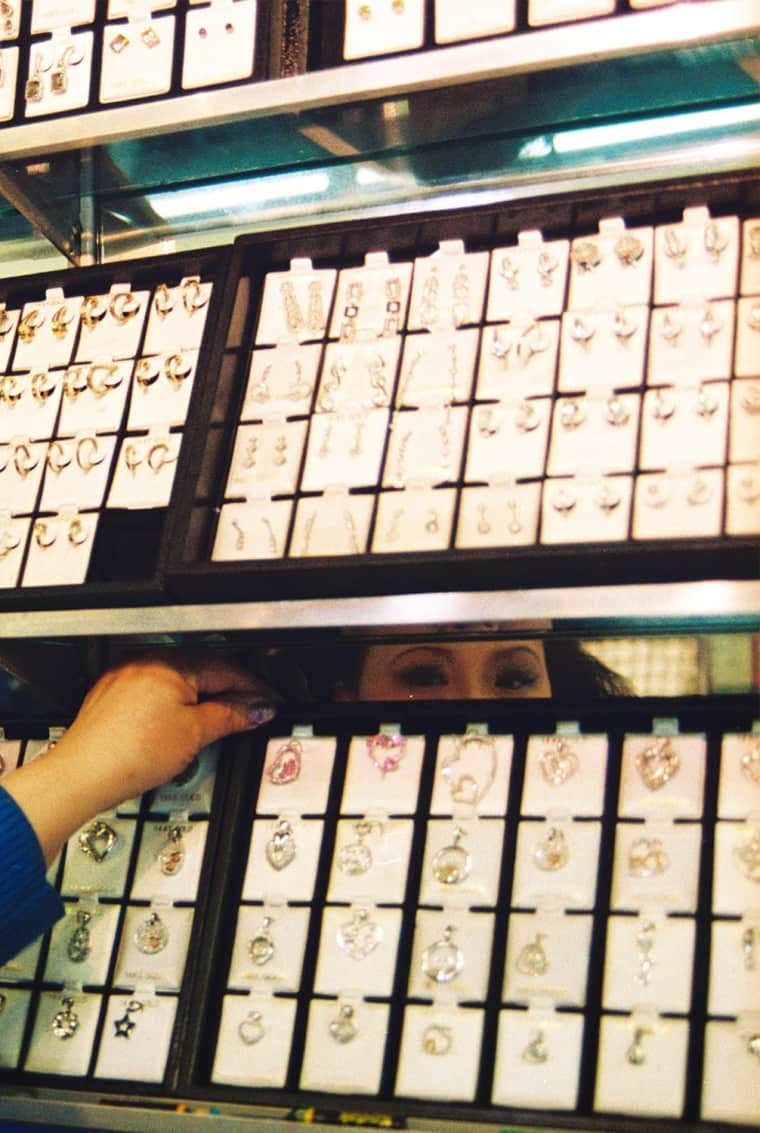 New Top Jewelry's customers extend way beyond the reaches of the five boroughs. Jane tells the story of a mother and daughter from Dubai who use their layover in NYC to cab over to New Top. The shop's global reach is thanks to its Instagram account, which Jane started on a whim at the behest of one of her clients. Jane began the account slowly, never imagining it would become the driving force it is today. "So many [pieces of] jewelry [on Instagram], everywhere they have it! I want to post something interesting, something different," she explains. "Everyday I posted one picture." The account caught on and is now used to showcase New Top's newest inventory — with a quick scroll you'll find everything from a customized nameplate necklace spelling "ACAB" in Olde English lettering to peeled banana pendants to an angelic, golden portrait of the Virgin Mary.
Jane speaks with an easy intelligence about all aspects of jewelry — she can accurately guess ring sizes by looking at her customer's fingers, and knows the value of a chain just by holding it. Her natural curiosity about the items she found herself surrounded by day in and day out led her to become completely self-taught in the language of jewelry. If the store's owner, George Tsui, spoke about something, Jane made it her business to study it. She even devised a game for when the store's diamond dealer would visit: she'd analyze the diamonds' quality, guess its karat content, and then have the dealer show her the certificate. She was always right.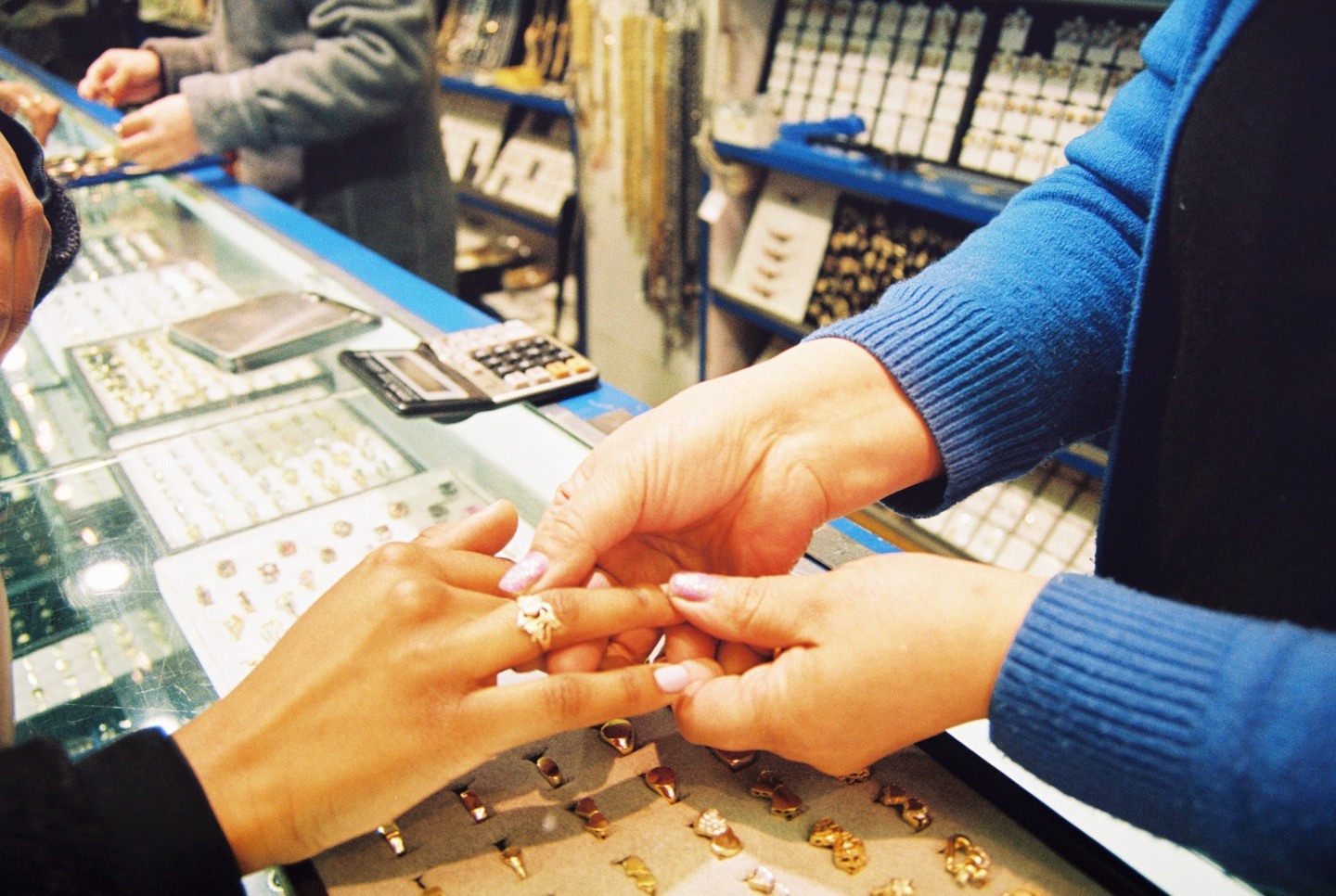 "Why do they choose New Top Jewelry? So many stores. If they come here, I should take care of them. They're happy, they tell more people. That's how I do business." — Jane Shuai
Her dedication to her craft has its cost. "I work seven days," says Jane. "No off day, no vacations. When [customers] come, I want them to be happy." Before her career at New Top, Jane was drawn to music and the arts, and now feels content knowing her two children — a daughter who is a cellist and pianist at LaGuardia High School and a son who is studying to be a game designer — are able to follow their passions so seriously. Jane's happiness may be forever linked to how her customers feel, but fortunately, it's rare to leave New Top feeling anything but joy. Jane's imprint on NYC is unquestionable. The work she's done at the store has linked her to the city's most fashionable, like stylist Mellany Sanchez, and even led her to walk the runway for her client-turned-friend Kim Shui at this year's New York Fashion Week. "It feels amazing," she says, her voice faint with a touch of disbelief. "I'm just thinking I'm so lucky. God always takes care of me."
New Top recently underwent a remodeling, which gave Jane a rare opportunity for a much deserved vacation. She returned to Hangzhou, spending her days with family. She posted a video of one of her days out, an excursion to Longjing Tea Plantation, in which she walks through the fields collecting tea leaves, and it feels like a world completely separate from the rumble and chaos of Canal Street. Her return to New Top will feel momentous, I'm sure, but for now, Jane's enjoying her break.