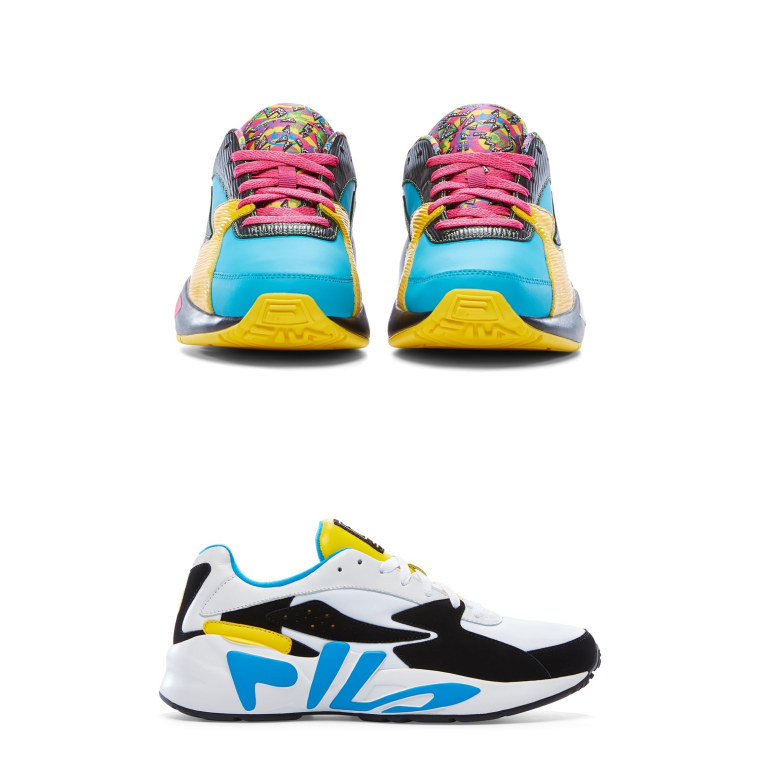 Now more than ever, fashion brands are readily tapping talent outside of their own creative structures for new designs, a phenomenon that's aimed at keeping collections fresh and surprising. Take Italian apparel line Moncler, for example, which launched eight individual capsule collaborations with their Genius Project at this year's Milan Fashion week, and Helmut Lang's decision to hire editors-in-residence instead of the traditional creative director. Now, athletic wear line FILA is upping the ante on the creative outsourcing with by tapping a dizzying amount of collaborations for its Mindblower collection: 47 to be exact.
The line stands out thanks to its range of collaborators — established names like Kinfolk and Pink Dolphin sit alongside small independent designers like HungryEyesNY — and each yielded a completely unique interpretation of the brand's 1995 sneaker release.
The sheer volume of collaborators, however, is also FILA's weak point. The amount of collaborators brinks on overkill, as the same concept could have been accomplished with a handful of designers. Making deliberate decisions about collaborators would have made each design feel more intentional and representative of FILA's new direction as a brand. With nearly 50 designers, the refreshing elements get lost and standouts — like Sneaker Junkie's heavy animal print interpretation and Shelta's throwback colorblock design — can be all too easily overlooked.
Peep some of the designs below, and find all the collaborations here.
Thumbnail courtesy of FILA.