This is the easiest way to make weed ice cream
Cook up a stoner sundae.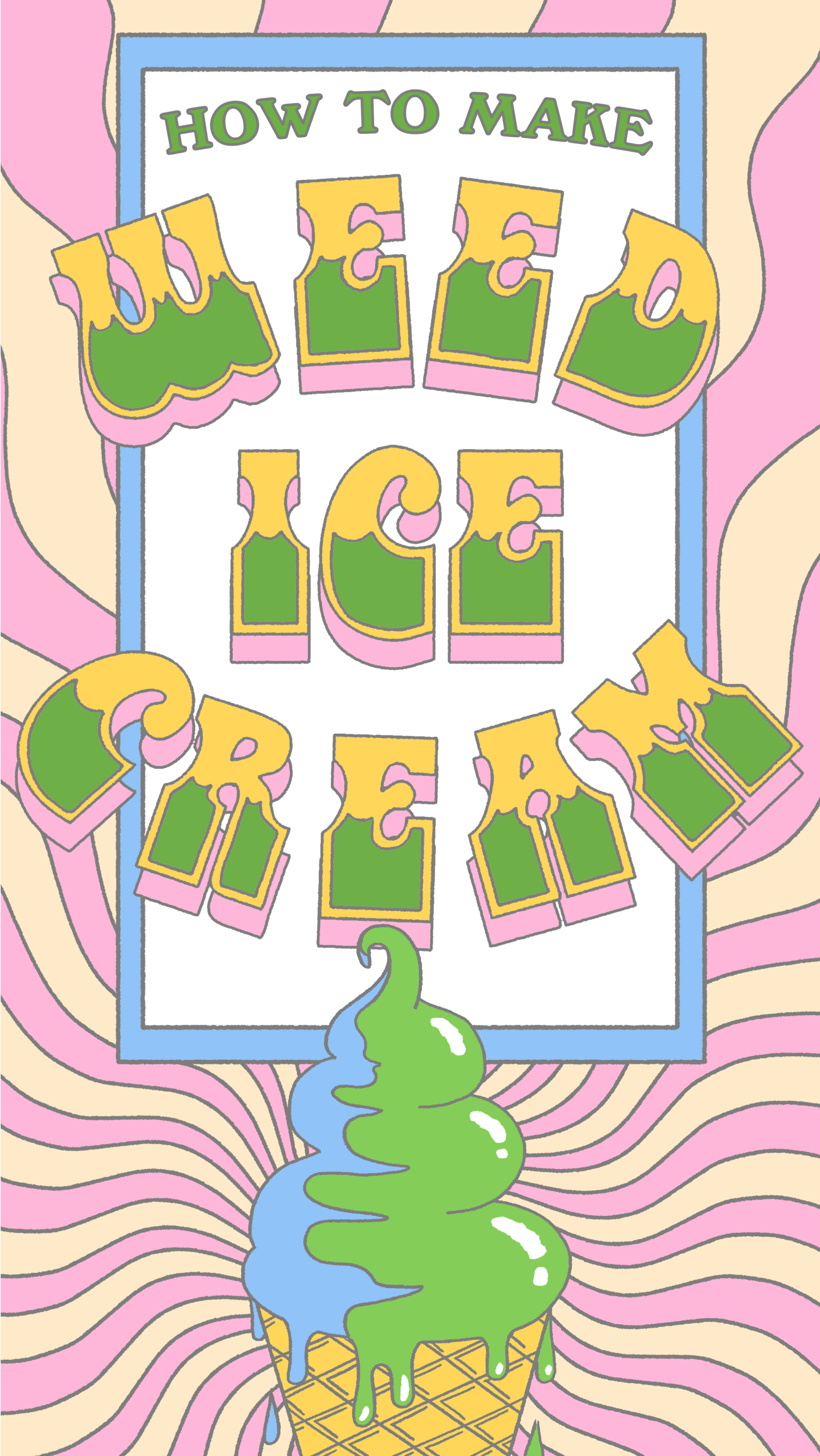 This classic recipe first appeared in The FADER magazine in the summer of 2013.
Considering the end goal, making marijuana edible can be a comically precise process, often entrusted to industrious professionals or abandoned midway by stoned hobbyists. Pastry chef Katy Peetz, formerly of Roberta's in Brooklyn, has developed a polished recipe for giggle-inducing, weed-infused ice cream. Her method requires a home ice cream machine and some patience. But if you don't want to bother with those, you can still enjoy her done-in-no-time weed cream. For a quick slushy treat, Peetz recommends mixing the weed cream with coconut milk, pouring that over shaved ice and adding berries or slices of frozen banana. The dessert's potency is up to you — stick with five grams of weed to keep it light.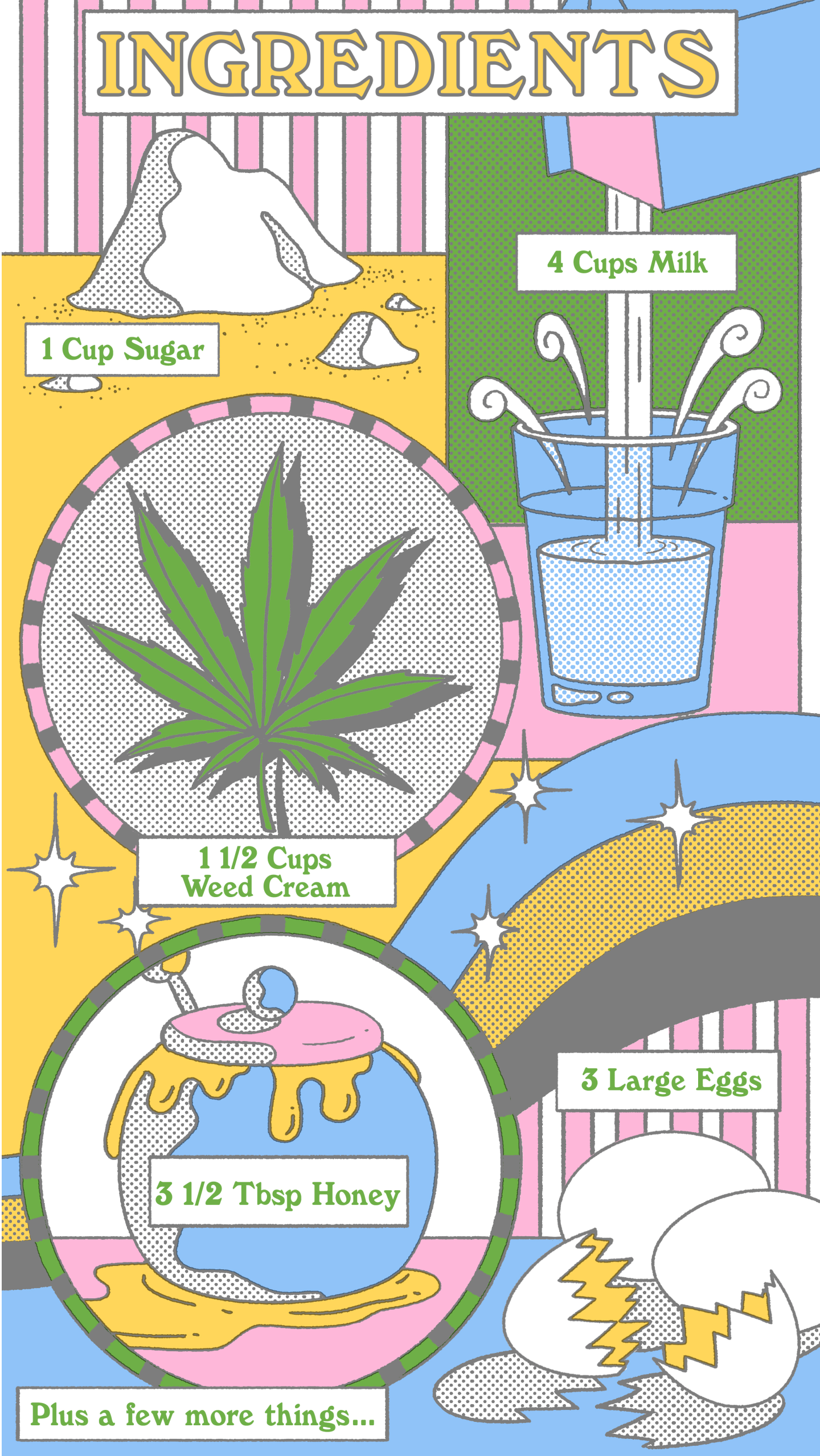 First, make a simple weed cream
Yield: 1 ½ cups
2 cups heavy cream
5-10 grams marijuana, broken up
1. Combine the heavy cream and marijuana in a medium saucepan. Cook just below a simmer for one hour.
2. Strain through cheesecloth or fine mesh. Pour the infused cream into a mixing bowl. If too much has evaporated, add some non-infused cream until you've got 1 ½ cups.
3. Mix with a hand blender for 30 seconds.
4. Chill until ready to use.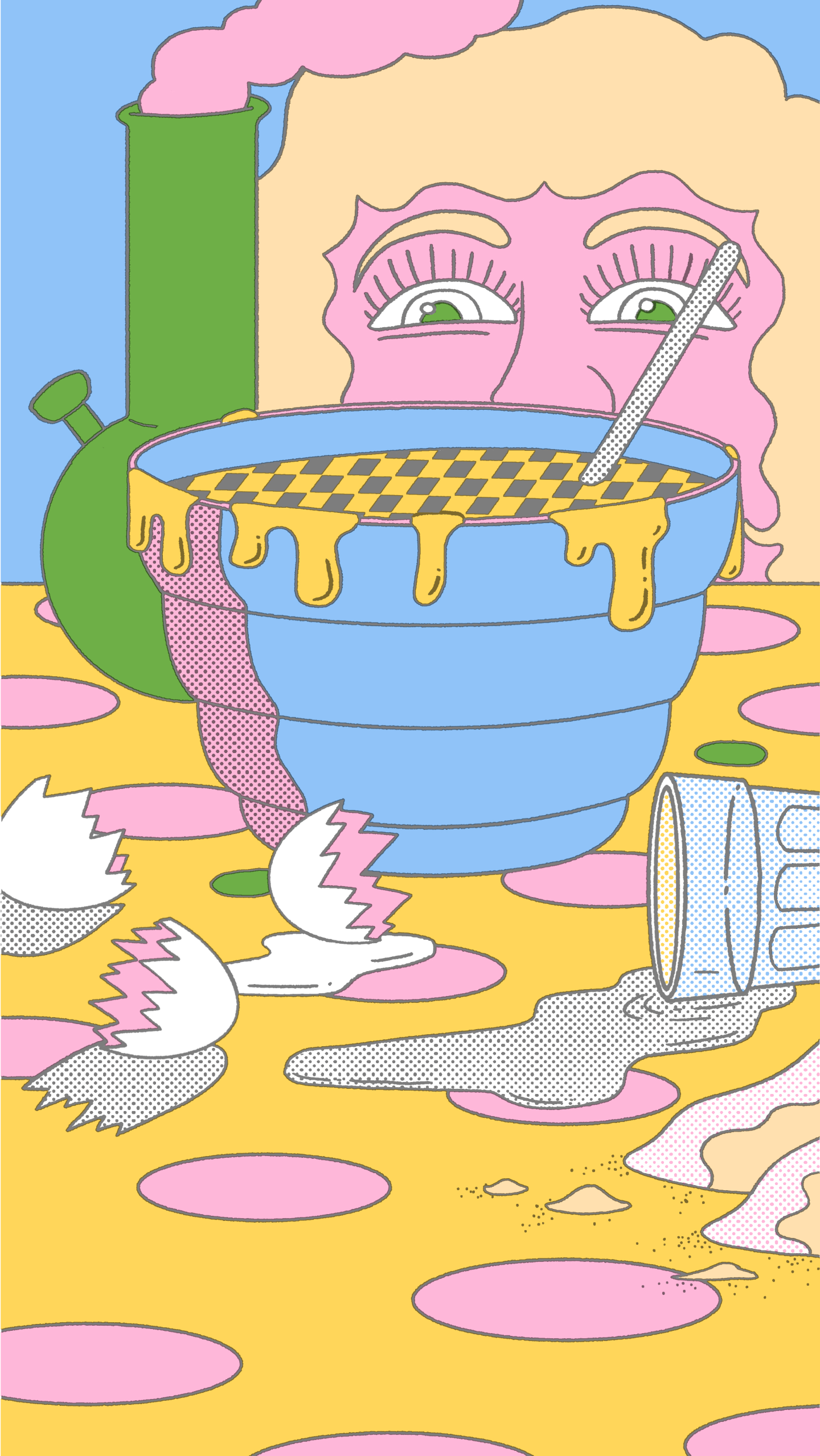 Use that to make the ice cream
The following recipe creates a plain, white ice cream base. To add flavor, steep your milk with vanilla or herbs before mixing it with the weed cream. Peetz likes balancing out marijuana's earthy flavor with a sweet and sour strawberry rhubarb topping, made by cooking the fresh fruit with sugar until the water has evaporated.
Yield: about 3 quarts
1 ½ cups weed cream
4 cups milk
1 cup sugar
3 ½ tbsp honey
¾ cup dry milk powder
Scant tsp xanthan gum
3 large eggs
½ tsp kosher salt
1. Heat the weed cream and milk to a simmer in a medium saucepan.
2. Turn off the heat, and add the rest of the ingredients except for the eggs and salt.
3. Whisk to dissolve the sugar and milk powder. (The xanthan gum may not dissolve totally. This is okay.)
4. In a separate bowl, whisk the eggs until frothy and temper with a small amount of the hot cream mixture.
5. Pour everything back into the saucepan. Turn the heat back on low and slowly bring the mixture up to 173 degrees, stirring the bottom of the pot often with a rubber spatula.
6. Remove from heat. Add salt.
7. Blend the mixture on a blender's low setting for one minute.
8. Strain through a fine sieve into a container. Place the container in an ice bath. Let chill completely.
9. Add honey or maple syrup to sweeten. For a bright flavor, add a squeeze of lemon.
10. Spin the liquid mixture in your ice cream machine and serve.