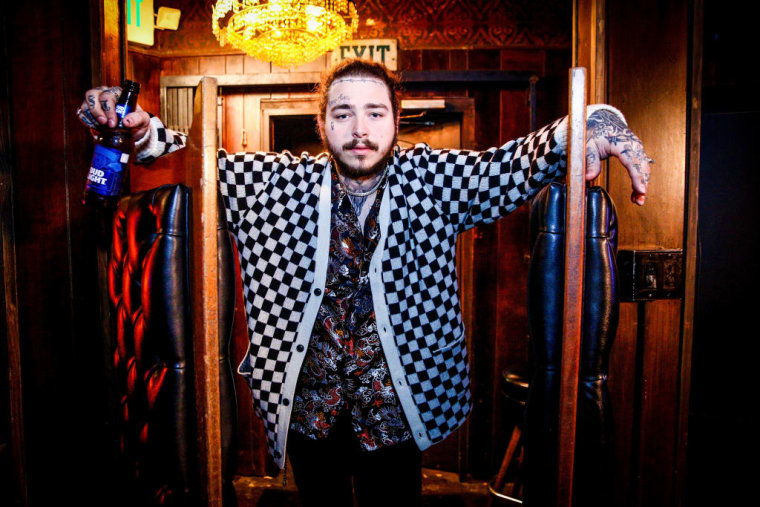 All 18 tracks of Post Malone's just-released album beerbongs & bentleys have hit the Billboard Hot 100, with nine of the tracks breaking through the top 20. That's the most simultaneous top 20 hits for one artist or group in history, Billboard writes.
The songs that charted on the top 20 are: "Psycho" featuring Ty Dolla $ign (No. 2), "Better Now" (No. 7), "Rockstar" featuring 21 Savage (No. 8), "Paranoid" (No. 11) "Rich & Sad" (No. 14), "Spoil My Night," featuring Swae Lee (No. 15), "Ball for Me" featuring Nicki Minaj (No. 16), "Stay" (No. 17), and "Same Bitches," featuring G-Eazy & YG (No. 20). Check out how the rest of the beerbongs & bentleys tracklist charted here.
With nine songs in the upper echelon of the chart, beerbongs & bentleys breaks a record previously held by The Beatles and J. Cole. The Fab Four launched six songs into the top 20 between April 11 and April 18, 1964, a record matched by Cole recently when his album KOD dropped with six songs landing in the top 20. With 14 songs in the top 40 of the Hot 100, Post Malone has snatched that record from Cole as well, who picked up nine top 40 rankings upon KOD's release.
However, Cole remains the first artist in history to debut three songs in the top 10 of the Billboard Hot 100.