Can you believe there was a time when a solo Beyoncé track was something completely new? Fifteen years ago, "Crazy In Love" dropped and its influence was nothing short of seismic.
The song's music video is iconic in its own right, and upon its release gave us a glimpse into the new era of Beyoncé — one that was meticulous, mesmerizing, and nothing short of show-stopping. It was the beginning of both her solo style journey and what would become a non-stop flow of beautifully executed music videos that would eventually culminate in visual albums like her self-titled 2013 release and 2016's LEMONADE. In honor of the single's birthday, we're going back to the video's style moments and breaking down its legacy, and making ourselves feel only a little old in the process.
All-American girl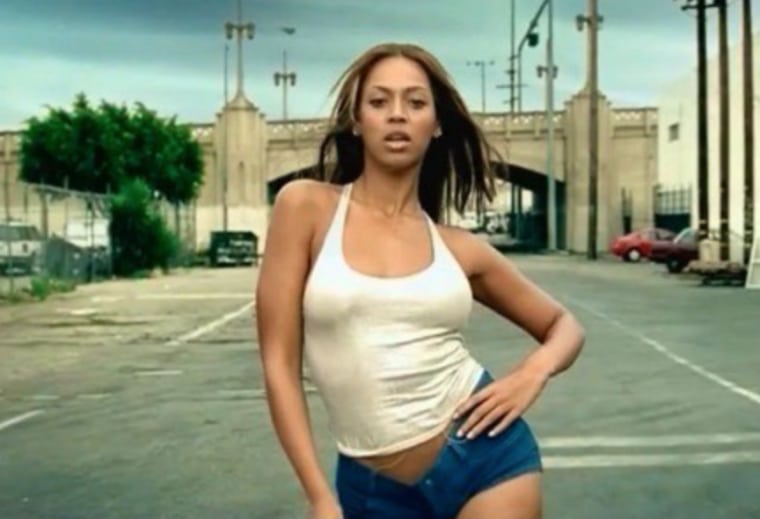 As one of Houston's finest representatives, Beyoncé brought country minimalism to the video with her white tank, extra tiny denim shorts, and candy apple red heels.
I remember the exact moment I saw Beyoncé's dance breakdown for the first time and instantly knew my life was going to be different because of it. And if you don't remember, I think you're lying! It's incredible that she's able to shake her ass while wearing such low-rise pants and a whisper-thin body chain, but she is a textbook Virgo and attention to detail is in her DNA. That glossy bomber jacket was ahead of its time, too.
Writhing on the ground in front of a burning car was enough of a signal that Beyoncé was not here to play, and doing it while wearing chandelier earrings, a silky deep-V cut dress, and a cascading chinchilla coat was a straight-up power play.
Color-blocked, cut-out, and ready to party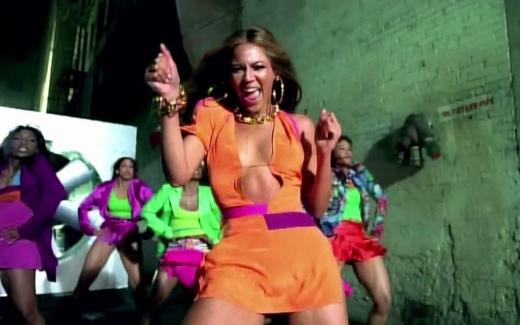 "Crazy In Love" is a buoyant and love-stuck banger, and Beyoncé matches the mood with a bright color-block dress with playful cut-outs, and mounds of chunky gold jewelry.
Thumbnail via Beyoncé YouTube.