SOB X RBE
Four childhood friends from Vallejo try to take over the world by doing what they've always done: sticking together.
DaBoii is trying to get his weight up. In a mall along the Northern California coast, outside of a GNC nutrition store, the 20-year-old rapper inserts quarters into a scale and steps on: 138 pounds. He stares down at the number, shaking his head, his long frame, elevated by a tall mane of hair, made even taller by the added height of the scale.
The night before, DaBoii's bandmate Yhung T.O had handed down a cutting but friendly roast — "Boy, you got an elementary school chest" — and now the tone of the crew of childhood friends and artists has turned to earnest instruction: eat hearty meals and hit some push-ups, they advise. With this in mind, DaBoii steps into the GNC to examine his options, immediately grabbing a tub of protein powder the size of his head. When an employee tells him the large tub amounts to a week's worth of supply and will only add one or two pounds to his weight in that time, he stares in disbelief. "Fuck all that," he says, setting the tub down on the counter and striding out the door.
The mall doesn't have many stores worth visiting; save for a Macy's, it's the sort of off-brand collection of chains one finds in an out-of-the-way suburb. The scale outside the GNC, then, becomes a main attraction, as SOB X RBE and their extended crew place bets on each other's weights. The scene would look like a regular group of friends got dropped off at the mall to entertain themselves for a few hours when there was nothing better to do, if not for the fans intermittently popping out of nearby stores to pose for pictures with the rappers. By the time the rest of the group splits off to explore other stores, DaBoii is already in a booth at Chili's, where he orders a well-done steak and mashed potatoes.
DaBoii, Yhung T.O, Slimmy B, and Lul G, the four members of Vallejo rap group SOB X RBE, are in this part of California, just outside the seaside college town of Santa Cruz, as part of a series of headlining West Coast dates, a few stops before they head out on a big North American tour opening up for Post Malone and 21 Savage. Over the next four nights, they'll perform for two sold-out crowds in Santa Cruz, then drive to Sacramento for two more sold-out shows. For the Bay Area natives, the mini-tour is a victory lap of familiar territory, a reminder of how far they've come in such a short time and of how far they still have left to go.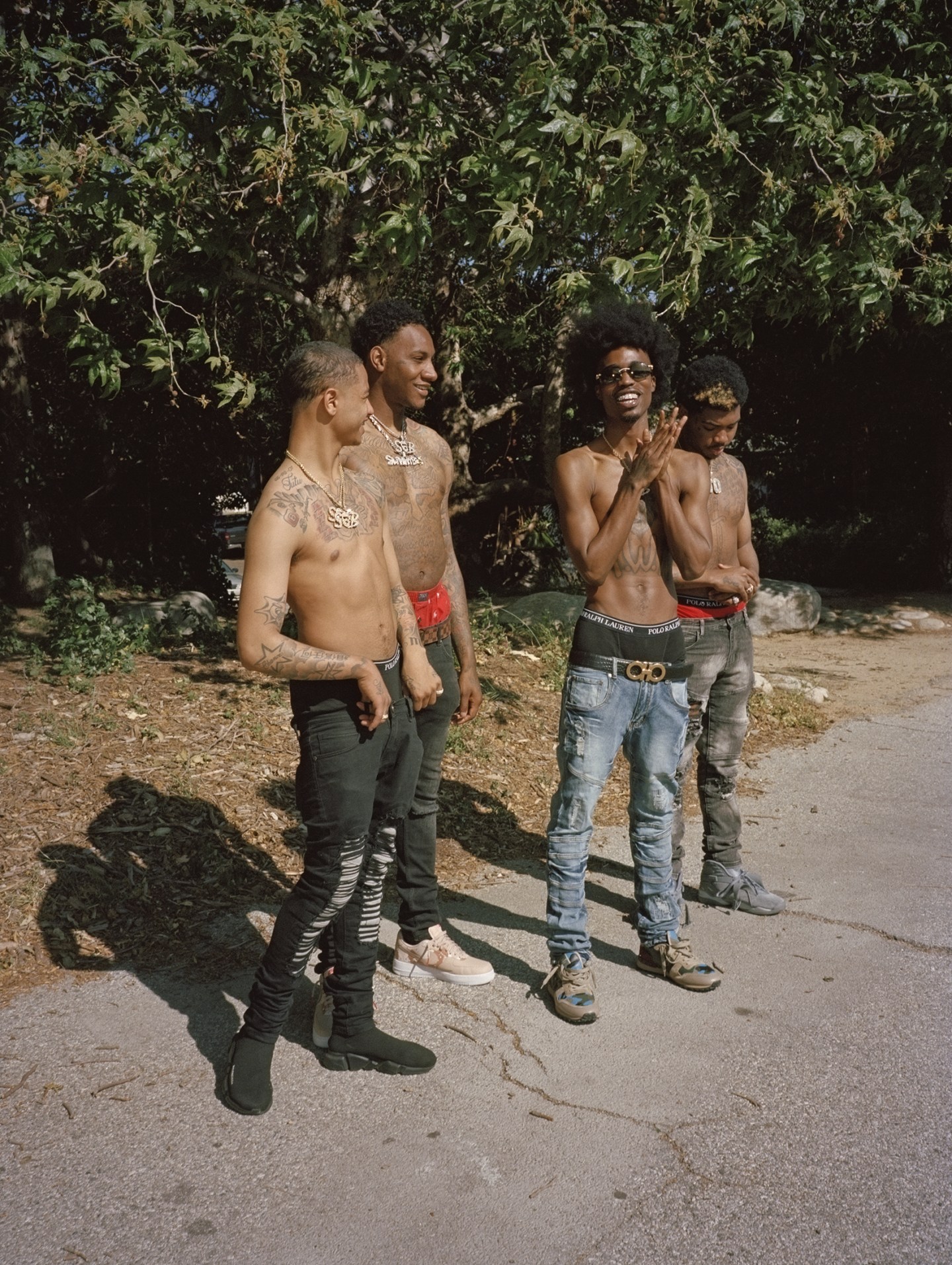 A year and a half ago, SOB X RBE was performing at the Boys & Girls Club in North Vallejo. It was their first-ever show but, by then, the group had already become a local phenomenon. The tiny gym quickly exceeded its capacity and, midway through SOB X RBE's performance, police moved in and shut it down. "I only got paid $200 off that and I was chimmy as fuck," T.O remembers. "It was muhfuckas at the door tucking money and shit."
The Boys & Girls Club is where Lul G, 19, and Slimmy B, 22, first met on the basketball court in middle school. They bonded over their love of the sport and its footwear, forming a sneaker-trading clique they originally called "Shoes Over Bitches." T.O went to school with Lul G, and he met DaBoii playing Call of Duty online with mutual friends from North Vallejo. "It was weird because we were hella cool off that shit, like real brother-brother, but we only knew each other off PlayStation," T.O says. They ended up meeting a few months after their first gaming session, but it wasn't until later in high school, after they had each experimented with rapping on their own, that they came together over music.
One day, DaBoii, Lul G, and Slimmy were at their friend's house, recording "on some cat shit," messing around with software they didn't really know how to use. DaBoii invited T.O, who had already been recording his own songs for years, to one of their sessions. Soon after, they began sharing music and meeting at T.O's grandmother's house, where they recorded all their early songs and spent long summer days bullshitting when the ideas weren't flowing.
All four rappers agree that the group officially formed at the beginning of 2016, following the release of "Cautious," a skittering collab between T.O and Slimmy B. The song was first released as a video, which finds the group posing in the North Vallejo streets, spinning donuts in a '90s Mustang, and taking over an abandoned house. They decided to merge SOB, which by then stood for Strictly Only Brothers, with T.O's Real Boi Entertainment and began dropping videos on YouTube under the name SOB X RBE, noting in parentheses which members were featured on which songs. "We just put one name on it so no matter who song it was, they was gon' listen to it," T.O says. "As long as it got that name on it, we all got the same audience, the same fans, we all gon' do the same numbers, they're gon' learn about us all as one."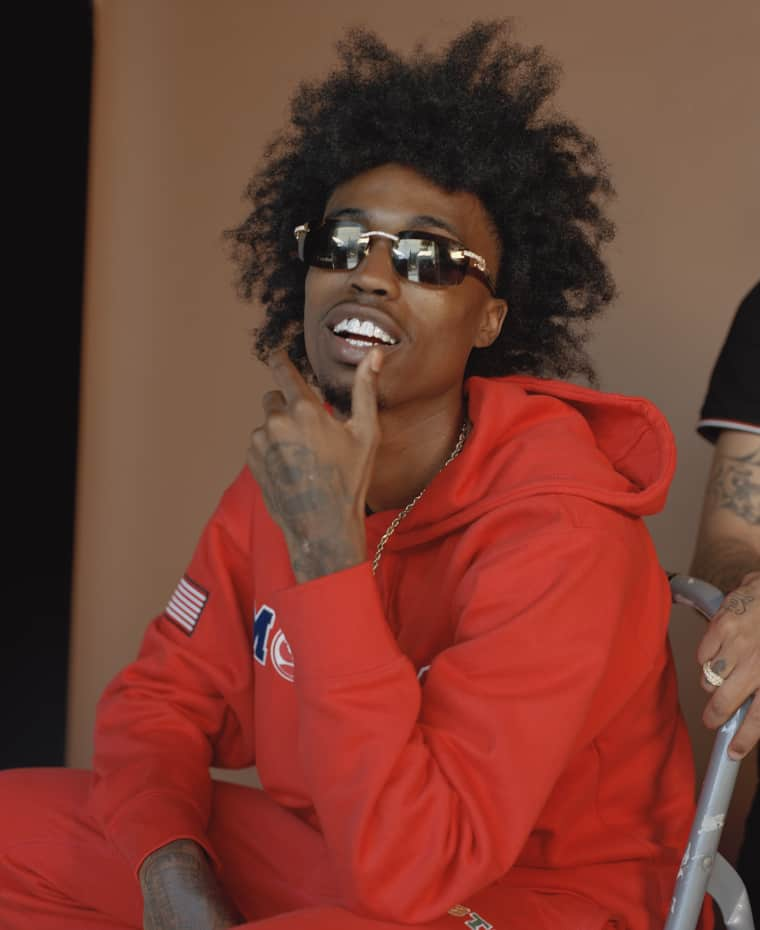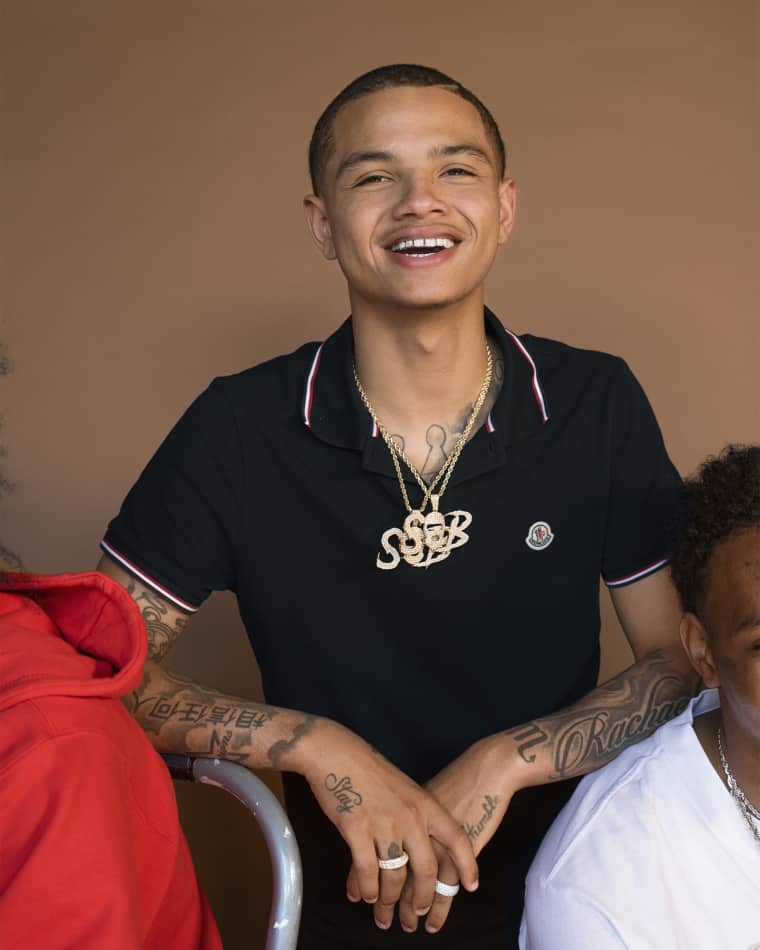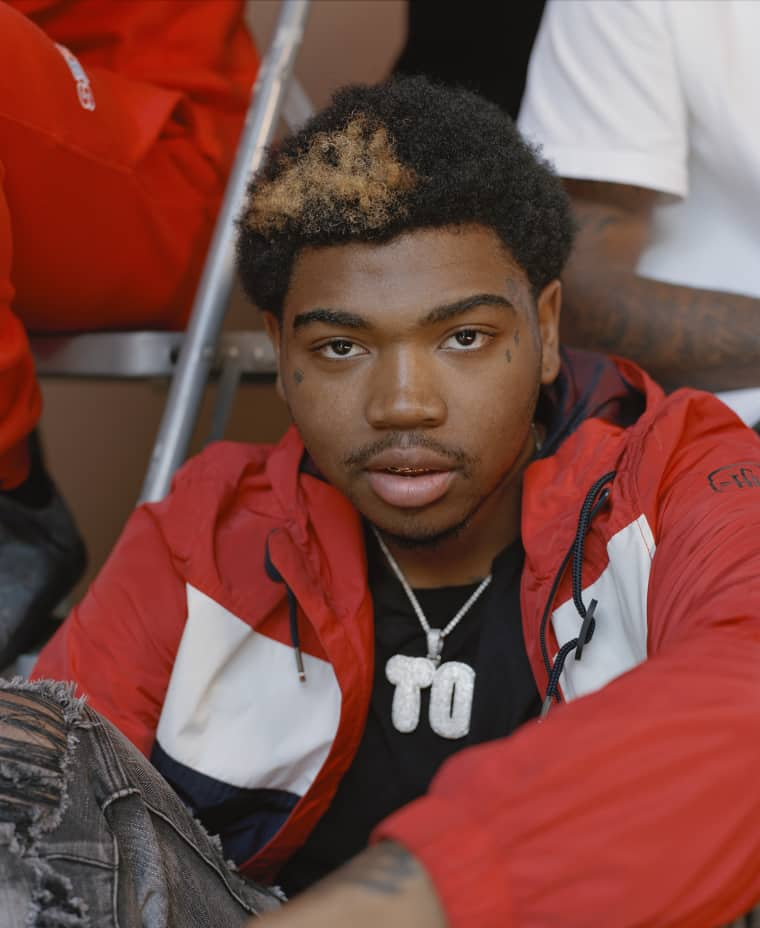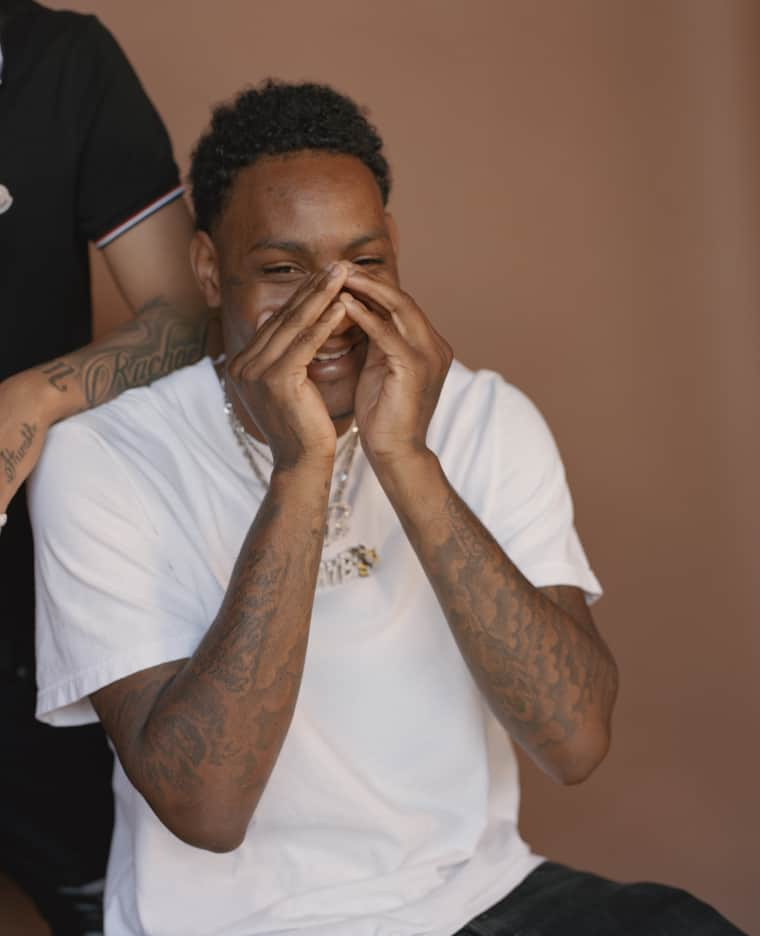 "If my brother just dropped a slap, it feels like I did too." — Slimmy B
On their songs and in person, the members of SOB X RBE each play distinct but fluid roles. T.O holds the music together with his melodies, a brooding star who commands attention. DaBoii is an old soul, stoic and reserved in life but brash on the mic. Slimmy B, the resident elder, with two to three years on the others, is as rock solid and reliable as his rhythmic flow. And Lul G is the life of the party, a baby-faced villain with natural versatility.
If "Cautious" brought SOB X RBE together, then the one-two punch of "Different" and "Anti," released in the summer of 2016, signified their ascendence in the Bay Area. The two songs, collaborations between T.O and DaBoii and T.O and Slimmy respectively, are trunk-rattling regional hits that helped establish their signature sound: the slump of the Bay Area's '90's-era mob music overlaid with the uninhibited exuberance of the mid-aughts hyphy movement. "Anti" remains their most popular song to date, but "Different" set their rise in motion — although it almost didn't come out.
On the night they planned to shoot the video for the song, T.O and DaBoii were watching Game 7 of the 2016 NBA Finals and placed a $100 bet on the game, with T.O taking the Cavaliers and DaBoii taking the Warriors. When the Cavs completed their historic victory, DaBoii decided he didn't want to shoot the video for a song he didn't even like. "At the time, that beat was something different than we ever did before," T.O explains. "When it's something that he don't usually do, he be thinking it's weak." At an impasse, they opted to fight it out. "He didn't wanna fuck up my grandma's house, and I didn't care, so I grabbed that nigga and pinned him on the couch like, 'We gon' shoot this video!'" T.O says. "Now he's thankful that I slammed him on that couch 'cause that video went up."
Their rise from regional stars to buzzing group on the verge of seizing the national spotlight has been a result of both digital savvy and real-life groundwork. In the beginning, SOB X RBE only dropped songs as music videos, offering visual accompaniment for every new sound. "We gotta let them see what we doing, who we is, so niggas won't be confused when we're dropping songs 'cause there's hella people in the group," says Slimmy. "The videos really brought us to life."
As their virtual imprint expanded, so too did the demand from fans, who wanted to experience their energetic hits in person. For young rappers in a region that's historically been difficult to transcend, both in terms of its industry limitations and the localized mentalities of artists themselves, hitting the road has been crucial for the group. "That really opened a nigga's eyes," Slimmy says. "It makes you realize that there's more to it than just being poppin' in the Bay or California. We were in places we never been before, with people singing all the words to our songs, looking at each other like, 'This shit could be way bigger than we thought.'"

Most people outside of Northern California probably couldn't point out Vallejo on a map, but the Bay Area city, a 30-minute drive north of Oakland, has had an outsized influence on the sound of the region's rap music. Vallejo was the home of Mac Dre, who was killed in 2004 when the members of SOB X RBE were just entering elementary school. Dre's catalogue encompasses a wide spectrum of what Bay Area hip-hop has sounded like for the past 25 years: soul-bearing raps recorded over the phone from jail, slick-talking and unrepentant pimpisms, and goofy proto-hyphy anthems that made his larger-than-life personality the central focus.
Mac Dre's presence is especially felt in Vallejo's Country Club Crest, or Crestside neighborhood, where Slimmy and Lul G grew up and where the members of SOB X RBE would often spend time at G's aunt's house. She lived right across the street from Kilo Curt's house, the headquarters of Mac Dre's Thizz Nation label, and it was this proximity that led SOB X RBE to their manager, Stretch, a veteran of the Bay's rap scene who managed Dre in the years before his death and helped him found his label. Over the past decade, Stretch, a burly 42-year-old with a graying beard, has been involved in the careers of many Bay Area rappers, from Mistah F.A.B. to Kreayshawn, and has seen the different ways in which the region can stifle careers.
"The Bay had been operating on such independence that artists weren't ready for major business," he says of the the late-aughts hyphy era, when major labels were paying close attention to the spastic subgenre. "They didn't have attorneys or offices, they didn't have anything." With Stretch's help, SOB X RBE has already accomplished more than many who came before them, breaking out of what Stretch calls the "Bay Area chitlin circuit," a reference to the Southern touring route that black musicians were confined to during the Jim Crow era. SOB X RBE has an opportunity to take it much further, and they've done it all independently. Stretch says there are major label deals on the table for the group, but they'd rather crack the code of coast-to-coast dominance on their own before negotiating.
On the road with SOB X RBE
Photography by Mancy Gant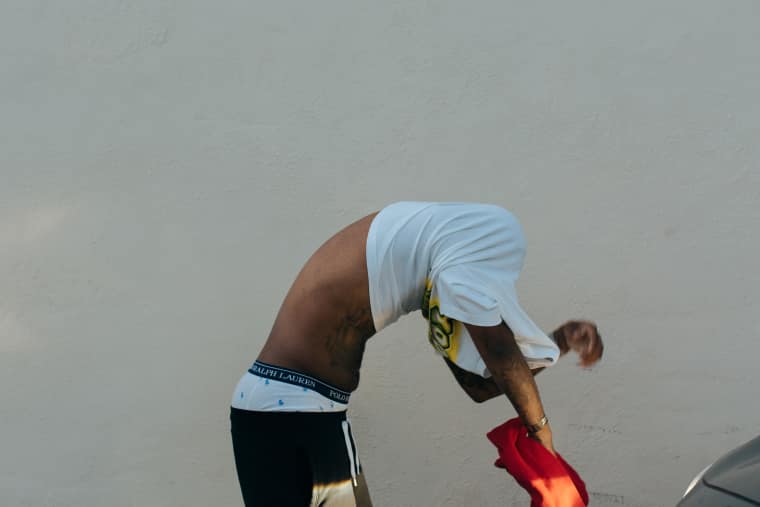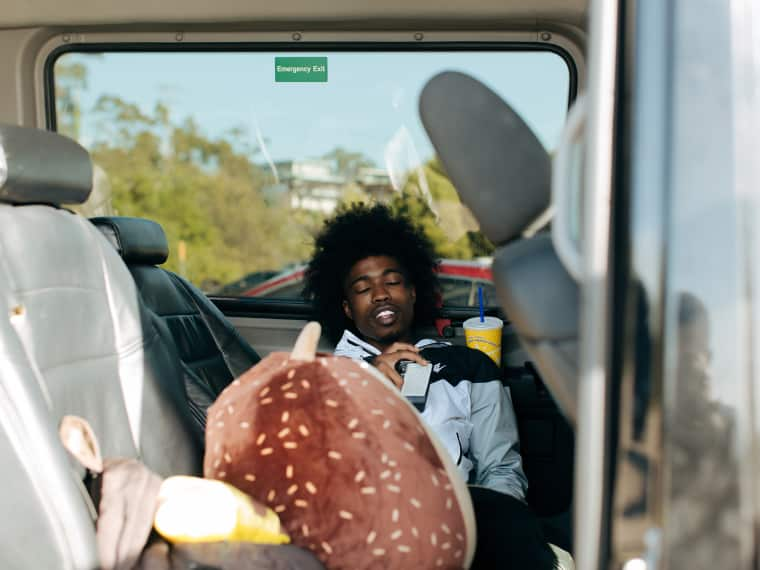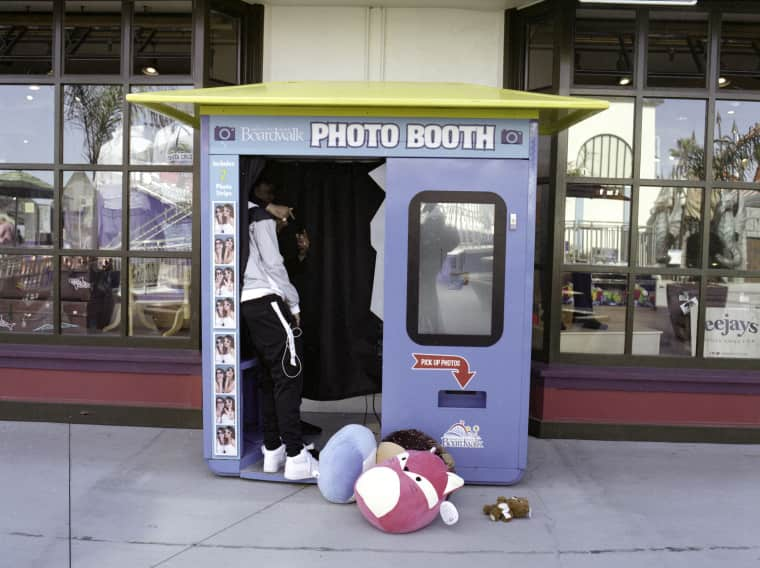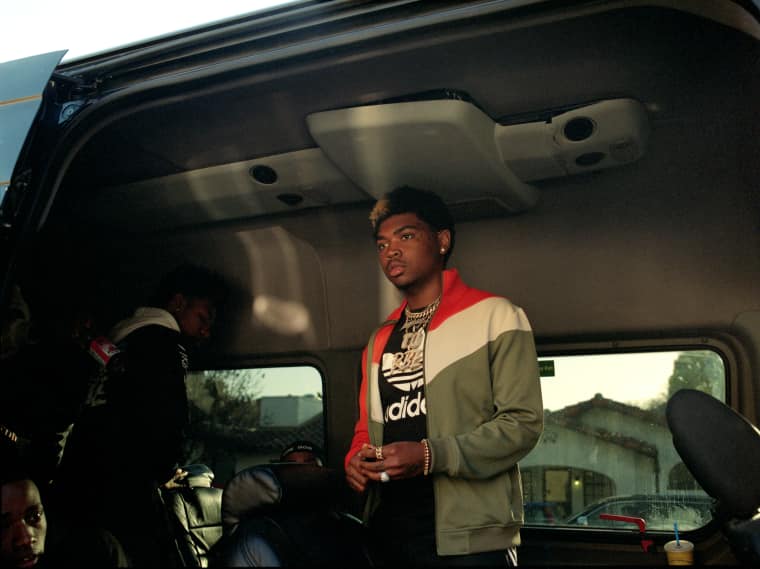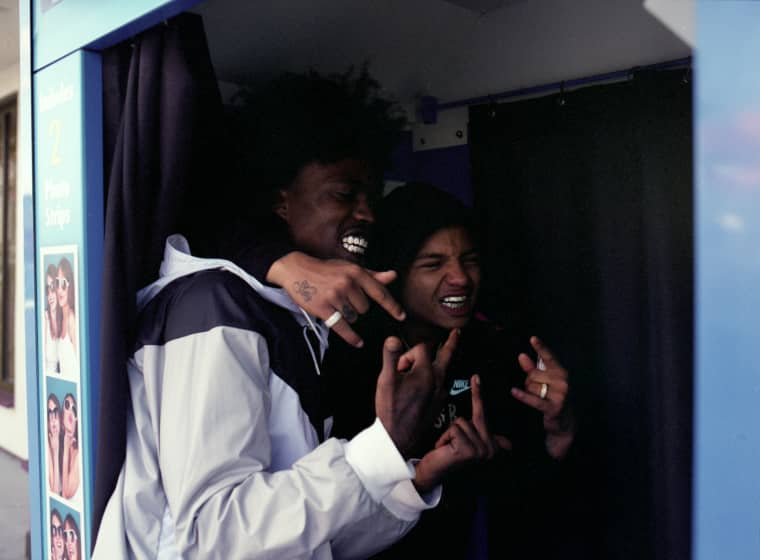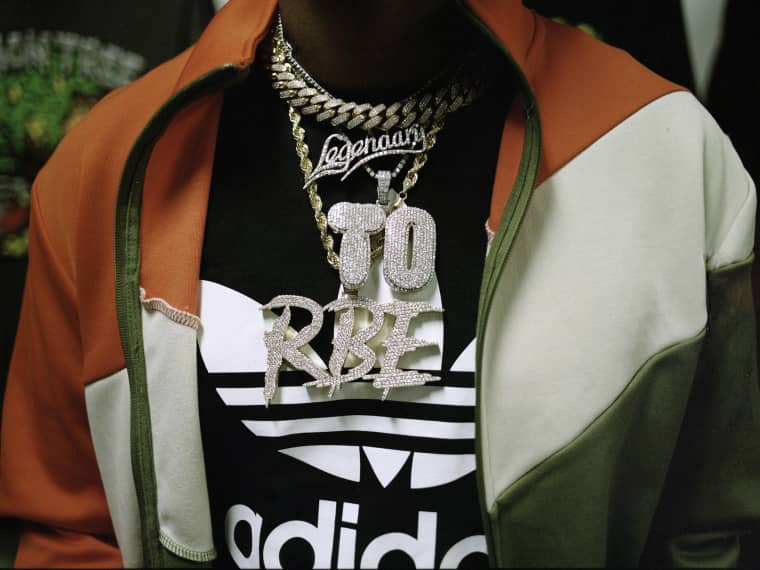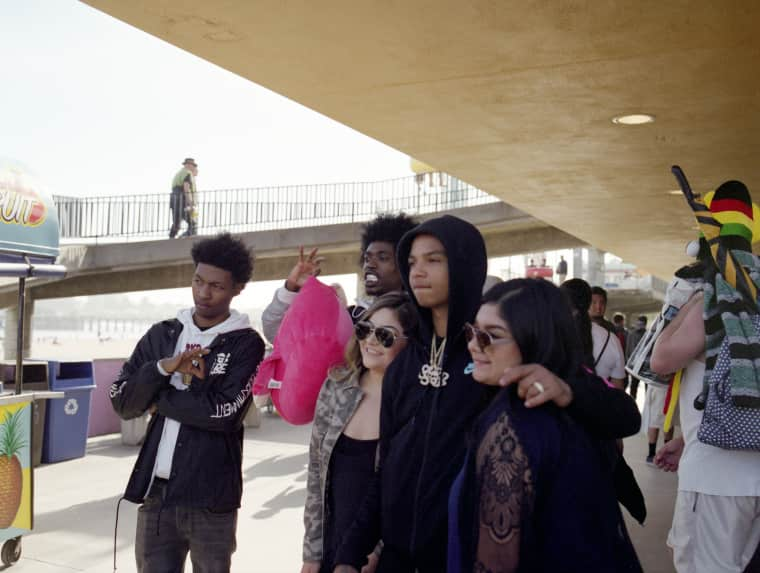 On SOB X RBE's debut album, Gangin, released in February, they stay true to their Bay Area rap lineage, combining their mob-meets-hyphy approach with uptempo productions that recall the dancefloor-ready synth lines of '80s freestyle. The album, which came together after their string of solo releases, shows each member's evolving sense of voice within the group, adding a layer of polish to their intentional roughness.
Their biggest mainstream look, and the clearest indication of where their momentum can carry them, came at the top of 2018, when Kendrick Lamar recruited them for a song on Black Panther: The Album. "Paramedic!" is a Formula One-paced slap and an opportunity for them to emphatically showcase the potential of their nu-Bay style. But it also finds the group hinting at the painful, lingering effects of where they come from. "Ever since they took my brother had to pack rounds," Lul G raps on his verse. Later, DaBoii asks and answers, "Why it's hard for me to smile? 'Cause I seen a lot."
At the first Santa Cruz concert, the four rappers move as a unit, filling in the empty gaps on stage and ad-libbing behind each other's verses. They perform group hits as well as signature solo songs, gassing up the next rapper in a way that suggests they'd probably react to these songs similarly if they were all riding in the car together and playing them through the aux cord. When they close the show with "Paramedic!" a sea of lights from phone cameras looks back at them from an all-ages crowd. While Daboii delivers his verse up front, Lul G and Slimmy hook onto each other and kick one foot in rhythm with the pounding beat. They bask in the illumination, a rapping boy band with face tattoos and diamonds in their teeth.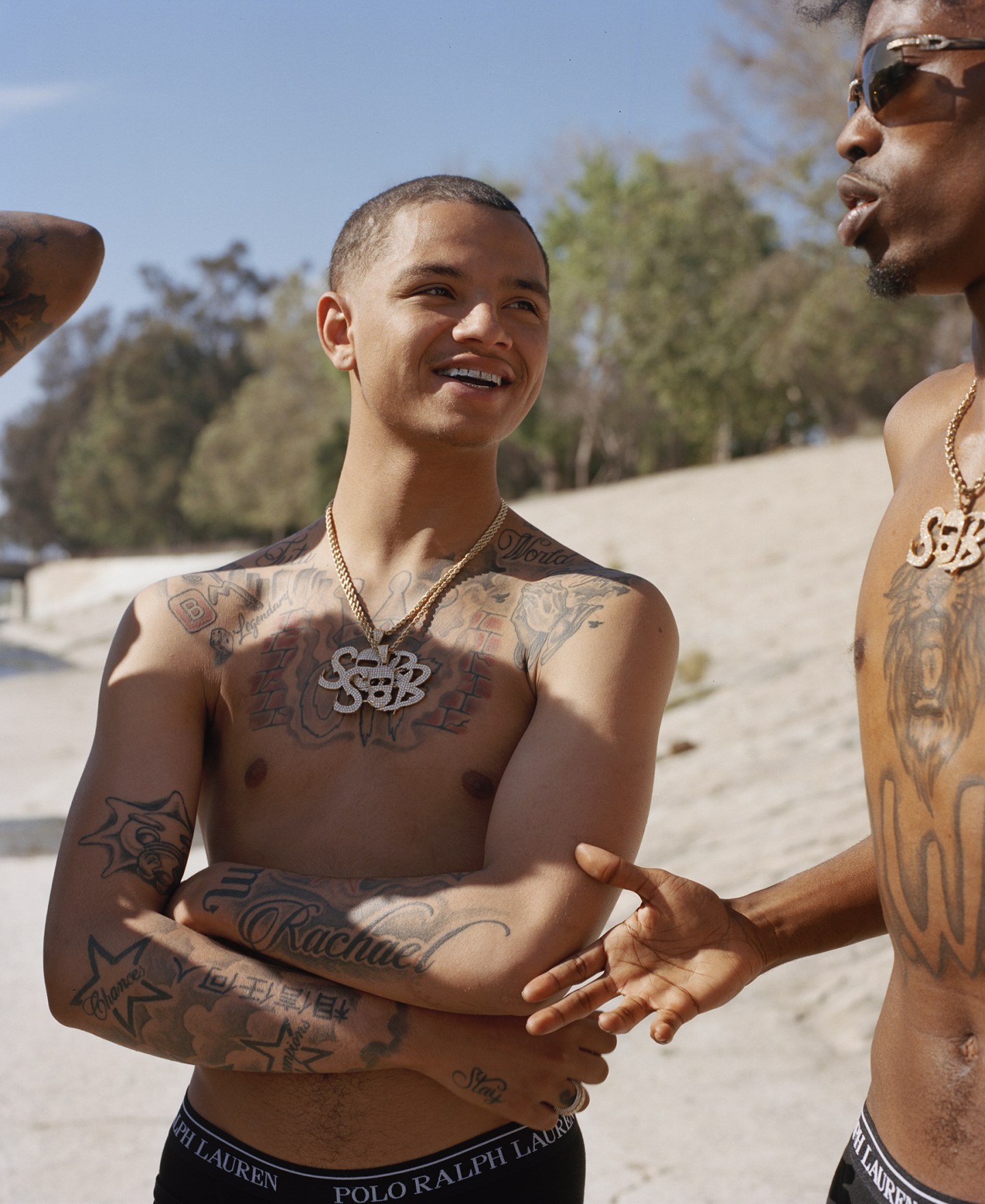 In between shows, in the Mercedes-Benz Sprinter van where much of their time on the road is spent, the group discusses the downfall of their generation's go-to dating method. "Netflix and chill is not the vibe," T.O announces. DaBoii suggests Hulu Plus, while someone else calls out "Fire Stick" from the back of the van. T.O, ever the intense one, brushes them off. "I might throw on some Black Ink from time to time but, otherwise, just turn off the lights and make love to me."
T.O had dreams of being a rap star way before he met the other members of SOB X RBE. Inspired by his uncles G-Rod and Lamont, he started recording songs of his own at the age of 8 and, with his grandmother's management, booked local shows, opening up for bigger acts at the county fair, radio station events, and black-owned business expos. In one of his earliest music videos, a very young T.O, then going by Macwon, chucks a basketball at a hoop and dances around with youth league trophies the same size as his torso. The video's description reads, "I made this song because I want to be a basketball player like MJ."
As he entered his teenage years, T.O wanted to switch up his subject matter to mirror what was going on in his life and the lives of his peers but, while his career was under his grandmother's watch, she prohibited him from swearing on his songs. "Around 14, we were all growing up and started really experiencing life," he says. "I knew at that point I gotta just wait till I'm 16 or 17. I'm gonna start cussing, I'ma say what I wanna say, then I'ma really go up."
In May 2017, as "Anti" and the group's other popular videos continued to gain steam, T.O dropped his first solo project, On My Momma. DaBoii, Slimmy, and Lul G soon followed suit with mixtapes of their own, experimenting with their sounds on solo songs and enlisting guest features from the other members of the group. "If my brother just dropped a slap, it feels like I did too," Slimmy says. "Sometimes you got personal shit to talk about; sometimes you got shit to talk about that your brother didn't go through."
T.O announced that he'd signed a solo deal with Interscope in March and is currently planning the release of a mixtape on the label. The lead single from the project, "Misunderstood," is an emotional open letter to his mother and grandmother. T.O is often the most vulnerable in his solo material, venting about past traumas and current obstacles in lucid detail. His Interscope project will chronicle the past year of his life, during which he lost his close friend, Tutu, and his uncle, Lamont, whose name he has tattooed in bold lettering across his jawline. "When I was finna go on our second tour, my little brother died. Then before the other tour, my uncle died," he says. "So in between that time of everybody thinking life is great and we getting rich and we getting famous, I was taking losses." In the Sprinter van, before the show, DaBoii asks T.O if he's going to perform the song. He stops to think about it for a moment before responding, "I don't think I could even get through the whole thing."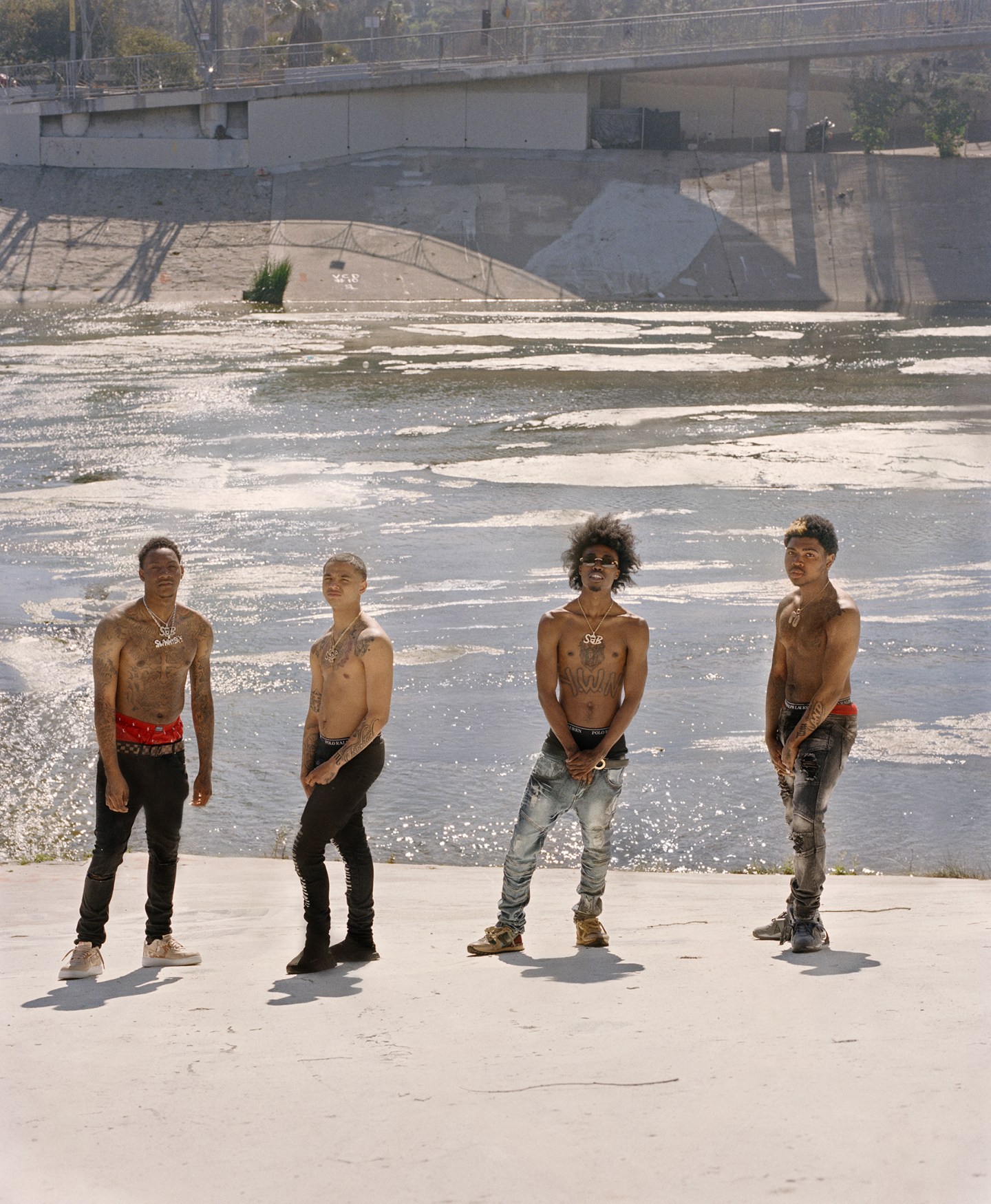 While the group's profile has risen, Lul G has been dealing with his own burdensome situation. He's been on probation since he was 17, stemming from armed robbery and gun charges. The Solano County district attorney is trying to extend his probation for an additional year, limiting where he can go without pre-approval. He's taking the matter to court. "They've been making it difficult," he says. "Like, it'll be big opportunity that none of us will probably ever see again in our lives and they'll just tell me, 'No.' Straight up. It's like, basically, y'all want me to lose my career, so I have nothing, so I'm forced to do stuff that'll have me stuck in this system."
At one point, on the phone with his lawyer, Lul G listens closely as she sternly warns him to stay away from people smoking or otherwise doing things he's not allowed to do. Go sit in the car alone before the show if need be, she suggests. He is mindful of the advice but, at the same time, he's frustrated by the ask. "I'm just sitting there with my brothers," he says. "They're acting like it's illegal to have fun."
When the group closes out SOB X RBE's second Santa Cruz show, once again with "Paramedic!," Lul G, his shirt off and his diamond-encrusted SOB chain sparkling on his chest, leaps into the crowd headfirst. He surfaces but something is wrong: his chain has disappeared from his neck. The music quickly cuts off and bodies fly from the stage into the crowd. A fight breaks out and begins to snowball outwards.
A few minutes later, the stage is empty and G stands in the parking lot behind the venue, holding his recaptured chain while the rest of the group streams out of the venue. Within minutes, they've vanished into nearby cars and driven off. The next day, no one has much to say about the incident, which, by all reports, looked worse than it actually was. "We're doing shows to have fun and and enjoy ourselves and let the fans enjoy themselves," T.O says finally. "We're not going out on stage to show how street we are."

"Even if we stopped rapping, it's still gonna be SOB X RBE 'cause we all family. My mom is they mom and vice-versa." — Yhung T.O
The group all has family and friends still in Vallejo, but they've recently moved away to make quieter Bay Area suburbs their new homes and begin their adult lives. Slimmy has a son who's almost two years old and he drives back home in between each Northern California show to help his son's mother take care of the child. "I'm doing all of this for him," he says. "They just had a trip to Disneyland that I had to miss out on." T.O, for his part, recently got engaged to his partner of three years and says they plan to get married "one of these days soon," once the future is more certain.
For the four of them, the next year of their lives will heavily determine the trajectory of their careers but, though the stakes are getting increasingly higher, none of them are worried. Their decentralized dynamic allows them the space to grow, while ensuring that they remain on the same page. "We ain't in competition but you gotta keep up," DaBoii says. "All it take is one nigga to step up and be like, 'We gotta be on our shit,' and that could be anybody." Often, this means pushing each other forward by example. Currently, T.O is putting the finishing touches on his Interscope debut and Slimmy is finalizing a collaborative mixtape with Lil Yachty, while DaBoii and Lul G are continuing work on solo projects of their own. As a group, they also plan to release two more SOB X RBE projects before 2018 is over.
From the outside looking in, their solo endeavors might signal a split in the group, but the four rappers have a deep awareness of their individual and group identities. There's an understanding that each person's progress is also the group's progress and, as they continue their ascent into an often treacherous industry, they know they'll have each other to rely on. "We were all solo artists originally, so I feel like everybody's gonna take their own route as their careers go and get noticed for what they wanna be known for, and together as SOB X RBE, we can do that," T.O says. "At the end of the day, even if we stopped rapping, it's still gonna be SOB X RBE 'cause we all family. My mom is they mom and vice-versa. We always gon' come back and be SOB X RBE."

In Santa Cruz, there's a beach boardwalk that's been there for over a hundred years. Those who've spent time in Northern California might know the seaside attraction from the TV commercials that always increase in regularity as the hot summer months draw near, touting the boardwalk as the perfect place to enjoy the "warm California sun," with a catchy surf rock jingle. Restless from long hours in the van, the group decides to make a quick stop before their second show.
Rollercoasters whoosh by up above, high-pitched screams from riders echo out at 30-second intervals, and DaBoii lingers just outside the marqueed entrance with a Backwood in between his fingers. Weed has been legal in California for some months, but there are still laws against smoking in public, as a boardwalk employee walking by reminds him. DaBoii tosses the blunt to the side before walking through the gate, heading immediately for a ring toss game, which he and Lul G struggle with, their plastic rings clinking and clanking off the necks of the glass bottles. "This shit rigged," G decides.
They find more success down the boardwalk at a cap gun booth, where DaBoii, G, and T.O stand side-by-side, knocking down lines of metal figures with toy pistols. DaBoii wins two large stuffed animals that look like anime characters and heads back down the boardwalk with one under each arm, looking for kids to give them to. "I'm trying to put a smile on somebody's face," he says. "No smile on my face, might as well put one on somebody else's."
Though it's the middle of April, there's a seemingly permanent "fright walk" installed near one end of the boardwalk and the group decides to test their nerves before leaving. Laughing, they push each other toward the entrance, no one wanting to be first inside. Eventually, they step into the dark hallway all at once, their phones out to capture the moment and their arms around each other's shoulders.