How a simple tracksuit ushered in the rebirth of grime
A pivotal moment came when Skepta made being "dressed like I just come from P.E." the pinnacle of cool again.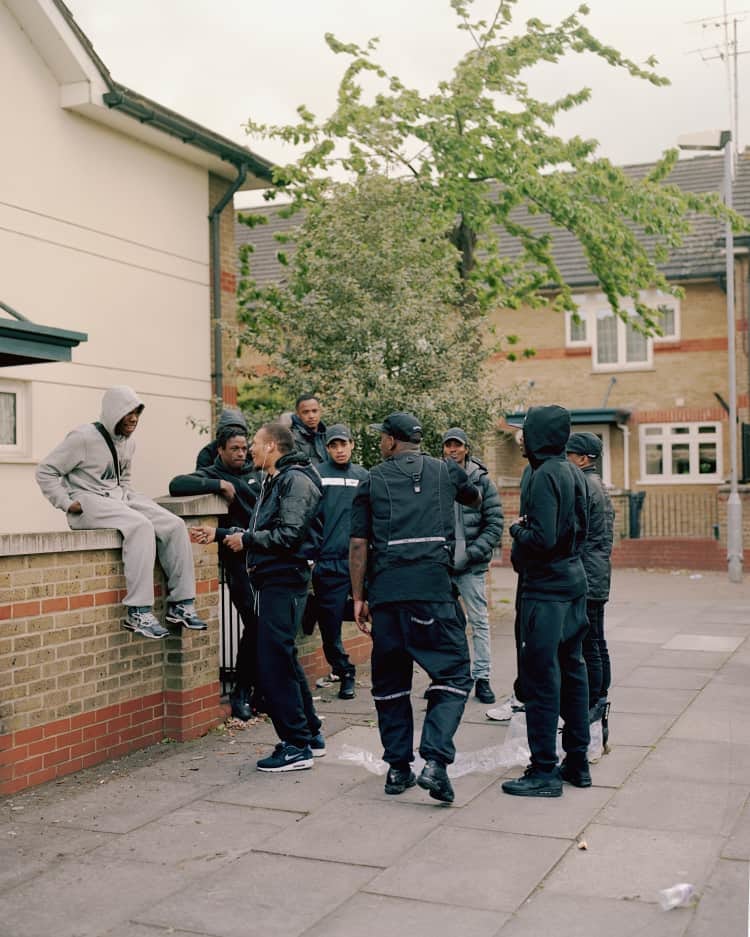 This story has been adapted from Inner City Pressure: The Story of Grime, a new book by Dan Hancox.
When it arrived, the seismic moment for the entire grime scene was one three-minute single: "That's Not Me" by Skepta, with JME as guest MC – and an old-school, all-star MC line-up on the remix. It was a disavowal of his past mistakes and a return to the roots of grime, with Skepta recanting his sins and triumphantly distancing himself from the trappings of the jet-setter life: "Sex any girl? That's not me/ Lips any girl? That's not me/Yeah, I used to wear Gucci/ Put it all in the bin, cause that's not me." It had originally been a back-to-basics freestyle, delivered on the street while his crew stood around, hands-in-pockets, idling in the ends, in the middle of a grainy, seven-minute VHS video, made just for YouTube. It was only then decided to pluck the diamond out of the rough, and turn the freestyle into a proper studio single.

"That's Not Me" rejuvenated grime by taking it back to its roots: the bouncy rhythm track built around a riff from the same Plugsounds sample preset that formed the backbone of classic grime instrumentals like "What" by Wonder and "Jam Pie" by Wiley. Skepta's instrumental is incredibly similar in sound and effect to that made by Wiley for his 2004 single "Pies": a connection tacitly acknowledged in the lyrics, when Skepta quotes the line, "See I come from the roads, pricks want to put Wiley on hold" – swapping in his own name instead.
Like a true prodigal son returning home, after years wandering lost in a gaudy electro wilderness, Skepta needed to locate the talisman that had given him his powers in the first place: specifically, Jammer's old Korg Trinity keyboard. It was the keyboard that had been responsible for countless classic early grime instrumentals made in Jammer's basement, not just by him, but by Wiley and Skepta too – and, lending the keyboard an even more Holy Grail-like quality, it was pre-loaded with "all the old grime sounds," as Skepta put it, obscure software plug-ins not available anywhere else, unique building blocks that had long vanished from the internet. Jammer had given the keyboard away to a kid from the estate some years before, much to Skepta's initial alarm – but after a few panicked phone calls, they tracked it down.

To Skepta's surprise, having made an uncompromising old-school grime single, just for the hardcore fans – just for himself, in a sense – it sold brilliantly, entered the charts at 21, and, at a point when this was unprecedented, got played on daytime Radio 1. "It's crazy that it's blown up," he said, shortly after its release. It formed the basis of a whole new ethos, and a new confidence: "I've made more commercial songs which have had much less radio support. It's mad. I've seen now that merking and keeping it grimy is what I should do. I'm not trying to live in the past; I'm doing yesterday in HD."

The official music video for "That's Not Me" followed the same 100 percent DIY path: made for just £80, with Skepta and his DJ, Maximum, performing against a green screen, on which was projected the same "nostalgic backdrop," as JME puts it in his verse: grainy shots of Jammer's famous basement studio and the gritty street freestyle. It was a righteous return to the source – and even if the source looked substantially different to how it had been, something of the spirit had been resurrected: the best kind of cheesy redemption story, in which the hero discovers he had the qualities he needed inside him all along.
It was a reaction to the ostentation, glitz and glamor of a world far away from grime.

And with that epiphany about their internal mentality came a need for grime to reaffirm its external self, its uniform, as well. Compared to some genres, grime has never been overly concerned with fashion as part of its self-identity – the lyrical content is assertively quotidian, and so are the clothes; there is generally less name-checking of particular brands than in American hip-hop – but Skepta's awakening was embodied in his re-christening of his team as the "tracksuit mafia": a key emblem of the humility and authenticity of grime's origins, and the fact that re-embracing those origins had brought him new life, as it would for the scene. Skepta had previously spent time shouting out the hideously garish Ed Hardy brand (he even wrote a song about it, "Ed Hardy Party"), or fetishising prestigious labels, but in this period he made being "dressed like I just come from P.E." the pinnacle of cool again.

The black tracksuit had long been an unofficial grime uniform, part of the same logic of the need to "move low-key," to assert a degree of privacy and maintain personal security in a city full of eyes (rivals, enemies, cops, cameras) watching your movements for all the wrong reasons. Even back in 2006, Tinchy was spitting bars about wearing "trackies black, Huaraches black, all because I want to blend in with night." In grime's early days, both Dizzee and Wiley had lyrics attesting they would never wear "shiny suits" – perhaps a rejection of the suited and booted City boys raking it in on Canary Wharf, or of U.K. garage's strict club-dress codes, or perhaps a reference to the (very shiny) baggy suits U.S. rappers like Mase and Puff Daddy had been wearing in their multimillion-dollar videos.
Either way, it was a reaction to the ostentation, glitz and glamor of a world far away from grime. Why, Skepta wondered, had he spent so long aspiring to be a part of a wealthy, white global fashion elite that had only contempt for him and his friends? "I just had a wake-up call," he said to me in 2015. "I feel like the last two years, I've been becoming a man, and growing up has made me realise: why the fuck am I buying Louis Vuitton and Gucci, when none of their adverts, none of their fucking posters or campaigns ain't got no hood niggas? They ain't got no black people wearing their clothes. It's just about working with the people that are working with you – the people that acknowledge you."

In January 2015, with the tracksuit mafia's confidence in their own self-sufficiency taking hold, Wiley had given hotly tipped teenage MC Novelist – 18 years his junior – a piece of avuncular advice: don't wear a tracksuit to the MOBO Awards, he said. The implication was "don't make the mistakes we made," and bring the street attitude of the ends into the industry, because it will backfire on you. Try and play the game, at least a bit. The younger MC's response was to (respectfully) tell the godfather of grime to fuck off. "People like me for being me," Novelist told me at the time. He compared it to telling a punk to get rid of their tattoos. "Telling me to take off my tracksuit, it's like telling me to change my skin color or something. It's just who I am: I'm from the ends, that's what I wear."' He laughed. "Even mum's wedding, I might just get a white tracksuit."