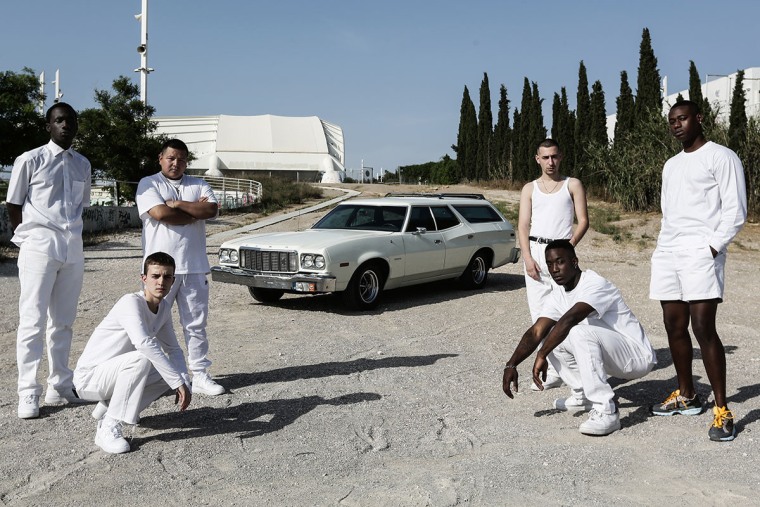 ATH Kids is the hip-hop collective taking Athens, Greece by storm. Loosely made up of eight members — rappers Kareem Kalokoh, Majin Cost and Complex Shadow; creative director Valentin Rivera; video director Theodore Selekos; producers dazedboi, and Taj Jamal; and DJ Joseph Mouzakitis — the collective sprung out of a city known for its antiquity and financial precariousness to paint a picture of Athens' grungier side.
"Around 2015 we came up with the concept for ATH Kids. ATH was like ATL for Atlanta, and kids came from Larry Clark's movie with the same name," explains Kalokoh, co-founder and one of the more prominent voices of ATH Kids, in a new interview with Highsnobiety. "Back then, no one wanted to show the grungy urban side of Athens. We released the first track 'New Flame', and from there it just took off."
"New Flame" features minimal synth production and shuffling trap beats, with Kalokoh rapping in English. The music video, which was filmed in Athens, looks like it could've easily been shot in New York City or Atlanta. The universality of their music, along with their Greece-specific experiences, are part of the appeal that has propelled the group into their city's cultural consciousness.
"In Athens, we give the inspiration," Rivera says. "We've only been around for a couple of years, but now everyone uses ATH everywhere — magazines, hotels, parties, even the new metro tickets."
And with the internet breaking physical borders, ATH Kids also played their first shows abroad last year in Paris and the Netherlands, a clear indication of the group's global ambition. Learn more about the collective by reading their full interview at Highsnobiety.