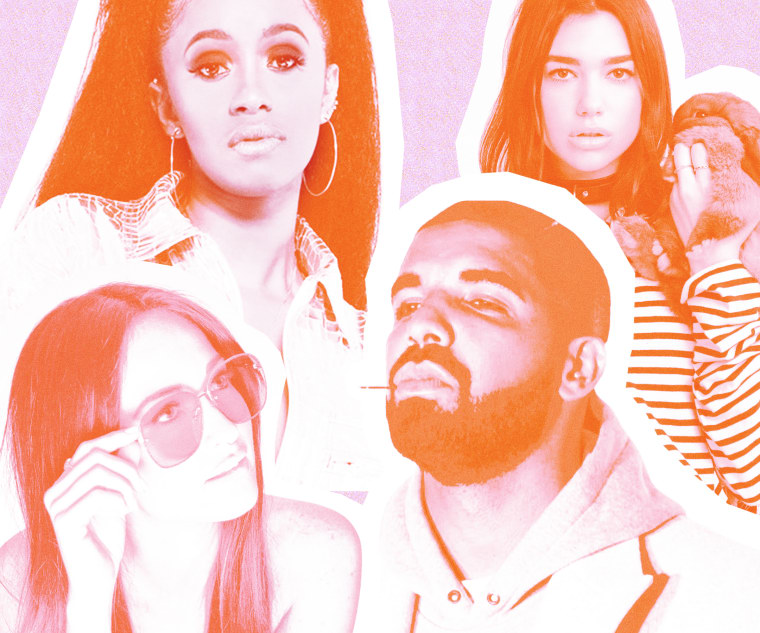 Calvin Harris and Dua Lipa, "One Kiss"
If Dua Lipa's tropics-hued "New Rules" was the lounge-by-the-pool-drink-in-hand song of summer 2017, then her latest collaboration with Calvin Harris, "One Kiss," is for when the sun has set and the mood lights are on. This summer, Lipa's found love, and if the effortlessness of the track — which goes down smoother than a liberating shot of Patrón — is any indication, you can too. — Steffanee Wang
Drake, "Nice For What"
Resistance is futile. Woke Drake made a bounce song with a Lauryn Hill sample, so you already know it's getting played at every function you hit this summer. Make like Emma Roberts and dive in. — David Renshaw
Kacey Musgraves, "High Horse"
If you hear someone in the backyard of a Brooklyn bar this summer screaming, "I bet you think you're John Wayne!!" — that's me. Kacey Musgraves's sparkly disco-country banger is a song for all seasons, but deserves to be the Song Of The Summer by sheer virtue of versatility. It works at the club, the barbecue, your car, or anywhere really. Ubiquity is the truest test of Song of the Summer, and no song sounds better in any scenario quite like "High Horse." — Olivia Craighead
Rae Sremmurd f. Juicy J, "Powerglide"
Before a lot of the songs on this list came out, our collective bet for Song of the Summer was Rae Sremmurd's "Powerglide," featuring Juicy J. And you'd better believe I will not let all these shiny releases preclude me from remembering the long winter weeks during which "Powerglide" was our only hope. The track employs the Brothers Sremm's near-perfect formula: a superhero beat from Mike Will, high-octane rapping from Jxmmi, and feather-soft vocals from Swae Lee. That's all I need, tbh! — Rawiya Kameir
Cardi B, Bad Bunny, and J Balvin, "I Like It"
You know that feeling of victory when you slam the winning domino on the table? That's what Cardi B's irresistible banger "I Like It" feels like. My back is sweating just thinking about hearing this on a sunny rooftop this summer, rum and pineapple in hand. The lively bop, which features Bad Bunny and J Balvin, pays homage to Pete Rodriguez's classic song "I Like It Like That," which means all the viejos love it too. — Juliana Pache
Playboi Carti f. Lil Uzi Vert, "Shoota"
I don't know about y'all, but the first 5 months of this year have me fucked up. My goal for the summer is to glo up and "Shoota," our collective favorite song from Playboi Carti's new album Die Lit, is my soundtrack for that. Shout out to Maaly Raw for crafting yet another chest-swelling, self-discovery adventure soundtrack, shout out to Lil Uzi Vert for coming on the track strongly and inspiring me and the youth, and shout out to Carti for making this song happen, 'cause shit, I needed it. — Nazuk Kochhar
Ariana Grande, "No Tears Left To Cry"
While summer is the season of joy, sometimes bad stuff happens. For getting over those bumps in the road, there's Ariana Grande and "No Tears Left To Cry." It's specifically meant for crying in the club with its '90s light house feel. It's a banger that will make you consider your life and your choices. — Myles Tanzer
Zedd, Maren Morris, and Grey, "The Middle"
Like the most successful summer hits, "The Middle" is a scientifically infectious pop song. Like, if the hook was an actual virus, Jude Law's bubble boy outfit from Contagion couldn't even save you. Further proof of its bizarre power: one day in my small office, I played an amateurly ripped a capella of Maren Morris's vocal atop some deranged-sounding club music. I played it over a few different songs, at a few different speeds. It sounded good every time! — Patrick McDermott
Ella Mai, "Boo'd Up"
If Ella Mai's R&B scatting and DJ Mustard's cowbells aren't enough to convince you that this is the SOTS, watch this video of people enjoying the song drunk out of their minds on sangria. — Ben Dandridge-Lemco
Tracy f. Lil Uzi Vert, "Like A Farmer (remix)"
"Every comic wants to be a musician. Every musician thinks they're funny." This truism, by Dave Chappelle from the 2005 concert film Dave Chappelle's Block Party, begins to explain why every now and then we have to endure cringey-yet-inexplicably-popular joke rappers. But occasionally the two worlds are harmoniously bridged, and the results get stuck in both your head and heart. That's "Like A Farmer (remix)" from Tracy and Lil Uzi Vert, one of the best country rap songs ever made and definitely the hardest. Tracy's original melodies and spartan one-liners are still untouchable, but Uzi takes things to a slightly more tender place as he jet sets with his missus all across the plain. — Jordan Darville
John Legend and BloodPop®, "A Good Night"
A true Song of the Summer needs to be playable at every possible venue or function. That means sometimes, they come out a little unseasoned — i.e. Justin Timberlake's "Can't Stop The Feeling." Luckily, John Legend and Bloodpop® united for "A Good Night," a pretty bop as sugary as the cake at your cousin's wedding. I wouldn't mind hearing it after drinking 10 Aperol Spritzes either. — Myles Tanzer