Over the weekend, an online argument between Kim Kardashian West and frequent Kanye West collaborator Rhymefest brought Donda's House — a nonprofit organization founded by Rhymefest, Kanye West, and Chicago educator Donnie Smith in 2013 — into the news.
On Saturday, the organization announced that it would change its name and distance itself from Kanye West. But additional details about the nonprofit and its management have emerged. According to The Blast, Donda's House failed to file an annual report in 2018 and The Office of the Illinois Secretary of State issued a "Not Good Standing" classification. An official from The Office of the Illinois Secretary of State told The Blast that immediately lost their "Good Standing" classification after failing to file an annual report on April 1. According to an Illinois official, organizations are usually dissolved after approximately five months of being "Not In Good Standing" with the office.
In the organization's most recent available filing, from 2015, Kanye West is listed as a director for the organization along with five others. Donda's House total revenue for that fiscal year is listed as $206,023.
As HotNewHipHop points out, former Donda's House participants have addressed issues with Rhymefest's behavior as leader of the organization. Noel Malpica, a former participant, posted a thread that includes an alleged recording of Rhyemfest accusing Malpica of trying to go around him to record with J. Cole and also making inappropriate comments about Malpica and another former participant, who were in a relationship at the time.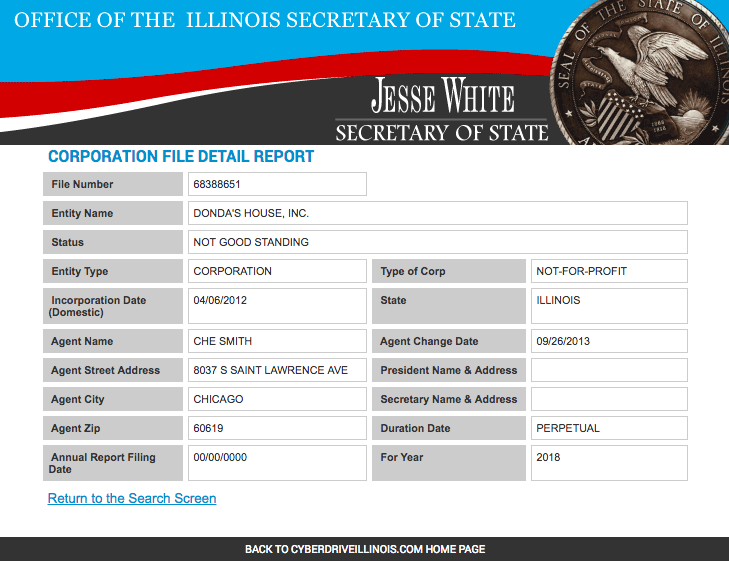 The organization became a subject of online discussion when Rhymefest, real name Che Smith, tweeted at Drake in response to a line in "Duppy Freestyle" ("Tell 'Ye we got an invoice comin' to you"). "When G.O.O.D. Music sends the money they owe you, will you please help us rebuild Kanye's mothers house for the youth of Chicago," he wrote. I spoke to Kanye about it. His response was "fuck the youth of Chicago."
Kim Kardashian West responded on Twitter, accusing Rhymfest of mismanaging the organization that Kanye West charged him with running and wrote that the timing of his statement seemed "calculated."
Rhymefest is credited as a writer on many of West's albums and has helped pen hits like "Jesus Walks" and "New Slaves." In 2016, he tweeted that he had stopped working with West and wrote that the rapper "needs help, in the form of counseling."
Representatives for Donda's House, Rhymefest, and the Illinois Secretary of State were not immediately available for comment.