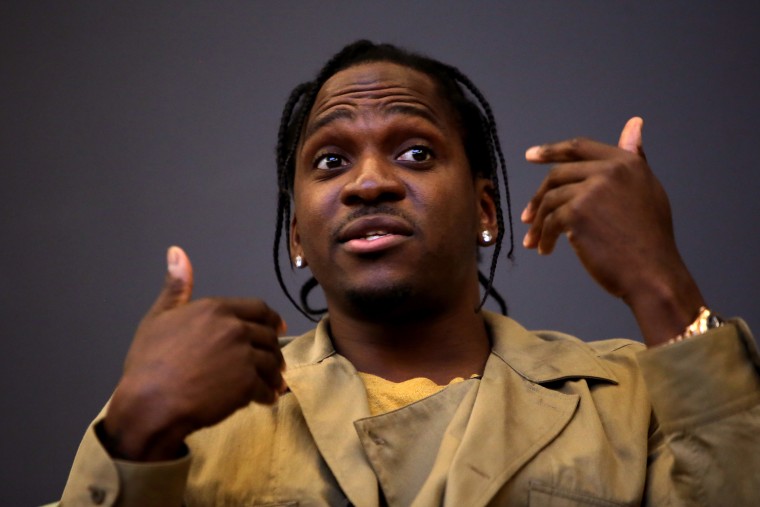 The Pusha-T and Drake beef is unfolding into Shakespearean levels of proverbial bloodshed, and Pusha's new diss track "The Story of Adidon" didn't hold back. He accused Drake of being an absentee father to an alleged baby, used a photo of him in Blackface as the track's cover art, and potentially confirmed the rapper's long-rumored collaboration with Adidas.
The character attacks tied neatly into Pusha's claim that Drake was leaving Jordan, where he's held an endorsement deal since 2013. "Adonis is your son/And he deserves more than an Adidas press run, that's real," Pusha rapped. The morning after releasing "The Story of Adidon," Pusha called into the radio show The Breakfast Club to continue where his bars left off. "Who rolls out their child with a sweatsuit? Get outta here," said Pusha — who has partnered with Adidas in the past on shoes and apparel — explaining that "Adidon" is named after Drake's alleged child, Adonis. And if this reveal wasn't enough, he hinted that Drake would announce his paternity at the same time as his new Adidas deal. "We couldn't know about your child until you started selling sweatsuits and sneakers?" he said.
Journalist Touré connected "Adidon" with Drake's alleged Adidias deal a few hours before Pusha called into The Breakfast Club. "Adidon is the name of Drake's upcoming Adidas line and now that name will be associated with this beef and Pusha's monstrous diss track," he wrote. "Pusha has, in effect, screwed up Drake's brand before it came out."
A rep for Adidas told The FADER they have "no comment" on the subject. Reps for Drake and Pusha-T did not immediately return a request for comment.