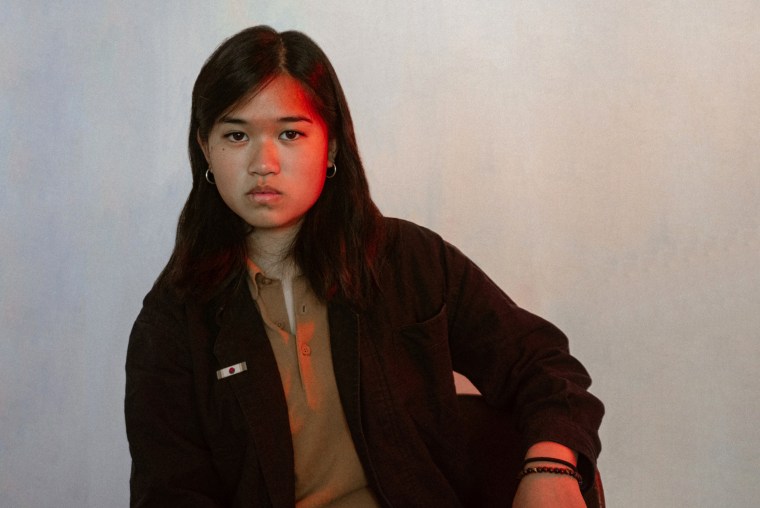 From what I can tell scrolling through the internet, seventeen-year-old Hana Vu has been making scruffy-sounding pop-rock from her bedroom in Los Angeles for a couple years now. In that short time frame, the still-high schooler has managed to score a Willow Smith feature, as well as an opener slot for indie rock band Soccer Mommy in their recent tour. She produces all her own stuff and makes cool covers of some of my favorite songs.
Vu tags some of her music as "bedroom pop" on her SoundCloud, but I can't help but disagree; play a couple of her cuts you'll find that her sound feels too open-space to be confined to the strict four-walls of a bedroom. Her latest single, "Shallow," debuting today and off her upcoming EP How Many Times Have You Driven By, is no different. The song's got roiling guitar and drums, and Vu's smokey, throaty vocals; everything is slightly smeared over (in a good way), as if you are watching her and a band perform in a field and wind is muffling their sound.
Of the song, Vu writes via email that it's "part social commentary, part self analysis. Our superficial perceptions allow us to subconsciously categorize ourselves among or above others. In this song I explore a sort of egotistical alter-ego that I imagine everyone experiences, and reveal the true fear behind it." I must say it is a much deeper introspection than I was affording myself at that age which, coupled with everything else I listed above, leads me to believe that Hana Vu is probably way cooler than me. Listen to "Shallow" below.