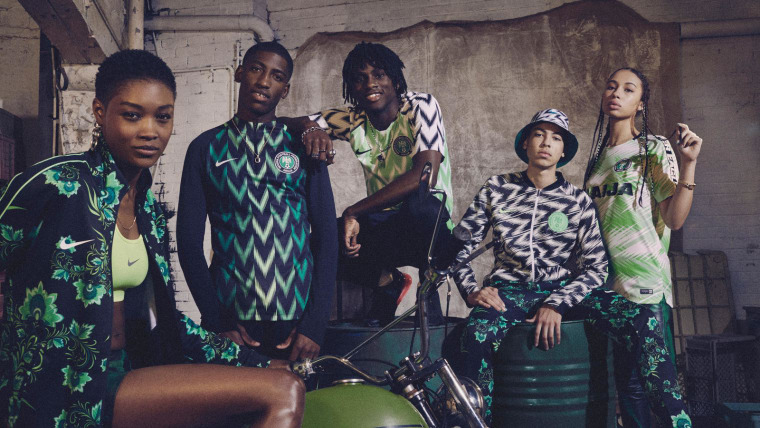 Soccer — or football, as it's known across the globe — is more than a sport. It has the power to unite and inspire, and for Nigeria and its diaspora, it's deeply cultural. As Nike sets up to release For Naija tomorrow, its dynamic collection for the Nigeria Football Federation, we're reminded of the country's exuberance and energy, and how it plays into the new kit. For Naija's designs are full of tradition, honoring important historical moments in Nigerian football history. There's a badge recolored to honor the '96 gold medal-winning "Dream Team," a subtle homage to the team's 1994 shirt — the first Nigerian team to qualify for the World Cup — and tons of vivid leafy greens. Named after the term Naija, the collection seeks to capture the nation's attitude, which needless to say, is unapologetically cool.
"As a descriptor, [Naija] defines a certain future-focused optimism — one that has catalyzed a new generation of Nigerians to celebrate the nation's vibrant culture. Use of the word requires attitude, even panache," says Nike regarding the inspiration. "Naija reflects a youthful exuberance, pride and fresh perspective on patriotism. To some, Naija translates directly to "the new Nigeria." With boundless potential and an undoubtedly infectious palpable charisma, the squad begs fandom from anyone — interest in football notwithstanding."
Watch Nigerian playsers Wilfred Ndidi, Jon Obi Mikel, Alex Iwobi and Kelechi Iheanacho see the collection for the first time, below.