Planet i's new Eclipse collection is perfectly gritty and glittery
Scroll on for a first look at their new collection, and an interview with designer Eric Steginsky.
Easy glamour — the type that instantly captures attention and leaves its mark — can come from the smallest of elements. And Planet i, the sunglasses line based out of Brooklyn, is born from this understanding. Founded last November by Eric Steginsky, Planet i has already developed a cult following for sunglasses that are imbued with a playful energy — megawatt glitter lenses, funky flame-shaped silhouettes, and mesmerizing all-over python print that are hard to forget. For the line's newest collection, premiering today on The FADER, Steginsky found his inspiration in an unlikely place when it comes to sunglasses: the night sky.
Named Eclipse, the new series, brings an even more out-of-this-world, alien-worthy beauty to classic frame shapes with jet black shades paired with darkened, multi-colored glitter lenses for pure, celestial vision. Steginsky, who not only designs the glasses but also works closely with the manufacturing and packaging process, named each style after a heavenly body — Electra, Vega, Supernova, and Luna — and for such visually dark sunglasses, the results are full of light.
Below, read an interview with Steginsky and take a first look at the Eclipse collection, available now at we-are-planet-i.com.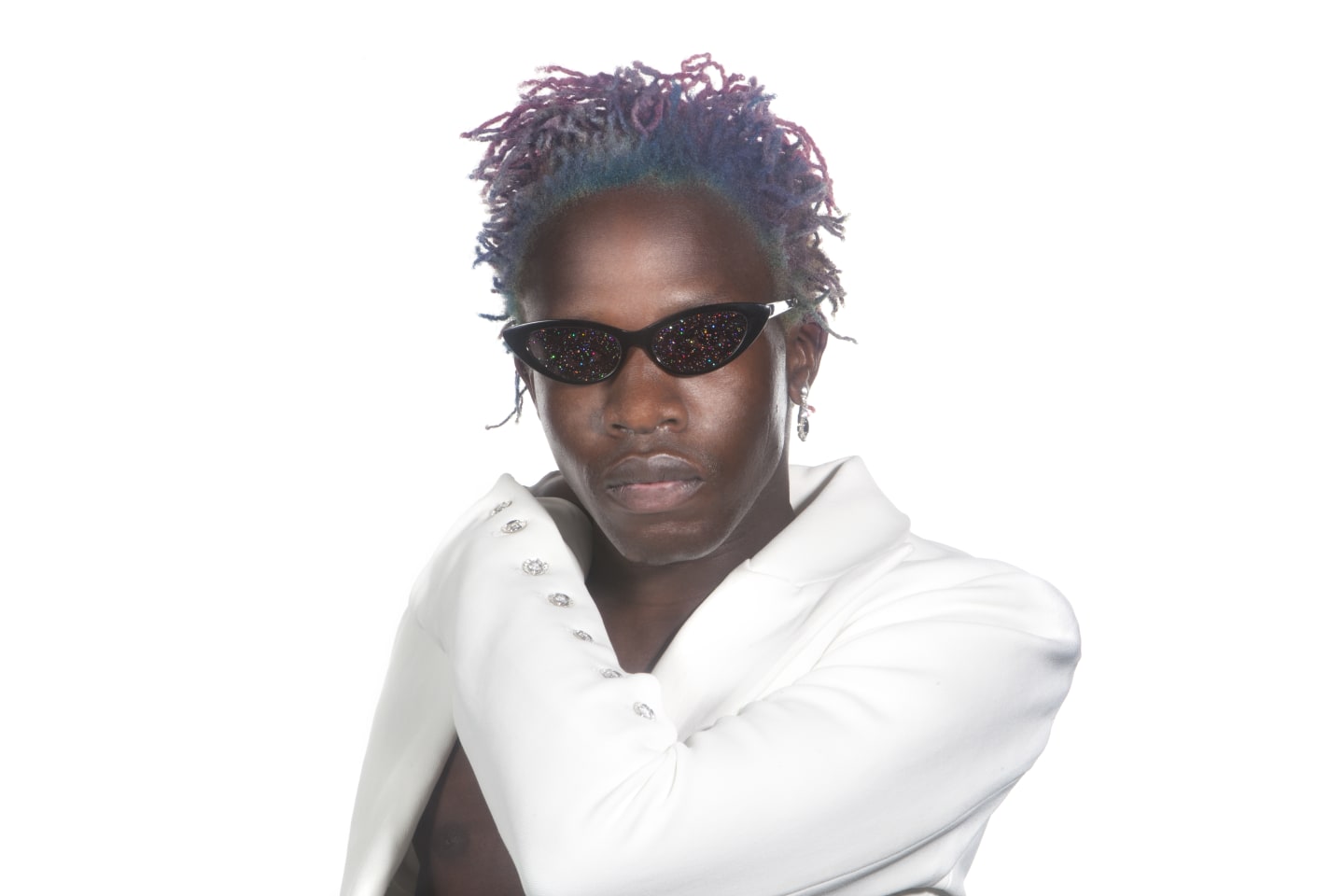 How did you get into design?
I studied photography and art history in college and have been looking at light, color and composition — the shapes of things — for a long time. My parents put a camera in my hands at a young age and encouraged me to take pictures. Photography and design are both forms of visual communication, so I think one naturally led to the other.

Why is eyewear something that's important to you?

Definitely the transformative nature of eyewear, the fact that the most dramatic change can come from the simplest part of your wardrobe. There's a glam vibe about Planet i and I want people to feel glamorous whether they're society's idea of a star or not. Everyone's a star. For our latest series Eclipse we named each pair after stars because we want to make people feel special and to shine.

Where do you find inspiration?
I grew up with the strong female imagery of the late '90s and early aughts. You know, Missy Elliott, Lil' Kim, Mary J. Blige. They continue to inform my creative gaze to this day. Notorious K.I.M by Lil' Kim really shaped me. I was 13 when it came out and I remember being really inspired by a female saying things no other female I had ever heard say. She kinda taught me how to step out of the box in a strong way.

Who are you designing Planet i for?

Everyone, but especially for the playful, for those who want to add a little star quality to their lives.

What's the story behind the Flamethrower sunglasses that really set it all off?

It was the middle of last summer and I felt inspired to create something strong and powerful. It feels like the flame glasses live outside of eyewear, just this symbol of strength and force. Eyewear presents an opportunity for people to make a powerful stylistic statement and I guess I just wanted to create something that made people feel their own power.
What brought about the Eclipse collection?

We've played a lot with light and color, so this time I wanted to try something dark and gritty with glitter. It's a dark series for summer and the beach, road trips, rooftops — you know, when you want to feel sexy. We made it to be more wearable but also have there be something fresh and loud about it. It's pretty magical. It's a dark lens that glows in the sun. You can see perfectly through them and they look so stunning.

Planet i worked with No Sesso on their most recent runway and is stocked at stores like The Phluid Project. Clearly, gender fluidity is something of importance to your ethos. Does it have a role in your design process?

I love Pierre. We started chatting in February and I was so excited to share Planet i with him. His clothes are beautiful and well-made, while still really playful, and the message is important. As our society evolves, a lot of our prior social structures are no longer useful and are naturally falling away, and for me eyewear is a great way to express that and push us forward. Eyewear is literally how you see...