Hayley Kiyoko and Kehlani: a conversation between two young queer icons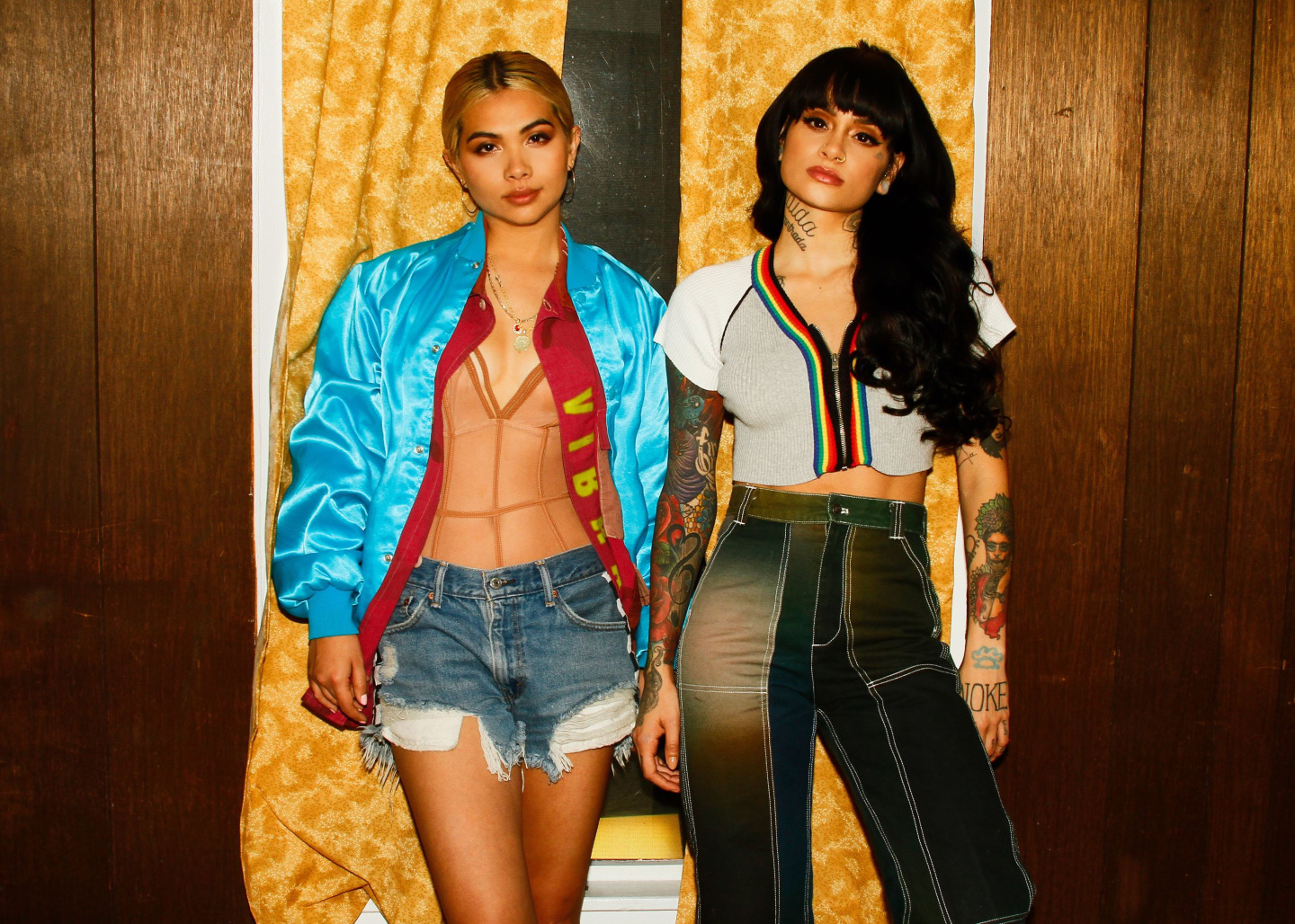 In her new video for "What I Need," Hayley Kiyoko shows up to Kehlani's doorstep in a beat-up yellow coupe and whisks her off into the unknown. The singers play two friends who are very much in love and striking out on their own for the first time, hoping to get away from their families, who aren't exactly ready to accept them for who they are. Directed by Kiyoko, the video packs an impressive number of twists and turns into its five-and-a-half-minute runtime, ending on a sweet scene of Kiyoko and Kehlani kissing by the side of the road. Already, the YouTube comments are packed with superlatives like, "I didn't think I could get any gayer but this made me 173727% even more gay," as well as heartfelt testimonies to how the video emboldened young people to come out to themselves, their friends, and their family.
As two openly queer women in pop, Hayley Kiyoko and Kehlani are forging ahead in relatively new territory. It's hard to imagine a video like this coming out a decade ago, when few mainstream artists were out and hardly any were making music explicitly concerning their sexuality. But Kiyoko and Kehlani see no reason to keep from being honest about who they are. They've seized upon a moment in which it's possible for them to tell their own stories on their own terms, and from the sound of it, the "What I Need" video is only the beginning of their cinematic work together.
Shortly after the video went live, Kiyoko and Kehlani hopped on the phone to interview each other about the thrilling and challenging process of shooting "What I Need," as well as how it feels to be looked up to by a growing legion of young queer fans. Read their chat below, and watch a behind-the-scenes video from their video shoot.
KEHLANI: What goes into directing a music video, and what was your creative process behind this video specifically?
HAYLEY KIYOKO: Every video is different depending on the theme and the emotion we want to evoke in the finished product. I always start with a color palette and build a mood board off of that. Of course, you run into logistics and problems. I'm very specific on every detail—nothing is overlooked. For example, the car in this video had to be the right color and the right type. It was so hard to find that I ended up buying it off of Craigslist. For this video, I also wanted to make sure that you connected to the story as well. Developing the character with you and making it feel true was a new and fun process.
Kehlani, what scene in the video were you most nervous to shoot?
KEHLANI: I was pretty nervous for the whole thing, given that I had never acted before. I did theater camp growing up but I never had an acting role on camera. And I hadn't really done any music videos that had dialogue. Surprisingly, I was least nervous for the kiss, because I felt like that was a comfortable space for me. But as far as the acting, the improv, I was like, "Oh shit, I've never done anything like this before. Hopefully my emotions come off how they're supposed to." I'm used to putting my emotions in songs.
KIYOKO: I remember when we rehearsed for the music video I was nervous for you. I was just like, "Alright girl, you've just got to improv. This is the scene, this is the situation. Action!" And you just went for it. How personal to you was the opening scene with the aunt character?
KEHLANI The most personal part about it was the fact that she was my aunt and not my mom, because I was raised by my aunt. My mom wasn't ever in my life. Before that scene morphed into the conversation that we caught on camera, there was a lot of conversation going back and forth with her saying, "You're going to be just like your mom." I was told that growing up. Thank God it didn't make it into the video because that would have been a separate conversation. We shot scenes way longer and had to cut them, and a lot of the dialogue that didn't make it into the video was actually more personal to me. My family was very accepting when I came out. They had actually been asking me if I liked girls my whole life. They were telling me before I'd even said anything that they knew.
KIYOKO: I feel like now you're in a new chapter of your life as an artist. You're openly queer and now you're working on your next album.
KEHLANI Yeah. I mean, I've been making music about women my whole career, but I never felt the need to write "she," necessarily. It wasn't in the forefront of my mind. But now I've seen how people reacted to my song "Honey," or when I've used the correct pronouns and put women in my music videos. Just seeing how much people felt like they needed that representation or how much it inspired them definitely encouraged me to step into this new phase of making music. I'm more aware that this isn't just my truth: it's something I can empower youth with, rather than just serve myself. It's definitely a new process that I'm excited to explore.
KIYOKO: Was it fun for you to get to do this video and this song with another gay artist?
KEHLANI I felt really amazing about working with another queer woman. People have this stigma about women in the industry really not fucking with each other. To some extent it's true, but every single queer person in the industry has this natural pull to each other, this natural incentive to really want to support and work with each other. It's been a blessing to not only meet you but work with you and build with you and make something that really inspired a lot of people.
Was it difficult to direct this video? And what did you enjoy about directing this video?
KIYOKO: What I loved about directing this video specifically was obviously working with you. I was definitely nervous to direct you because you and I are different, but we're very similar and we know what we want. I was worried about what our dynamic would be and how we were going to create together because we have such strong ideas and visions. That was the thing I was most nervous about. Obviously, the running and the jumping and all of that stuff made me feel like a superhero. It was really fun.
KEHLANI Can you please tell the people all the complications that we had?
KIYOKO: We would be here for hours. I'll spill the tea, as the youth say. After the first day of shooting, I went home and the hard drive that we were shooting on died and so we lost six hours of footage.
KEHLANI Because Mercury was in retrograde.
KIYOKO: Yeah, Mercury was in retrograde. And so we showed up to day 2 and I was like, "Kehlani, we have to reshoot six hours of footage in addition to shooting all of day 2." We shot that kissing scene three times. Also, Kehlani pulled her ankle because I made her run at six AM in the freezing cold. That was really traumatic and terrifying. I thought that I broke Kehlani and I was never going to see another day. I was like, "Great! This is going to be my legacy." There were a lot of challenges. We were also shooting in Ojai and the next day was all of the Ojai fires, which was devastating. A lot of what you see in the music video is not there anymore.
KEHLANI I remember it all vividly. Especially the ankle. How does it feel right now to be looked at by so many young people as what they're calling "the lesbian Jesus"? Low-key, you're the biggest queer woman doing what you're doing right now in music. How does pressure and responsibility feel, and how do you plan to uphold that?
KIYOKO: I've never felt pressure and responsibility only because I've always selfishly been focused on the art, and telling these stories about what I've experienced in my life. I think that it's exciting and inspiring that people are able to connect to these stories. People watch the opening scene of this video and go, "I remember my mom or my dad telling me those exact words." When I watch that opening scene, it really hits me, because I'm like, "Wow, I've heard that said to me." To be able to share that with other people is such a beautiful thing. I never really had that community growing up. I really just want to continue to focus on the art. I think that's my responsibility and that's where the pressure is: constantly putting out good work and being truthful and honest with everyone.
KEHLANI Bravo. We've been holding onto this music video since December. I had a whole tattoo on my hand that doesn't even exist anymore. I love that it came out right for Pride. I think the reception has been absolutely insane. I think we deserve a Netflix special. I think we deserve a short film. We're getting requests to continue the story, because the people want to know what happened to these characters after. Wherever that takes us, I hope that we get to expand this project. I think we have a lot more in store to do together. We have the same message and the same end goal. We're fighting the same fight. I definitely don't think this is a one-time thing.
KIYOKO: I think we deserve Best Kiss. I'm just going to put that out there as well.
KEHLANI Let's get it, VMAs!
KIYOKO: Let's just put that out in the atmosphere. For me, it's just so wonderful to work with an artist that I deeply respect in all aspects. Kehlani is just such a force. I am so honored to have been able to collaborate with her and to have her support too. I'm new to this game and it's just been so wonderful to be able to create with someone that I respect so much and who's going to go so far. I feel really lucky.