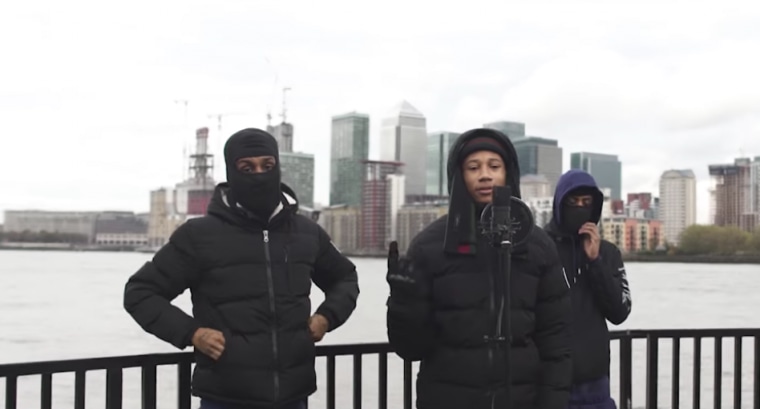 The Metropolitan Police in London applied for an unprecedented criminal behaviour order in an attempt to stop rap group 1011 from recording music, The Independent reports. The application came during a trial that culminated with all five members of the group, aged between 17-21, jailed or detained for conspiracy to commit violent disorder on June 11.
1011 were among the groups whose music was removed from YouTube last month following complaints from Scotland Yard. The group makes U.K. drill, a London-centric take on the sound originating in Chicago.
Police say the music incites violence through explicit threats and that it escalates conflict between gangs in the English capital city. Fans argue that the music merely reflects a lifestyle of teens raised in a city affected by austerity cuts and a government unwilling to help young people.
Police in London are tackling a recent rise in killings and violent crime, with 74 murders reported in 2018 so far.
The criminal behaviour order was not accepted by judge Ann Mulligan, with Micah Bedeau, 19, Yonas Girma, 21, Isaac Marshall, 18, plus 17-year-olds Jordan Bedeau and Rhys Herbert, sentenced on Monday.
BBC News reports that Micah Bedeau and Yonas Grima were both sentenced to over three years in a secure unit. Mitchell, Herbert, and Jordan Bedeau, meanwhile, will serve between 1-2 year detention orders.
The group plead guilty to arming themselves with machetes, knives, and baseball bats in November 2017 as they planned a suspected revenge attack on rival gang 12 Worlds from Shepherd's Bush, west London, who had threatened and harassed Bedeau's grandmother.
During the trial it is reported The Met asked that the five on trial were banned from making drill music that "references violence" for three or five years. Prosecutors showed 1011's music videos to the court as evidence, including "No Hook." It is believed this is the first time such a request has been made.
Before pleading guilty, the 1011 members claimed the weapons they were caught with were props for a new music video. In May it was reported that police in London have established a database of more than 1,400 rap videos to use as intelligence.