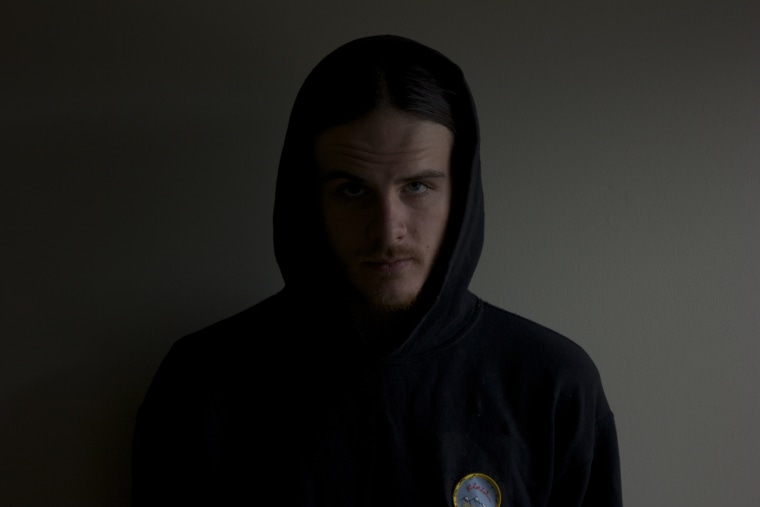 Molly Drag is the solo project of Michael Charles Hansford. The Montréal-based artist has been releasing music as Molly Drag since 2014, and later this summer, he'll share his fourth full-length album Thumper. Today, he's premiering the first cut from that LP, a gorgeous and iridescent track titled "Falling Back."
"'Falling Back' was the first song I started writing for the record. At the time I was recovering from surgery after an accident. I couldn't stop thinking about how fragile the human body actually is after temporarily losing mobility in my right arm and feeling in my right hand for a couple weeks," writes Hansford. "I wrote about how it felt to want to escape."
The accompanying video, which was directed by Olivia du Vergier and Malaika Astorga, traces the non-linear and often solitary aspects of healing in visceral detail. Though Hansford's lyrics evoke the morose, there's an undercurrent of hopefulness that, just maybe, light can be found in suffering. Watch it below, and be sure to catch Molly Drag on tour with Past Life this summer, the dates of which are listed beneath the video.
Thumper is out September 7th via Forged Artifacts.
Tour Dates:
July 23rd - Montreal, Quebec
July 24th - Ottawa, Ontario
July 25th - Toronto, Ontario
July 26th - Buffalo, NY
July 27th - Pittsburgh, PA
July 28th - Washington DC
July 29th - Richmond, VA
July 30th - Charlotte, NC
July 31st - Atlanta, GA
August 1st - Nashville, TN
August 2nd - Lexington, KY
August 3rd - Chicago, IL
August 4th - Akron, OH
August 5th - Rochester, NY
August 6th - Albany, NY
August 7th - TBA, CT
August 8th - Manchester, NH
August 9th - Burlington, VT
August 10th - Brooklyn, NY
August 11th - Philadelphia, PA
August 12th - Boston, MA