Johannesburg's underground artists are rising up by staying true to themselves
A new documentary reveals the fearless humans behind a growing wave in South Africa's biggest city.
"This is a movement more than an industry," says the South African DJ and producer Symatics, speaking from his bedroom studio in Johannesburg. "We're in the teething stages, where everybody is figuring things out. But that doesn't mean nobody is growing."
It's this spirit of humility and self-reliant ambition that drives A Movement for Change, the fourth and final episode of the True Music Africa documentary series. A joint passion project from Boiler Room and Ballantine's Scotch Whisky, True Music Africa has taken on a four-city tour of the mother continent, pairing groundbreaking scene documentaries with Boiler Room's first-ever events in places like Cameroon and Nairobi. Now, at the climax, we're in Johannesburg, the biggest and most dynamic city in South Africa, for both the final show of the series and a continent-spanning True Music Africa Forum.
But really, we're here for the people. On the ground, Johannesburg feels like a city aching with human potential, full of fearless young creatives making waves behind the security walls and razor wire that define the Joburg cityscape. Beyond each barrier is a wild amount of organic talent, an indefatigable hope for the future, and the kind of self-sufficient, indomitable hustle that comes from a total lack of industry support. It has never been easy to find a place as an independent artist in South Africa. But a sense of change is in the air.
"The people in South Africa's [music culture] have this unique, infectious attitude, that's built around love. It's a special place." says Tom Elton, Ballantine's head of music. He's the force who, along with Steven Appleyard, Boiler Room's chief business development officer, is responsible for driving for the True Music Africa partnership. Ballantine's bona fides in music go way back — Steven recalls possessing a beloved VHS tape of The Prodigy's ripping 1997 performance in Red Square, a show that was, believe it or not, thrown by the Scotch whisky brand — but Tom makes it clear that teaming up with Boiler Room represents an ongoing commitment to taking Ballantine's music programming to the next level of sincerity and depth.
More than twenty collaborative shows later, the pair find themselves back in Africa on their most wide-ranging tour of the continent to date. Steven remarks that this series feels especially exciting, because the mission of True Music has always been not only to spotlight independent, passion driven artists, but also to support and amplify growing scenes in as many nations as possible. Tom agrees, recalling how Coco Em, a Nairobi-based DJ that featured in the True Music Nairobi Boiler Room show, was able to turn her look from that set into a performance slot at Uganda's Nyege Nyege festival, where she'd been meaning to play for years. "This," says Tom matter-of-factly, "is why we do what we do."
As for what made the two bring a custom True Music tour to Africa, Steven says it's out of respect for how influential the continent's sounds have become globally. "Outside of the US, in the whole rest of the world, Afro-house, Afro-trap, Afro-bashment, gqom, are the dominant sound of both the pop charts and what's blaring out of people's cars." But despite Africa's growing dominance of the mainstream airwaves, it's still true that only a few massive artists from the continent receive any significant attention attention from the global music community. Tom says the current situation is his motivating force behind launching True Music Africa: a desire to spotlight Africa's often overlooked underground scenes and share their stories with the world. "The people here epitomize what we want to do," says Tom. "And as long as we're bringing value to the community, we'll keep wanting to continue True Music."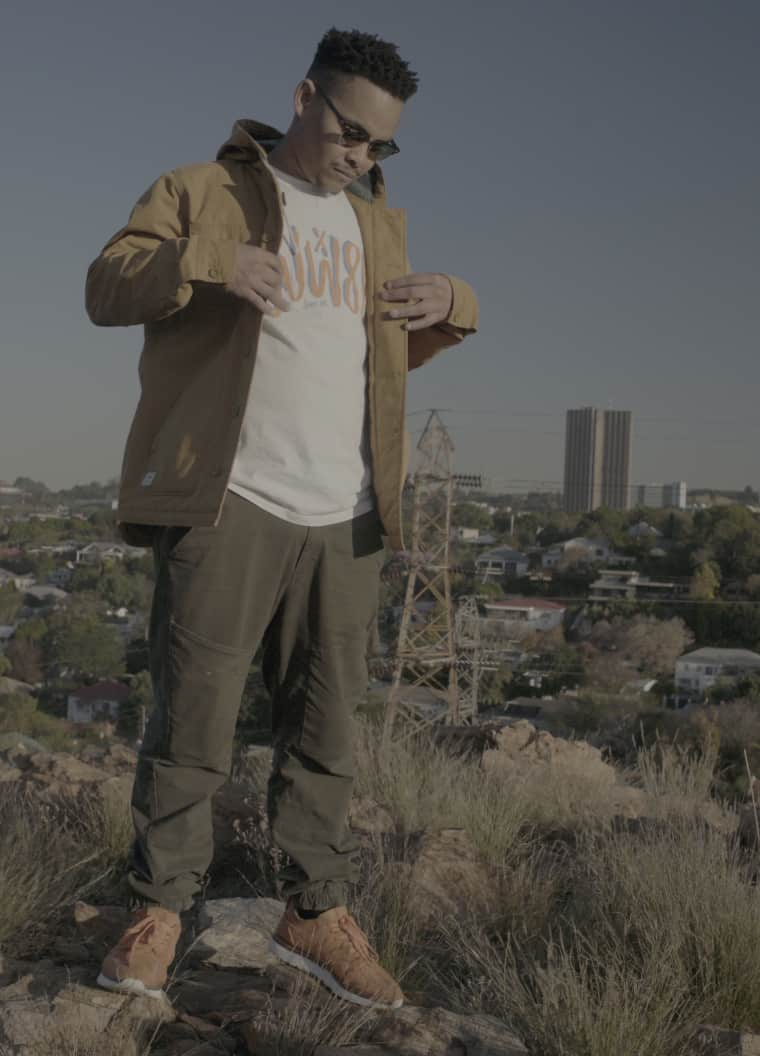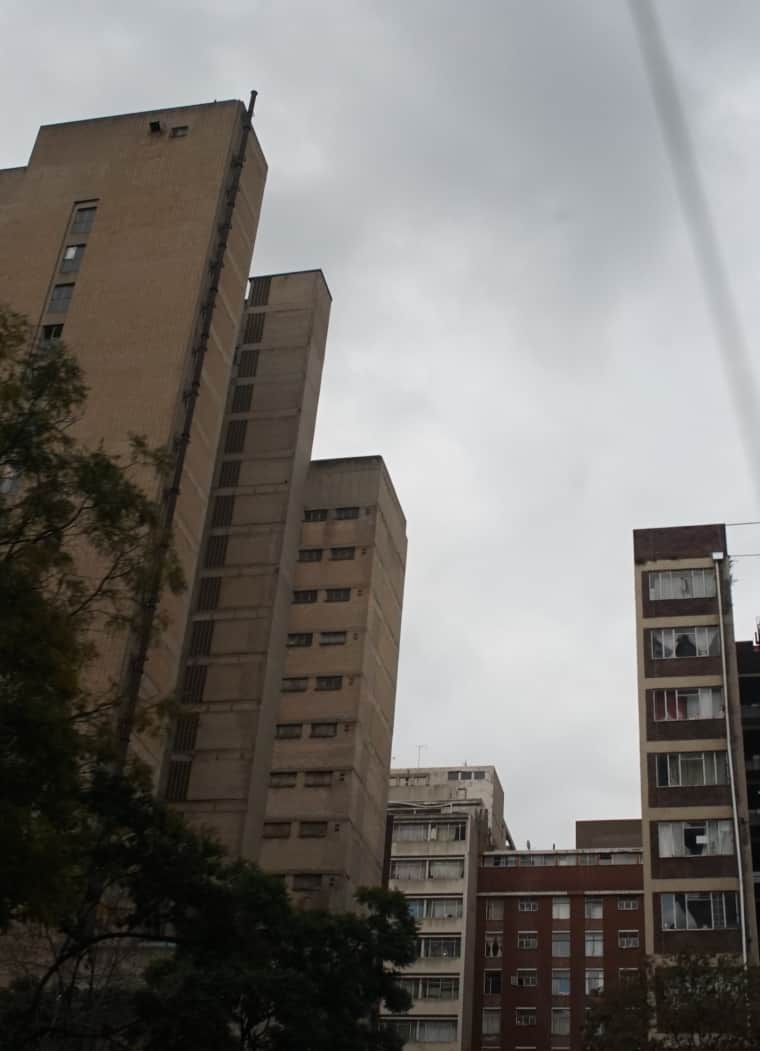 "Lawyers during the day, hardcore trap artists at night."
Later on, at the Joburg Boiler Room show, the special attitude that Tom spoke about begins to manifest. The room practically beams with positive community support when the first artist, the electro-soul DJ and local scene catalyst Symatics (born Sims Phakisi), steps up to the decks. It's an energy you can likewise feel in Symatics's bedroom studio, where the young producer smiles as he discusses a distinctly South African quirk of the local scene: "[Independent musicians] here, they would be lawyers during the day, and hardcore trap artists at night." He motions towards the figure sitting on the bed next to him: "Here we have an architect who is a producer at night. And a banging DJ." He laughs.
It's hard to imagine a more ideal champion of the independent SA beat scene as it stands today than Symatics. Humble and self-reliant, he's more interested in making music with his family of fellow creatives than he is with scoring a deal in the formal music industry. He doesn't need them. In 2012, fed up with the over saturation of hip-hop and lack of local support for fresh alternative sounds, Symatics co-founded the WEheartBEAT platform, an independent collective that runs a record store, hosts workshops, produces monthly podcasts, runs exhibitions and brings artists like Young Fathers and Peanut Butter Wolf to South Africa.
In short: everything that the industry promises to do for young creatives, WEheartBEAT does for themselves, with none of the pressure to compromise their passion or sound. "The industry is largely controlled by gatekeepers who tend to push their own personal agendas," says Symatics. "But as a believer in good endings, you have to find alternative ways of keeping the dream alive."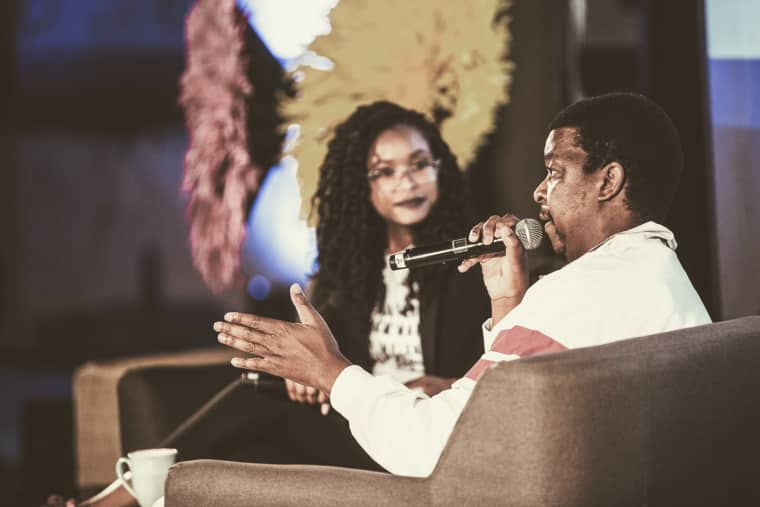 "We're doing it our own way, the street way. Our 'marketing' is working."
Symatic's story of self-reliance is part of a legacy that goes back decades in South African music. Later on, as a gathering of what must be Johannesburg's most fashion-forward population seat themselves for the first True Music Africa Forum, it's a story we'll hear again. And we hear it from one of the most legendary figures in independent South African music: Oskido, who Ballantine's brought out for a wide-ranging conversation on his role in South African culture. For those not in the know, Oskido is an electronic music OG who founded his own record label (Kalawa Jazmee, a groundbreaking originator of Kwaito music), mentored the now globally-known Black Coffee, and nearly single-handedly blazed the trail for independent electronic artists in South Africa. During the conversation, he told a story of being courted by a major label after establishing his reputation through his wildly popular self-released cassette compilations.
We'll offer you marketing, said the label.
"You can't give us that," said Oskido. "We're doing it our own way, the street way. Our marketing is working."
Okay, the label said. Then we'll help you with the packaging.
"Do you see this tape?" said Oskido. "It's already packaged. We're doing it. That you can't give us."
Maybe we can help with royalties, said the label.
"We've got that fine," said Oskido. "I give money to him and him, then I'm left with my stuff."
With nothing left to offer, the label was forced to deal with Oskido on his terms. They signed a first-of-its-kind distribution deal that led the label to help with distribution while leaving creative control completely up to Oskido. "That's when we changed the game in the music scene in South Africa."
"The people at the top, they won't help us get there. So we'd rather help each other."
The game might have changed, but for young DJs like Uncle Partytime, aka Lindokuhle Junior Mabunda, the struggle is far from over: "Starting out, I would get like maybe 500 bucks [for playing shows.] It wasn't enough for me to sustain, and I'd end up sleeping on the streets. I learned how to hustle because of this city." It's a hustle that has paid off in Uncle Partytime's unique, distinctly South African style of DJing - during his Boiler Room set, he'll effortlessly slide pounding Gqom tracks into Goldlink and Shy Glizzy - but also in his outsize humility and generosity. When describing his ambitions, rather than outline the money he wants to make, he talks about returning the love to his community.
"My ambition is to start a name for myself and build a legacy. "I want to change people's lives and I want to build people. That's the dream. Giving them opportunities that I didn't have and that they deserve. I'm not God, but I can at least try to change someone's life." It's a long road to walk in South Africa's resource-scarce music scene. But if you hear the confidence in his voice when he says the words, it's obvious that Uncle Partytime is not at all afraid to try.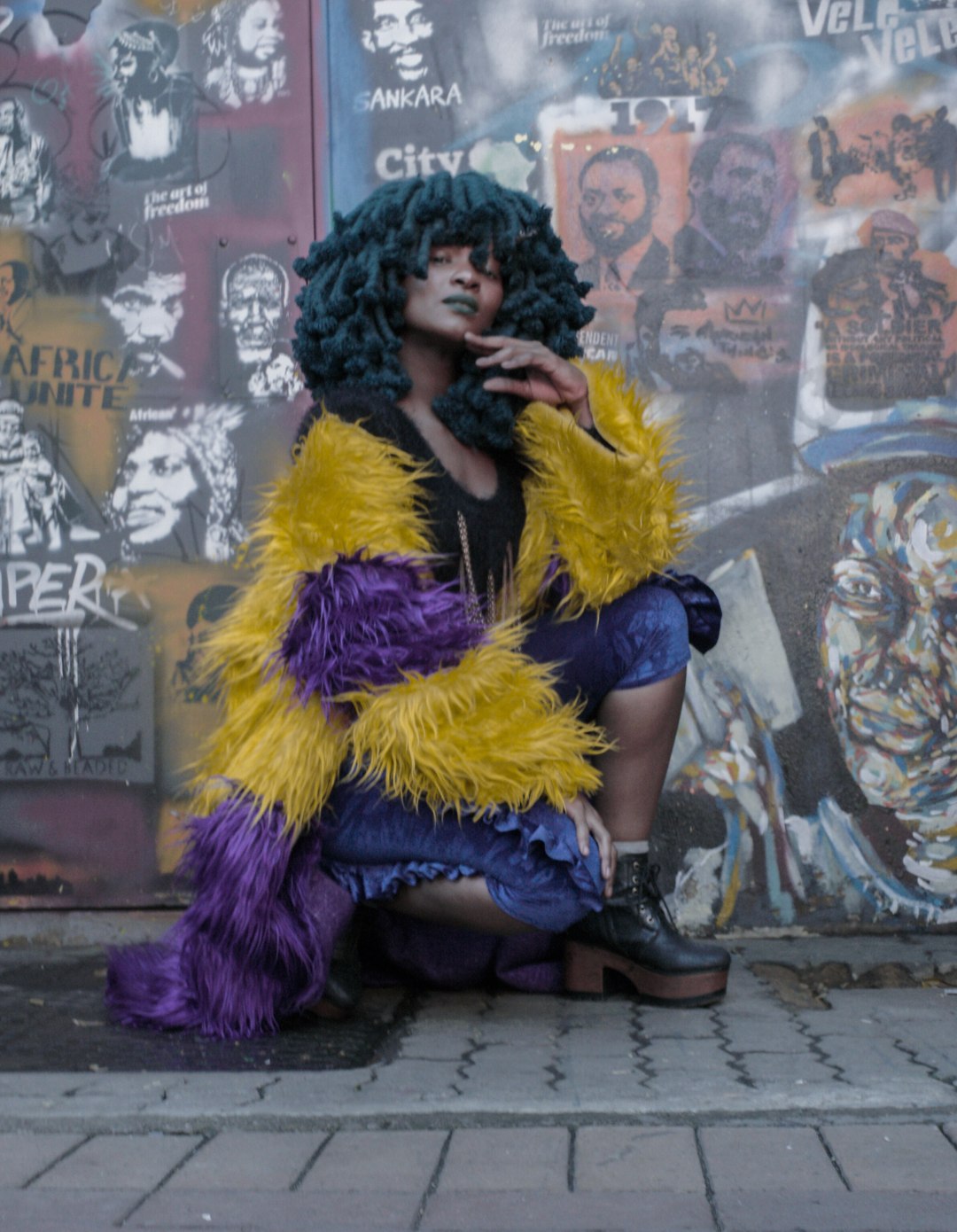 "The environment has never been friendly. But you can't deny the work. And the songs keep coming."
There is perhaps no artist in South Africa more fearless than the one-woman sexual revolution that is Moonchild Sanelly. Meet her in person and you'll notice she's a style revolutionary as well: her coiffure is the first thing that announces her presence, but Moonchild's personality and charm is somehow even more outsize than the giant aquamarine mop that orbits her head like a halo. Like everything with Moonchild, the hairstyle goes deeper than a fashion statement: "I want children to wake up and say Mama, 'I want to have a broom as my hairstyle. Moonchild's wearing a mop. Why can't I have a broom?"
Moonchild doesn't flinch away from confrontational style choices, and her remarkably suggestive songs don't flinch away from confrontational topics like sexual health, abusive relationships, or the failure of her country's police to protect women. She says her outspoken attitude and unwillingness to compromise has caused her to miss out on plenty of opportunities in South Africa before: "I was broke in 2010, given a deal, and I said "No thank you". Because I've got my sound already. And I will come out as myself. I've had to fight to be here as myself."
That self is a unique hybrid sound that Moonchild calls "future ghetto funk", a combination that feels born from Kwaito, electro-house and a hefty dose of Moonchild's own one-of-a-kind vocal stylings. She sings in a blend of English and Xhosa, and her popularity with Afrikaans-speaking audiences means she's probably responsible for getting more white people to shout Xhosa lyrics than anyone else in SA. It's a sound that's earned her a plenty of shine from audiences overseas, but Moonchild has always been determined to succeed locally on her own terms: "I'm not going to be big internationally and seen as nothing in my country when I sing in Xhosa. I'll do it my way."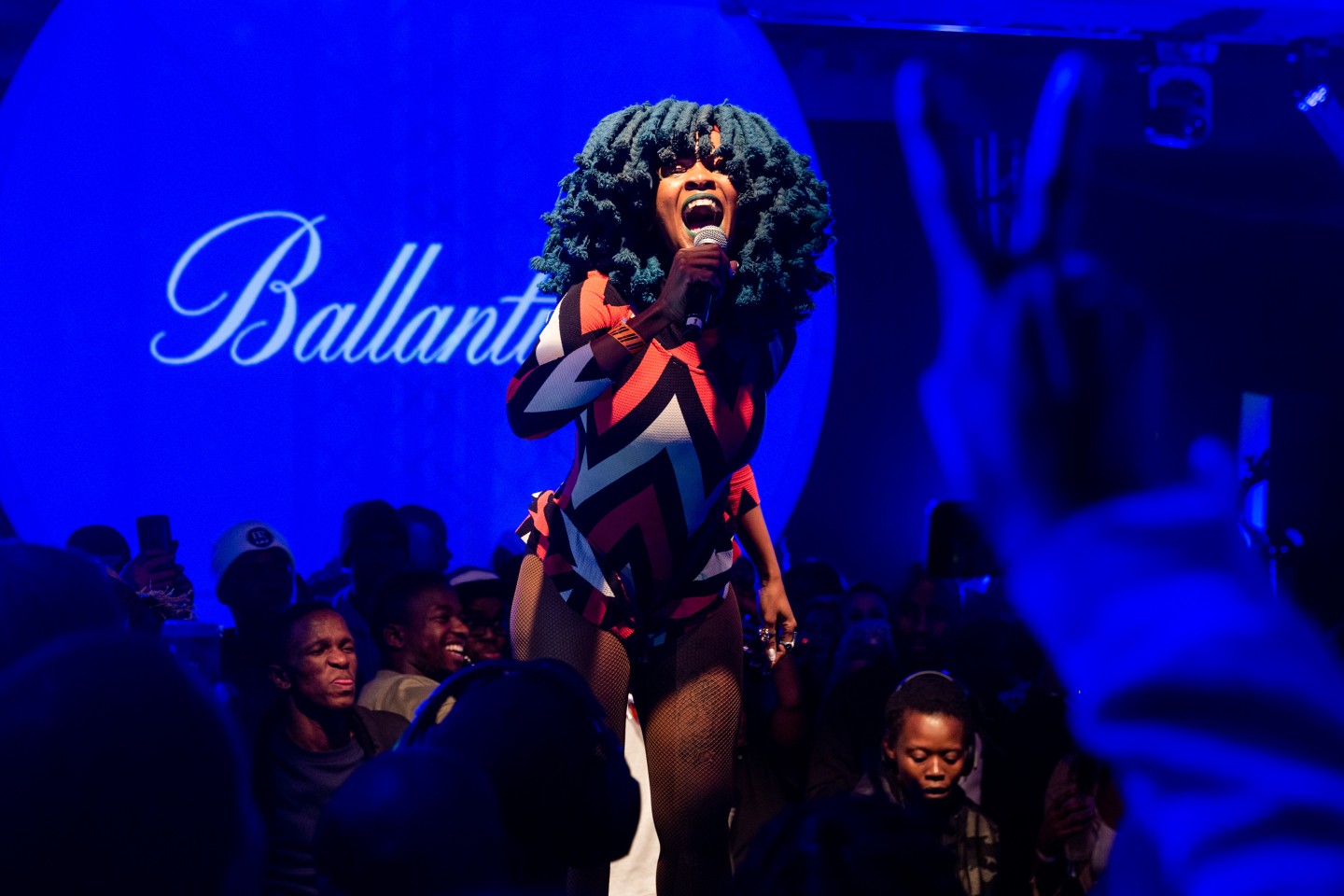 Sure enough, Moonchild popped into the South African mainstream last year with an undeniable vocal feature on DJ Maphorisa's massive gqom hit "Midnight Starring." But a chart hit is just one small part of the Moonchild five year plan. Armed with a degree in fashion and serious skills behind the sewing machine, Moonchild designs and the creates the majority of her outrageously fashion-forward outfits, runs the fashion label Cultwear and has (strikingly well-thought out and measured) plans to reshape her society. "I know my ultimate project is [creating a program] to teach 11th or 12th graders," says Moonchild. "Because not everyone makes it to varsity. Those are the people who need real skills."
When asked what the climate is like for such a sexually liberated unclassifiable artist in South Africa, Moonchild's response feels like a mission statement for all of Johannesburg's young artists. "The environment has never been friendly. But you can't deny the work. So the songs keep coming. And the songs are truth."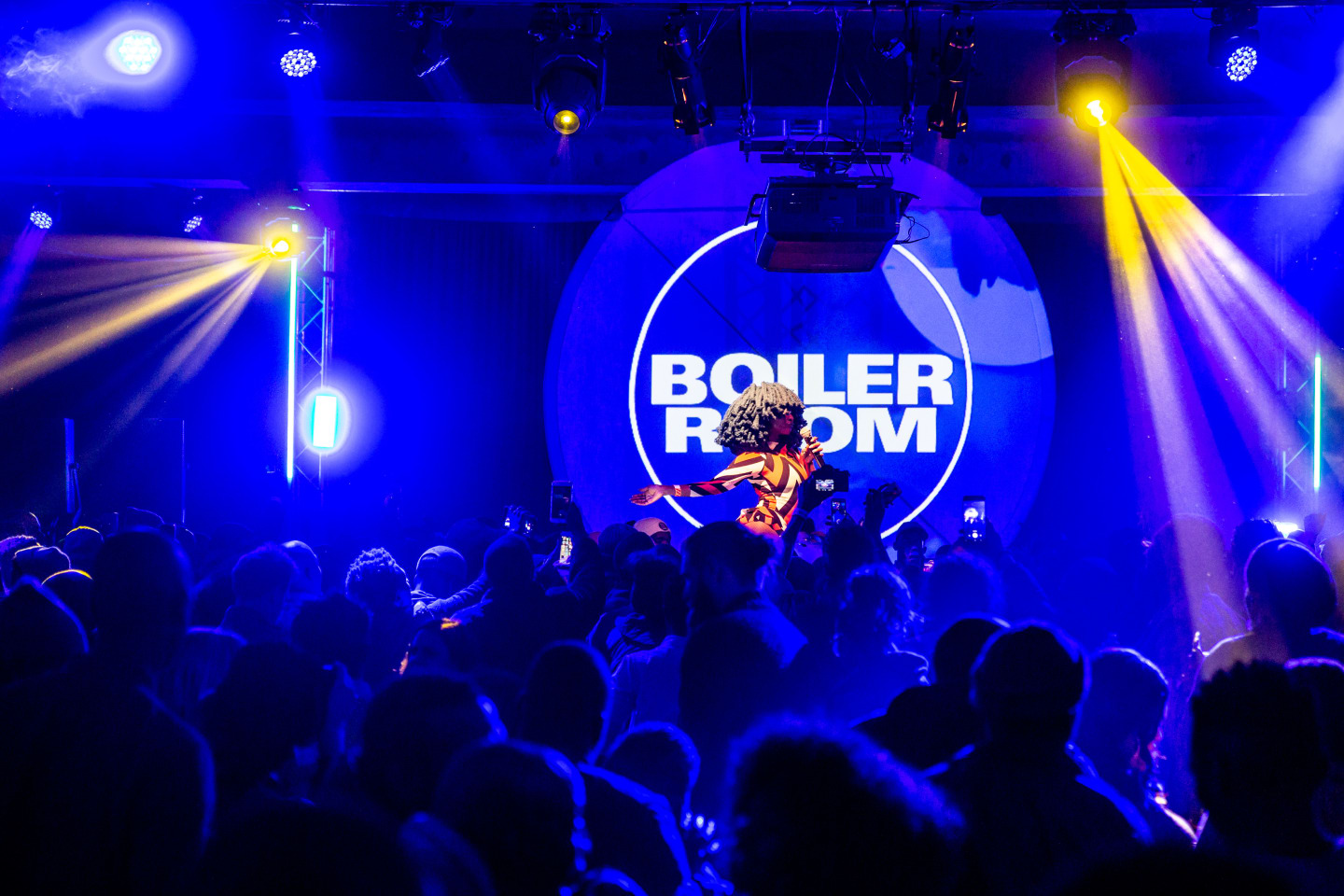 You can't deny the work. Looking around the room during the True Music Africa Forum and the Joburg Boiler Room show, it's easy to share Moonchild's fierce optimism, even in the face of the very real challenges South Africa's young artists deal with daily. But sharing optimism seems to be what making true music in Joburg is all about. Rather than scramble to imitate the few mainstream artists that have managed to claim some of South Africa's scarce music industry resources, the artists featured in a A Movement for Change are doubling down on their individuality and authenticity, and they're encouraging each other to do the same. Like Oskido two decades before them, it seems like the young artists of Johannesburg have decided that it's better to build your own movement than try to conform to the industry.
Seeing the waves that artists like Moonchild, Uncle Partytime, and Symatics are making completely on their own, the lack of formal support in SA almost feels like a blessing in disguise. Without even the faint hope of an industry payday, artists are free to build their own platforms and scenes for no reason other than passion. As Uncle Partytime says at the end of A Movement for Change, "The people at the top, they will not help us get there. We'd rather help each other. Help ourselves get there."
Visit the hub page for True Music Africa here to watch all four documentaries, live Boiler Room sets, and stream the full True Music Africa Forum discussions.