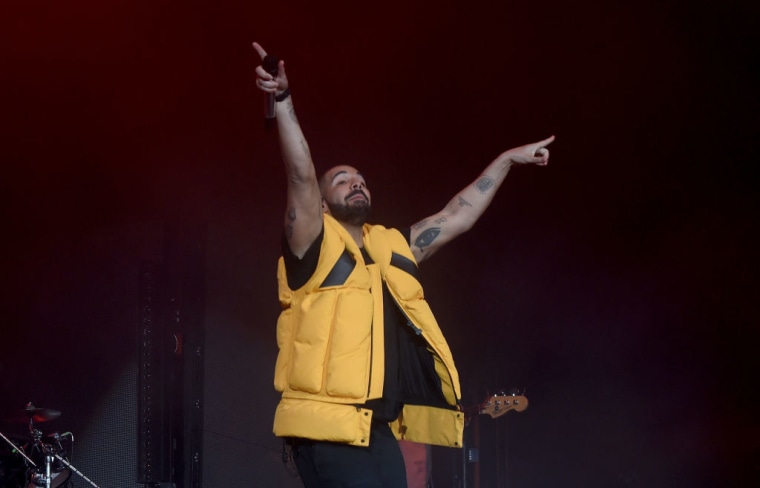 After becoming the first album to rack in over one billion global streams in its first week of release, Drake's Scorpion isn't done making history yet: Billboard reports that seven of the album's songs are in the top 10 of Billboard Hot 100 chart. That breaks the record of five simultaneous top 10 songs, held by The Beatles since 1964.
The seven top-charting Scorpion songs are "Nice For What," which returns for its sixth week at No. 1; "Nonstop," debuting at No. 2; "God's Plan" jumping to No.4 from No. 9 and a peak of 11 weeks at No. 1; the album's best song "In My Feelings," debuting at No. 6; a new peak of No. 7 for "I'm Upset;" "Emotionless," debuting at No. 8, and; "Don't Matter To Me," Drake's duet with Michael Jackson, which enters at No. 9. The new songs bring Drake to a career total of 31 top 10 Hot 100 hits, besting Michael Jackson for most solo top 10 hits for a male performer.
Rewind to April 4, 1954, and the first five songs on the Billboard Hot 100 was dominated, in order, by these tunes from The Beatles: "Can't Buy Me Love," "Twist and Shout," "She Loves You," "I Want to Hold Your Hand" and "Please Please Me."
Each of Scorpion's 25 tracks debuted on the Hot 100. In its first week, Scorpion moved 732,000 equivalent albums, giving Drake his eighth consecutive number one album.