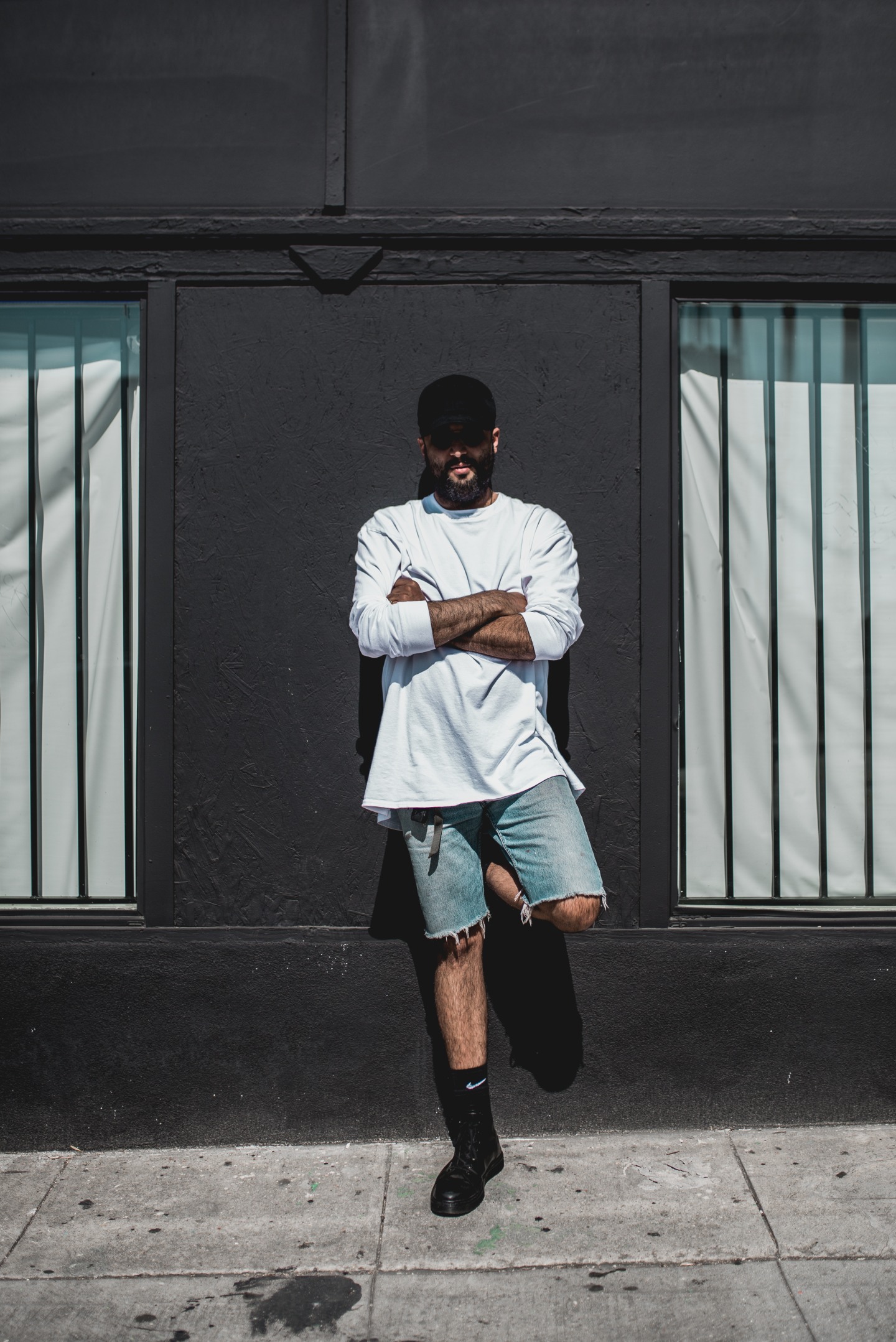 Though it has been around since the 1980s, California-based brand LA Roxx is far from being stuck in the past. The brand made its name roughly four decades ago as a go-to custom leather shop for the likes of Michael Jackson and Guns N' Roses. Thanks to current designer Sharon Rahim, the clientele and the apparel have remained equally fresh. Today, LA Roxx is known for more than leather – stars like Nicki Minaj, Kali Uchis, and Kehlani can't get enough one-of-a-kind pieces rendered in PVC, satin, and organza.
It comes as no surprise that Rahim, 35, is responsible for reestablishing a brand that depends upon both tradition and innovation, as he himself knows a lot about balance. The designer essentially grew up in the LA Roxx store; back when it was run by his older brother, Rahim would do anything from cleaning the bathrooms to shadowing design meetings. In short, hard work is what propels Rahim to dream big for his brand: "I want to change the world, I want to change the way people dress, the way people feel about dressing, what clothes mean to them."
The FADER recently spoke with Sharon Rahim about the past lives of LA Roxx, creating looks for Beyonce's current tour, and the future of the brand.
What is the history of LA Roxx?
LA Roxx began in the mid-80s, around 1986, and it was located on Hollywood Boulevard. My dad had this leather jacket shop that he wanted to get out of. He had a partnership with my uncle, my mom's brother, and since my parents were getting divorced he wanted out. My brother who was sixteen at the time asked if he could take over, so he did. I was three at the time. There was no name, so he created LA Roxx and formed it.
I grew up around it. I grew up around sewers, pattern makers, sample makers. I wanted to hangout with my brothers as a kid, but sometimes they'd be busy so I was hanging out with the people that worked there. They noticed that I was bored and be like, "Hey, do you wanna do this?" So I'd take the fabric and start sewing it, or cut a pattern out and learned that way. I would shadow my brother at design meetings, production meetings, sales meetings. I learned everything from cleaning bathrooms, windows, and vacuuming, to managing the store, to creating lines for LA Roxx.
When I really took over was in 2007. LA Roxx at that time was nonexistent, it kinda died in '97. There was a big shift in trends, the whole Rock 'n' Roll, hairband-vibe was done. Grunge took over for a while, then you had the Spice Girls, and the Lil Kims, and the Christina Aguileras — that whole style popped up. Rock 'n' Roll shifted over to these "stripper vibes" to be honest. Lots of shiny fabric, low-cut jeans, super cropped tops.
If the brand was dead, what made you decide to takeover?
I was in a weird space myself around 2007, I didn't know what I was doing with my life. I wanted to venture out on my own because I had always been with my brothers. I tried financing loans for a couple months. Then I thought about it, and I wanted to stick with what I know — the only thing I know how to do is clothing. I had this opportunity because my brother wanted to close down one of his stores. I pretty much did what he did with my dad, like "Hey, let me take over." Then little by little, I started incorporating custom [pieces] and that's only because it was a big part of my goal growing up. When they ask you what do you want to be when you grow up, I went: "I want to be a high-end fashion designer and change the world with my clothes."
So I had a lingerie shop — I told you, it shifted over to stripper clothing — and I threw a sewing machine in the store and I started making clothes. On Hollywood Boulevard, there's a lot of dancer stores and a lot of stylists looking for clothes for music videos, movies, television shows, whatever. They would come in and saw what I was doing and took a liking to it. At first it was like "Okay, I'm just gonna make some stuff and see what happens." Then, looking at where the fashion industry was heading, I was like "This is the perfect time to bring back leather jackets." What better way than to bring back LA Roxx? So we went from lingerie to leather jackets.
What was the turning point in your reestablishment of LA Roxx?
Lady Gaga's stylist's assistant saw this jacket that we made and wanted it for Gaga. That ended up driving our force for a while. There were tabloid shots of her wearing it and then taking it off during a performance. As she was taking it off, the logo was just showing. That put us on the map and people started coming to us.
What is LA Roxx today? What inspires you?
We have a physical store, it acts as our showroom, but is open to the public. It's in Silver Lake — 608 North Hoover St. We do customizations, but we're really pushing for our collection. What's true to our DNA is leather and vinyl, so I thought that was important that we keep that in our collection. We've been playing a lot with plastic, like the one Kylie Jenner is wearing — the orange plastic top and pants. Also playing with see-through organza, mesh material — I feel like sexy is shifting a little bit. Sexy doesn't necessarily mean tight clothes or less clothes. It's more about imagination — like the organza for example, we tend to keep that pretty baggy, but what's underneath is what's sexy.
My brothers are a big influence; what they used to wear, kinda like ripped up jeans and oversized shirts. A more casual take on rock 'n' roll. I'm also really into military, camp, goth, a little bit of athletic wear, so I try to incorporate all of that. We've been doing a lot of denim lately too. I like the way it drapes, especially when it's a little bigger and has a bunch of pockets — it's like my own take on Americana fashion. I'm a first-generation American; my parents came from a country where they got kicked out of pretty much — they're from Iran. In 1979 there was a big revolution and they had to flee as refugees and came here.
What is your manufacturing process like? Is every piece made in-house?
We have fifteen people on staff right now, ten of them are full-time, five part-time, and some interns. Most of the things you see are done in an average of two days. It seems like everything is needed rush. Concepts change up until the last minute. Sometimes people need things the same day, but we can turn it out. We have a very talented team that has a good eye for fashion and fit. Now I've removed myself from the sewing and sample making to focus on the conceptual side.
From sketch, to conceptualizing, to running and buying fabric. For example, the latest thing we were working on was the Beyoncé tour look — a red, beaded leather jacket. We had four days to turn it out and we had to find leather, the jewels, the shorts material. We found all that stuff and it took us about three days to put all the stones onto the jacket. As we were sewing up the jacket, all the stones started falling off by the hundreds. Ten-thousand stones. And the jacket was due the next day. This happens and you have to adjust. If you can't do it, nobody gives a shit. They'll find someone else who can do it. Me and two or three people from the team started running around looking for different options. We had to build another jacket from scratch and ended up doing it one day, hand-stitching it.
You've worked with so many musicians — SZA, Jorja Smith, Charlie XCX, and more —did you always envision LA Roxx being worn on-stage?
Pop culture has a lot of influence over fashion and I wanted to be influential, to be at the forefront of setting the trends. I want to change the world, I want to change the way people dress, the way people feel about dressing, what clothes mean to them.
What is one of your favorite looks that you crafted?
Most recently, Beyonce and YG. I like working with [YG's stylist] Dianne Garcia, she knows what she wants. She came in like "Hey we're doing this thing for the YG music video" and she showed me some Acne references of money print that they did six, seven years ago. We sketched out a couple of ideas, then she approved, then we had to figure out how to make that happen. She wanted Versace vibes so we had to get a silky material, kinda like '90s, Tupac/Biggie vibes. We played around with the pattern on the computer and put the dollar bills in different ways until it looked the most like what she wanted. If you were to make that with regular fabric, it would take three or four yards. We had to use like ten yards to get one outfit because of the placement of the dollar bills.
What would you like the future of LA Roxx to look like?
LA Roxx is always going to have some custom element to it. I love working with artists. We're artists and they're artists and artists working together and supporting each other, I think that's important. I love seeing our stuff on TV, in music videos, movies, performances, tours. That part of the heritage is staying, but what we're doing is adding a [ready-to-wear] collection. But not only that, I think there's a lot of room for collaborative efforts. We do a lot of women's stuff, but I'd love to do more men's. As far as artists, everything I've thought of is kinda happening. Everything I've wanted and worked hard for is happening, so now it's defining what we want for the next ten years. We want to create a really cool retail experience and stay true to our roots.