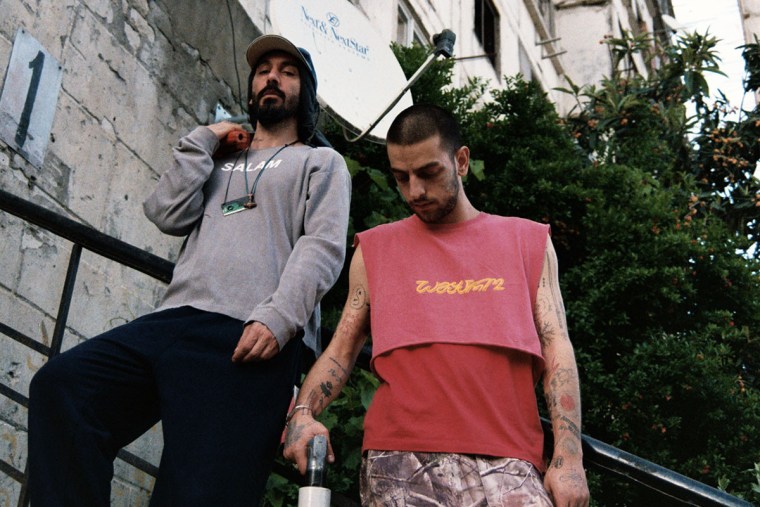 The small Eurasian country of Georgia may not be the first place your mind goes when thinking of hip-hop, but a flourishing young rap scene has taken root in the country, the participants determined to construct a different future for themselves. One such example is KayaKata, a duo made up of Maxime Machaidze (a.k.a Luna) and Zurab Jishkariani (a.k.a Dilla) that hails from the urban epicenter of Tbilisi. Their eclectic sound, which draws inspiration from many different source materials, is held together by their decision to rap in their native Georgian language.
"We are a very small country of three million people. Three million is just a third of New York City," Dilla says in an interview with Highsnobiety. "Our language is very beautiful, and we thought, look, there is French rap, and not everyone understands it, but a lot of people listen to it. So we try to put Georgian worlds in a musical way, so it would be pleasant not only here but also outside Georgia. You can listen to KayaKata in Shanghai, Budapest, LA, and you can still feel the vibe."
Their vibe is one that also links physical and societal liberation with the psychological liberation provided by recreational psychedelics. KayaKata's imaginative music videos recall the escapist or otherworld-building imagery caused by shrooms or LSD. For Dilla, these psychedelics were a way to find reprieve from traumas that stemmed from his war-afflicted childhood home. "Imagine yourself, you're living in a refugee ghetto, with gangsta rules out there in the streets, police beating you every day," he says. "And then you have magic mushrooms, which are a like a rocket, you can take it and you can go elsewhere in the world, it's like a portal for you from this reality."
The future of their current reality in Georgia remains unclear at the moment, but KayaKata believes that their music and the country's burgeoning rap scene is at least one step in a brighter direction. Learn more about the group by reading their full interview on Highsnobiety.