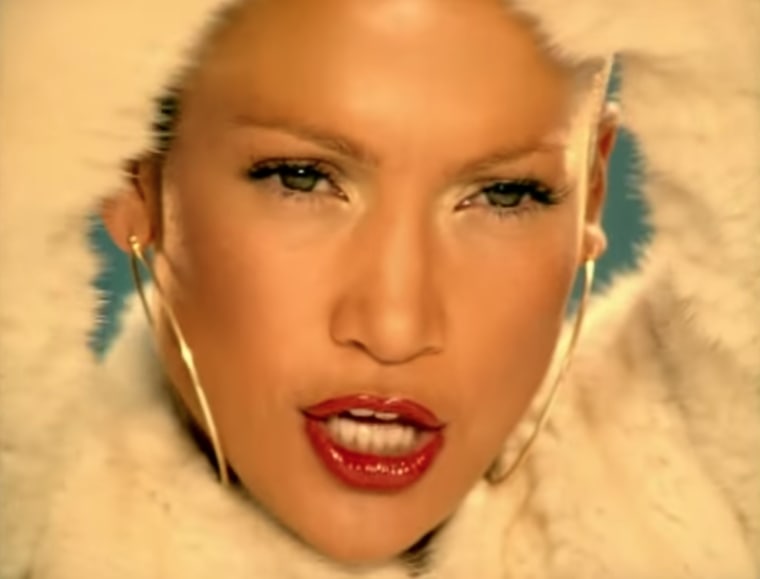 Today's fashion has been having a serious love affair with early-'00s style — the beaded handbag epidemic is a mutation or two away from super sparkly essence of the era, sunglasses with colored lenses are ubiquitous, and minimalism has been left in the dust.
When we think of the looks that mark the decade, all roads lead back to one of the Bronx's biggest cultural exports: Jennifer Lopez. Beyond churning out banger after banger for nearly two decades, J. Lo paved the way for early-00s trends to explode for the masses through her music videos, and in honor of her winning the 2018 VMA Video Vanguard award, we went back through her most crucial discography to unpack the style that influenced an entire generation.
"If You Had My Love" (1999)
In the video for her very first single, J. Lo is a DIY-video girl of sorts, grinding and shaking her ass in the very athleisure separates that are popular at this very moment. Time is a circle, folks!
"Waiting For Tonight" (1999)
Like all girls of the past, present, and future J. Lo roams around her home in a bra, booty shorts, and a heart full of lust as she gets ready for what she hopes is a sultry night out with her love. She ultimately opts for some slinky club wear, and proceeds to break it down in front of a green laser light show, proving that the truest love is the one you find within yourself on the dance floor.
"Love Don't Cost a Thing" (2000)
True '00s glitz meets quiet vengeance — J.Lo rocks heavy gold jewelry, aviators with colored lenses, and bedazzled tops as she zooms around in her convertible heated over an ain't-shit guy.
J. Lo is throwing a rager on a private hybrid plane-spaceship and the occasion calls for multiple outfit changes! From elongated bike shorts and heels to knee-high boots and silky tops, "Play" feels like the genesis of Kardashian-core style.
"Ain't It Funny" (2001)
J.Lo's feeling lovelorn, and she does what must be done in such dire times: throw on a trusty pair of low-rise jeans with corset fasteners and head to a parched meadow to visit a fortune teller. She trumps up the song's Spanish guitar vibe with romantic wear — billowing tops, flowing skirts, and wildly teased hair, all under a questionable sepia filter.
"I'm Real" ft. Ja Rule (2001)
When this song came out when I was 11, I thought there was literally no way music could get better. Then, the video dropped and I proceeded to lose my pre-teen mind. J.Lo nails breezy summertime style with lots of hoop earrings, tanks, and asymmetrical skirts, but the highlight of the entire thing is her two-piece Juicy Couture velour tracksuit. The bubblegum pink jacket and shorts (it's summer and because she's real, she has no business wearing pants) are the epitome of early '00s hype style, and we're so lucky to have had it immortalized like this.
"Ain't It Funny gets a slinking "fuck you" remix thanks to Ja Rule and Cadillac Tah, so you know the outfits are getting revamped, too. J. Lo locks in the early-'00s classics like straightened locks, frosty makeup, and — you guessed it! — more low-rise pants.
"Jenny from the Block" (2002)
If we were to lose all access to sartorial information of this era except for the "Jenny from the Block" music video, we'd still have more than enough to glean the focus the era had on excess. To early-'00s J. Lo, decadence meant wearing fur coats and bikinis, metallic eyeshadow, and owning an ungodly amount of pageboy caps. It's all very playful and the literal only downside of the video is that it's heavy on ex-boyfriend and certified chronic loser Ben Affleck, but we can't hold J. Lo to her 2002 mistakes.
Thumbnail via Jennifer Lopez Vevo.